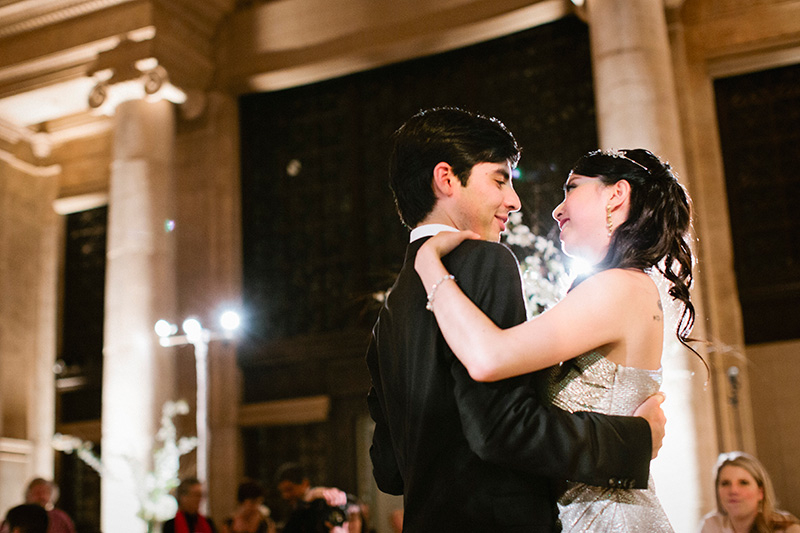 It was only last month that I posted from Ecclesiastes 3. For those who have not read Ecclesiastes, the book opens with the author seemingly in a pit of despair: Everything is meaningless, he says.
I'm not about to harken back to the first chapter; these are not the words with which I would describe June 2014, not in the least. But I would assert that, as the author says, For everything there is a season… a time to be born, and a time to die… a time to weep and a time to laugh, a time to mourn and a time to dance.
This has been a season for everything. This month I have wept and I have laughed. I have mourned and danced. I have seen death, and I've also seen renewal.
On June 7, my best friend and I married each other with the following words:
He: Together we have known true joy and dark nights of the soul. However far and thin we have been stretched, both in distance and emotion, our God has bound us together. Forever will I cling tight; forever will I cherish, love, and protect you. As Christ was willing to go to Calvary for his Bride, so I vow to serve you with all that I am in His love until the end of our days.
I: It is true that we have come a long way. But as I look ahead into the future that begins with this day, I realize how much longer, richer, and more glorious this journey will be. I vow to honor you as my husband, my best friend– and I will cherish you and walk with you all the days of my life. I will listen, I will watch, I will teach and be taught by you. And I will become the kind of woman who, though old and decrepit, is a delight to love, and who takes great joy in loving others. With you I will not only create a life but create life itself– in our world, our community, and our family. With you I become my best self, so I will be my best self, and offer you my best self by the grace and leadership of Jesus, until the end of our days.
We danced and laughed in the presence of our favorite people and thanked them for the role they played in our lives. We wept for the friends who would send us off into our journey of oneness and return to their own homes, far away from us. We said many goodbyes. Both of our families had gained a new member and rejoiced in it.
A few days later, my husband and I found ourselves traipsing through the streets of a perfectly sunny Paris, gorging on eclairs and croissants between gourmet chocolate shops. For a glorious 9 days we pretended to be Parisians as we fueled the francophilic fire that burned inside. We swore we would come back some day.
But over all this bliss hung the shadow of my uncle's impending death. Steve was my mother's younger brother, a man of great inner strength and perseverance. He taught me how to ride a bike; he took me to Taiwanese night markets and into the wilderness. We camped, hiked, and ran around with all the other family members, playing freeze tag in the dark. With Steve I forgot to be careful; I was wild and free.
In more recent years, Steve ran half-marathons and all kinds of races. In August 2013, he found himself in critical condition right before a race, and was soon diagnosed with stage 3 kidney cancer. I remember weeping at the news. I felt the tension of what has been called the justice of the general and injustice of the particular– simultaneously asking, "Why Steve?" and "Why not Steve?" In a moment of panic and prayer, I asked for mercy; instead I found myself experiencing a deluge of grace and gladness.
Not long after, Steve placed himself before the Lord and decided to follow Jesus. Was it desperation? Was it fear? The cancer was spreading, his chances of survival waning with each new day. I could not fathom the depth of his faith until he began receiving chemotherapy. Chemo was a process I knew very little about, and certainly was not aware of how many openings the doctors had drilled in his body in order to insert all kinds of treatment. Steve, I was told, entered each chemo session singing hymns, smarting with the pain of the procedure and declaring the wellness of his soul. It is well, it is well with my soul.
While we were in Paris, we were told to come straight to Taipei. Dropping our tickets back to San Francisco and our plans to move into our apartment, we arrived at 6AM on Friday June 20th. We rushed to the hospital with our bags in hand. Leaning over a dying Steve, I wept. I held his hand. Through tears I smiled and told him I was so happy I got to see him, but inside I was crushed. He spoke of Heaven, asking how to get there. Family members promised him he would find it– or rather, that he would be found. We sang his favorite songs, to which he hummed along through his oxygen mask. A few hours later, he said "I think I can go now."
Steve passed away on Saturday, June 21st. Two weeks after we danced for joy and said solemn vows of commitment, my husband and I found ourselves by a deathbed. In a few more weeks, his memorial will feel quite similar: a grief-filled acknowledgment of his absence, and a celebration of his presence.
King Solomon said there was a season for everything– a humble description of the complex and dynamic narrative of the human existence, in which I find myself entangled. Immense bliss mixed with enduring grief is a reality we come to know too well, and we can only lift our hands in gratitude for all there is to celebrate, and all that we have once had.
There is comfort in one thing, if not in many: our story is not our own. Instead we participate in a greater story of redemption– a story that ends with greater joy than we could ever imagine. If Solomon captured the emotional tensions we hold as sojourners in the hands of God, then the psalmist provided a reminder that this is not the end. Instead we experience pieces of redemption now as only glimpses of the greater reality, that there is far more rejoicing to come.
You have turned for me my mourning into dancing;
you have loosed my sackcloth and clothed me with gladness,
that my glory may sing your praise and not be silent.
O Lord my God, I will give thanks to you forever! (Psalm 30:11-12)