The beauty of California's coast is no secret. People have lived between its rocky bluffs and wild forests for centuries, drawing life from this stunning edge of the continent. 
Growing up in Silicon Valley, I can hardly remember when I started coming here. Just 1.5 hours south of San Jose, the coastal area that begins at the Monterey Peninsula is one of the most accessible destinations you can find— and thrillingly beautiful if you know where to look. 
Our new pandemic road trip orientation
As I write this, the popularity of local roadtrips is increasing due to a lack of cross-country and international travel. More of us are venturing out in search of adventure at a safe distance from others, respecting local protocols, and staying outdoors as much as we can. 
Before we dive into the itinerary, check out this helpful website with updates on Covid-19 guidelines and wildfire closures. And remember, the safest place for most of us is at home.
While there are numerous indoor activities I would have recommended in the past, this itinerary will focus on outdoor activities and scenic viewpoints that allow you to stand far away from others. Remember to always wear your mask, bring hand sanitizer, and be as considerate of others as possible!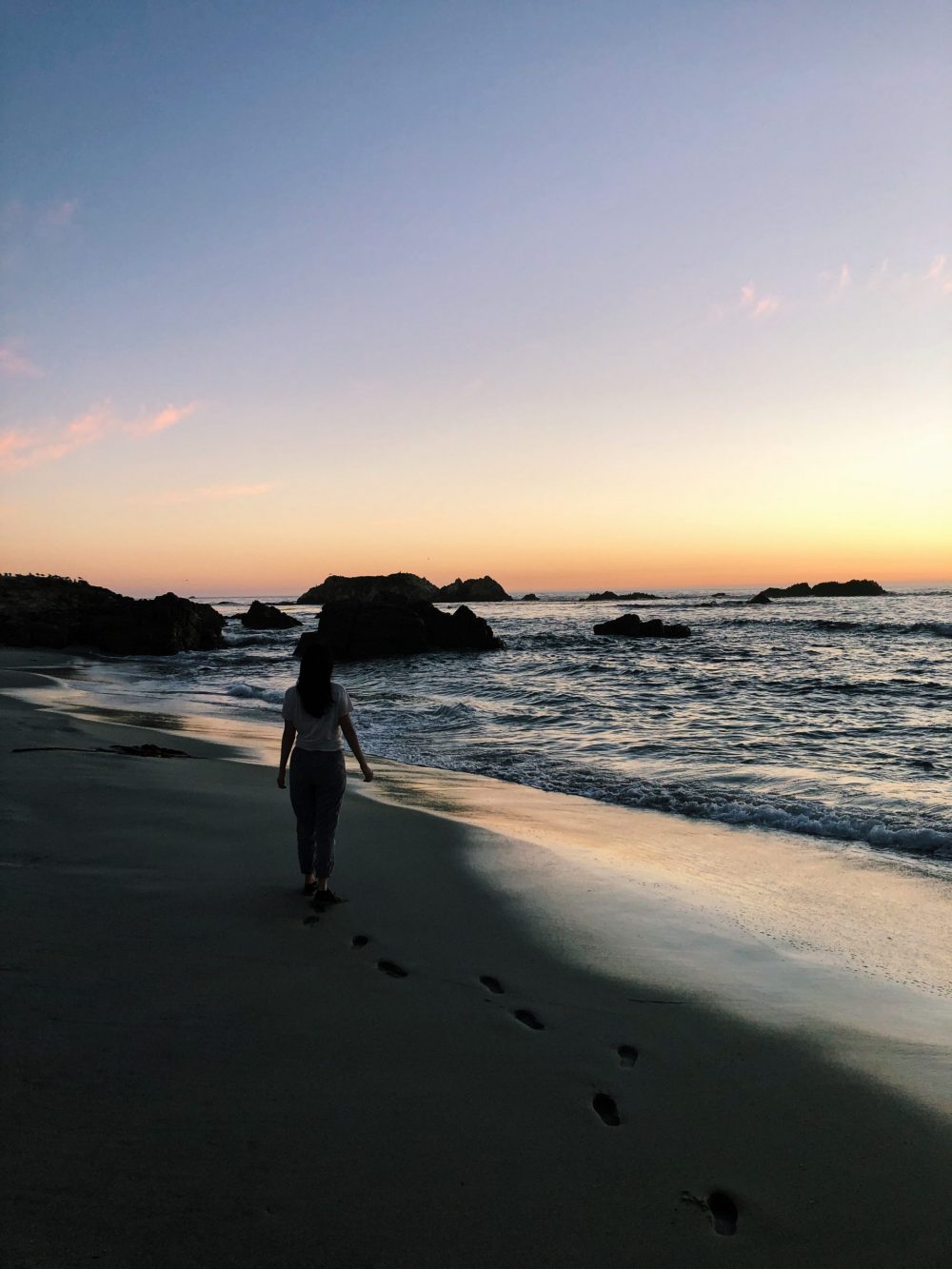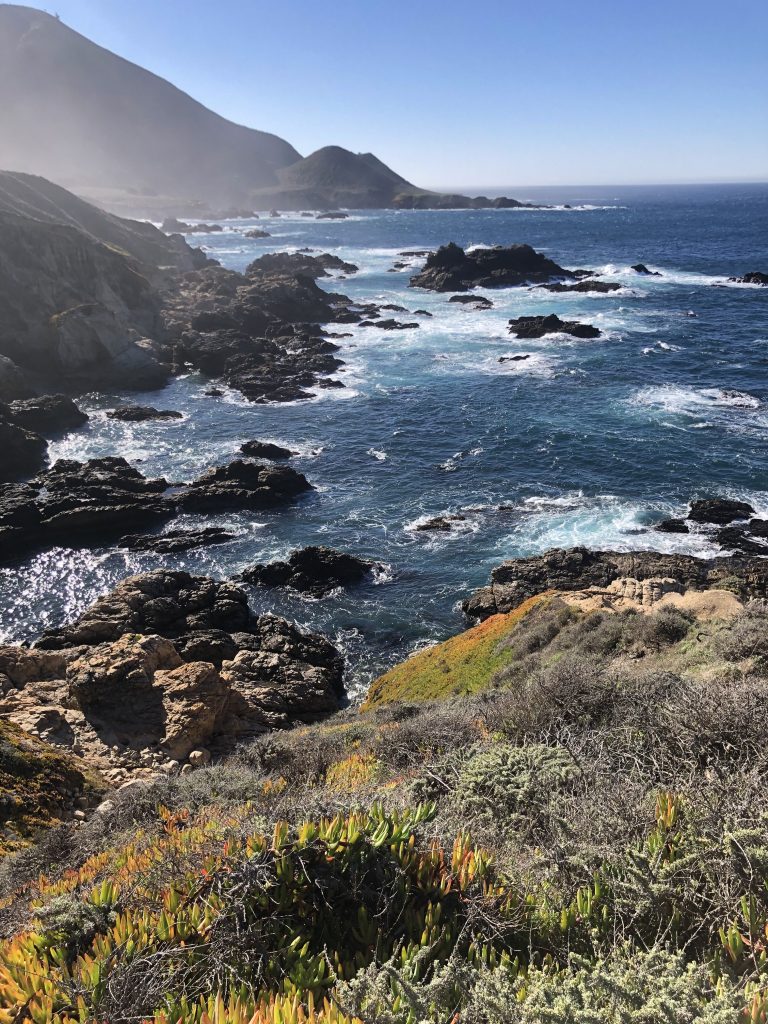 The best time to visit
I think the Central Coast has the best weather in the fall— between late September and mid-November, you'll have sunnier skies and a lovely coastal breeze. However, do keep in mind that fire season extends from summer through the end of the year. Always check for air quality and closures due to the fires.
That said, there truly is not a "bad" time to visit. Some of my favorite days on the beach have been moody, chilly, and even windy. The water takes on a different kind of magic, and it is absolutely worth experiencing.
Much of the beach here is less about sunbathing, and more about strolling on the sand, taking dramatic photos, and finding views of the bluffs dotted with wildflowers and native plants.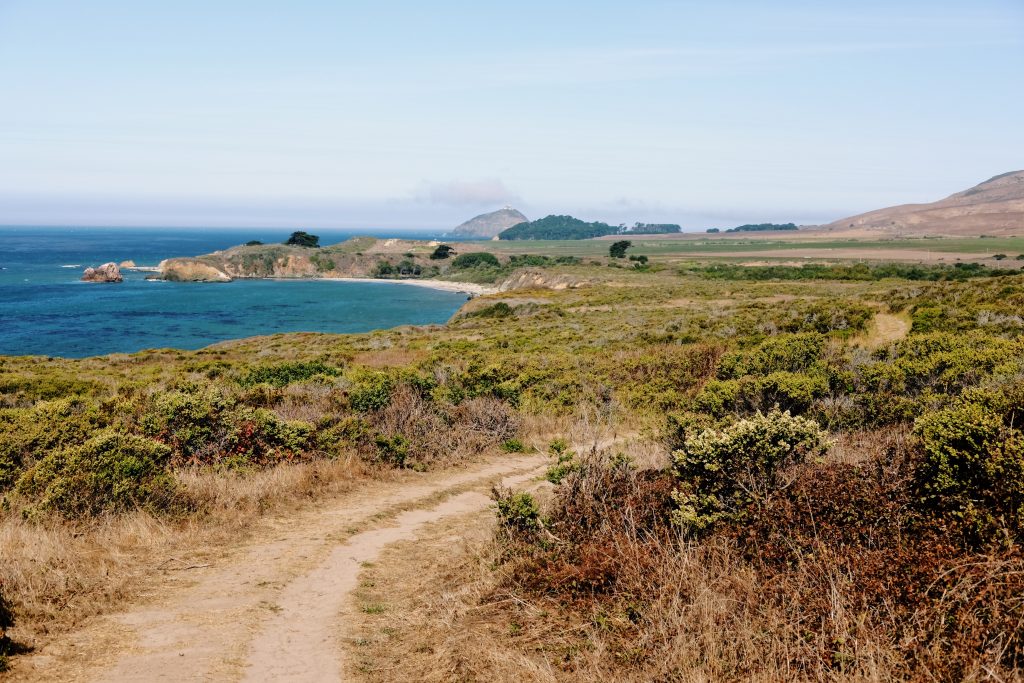 Where to stay: choose a homebase or roam around?
There are pros and cons to deciding whether you want to pick one location to return to each night, or stay in different spots throughout the region. Of course, this depends heavily on the length of your visit, the types of accommodations available, and your comfort with potential Covid-19 exposure.
The case for homebase: Having a homebase accommodation means you'll stay there for several days, and you can reduce the number of establishments you are interacting with. To reduce interactions as much as possible, consider options with self-check-in, or ask the staff not to enter or clean your room until after you're gone. Many hotels in the area are already implementing strict guidelines to reduce risk.
You may also opt for driving an RV, camper van, or some other vehicle you can sleep in. My primary caveat for this is that it can be impossible to find parking for large vehicles overnight in areas such as Pebble Beach or Carmel, and difficult to book parking in Monterey. Plan in advance.
The case for roaming around: If you're able to stay closer to each day's destination, that will be optimal for increasing the likelihood you'll get to the sites early in the morning. This is a different approach to decreasing interactions with others, as you'll be able to beat the crowds. Of course, the downside is you'll be moving from accommodation to accommodation, thus increasing the number of establishments you interact with.
Where to stay in the Monterey Peninsula:
There are also numerous motels and inns in Monterey that are a great budget option if you're not RV-ing or camping!
Where to stay in Big Sur:
Treebones Resort: a fantastic property with yurts and campgrounds available, along with an organic garden. If you're interested, make sure to book ASAP!
Ventana Inn and Spa: A huge splurge and a bit out there, but a gorgeous luxury retreat if that's what you're looking for.
Big Sur is great for camping, but again, it depends on how far south on Highway 1 you would like to go. If you plan to spend just a day visiting Big Sur, you may want to find a place in Monterey and simply drive down and back. Booking out campgrounds in Big Sur is also competitive, so be sure to plan in advance.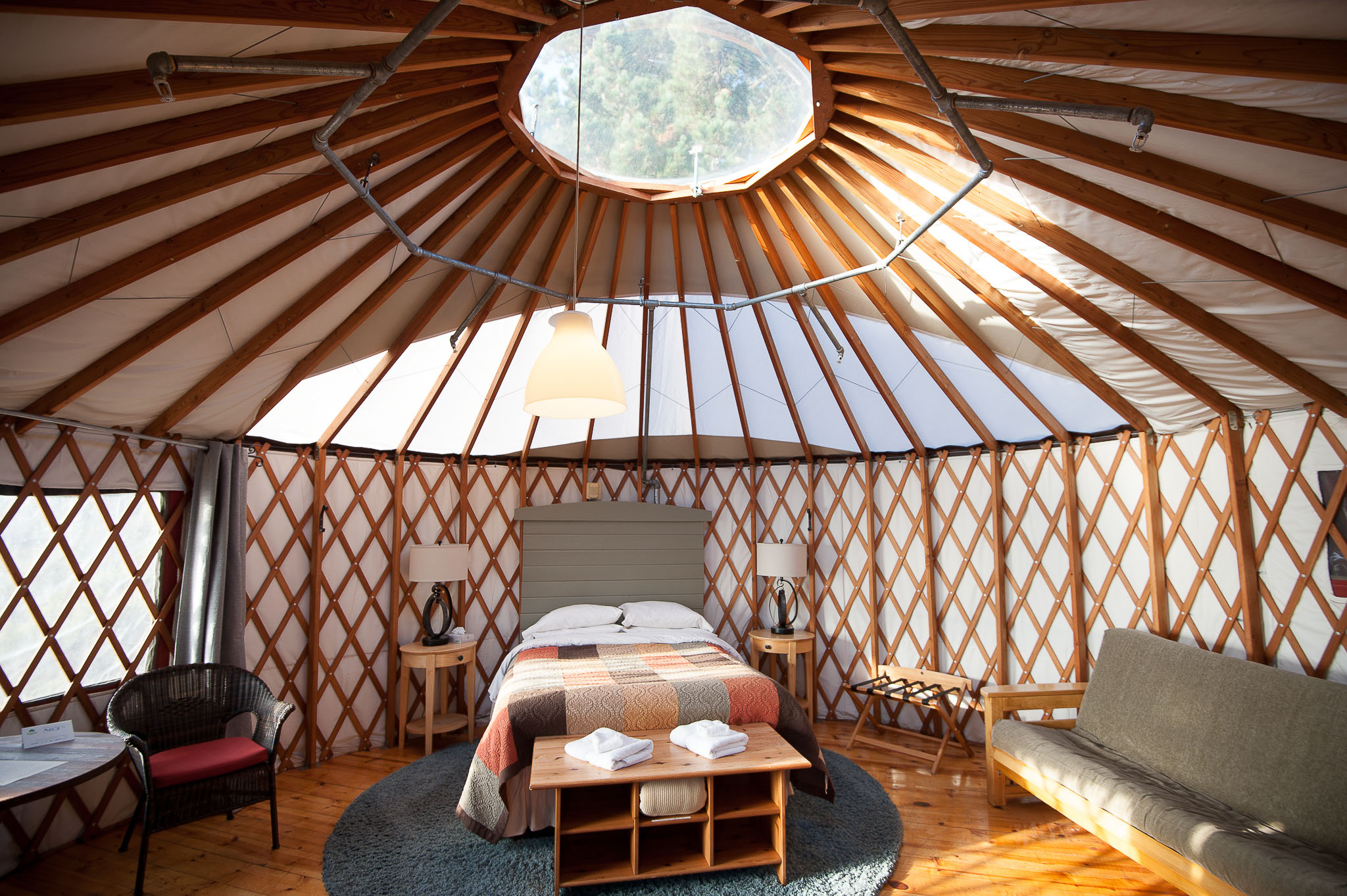 Day 1: Carmel & Pebble Beach
If you've never visited Carmel, you definitely should. This charming town is full of adorable homes, art boutiques, places to shop, and boasts a beautiful white-sand beach. Sure, it's what people might call "touristy" but visit before 10AM and you'll have many of its charming streets to yourself.
Before 10AM, it's usually easy to find free street parking. After 11AM, however, is when things start getting crazy and when we recommend heading toward the Carmel beach.
Stop by the Carmel Bakery early in the morning for coffee and a pretzel to take on your stroll. Don't worry about the calories if that's your thing, because Carmel is plenty hilly and you'll be feeling the cardio in no time. Make your way through the different blocks and let yourself get lost. Notice the details, the artwork, the secret gardens.
Head downhill on Ocean Avenue toward the beach and enjoy a moment there. If it's still early morning, you'll likely be there on your own.
Next, get back in the car and drive to the Pebble Beach entrance toward 17-Mile Drive. Pay the entrance fee and follow the signs toward 17-Mile Drive, where you will find stunning stops along the way. Be prepared to pull over for photos, or park and walk on the footpath along the ocean.
You can bring a picnic lunch to enjoy on the beach within Pebble Beach, or you can stop for a pricey lunch with a good view at The Bench or at Roy's.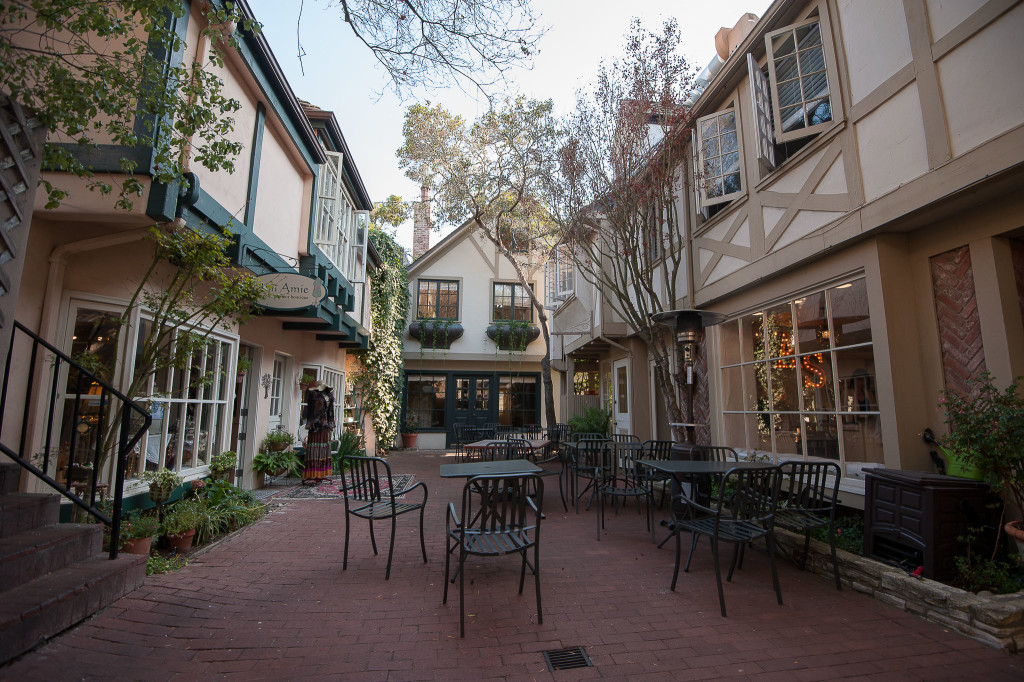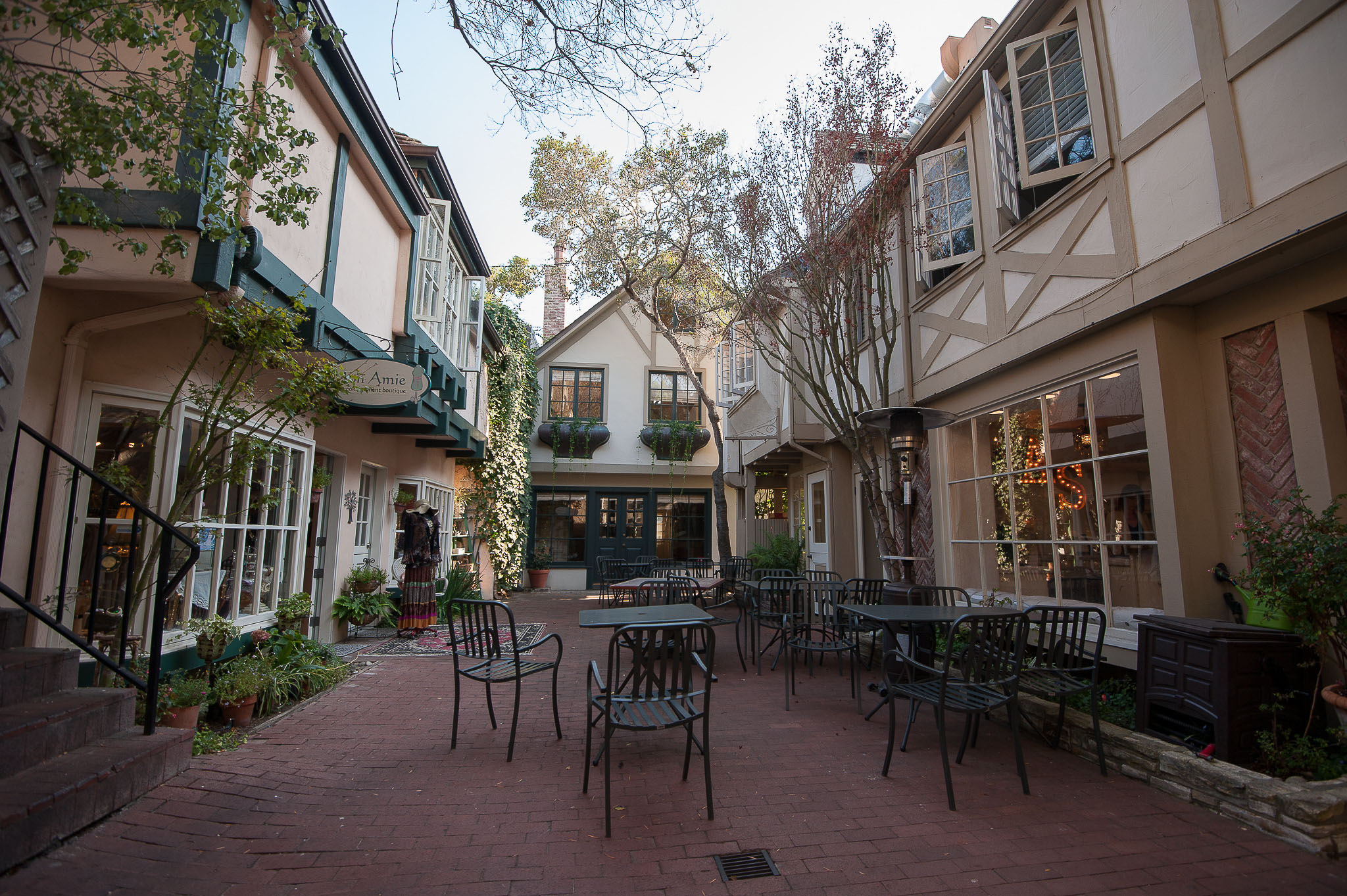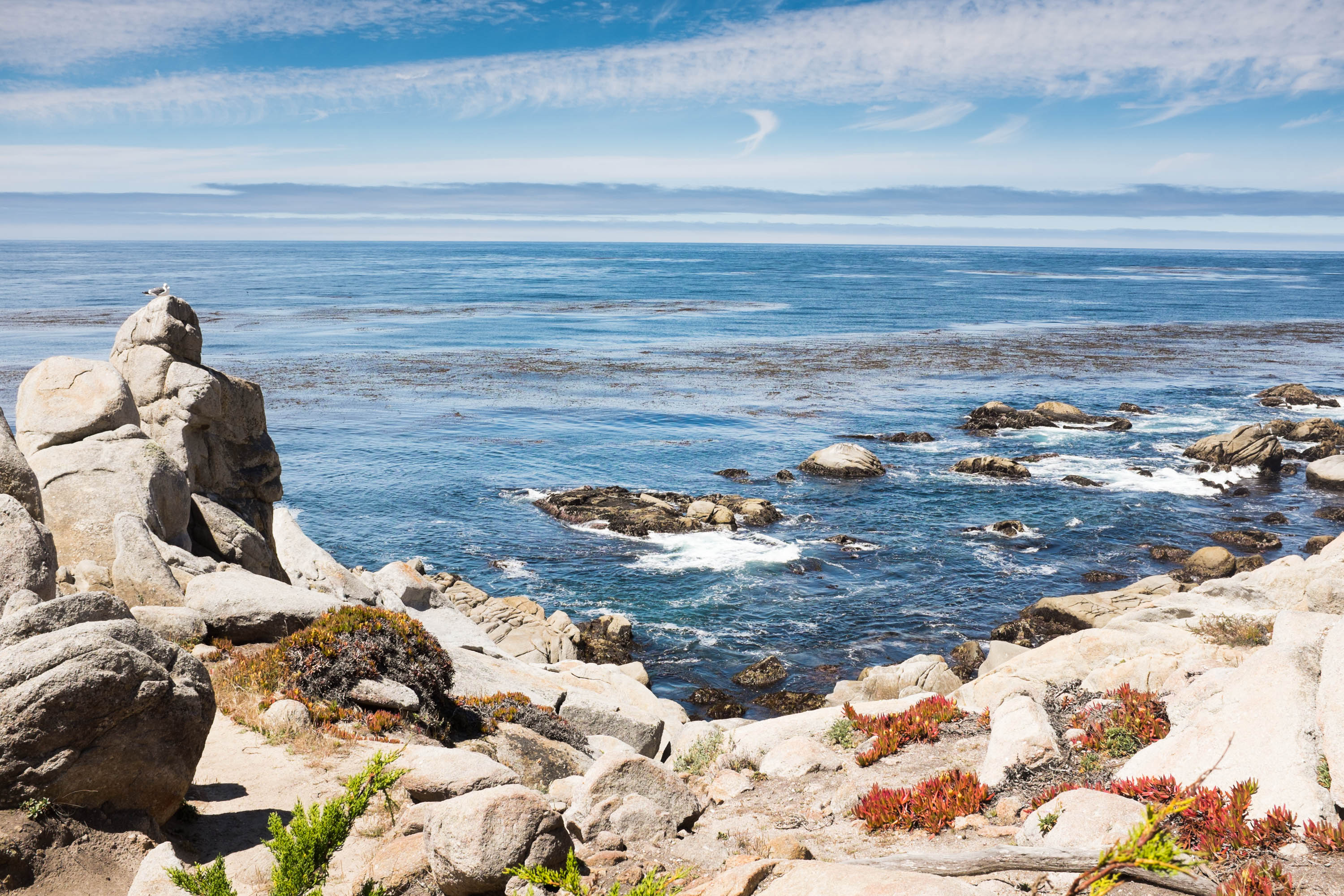 Day 2: Point Lobos and Garrapata State Park
Two of our favorite parks are located very close to each other on Highway One. Point Lobos Natural Reserve is a stunning preserve with accessible trails throughout. Garrapata State Park is not as well-marked, but has breath-taking, lonely trails on the coastal bluffs that are perfect for experiencing much of the secenery by yourself.
Driving south from the Monterey Peninsula, head to Point Lobos early in the morning. Arriving by 8AM will likely guarantee you a parking spot inside the park. If you see cars lined up along the perimeter of the park, it's likely too late and you'll have to walk in. While this is a clever way to save money, it means you are spending quite a bit of your time just getting into the park itself, which means you'll have less time inside if you want to also see something else that day.
Just past Point Lobos down Highway One is Garrapata State Park. You will begin to see numerous pull-outs and gates along the two-lane road, and stunning glimpses of the ocean. These are the multiple access points of the park, but not all the trails connect! Pull over where you can; it is not well marked but most opportunities to pull over are indicative of entrances to the bluffs. Always read the signs and be sensible and careful, and do not feel bad about driving slowly in order to safely park.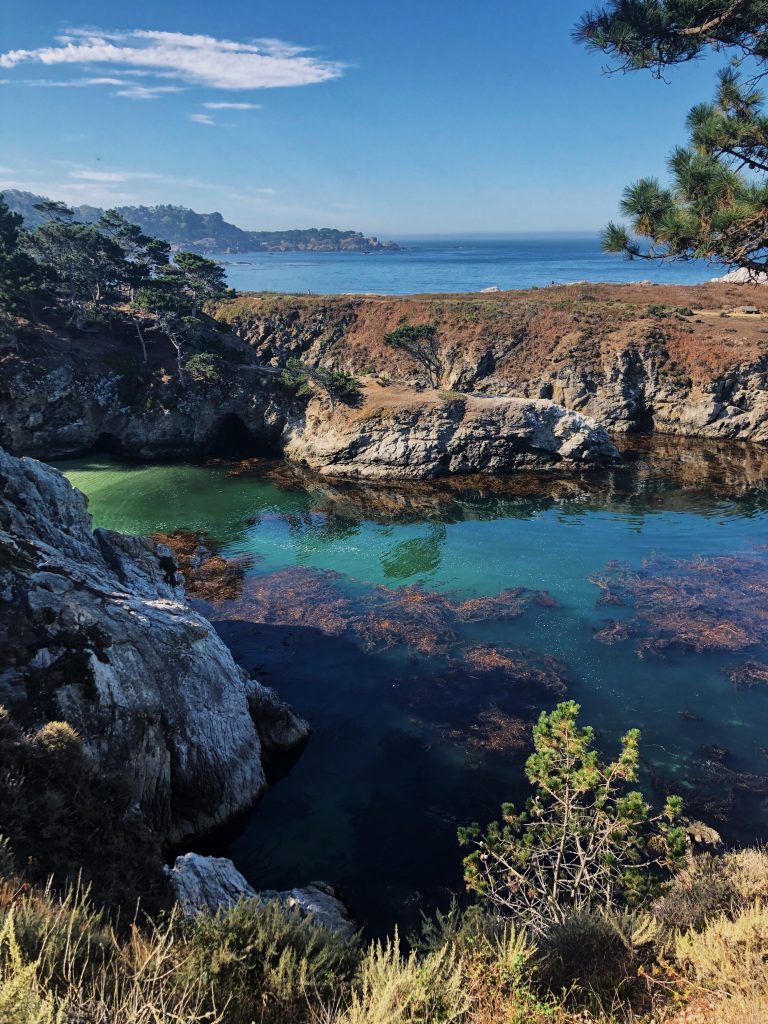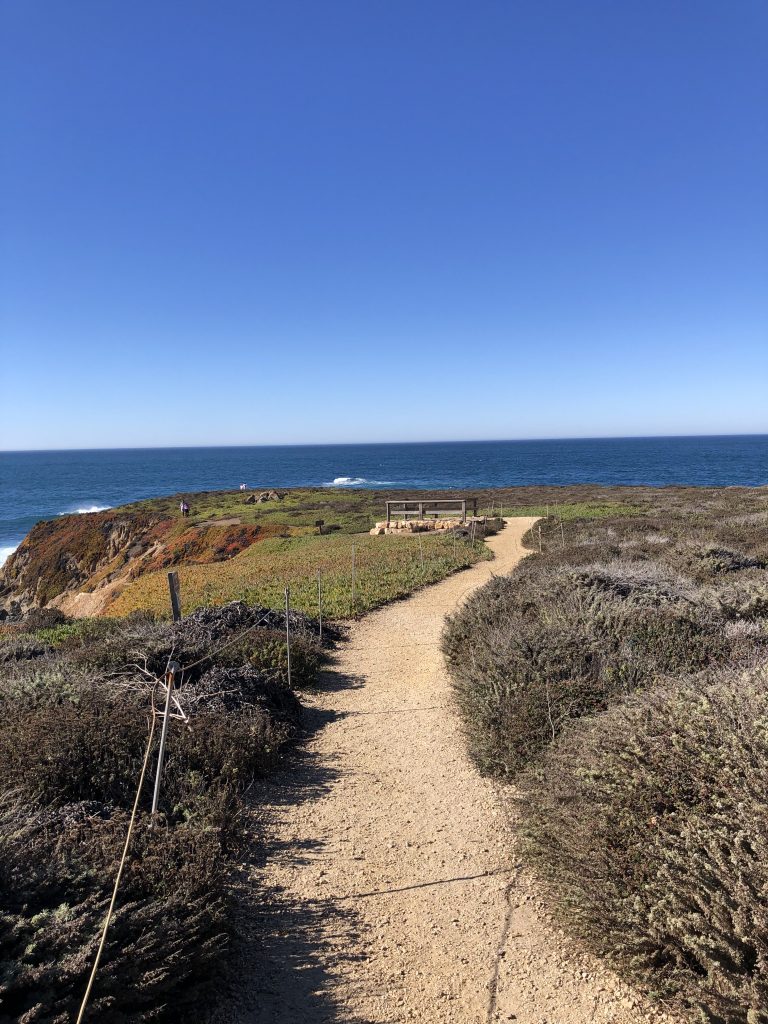 Day 3: Big Sur Parks
There is so much to do in Big Sur, and you can spend a whole week here if you really want to take your time. As you drive further south from Monterey, you'll notice how the shape and color of the cliffs transform in shade and texture. The further south you go, the darker the stone and the ocean.
Here are a few of our favorite stops in Big Sur:
Andrew Molera State Park: Just slightly further south than Garrapata, it's a sweeping and uncrowded area with decent parking. The walk through the woods and onto the bluffs is really gorgeous, and you can see the coast almost the entire time. Since summer of 2020, we have been able to visit this park while running into very few people. As always, we recommend visiting in the morning.
Julia Pfeiffer Burns State Park and McWay Falls: With a delicate waterfall that pours onto the beach, this park is a classic. When you arrive, the signs show you where to park and how to visit the waterfall. The walk to the fall is really short— it's hardly a walk at all— but you can hike in the neighboring Pfeiffer Big Sur State Park.
Limekiln State Park: This one is further south, where you will see darker ocean blues and slate-colored rock. Unlike the more tame and pristine parks mentioned above, Limekiln feels truly wild and rugged.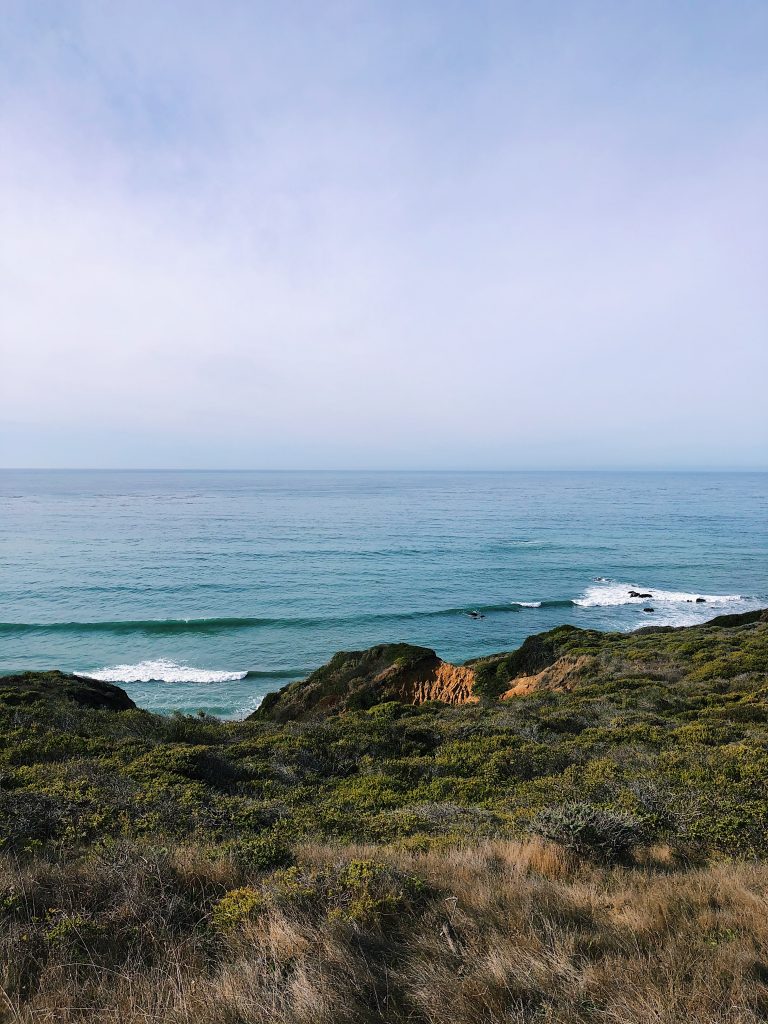 Central Coast travel tips
Mornings and late afternoons are best for photos and avoiding crowds. If you are traveling on a weekend, this is especially true. State parks can start to get busy around 10AM or 11AM, which is less of a problem for social distancing than for parking. We recommend waking up early, enjoying the parks to yourself for several hours, and then venturing back out in the late afternoons for sunset. 
Prepare for windy coastal weather. With unpaved trails and wild plants, we recommend covering your arms and legs, but being mindful that temperatures can heat up when the sun is out especially as you walk away from the coast. Bring a backpack for extra layers, and keep dry socks in your car in case the surf splashes you. 
Fill up on gas, bring snacks and water, and use bathrooms wherever they are available. Other than actual nature and parks, Highway One does not have many places to stop for supplies. Bring extra in your car and use restrooms at state parks. Always bring a trash bag to collect any litter. 
Use caution on the bluffs and follow the signs (really). It is so tempting to stand at the very edge of a bluff with the waves crashing beneath you, but stay on the paths. You'll notice that people climb down the bluffs, but this is NOT recommended. Some of the bluffs are very sandy and can easily give way. 
Enjoy your trip through the Central Coast!
Do you have other suggestions for this area to share? Let me know in the comments below.