I still can't believe these places are real. The Canadian Rockies hold numerous dramatic mountain landscapes and turquoise lakes that explode with color. Unsurprisingly, Banff National Park is one of the most visited parks on earth. And for good reason.
The fame of the Canadian Rockies is due not only to photographs that have popularized the location. Because not only is the scenery jaw-droppingly beautiful, but a lot of it is accessible to non-intense hikers (that's us). How accessible? Let's just say that if you're a decent driver and can walk uphill for 30 minutes, you can see most of what the area has to offer.
Not bad, right?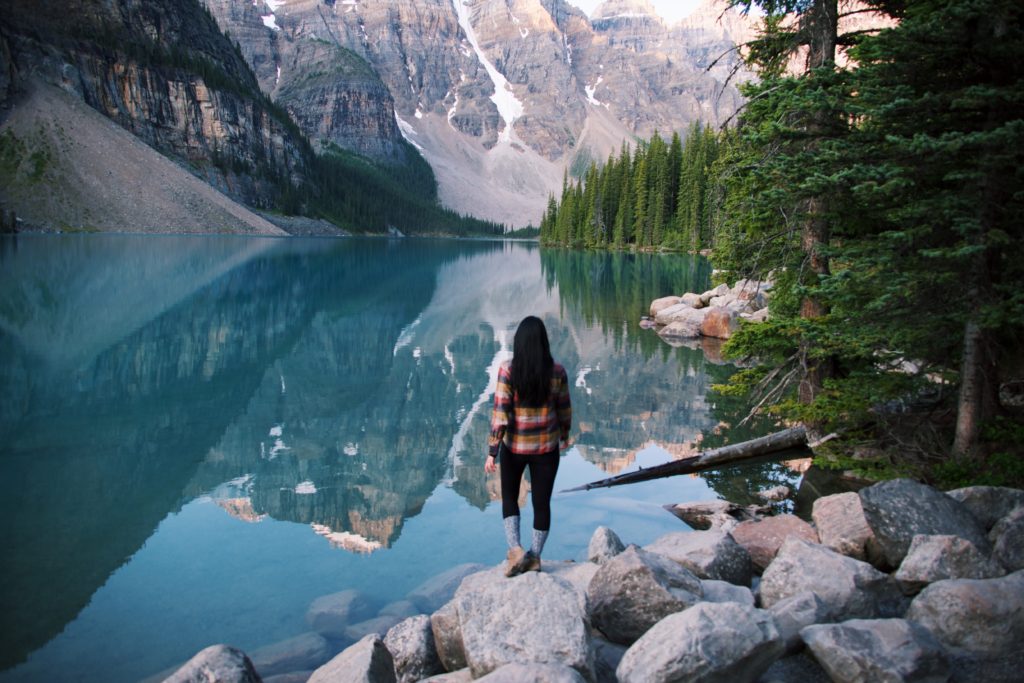 Beyond that, the region is full of accommodation choices ranging from hostels to cabins to 5-star luxury hotels, not to mention campgrounds for the campfire inclined. And the local infrastructure is pretty incredible— good roads, decent parking (more on that later), and all the amenities you might be looking for within reasonable driving distance no matter where you are in the parks. In terms of how easy it is to travel here, this region is far easier than Patagonia in South America.
So let's get to the good stuff, shall we? Here's a map that includes all the spots I'm going to write about!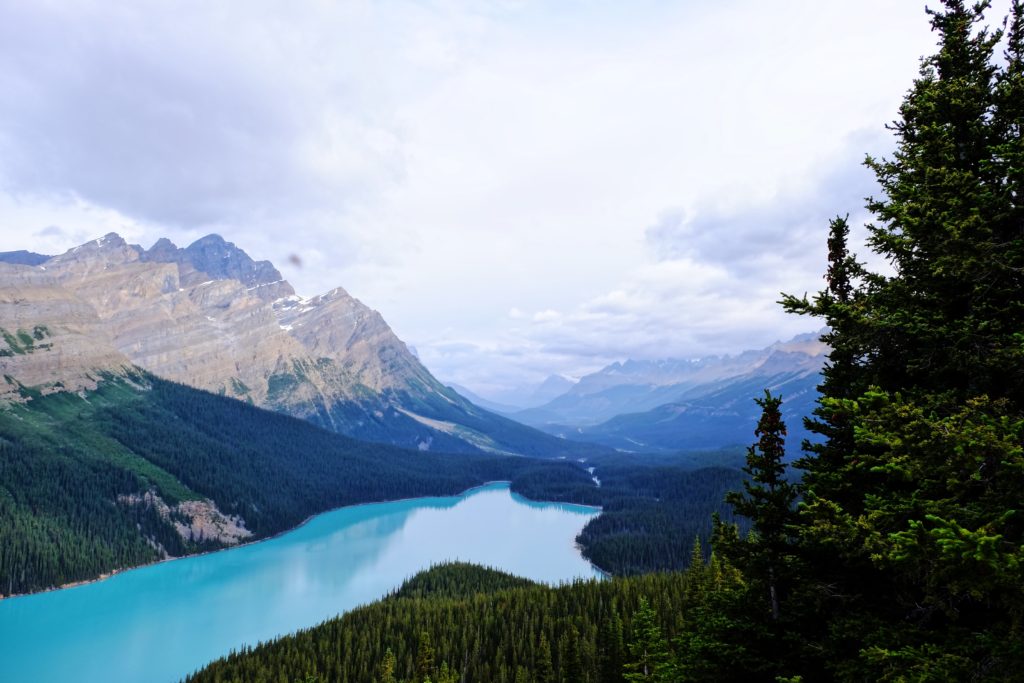 Banff National Park
Ah, Banff. I remember hearing its name over and over in my extended family gatherings when I was a child. Even back then, my relatives were quipping about how beautiful the area was. In fact, the reason I visited Banff this summer was because it's been my mom's hope to go together since I was of driving age, and let's just say that was over a decade ago.
More importantly, Banff attracts tourists from all over the world. I heard a lot of languages I recognized and a handful I did not. This also means Banff is incredibly crowded in July and August, which happen to be the warmer months during which you're likely to see more of the glacial lakes fully melted. And the lakes are definitely what you're there to see.
Where to stay in Banff: Believe it or not, I do not recommend staying in the towns of Banff or Canmore, if you can help it. This is because a lot of the famous lakes are further north, which means more driving for you. In fact, we didn't even stop through Banff town. There are definitely some good points of interest within the town but let's be real— you're not there for that.
Instead, I highly recommend staying near or at Lake Louise; its location is far more central to the places you definitely want to visit. There are a few accommodations available in the area, including the Fairmont Chateau Lake Louise, which is a stunning property right on the lake. If you're not up for paying so much for accommodations, places like the Mountaineer Lodge or HI Lake Louise Alpine Centre are options as well.
Most beautiful places in Banff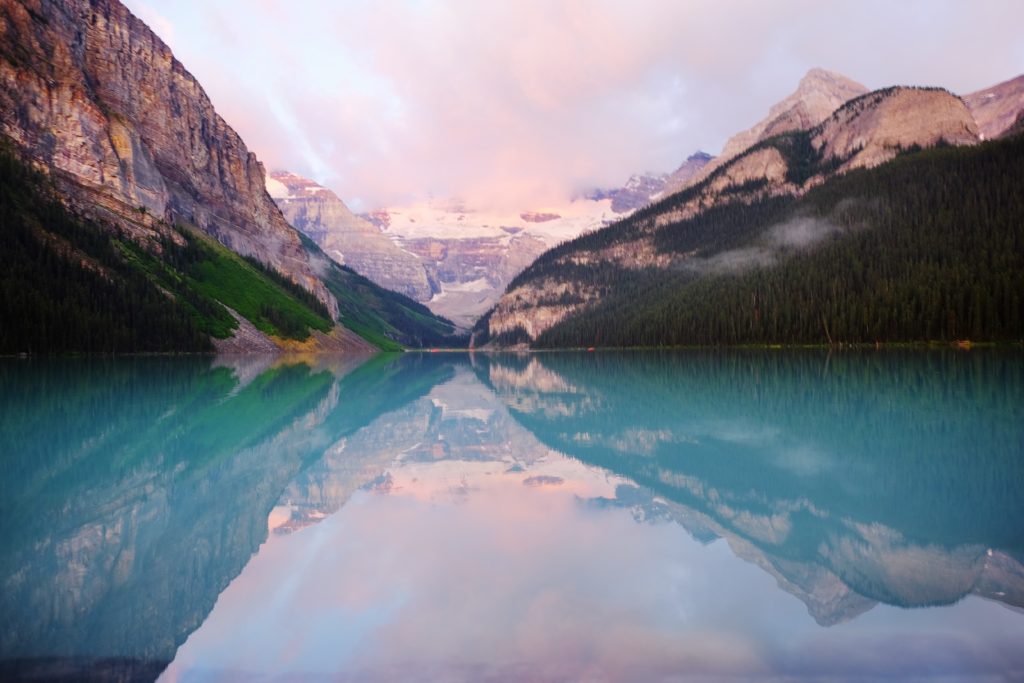 1) Lake Louise: This lake is iconic, so don't miss it. It is very accessible and there is no hike to get to it. However, parking can be busy and I highly recommend arriving at 6AM to catch sunrise and the really soft, reflective water. There is a hike here that goes along the right side of the lake, which then leads you to a trail up the mountain above the lake. We did part of that hike and found it to be very peaceful and pretty; it's one way in and out.
If you'd like to canoe in the Canadian Rockies, I think Lake Louise is an excellent choice. Renting a canoe here is NOT CHEAP however. If you choose to do it, go as late as possible in the summer months (i.e. 8PM), and you may even have the whole lake to yourself for a few minutes— we did. You'll have to call the concierge at the Fairmont Lake Louise to reserve a spot, I think they own the boathouse but it's a different company operating. It's about $100CAD for a canoe (2 people) but very much worth it, it's so beautiful.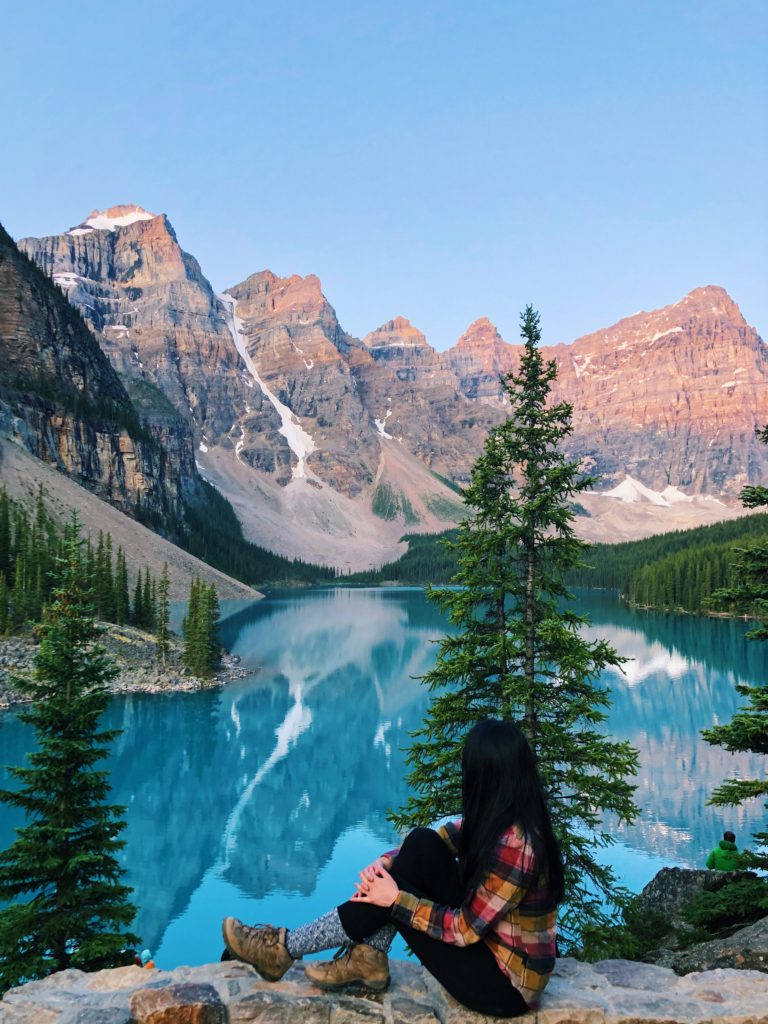 2) Moraine Lake: this lake is also iconic. In fact, if you go to one famous lake in Banff, make sure it's this one! Here, parking is very limited and an absolute nightmare, so be prepared. We arrived at 5:15AM and got one of the last legal parking spots. However, it is SO worth it to get there early and see the sunrise over the mountains; the light gets harsh as the day goes on and the mountains won't glow the way you want them to. It is absolutely breathtaking.
When you arrive at Moraine Lake, look for the "Rockpile" trail which leads you up to the spot where everyone gets that iconic photo. Wait there to watch the sunrise. After the sun has risen, you can take the trail along the side of the lake (where the Moraine Lake Lodge is) and see the lake from different angles. Very few people end up walking by the lake in the early morning so it's quite peaceful. You also can canoe here, I'm not sure when rentals start or how much. To reiterate: MUST ARRIVE EARLY!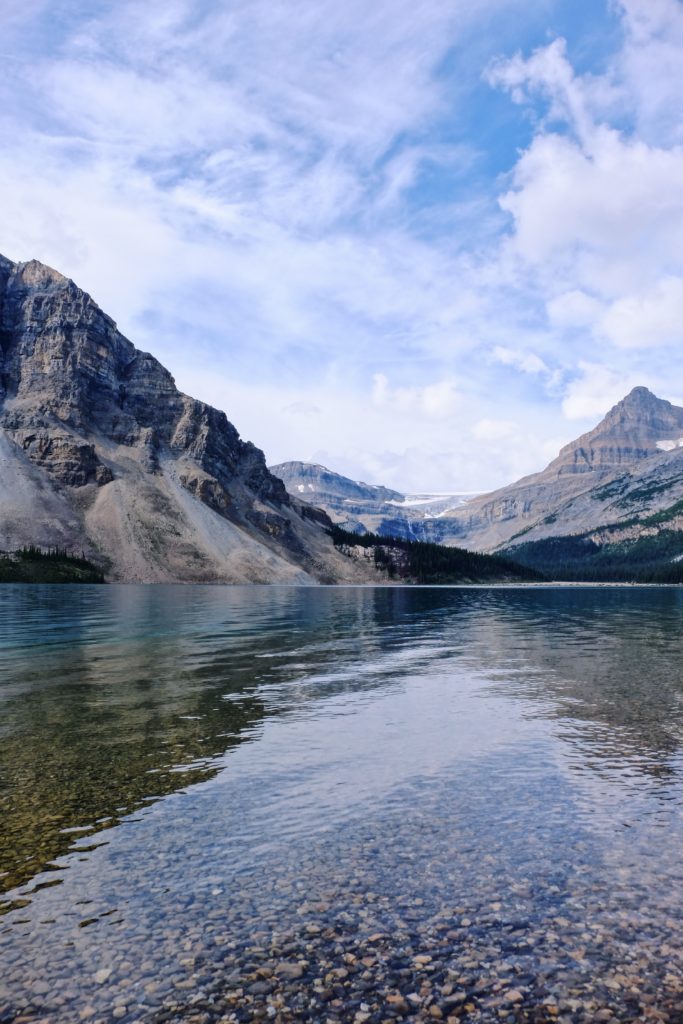 3) Peyto Lake and Bow Lake: These two lakes are 5 mins from each other on the Icefields Parkway. They are stunning and really easy to access. If you are going early in the morning (I recommend arriving before 8AM), I would go to Peyto Lake first, because a lot of instamodels and influencers love pretending to do yoga here (apparently). Peyto Lake is famous for its fox-head shape and sweeping views. The climb up is steep but pretty short. Bow Lake is just pretty, no climb, easy access and great for photos.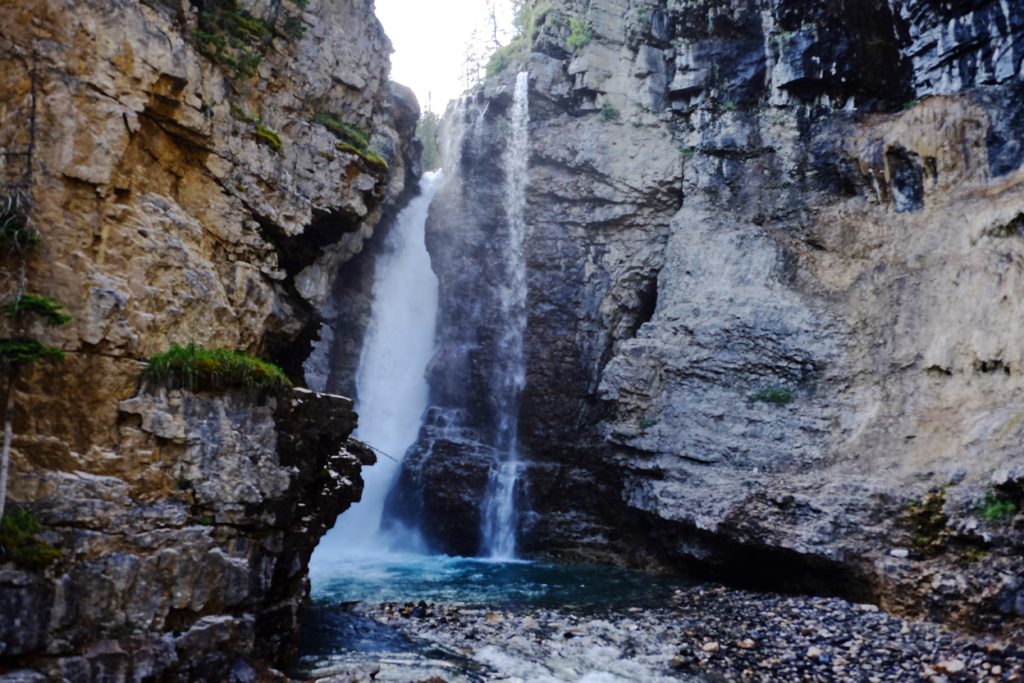 4) Johnston Canyon: this is a really beautiful hike along a canyon and you can see 2 waterfalls. Some of the trail is actually attached to the side of the canyon with a railing, which is a really great way to feel like you're deep inside the Rockies. The parking here requires a fee but not after 6PM! We went at around 6PM and there were still a few people on the trails, but I hear that during the day the entire hike can feel like a long line. So I highly recommend late afternoon on this one.
Yoho National Park
A lot of people don't know about Yoho National Park, which is technically in British Columbia, but it has some of the most beautiful spots in the Rockies. It's also very close to Banff (especially if you stay near Lake Louise). We loved our time in Yoho and recommend going for a day, especially if you're there in July or August; it's WAY less crowded.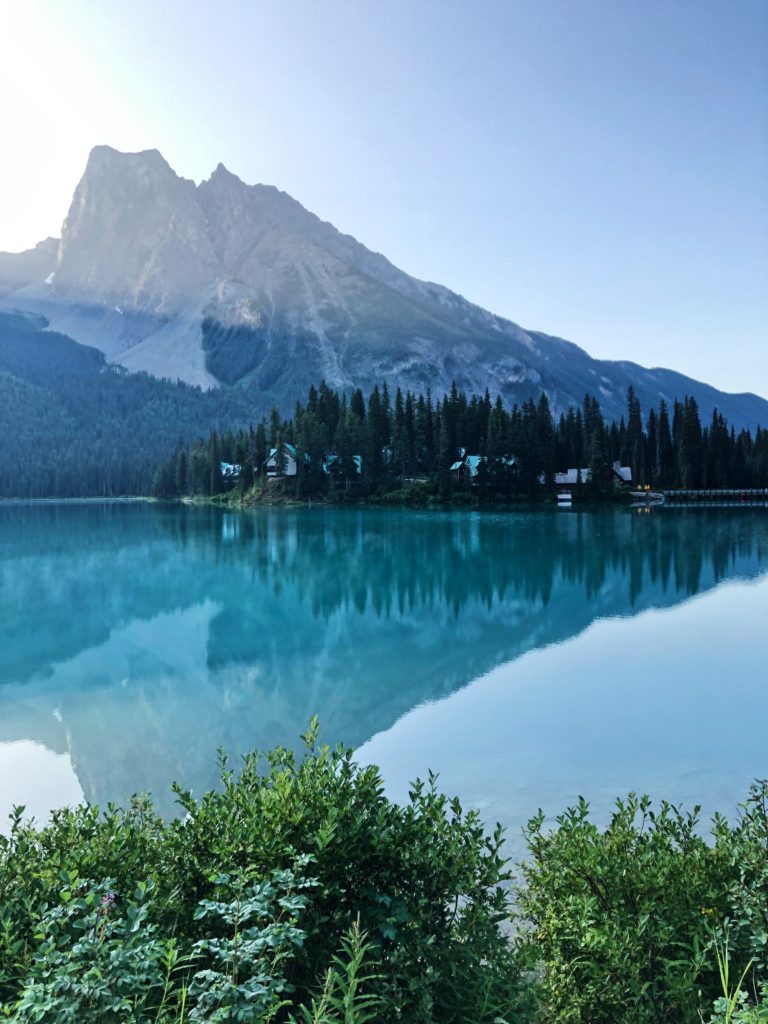 1) Emerald Lake: Experience-wise, Emerald Lake was my favorite to visit in the morning. Arrive around 7:30AM and you'll pretty much be the only people there. Walk the perimeter of the lake for views and reflections; the entire trail is pretty flat and the part through the forest is so lush and peaceful. Parking is no problem if you're there early, but by 9AM there will be lots of tourists. They usually don't bother to walk around the lake though.
2) Lake O'Hara: Full disclosure, I'm recommending this without having been. But google it. Lake O'Hara is extremely gorgeous and it is way off the beaten path. The ONLY way to get there is by hiking 14km in (which is why we didn't do it), but I would next time. They only have 2 buses that go in per day and those buses are always booked way in advance. You can learn about how to reserve the bus on this website.
3) Takakkaw Falls: These falls are really accessible and lots of families go here, but the water is powerful and the area is gorgeous. Go here if you're in the area, and definitely if you are visiting with kids.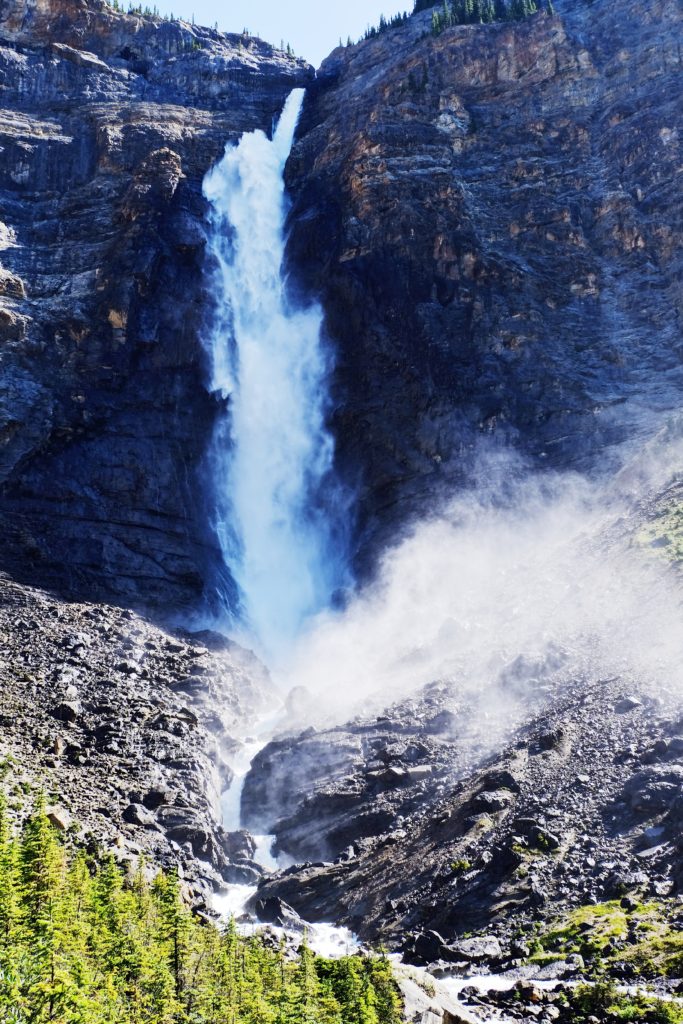 Jasper National Park
After the bustle of Banff (particularly the early mornings and competitive parking), Jasper felt so much more relaxed. While Jasper is still very popular with international tourists, there are far fewer people who visit in large buses. This means that by the time we got to Jasper, we were ready to sleep in— as in, skipping our usual 4:45AM wakeup calls.
Jasper is north of Banff, about a 3-hour drive from Lake Louise on the Icefields Parkway (93). This entire road is so beautiful and has lots of exciting stops along the way. Be warned, however, that there really is no gas available past the Lake Louise area all the way until you get closer to Jasper town, and there's a lot of uphill on this road. We started the drive from Lake Louise with over half a tank of gas, and arrived with less than an eighth of a tank left! (Here's a great photography guide to the Icefields Parkway!)
Where to stay in Jasper: Unlike Banff town, Jasper town is fairly central to most of the attractions you'll want to visit while you're in the park. You can stay in a variety of accommodations in Jasper, or you can stay at the Alpine Village Jasper, where we picked out a simple cabin and loved it! The Alpine Village is only 6 minutes driving to the town, so it's equally central.
Most beautiful places in Jasper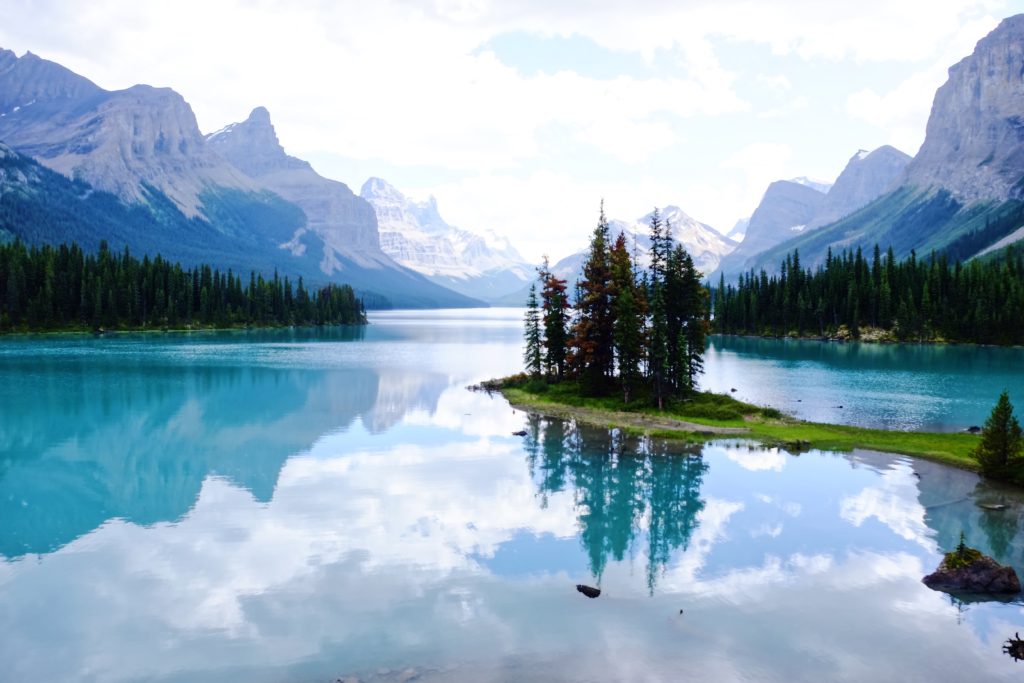 1) Maligne Lake and Spirit Island: The panoramic view of Spirit Island is one of the most iconic ones in the Canadian Rockies! The story behind its fame is that a 1960s photography exposition at Grand Central Station made the scene famous and popularized the area to Americans for the very first time. Meanwhile, no one is certain where the island got its name.
To visit Spirit Island, you only have two options. You can canoe/kayak there on your own for 14km (recommended for advanced rowers only— it can take all day); or you can take the Maligne Lake Cruise. This company has a monopoly on running motor boats on the lake, so it's just a matter of selecting the day and time you'd like to go, and paying for the ride. Be sure to purchase tickets in advance during high season! We hear the best timing is in the late afternoon.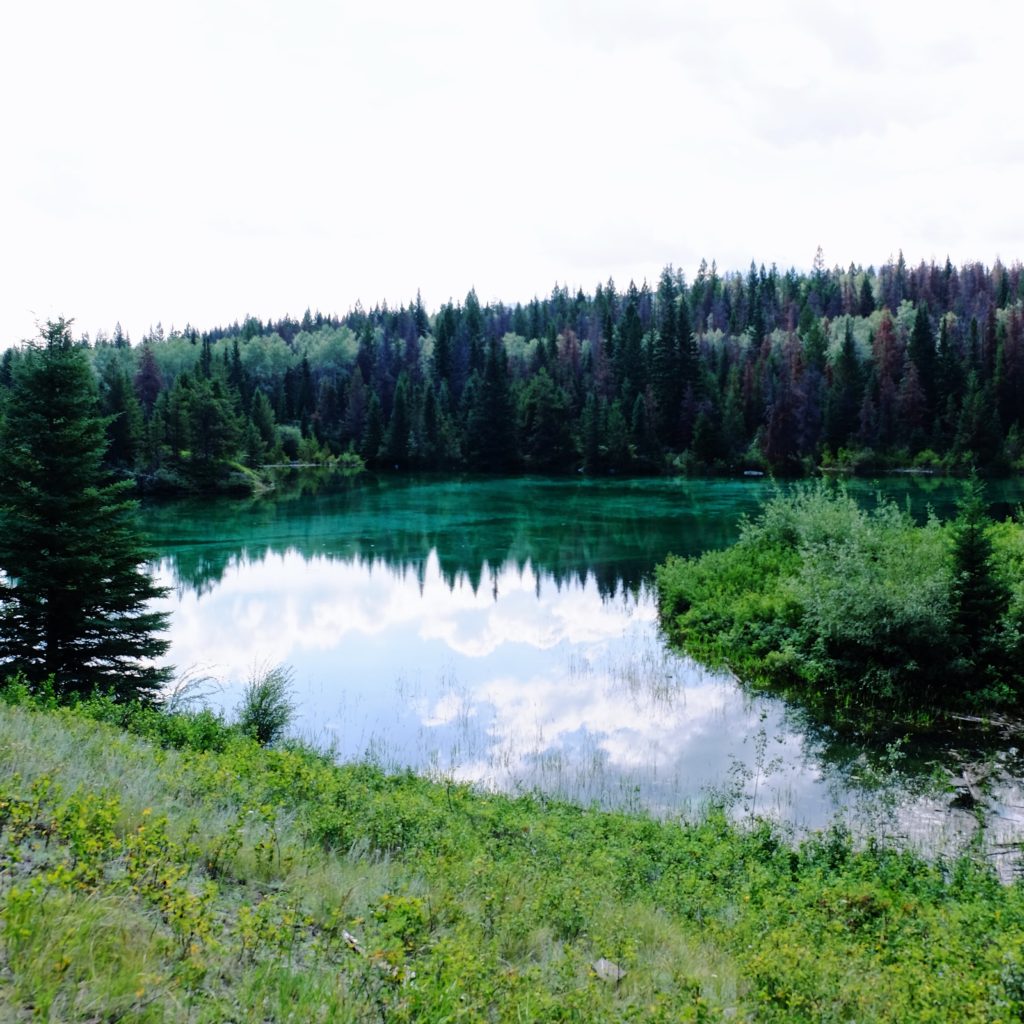 2) Valley of the Five Lakes: This is a hike that allows you to see five different lakes in one go— and it is pretty spectacular. I suspect that these vibrantly green and turquoise lakes are where Jasper gets its name. The colors are unbelievably bright and the water is very clear. If you are coming from Banff, you'll notice that it's quite different from the glacial water there.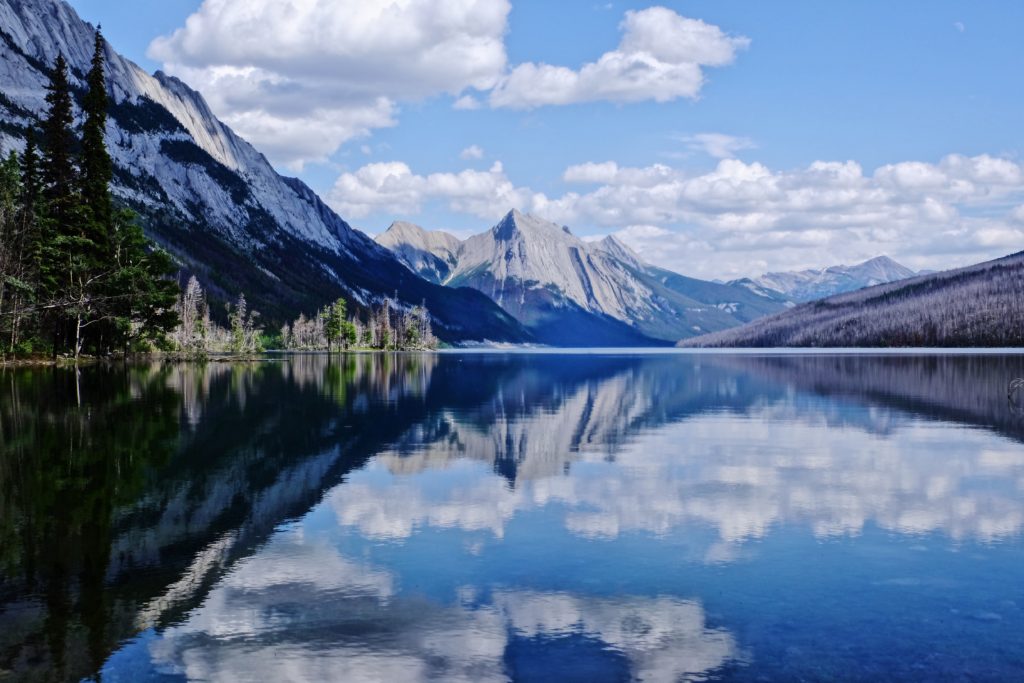 3) Medicine Lake: Known as a "disappearing lake," the water drains out naturally in the winter. But in the summer (particularly in July and August) you can count on being able to see this stunning lake filled up. There's not exactly a path around the lake but it is still worth pulling over for a good reflective photo. Medicine Lake is a popular stop on the way to Maligne Lake.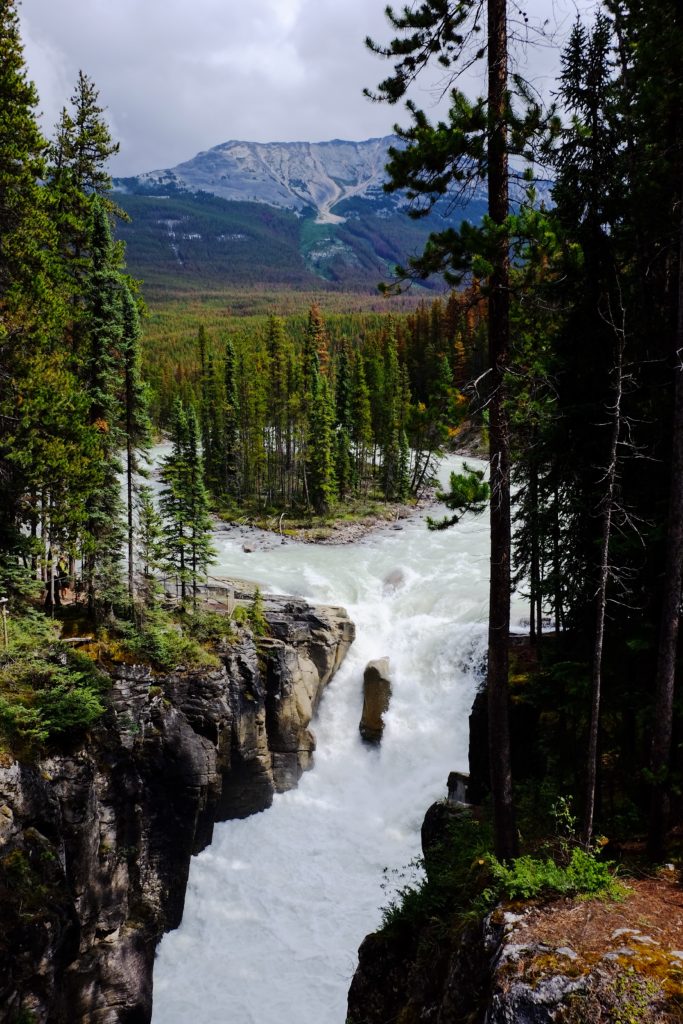 4) Sunwapta Falls: This dramatic diamond-shaped waterfall landscape is another popular snapshot from Jasper! When you arrive in the parking lot, the path to see the falls is pretty simple and the walk is very short. You'll come to a bridge where lots of people are taking photos. I only discovered weeks later that lots of photographers go off-path in order to capture the waterfall straight-on. This is why you might see photos of Sunwapta where there are no trees obstructing the view. If you do choose to go off-path, be very careful where you step and do not disturb the wildlife.
General Travel Tips
1) How to avoid crowds: Banff is incredibly crowded in the summer. Whether traveling in groups or individually, there are lots of tourists from all over the world between June and September. However, most tourists explore between 8AM and 5PM, even though everything is open 24 hours a day. So you can start as early as 5AM and/or stay out as late as 9PM and still have light. I highly recommend planning this way, even though it's a bit more exhausting!
2) Wildlife precautions: Most of the famous locations are highly accessible and there will be plenty of people if you are visiting in high season. But if you do the more challenging / remote hikes, you're advised to be bear-prepared (e.g. have bear spray and know how to use it; hike in groups; make noise, etc.). Additionally, you really should not feed the wildlife or get too close. This poses a safety hazard for everyone, animals included.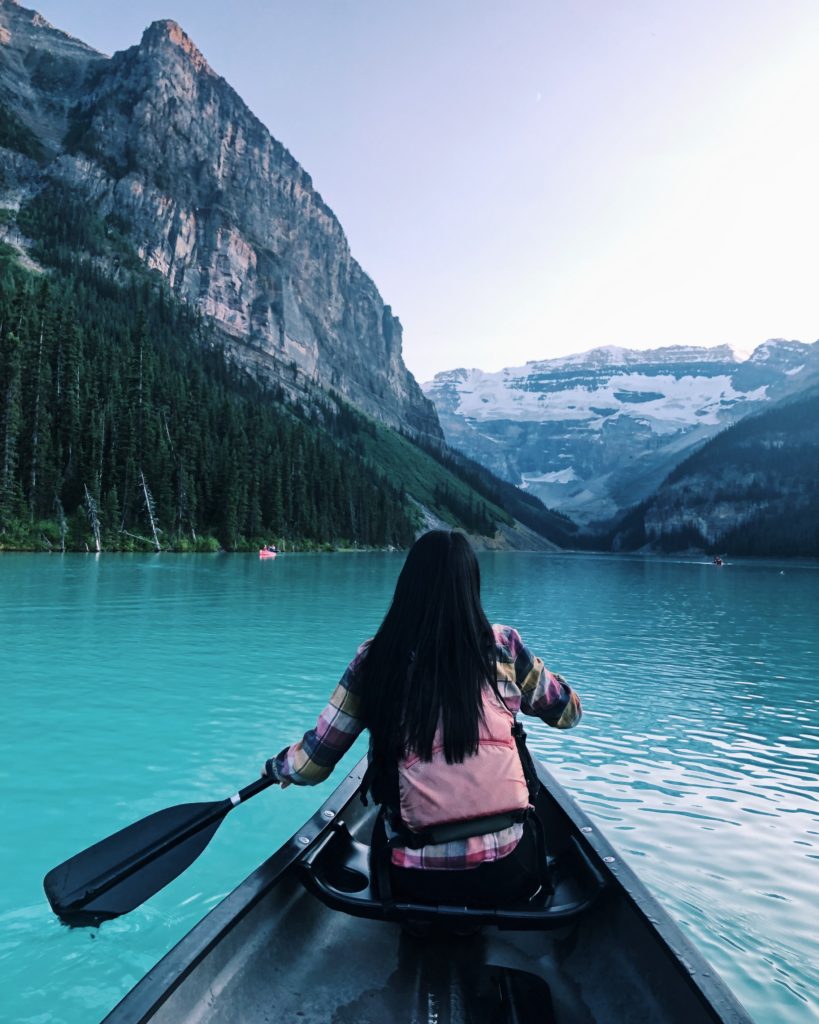 3) Renting a car and parking: Unless you are traveling on a group bus tour, you should definitely rent a car— preferably a 4-wheel drive. Be prepared to drive a lot, and pay attention to speed limits and signs. In some of the stops, parking is a nightmare after 8AM or before 6PM. You'll see people parked along the road. This is fine as long as you're safe about it (with the exception of Moraine Lake — they close the road to the lake when the parking fills up, and/or people park illegally and risk getting towed).
4) Prepare water and food ahead of time: There's not exactly restaurants everywhere, only in the towns and at hotels. Bring food in your car if you're going to be out all day! Food is not cheap and it's not amazing, but it'll get you through.
5) Download offline maps to your phone: We paid to have our US phone plan available to us while we were in Canada, but the local infrastructure is simply limited, especially on the Icefields Parkway. Be prepared to have weak data connection or no service at all, even if you've paid for it. Wifi can also be weak. Your best bet is to download offline maps (via Google Maps) each day before you venture out. That way you can always at least know where you are.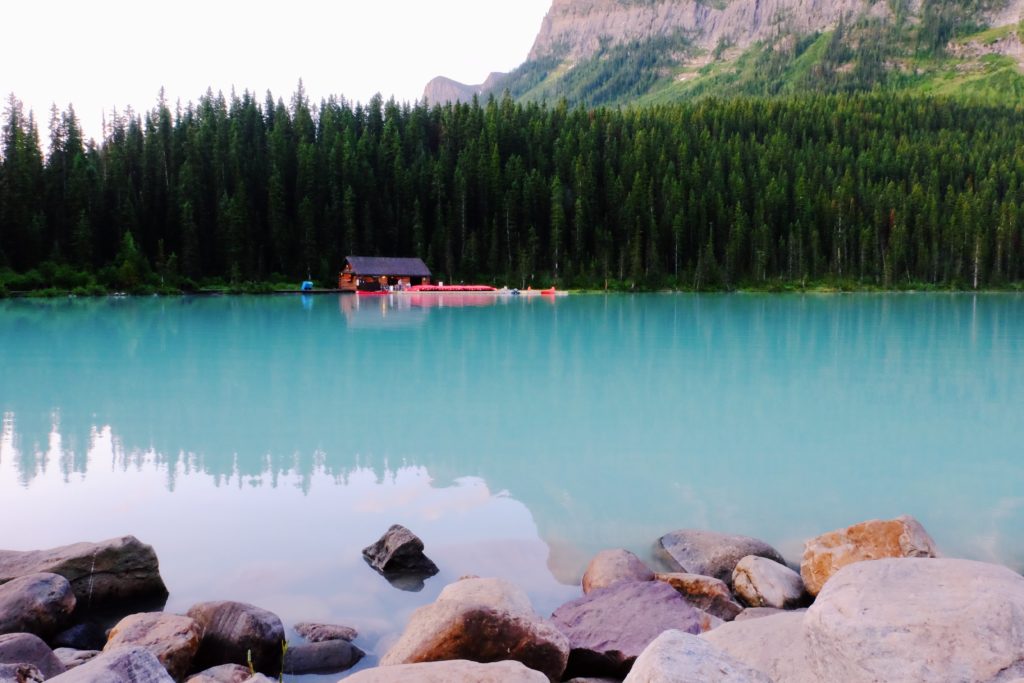 Pin this for future reference!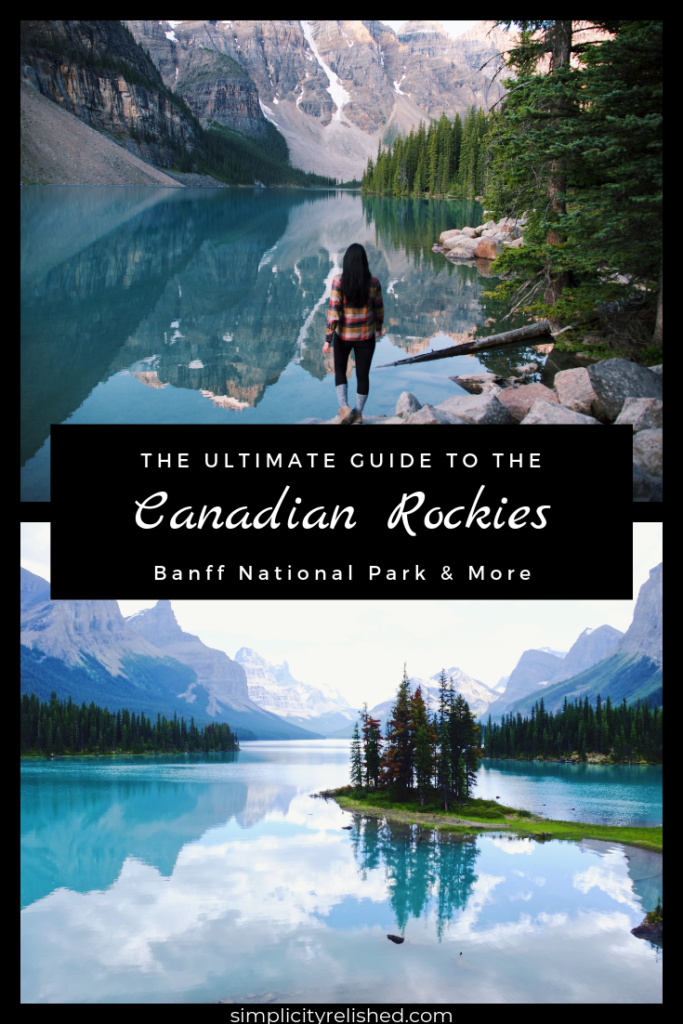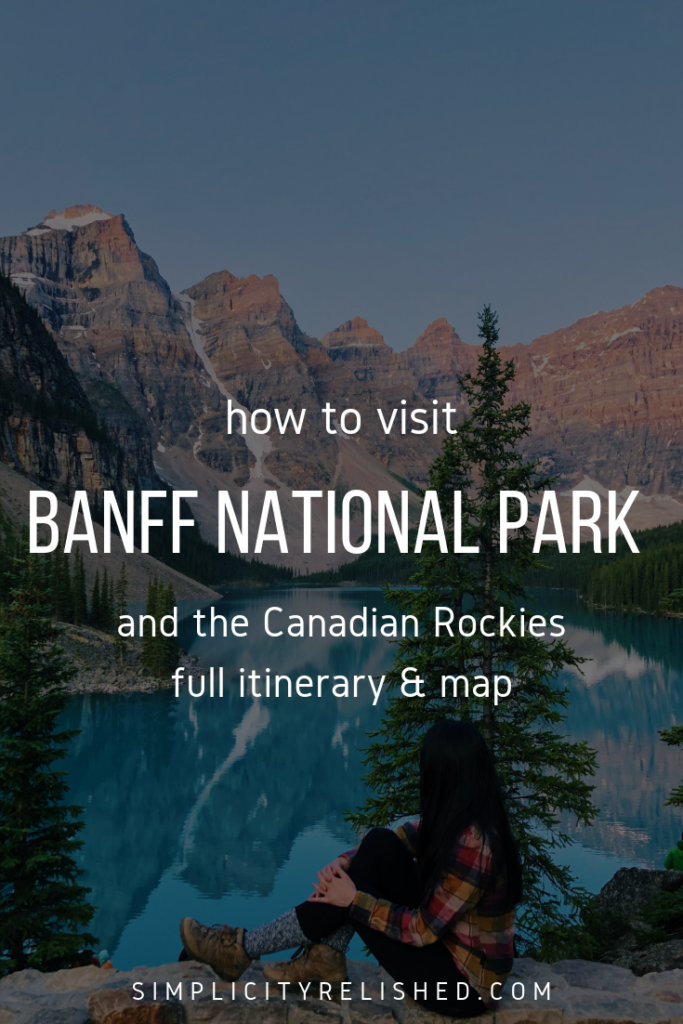 Have you visited the Canadian Rockies? I'd love to hear about it!