As a child of the San Francisco Bay Area, one of my favorite road trips was driving down to the Monterey Peninsula. It was such bliss to be by the Pacific ocean–cold, windy and salty– and to be far away from the worries and stresses of life at home (yes, I was stressed even back then). After a day on the coast, my hair would be stringy, my heart content, my feet cold, and my worries far away. For a long time, it was my most favorite place in the world.
Unsurprisingly, these popular destinations still hold a dear place in my heart; I even dragged my out-of-town bridesmaids to visit the area with me in March. Last week, my husband and I took a trip up the coastline to celebrate the new season and enjoy some time away. This multi-day jaunt involved window shopping, wandering, hiking, yurt camping, dining, and of course, taking photos and laughing a lot. Our first stop? Pebble Beach and Carmel-by-the-Sea!
Pebble Beach is the serious golfer's paradise. Even more, it's a place where well-to-do folks like to retire. And who could blame them– 17 Mile Drive is a beautiful location to plop yourself down if you can afford it; or, you can simply take your car through Pebble Beach for $9! But the view is worth it, don't you think?
If Pebble Beach is the gorgeous play-but-don't-stay town, then Carmel-by-the-Sea is its slightly cheaper, charming younger sister. Cottages in Carmel are built to resemble days of old, with lush gardens and little gates to match. Addresses in Carmel are indicated by block, but– to the chagrin of many visitors– there are no house numbers. Instead, the town's gift to us wayfarers is the invitation to wander.
And wander, we did! As we trekked up Ocean Avenue (appropriately named for its proximity to the beach), little boutiques beckoned us in. I never forget to stop at the Cottage of Sweets, and I love to window shop for rare goods and trinkets. There are also several tasting rooms for those who like wine; Carmel Valley is an amazing source of the stuff, and Carmel is the perfect place to enjoy it. Finally, there are so many art galleries– my favorites the paintings of Carmel, of course!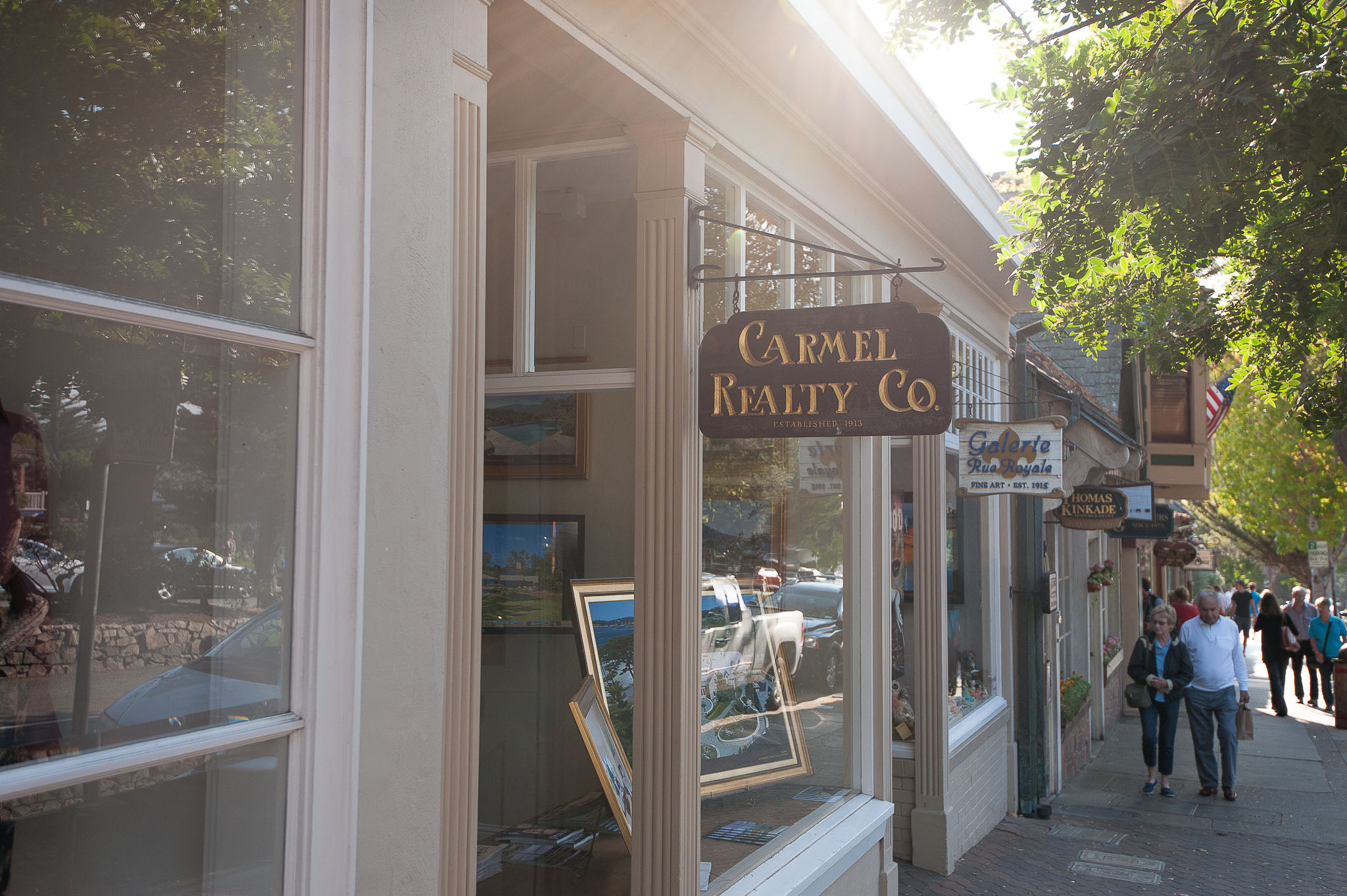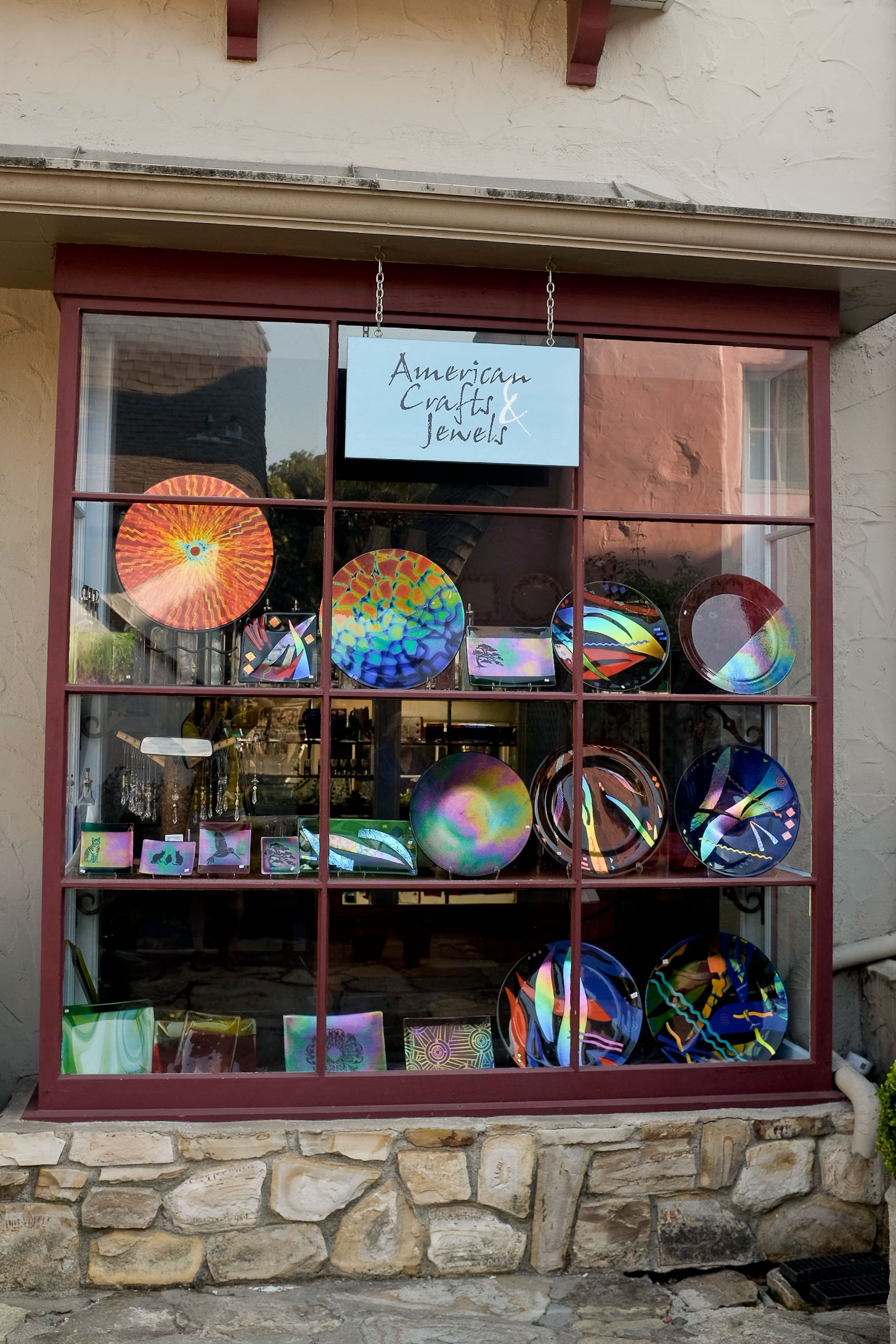 After wandering for a couple of hours, it was time to dine! There are more than several charming restaurants in Carmel. My favorite by far, though, has to be Basil Seasonal Dining. Basil sources its food locally and– as you might have guessed– has a farm-to-table concept. The menu is always simple with a fresh unexpected flair, and my meal is always delicious.
If you find yourself traveling to the Monterey Peninsula– namely Pebble Beach, Carmel and Monterey– I have some recommendations for you!
Stay: try one of the many inns in Carmel! These friendly adorable places are cozy and much more affordable than anywhere in Pebble Beach. Alternatively, downtown Monterey has some lovely affordable options as well.
Dine: In Carmel, we like Basil, Casanova, and La Bicyclette. In Pebble Beach, you can stop for a drink and some fried calamari while you watch the waves (and the bagpiper) at the Inn at Spanish Bay, or for a good burger at The Bench at The Lodge at Pebble Beach. Monterey has delicious eateries as well, but I would avoid the restaurants on Cannery Row near the Aquarium (a must-see!); they are tourist traps!
After a night in Carmel, we headed down the coast to Big Sur– the main event! My next post, The Central Coast Part Two, will have photos of our hikes, coastal drive, elephant seals, and our ocean-view yurt!