I am so thrilled to have Sheryl from How To Make A Life on the blog today with some tips for self care. The holidays are a busy time, and we need to develop rhythms to practice peace, relaxation, and true enjoyment during this season.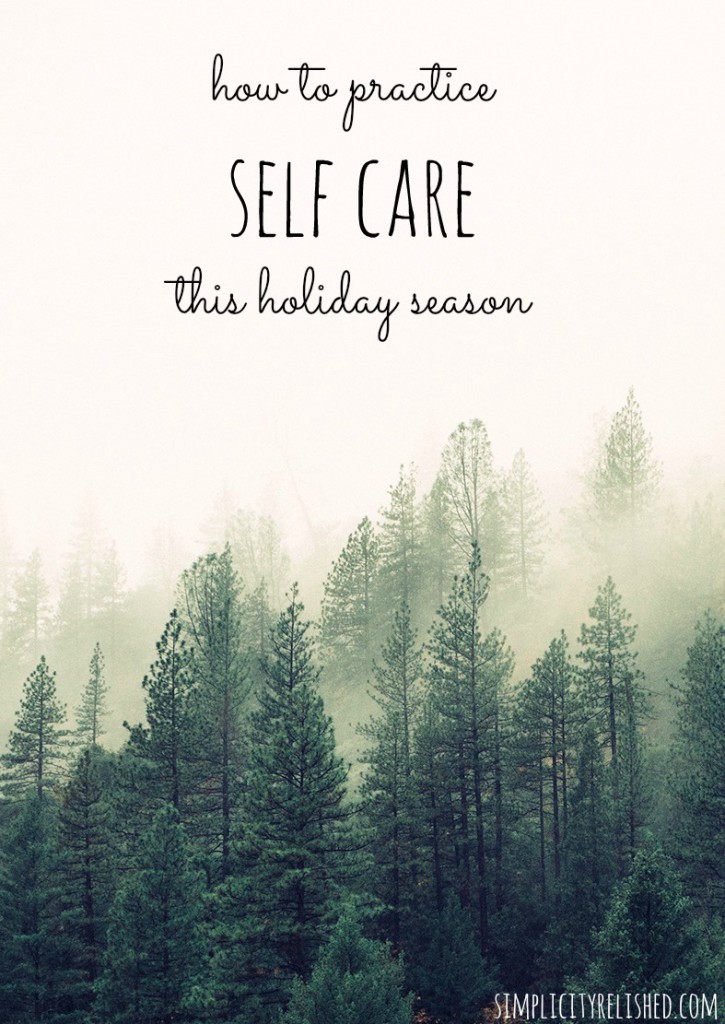 Hello everyone! I'm Sheryl from How to Make A Life. I regularly blog about practicing self care and finding inspiration in your daily life. Today I am thankful Daisy is letting me spend some time with her readers.
For many people, Halloween marks the beginning of the holiday season and one of the busiest times of the year. This time of year is always so much fun but it takes no time at all for our schedules to become full. Sadly, practicing self care becomes an after thought. Today I wanted to share with you a few suggestions for taking care of yourself during the Holiday season.
How to practice self care this holiday season
First, I hope that you have some form of self care routine in your life, if not, I encourage you to check out my suggestions. I thought I would approach self care from three different perspectives throughout the coming months.. The season can be overwhelming but can also be manageable and enjoyed.
Monthly
Put everything on your calendar
This seems like a logical idea. However, we often receive so many invitations and have various deadlines that we often neglect putting everything down on the calendar. Thus, we find ourselves stressed out and double booked.
If you haven't already, sit down with your calendar and block off the dates of family events, parties, work events, and concerts. Additionally, it is a good idea to plan when you would like to go shopping (for groceries if you are having a dinner party and Christmas shopping). I also encourage you to schedule on self care event per week. This can be scheduling a haircut or mani/pedi or coffee/girls night out with friends.
Putting things down on a calendar will enable you to have a better view of your time. This will also help you with knowing if there are events you need to say no to.
Weekly
Review your calendar
Have things changed? Do you need to reschedule events? What needs to be done this week? Acknowledge that life can change quickly and activities and events may need to be triaged as needed on a weekly basis.
Make a List
Prioritize what needs to be done first. Do you grocery shop once per week? How many nights will you be having dinner at home? It helps to have an idea of what need to be done. I have found that writing the activities down in my calendar helps me more than keeping a mental list.
Daily
Stretch
Make this the first thing you do each morning after getting out of bed. When we become stressed and overbooked, our bodies hold tension. Rather than hitting the alarm clock and rushing out of bed, practice simple stretches such as neck and shoulder rolls, side and back bends. Continue to do this throughout the day when you feel tight. If you need some suggestions for simple stretches throughout the day, visit my pinterest board Stretch.
Deep Breathing
When life becomes hectic, it is not unusual to find yourself holding your breath or breathing shallow. If you find yourself sighing, you are likely holding your breath. Throughout the day, practice slowing inhaling and exhaling. This can be something you practice while waiting in that long line or sitting at a stop light.
Make Time for Yourself
Rushing through the day does not make you accomplish things faster and often creates more havoc. Each day make sure you are taking at least 5 – 10 minutes to just be. Look through a magazine or watch a TV show. Call a friend just to check in.
Practice Gratitude
Research shows that daily acknowledging three items you are thankful for helps to improve your mood and overall health. This time of year can become extremely stressful to the point that slowing down to think about three times each day can be difficult. This is a great time of year to begin the practice of a gratitude journal. Before bed each night think of what has happened that day. There have been days where for me it was someone held the door open or the car in front of me purchased my coffee. Try to look at the day differently but it's also ok to use some of the same items (like your husband and kids).
These suggestions are not new but when practiced on a regular basis can truly make a difference. If you are looking for additional thoughts on self care, I encourage you to read How to Create a Self Care Box.
I hope by implementing a few of these suggestions you will have a less stressed and more enjoyable holiday season.
Do you have a self care routine? What works for you? I would love to hear your thoughts and ideas.