I was craving pesto the other day. But if you've ever looked into making your own pesto, you also know that pine-nuts are just about the most expensive nuts on the market. So I had to find an alternative. Recently, I've been looking for ways to eat more fully-vegetarian meals, and kale is one of my favorite ingredients. So with kale, olive oil, almonds, and some spices, I made a vegan almond-kale pesto (recipe below).
I love this little variation on the traditional basil pine-nut pesto. And with a good blender or food processor, it's pretty easy to make! As I've mentioned in the past, one of my struggles with vegan dishes is that they rarely fill me up for a long time. But this dense, rich pesto is not just good for you; it's totally satisfying! And, it's also super delicious on freshly toasted bread.
When it comes to cooking vegetarian or vegan, it is important to know your flavors well. Since vegetables tend to be milder than meat, they'll need a little extra help to become flavorful. And one of the biggest flavor-bombs of all time is sun-dried tomatoes. These things are almost like meat; they're salty, savory, and add excellent texture. Another great ingredient to add is a strong, flavorful cheese such as gruyere. The cheese I shaved onto my pasta dish was from the farmer's market this past weekend: a unique goats-milk gruyere with lots of character.
What are your favorite vegetarian ingredients? Are you in love with kale like I am? I'd love to know!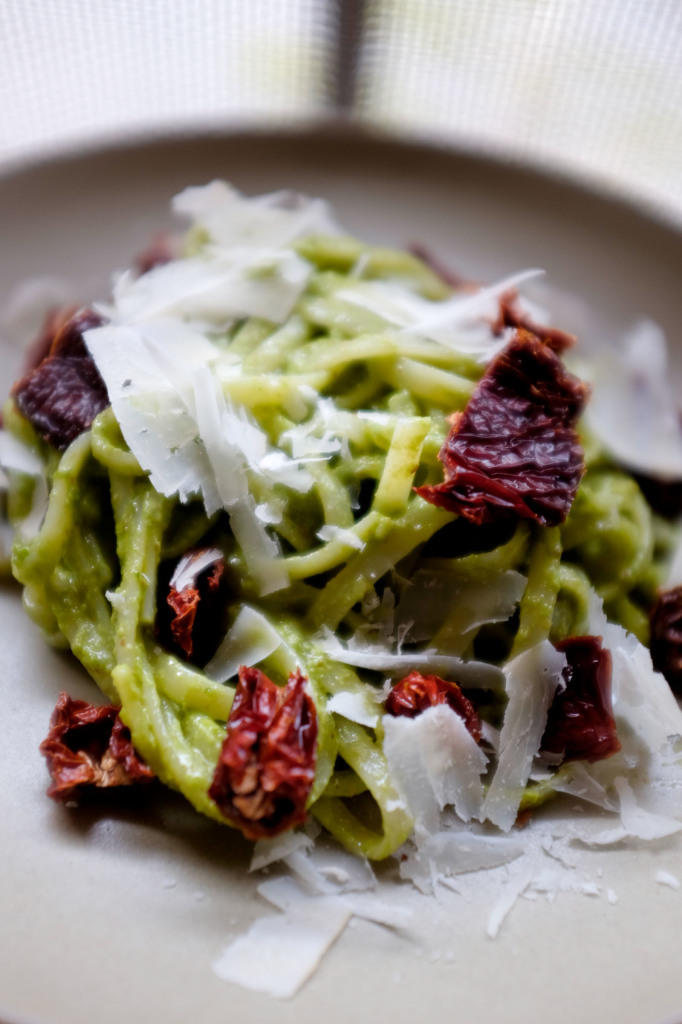 Linguine with Almond-Kale Pesto, Sun-dried Tomatoes and Shaved Gruyere
For the almond-kale pesto (makes 8+ servings; keeps well over a week refrigerated):
– 3 cups raw/unsalted almonds (we get ours from Costco, but try buying in bulk)
– 2 cups olive oil (plus more for a liquidy texture)
– 1/2 bunch raw lacinato kale
– salt & pepper to taste
For the pasta dish (makes 1 serving):
– 1 serving linguine pasta
– 1/2 handful sun-dried tomatoes, roughly chopped
– Gruyere or other hard cheese, for shaving (optional)
To Make the Almond-Kale Pesto:
Rinse the kale and dry with a paper towel. Remove the tough ribs of the kale and place the leaves into your food processor. Add half of the almonds, and all of the oil. Cover the container and process until a paste begins to form. Scrape down sides of container as necessary.
If your pesto is already pretty thick, add more oil, and add the rest of the almonds. Continue to add oil as needed to reach the consistency you would prefer. A pasty pesto is better for bread; a more saucy pesto is better for pasta. You can always make a pasty pesto and then mix in some oil before serving it with pasta, if necessary.
Once your pesto has reached desired consistency, begin to add salt and pepper, to taste. Blend and season to taste until it's delicious!
To Make the Linguine:
Bring water to boil and cook the linguine according to instructions. Strain the cooked pasta, and place into a mixing bowl. Scoop out approximately a quarter cup of almond-kale pesto and mix the pasta and pesto with a fork until well incorporated.
Plate the pasta. Add sun-dried tomatoes and shaved gruyere if using. Bon appetit!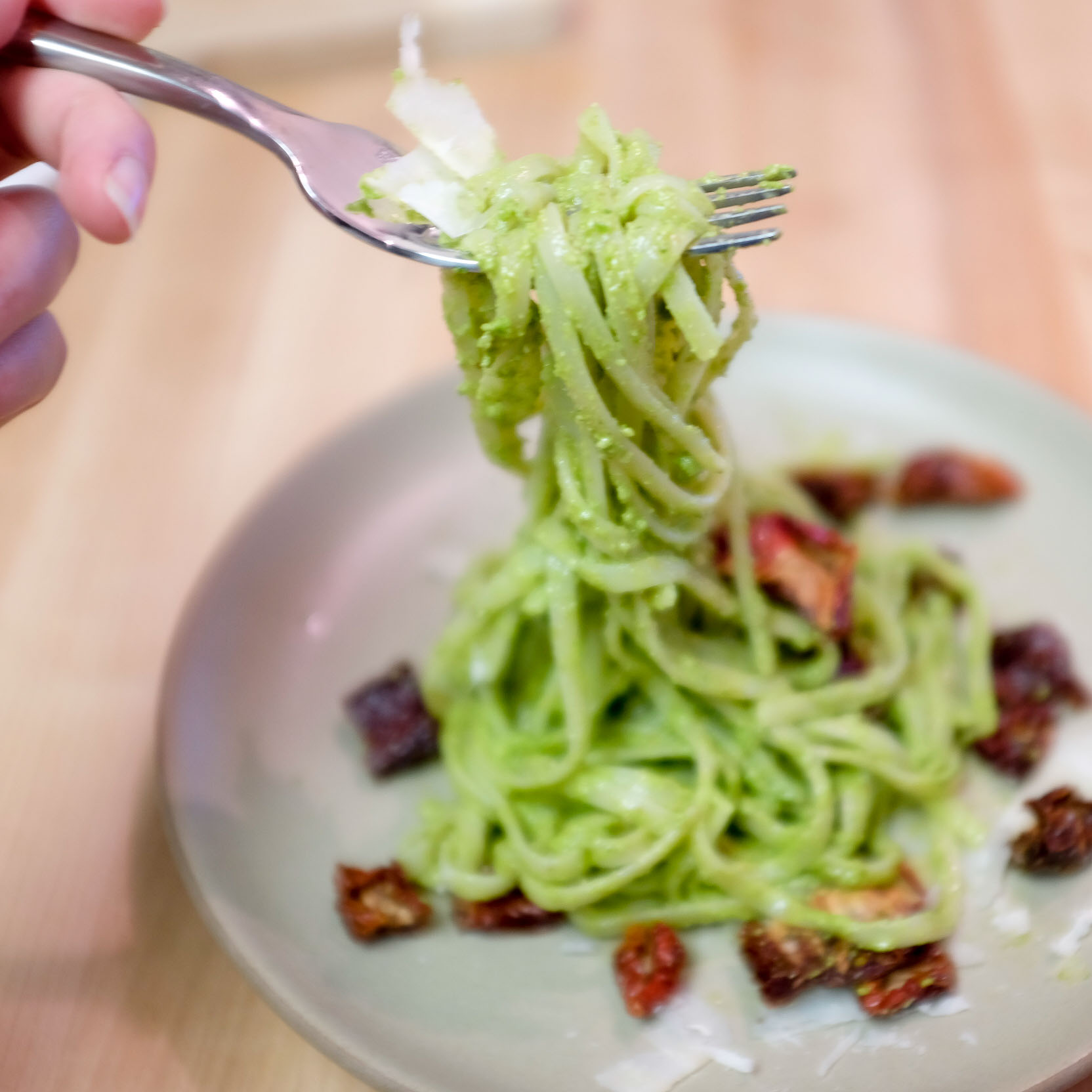 Have a delicious weekend everyone! And don't forget to stay in touch: