I spent 4 years living in Cambridge, Massachusetts, but admit to only spending a handful of days wandering through Boston. It felt so accessible at the time that I rarely found myself jumping at the opportunity to explore one of the oldest cities in the US. Just a few weeks ago I visited again, and found myself spending the majority of my day alone. This was fabulous– I felt like I finally saw parts of Boston I hadn't noticed before. Funny, isn't it, that we appreciate the towns of our past more once we've left? I often wonder if I'll miss SoCal more than I'm willing to admit. But I digress.
Boston is no hidden gem; it has been a popular destination for Americans and internationals alike, not least because of its sophisticated melding of historical and modern. But the history is really what Boston is known for– and it has no small amount of charm.
A walking tour through the popular historic district…
Throughout almost all of New England, you can find American history nestled in its corners and crevices. But this self guided walking tour of Boston features my favorite section: it's the perfect walk that takes just a few hours if you're taking your time.
The majority of this short tour takes place in Back Bay and Beacon Hill, ending at Copley Square. If you're heading to this area, I recommend arriving in the morning and enjoying the quietness throughout the city.
1) Park Street Station and Boston Common
Arrive at Park Street Station and head into the Common. This place is beautiful in the summer and fall, when trees are full of color and there's a light breeze. Make your way toward the center of the park, and cross over toward Beacon Street.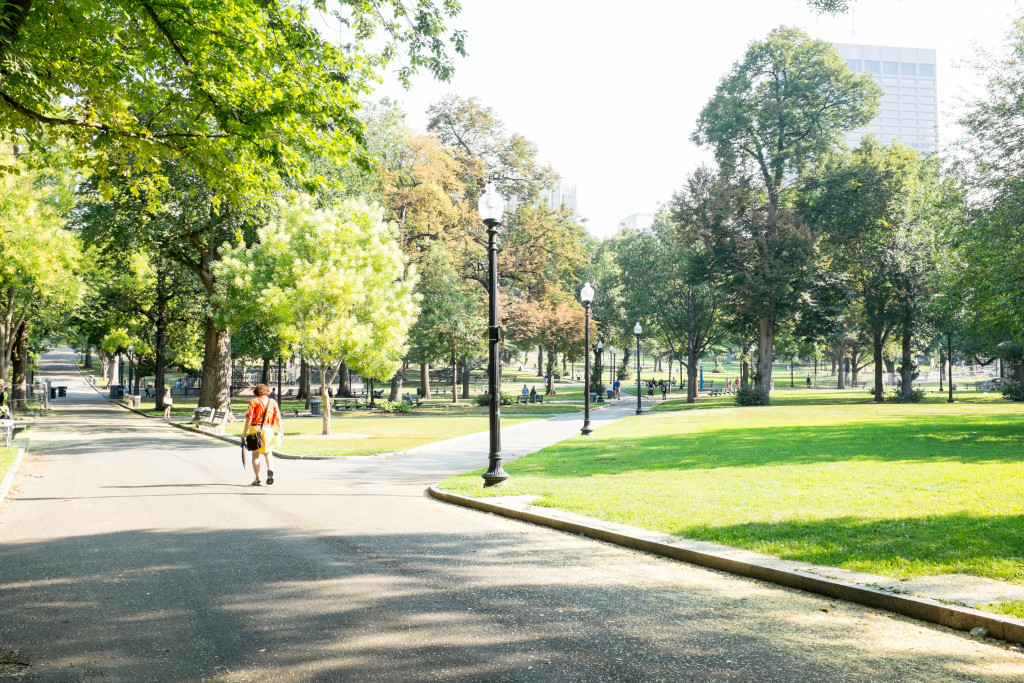 2) Beacon Hill: Boston's charming elite neighborhood
Beacon Hill is beautiful, quiet, and pretty expensive. Admiring is free, however, which is why you should make a foray toward Chestnut Street in Beacon Hill from Boston Common. Head into this little neighborhood via Walnut St or Spruce St, which are perpendicular to Beacon Street.
Once you hit Chestnut Street, turn left and wander downward. You want to head in this direction so that you can turn back toward the park and see Boston Public Garden. But before you do, don't miss Acorn Street, a charming little cobblestone alley with the sweetest flowers.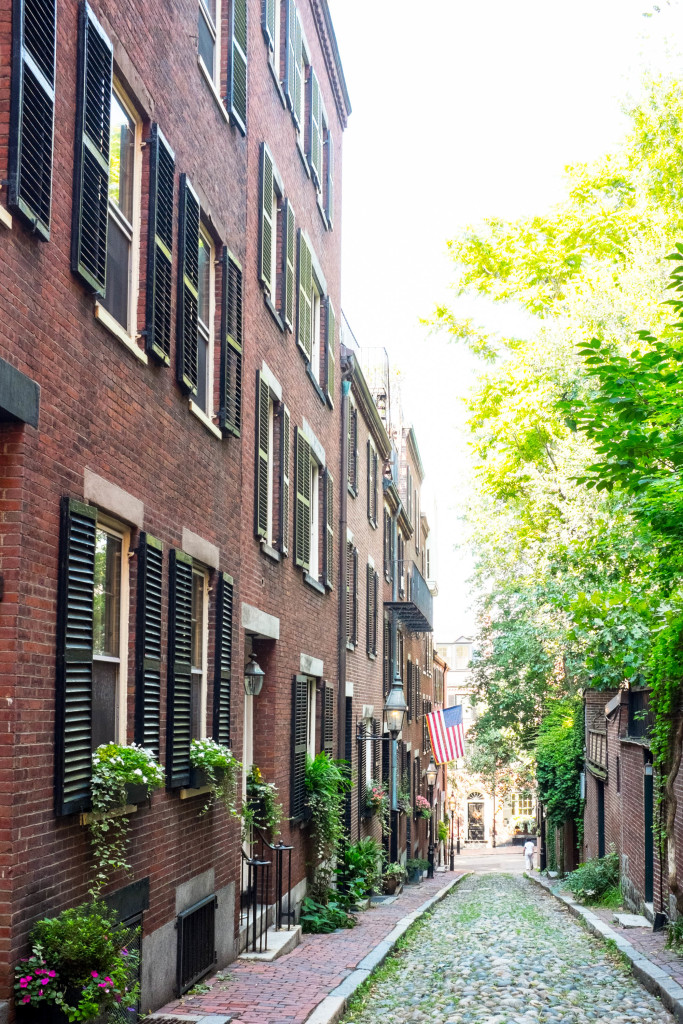 3) Boston Public Garden
When you've drunk in enough charm, head back toward Beacon street and away from the Common until you see Boston Public Garden. It's right across the street from the Common, and is hard to miss.
Public Garden is most beautiful between May and October, when there are flowers to be admired. Blossoms adorn the trees in May, as do golden and crimson leaves in the fall.
I've admired the swan boats over the years but never taken a ride, so I can't comment on whether it's a worthwhile experience. Either way, admire the live swans, geese, and ducks, but don't expect them to be friendly (except the brass ones of course).
4) Newbury Street
Make your way toward George Washington on his horse, and you'll be at the correct exit to walk straight toward Newbury Street, Boston's historic shopping district.
Wander down the street and, if you like, into the boutiques and cafes there. You'll probably recognize quite a few of the brands, but that doesn't take away any of the charm.
5) Copley Square and Boston Public Library
From Newbury, turn left on Dartmouth Street and walk straight until you see a large square with a church in the background. This is Copley Square: still a place where locals come to hang out in the afternoons and evenings. If you're lucky, you might catch the Tuesday farmer's market that takes place in the summer.
Facing Copley Square is the looming Boston Public Library. It's a sight to be seen, and free of charge, so why not? Enter the library and walk up the stairs until you see the entrance to the reading room. If this doesn't make you nostalgic for college, I don't know what will!
Head back down towards the first floor and make a right towards the restrooms. There's a door to a gorgeous courtyard that's not to be missed; asked library staff to show you the way if you can't find it. The courtyard has a lovely fountain and plenty of places to sit and reflect.
End: grab a bite to eat!
Where you go next is completely up to you! The tour ends here, in Copley Square, where you can easily find your way back to Newbury Street, or head past the library towards Back Bay restaurants. If you fell in love with Beacon Hill, there are plenty of charming lunch and dinner spots there as well. One of my favorite spots on Newbury is the Thinking Cup— they serve up a pretty good cup of coffee!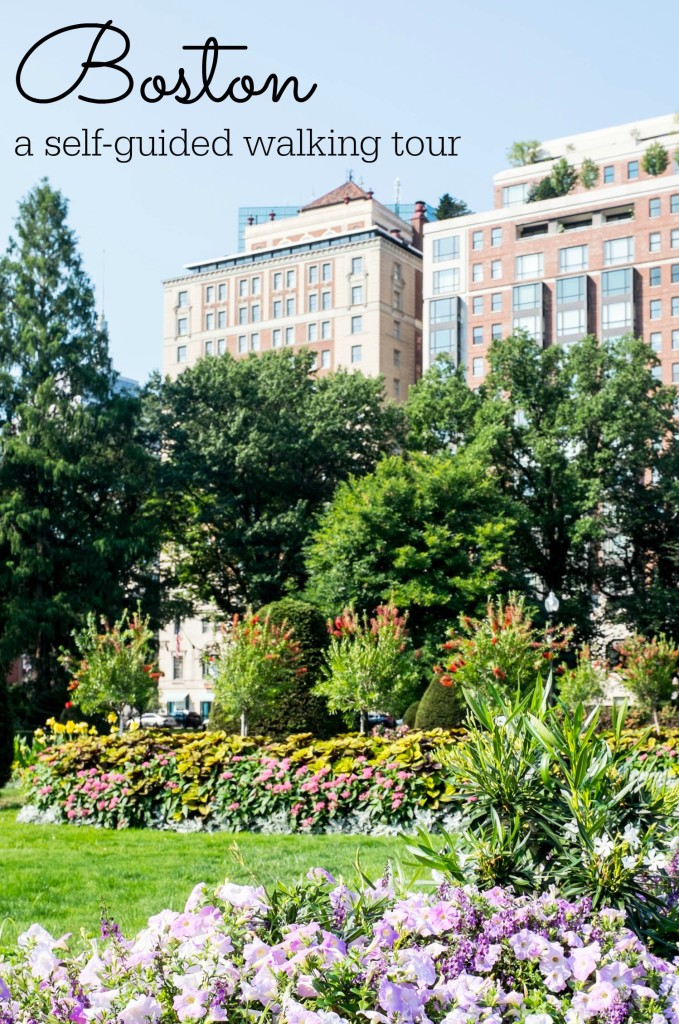 Have you been to Boston? What were your favorite spots?