Thinking about sponsoring other blogs? With so many great bloggers and offers, how in the world do you decide whom to sponsor?
First, it is important to consider what it means for you to sponsor someone.
Sponsorship versus Advertisement…
While in the blogosphere the words "sponsorship" and "advertisement" are often used interchangeably, I don't see them as quite the same idea. While an advertisement usually involves an ad image and some form of promotion, a sponsorship can be so much more than that.
I've spent a lot of time (many hours, probably) evaluating sponsorships and weighing my options. Here's the thing: when I sponsor a blog, I'm hoping to enter into that blog's community. I want to interact with their readership and engage with what is already going on there. While I'm a relatively new sponsor and don't yet offer sponsorship packages of my own, here are some questions that I ask myself before purchasing a sponsorship.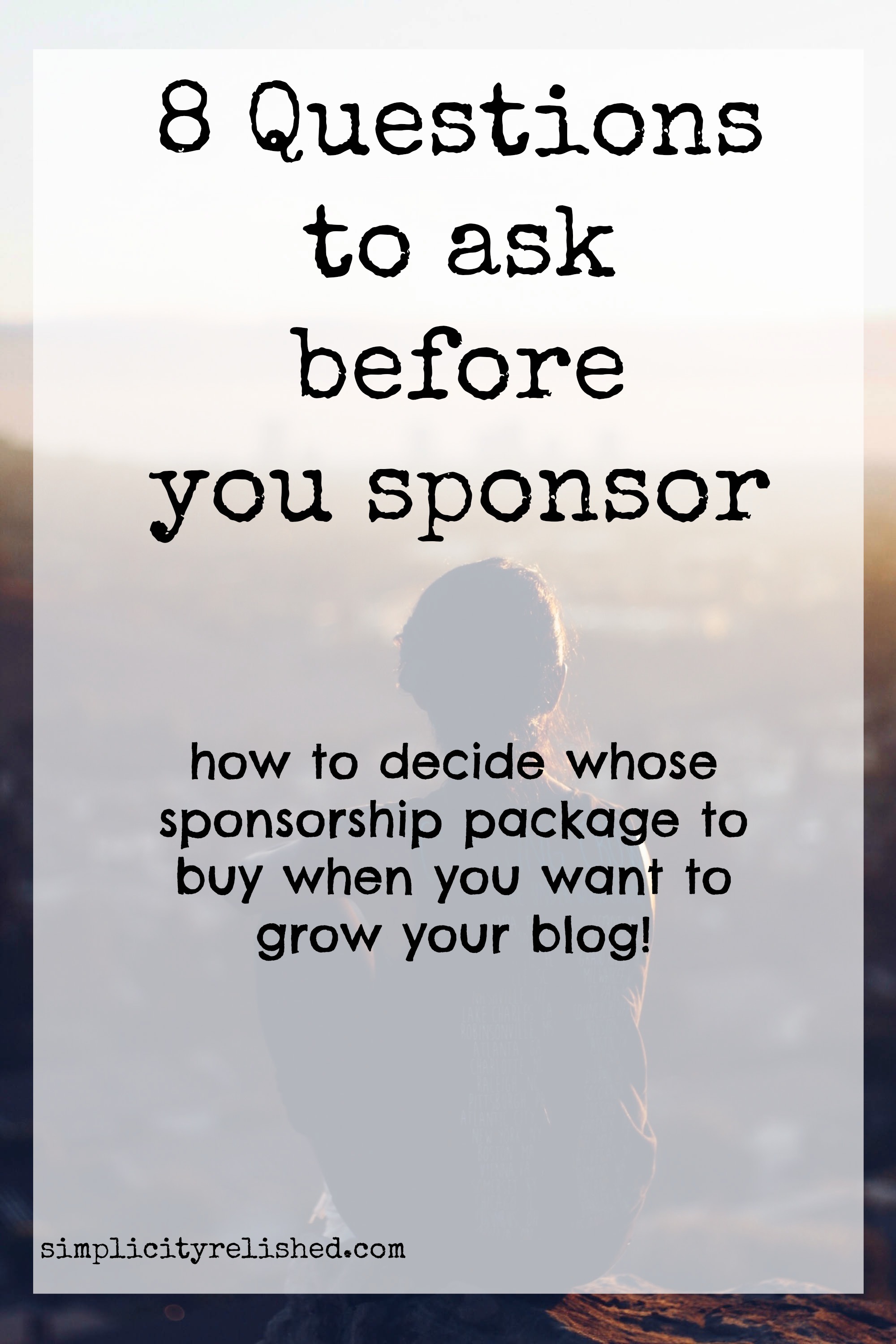 8 Questions To Ask Yourself Before Sponsoring A Blog
1) Do you already love their content? Sponsoring a blog is not merely a transaction; it demonstrates genuine support. Do you believe in that blog's mission? How familiar are you with their work? This is important because not only are you employing their services to promote your own work, you're also helping provide for their blogging (or living) costs. In effect, is their content something you would be willing to pay to read? If yes, then it's definitely a good sponsorship option!
2) How engaged is their readership? This is a big one for me. While not many bloggers will provide the bounce rate or click-throughs, you can evaluate reader engagement at least by their comments and social media interactions. They might have thousands of "followers" but zero comments or interactions (I've seen this a few times). Why is that? Do they engage with readers on other platforms? If their readers aren't engaged and communicating, then it will be less likely that they will click on your ad or respond to the guest posts you write.
3) Do their prices and numbers fit the market? Everyone can set their own rates, and sponsorship services all vary in terms of what's included. However, be sure to look around on different blogs in that blog's niche and check out how much others are charging. If a blog appears to be overcharging, you can always politely email them and ask about their offers.
4) How specific are their sponsorship packages? Do they just offer "social media love!" or do they promise a certain number of tweets, pins, and features? Follow them on twitter to see what their promotions look like. Can you get details on the group giveaway item? What does an in-post shout-out include? The more specific their promises, the better. And while you should remain in close contact with those you are sponsoring throughout the month, you shouldn't have to remind them to follow through.
5) Do they visibly love their sponsors? Do you see their comments on their sponsors' blogs? Do they show a genuine interest? I love it when bloggers build relationships with their sponsors. It helps me feel invited in, and I appreciate the investment of time they're making in my work.
6) Are they busy making money? This might be a jarring question, but it's important. I'm personally wary of sponsoring blogs that constantly seem to be promoting something. This is mostly because, as a reader, I start to lose interest when every other blog post from a blogger is trying to sell me a product or make me read someone else's work. While I love discovering new blogs and products, I still want to feel connected with the actual blogger and her/his own creative content. If they're always selling something, then you could just be another feature in the mix.
7) How much time do YOU have this month? Do they expect you to send them posts to tweet about? Write your own guest post? Answer interview questions? These are all perfectly good options, but it's important to ask whether you have time for it. Too many guest posts or interviews in one month can be exhausting. Furthermore, be sure to read previous posts featuring sponsors. Do you like what you see? Did readers respond?
8) What are your reasons and goals for sponsoring other bloggers? This is probably the most important one. There are many reasons to sponsor blogs, not limited to increasing your page views. Sponsorships can expose you to new blog communities and friends. Sometimes there's a special cause you can participate in. Perhaps you'd like to join in on a giveaway to increase your followers. Or maybe you just love this blogger and want her/him to know it! Whatever your goals, be sure the sponsorship in question has the potential to meet them.
One last thing: be open to trial and error. Sometimes you'll be incredibly pleased with your sponsorships and gain a new blog friend. Other times, you might find yourself miffed or even disappointed. But successes and failures are all part of the business! Everyone is learning, and we can always find ways to help each other out. So be sure to provide both positive and constructive feedback, say thank you, and continue supporting bloggers you love!
Want more insight? Check these out:
**Do YOU have experience with blog sponsorships? How do you evaluate them? If you do offer a sponsorship program on your blog, what services do you include and why? I would love to know!