Autumn in Kyoto is something else. Bursts of color occupy the stretch between earth and sky, spreading wide at the tops of trees, trickling down in fallen leaves, crunching beneath your feet.
Having lived in New England, my expectations weren't low. But there was a fineness and delicateness to the fall foliage in Kyoto that I can't describe as anything other than mystical.
Our suggested fall itinerary: temples and gardens galore
I fell in love with Kyoto in June of 2015. We were traveling through for just 3 days, but I was absolutely swept off my feet (excuse the cliche) by this gorgeous ancient city. Thousands of temples and gardens abound while visitors shuffle along in traditional Japanese attire as though there's no other way. The cuisine is unique, impeccable just like all other Japanese cooking, and yet with a uniquely delicate flavor. Kyoto has long been a popular destination, and it deserves every last raving fan.
Last fall, we decided to park ourselves in Kyoto for almost a full week. We were catching the tail end of autumn along with many other Japanese nationals making the annual pilgrimage to see the old capital dressed in reds, yellows, greens and auburns. Everywhere we turned there were Japanese citizens (many of them elderly) paying homage to Kyoto in an iconic season: there's nothing quite like hills of maple trees waving their brightly colored leaves like hands in the breeze.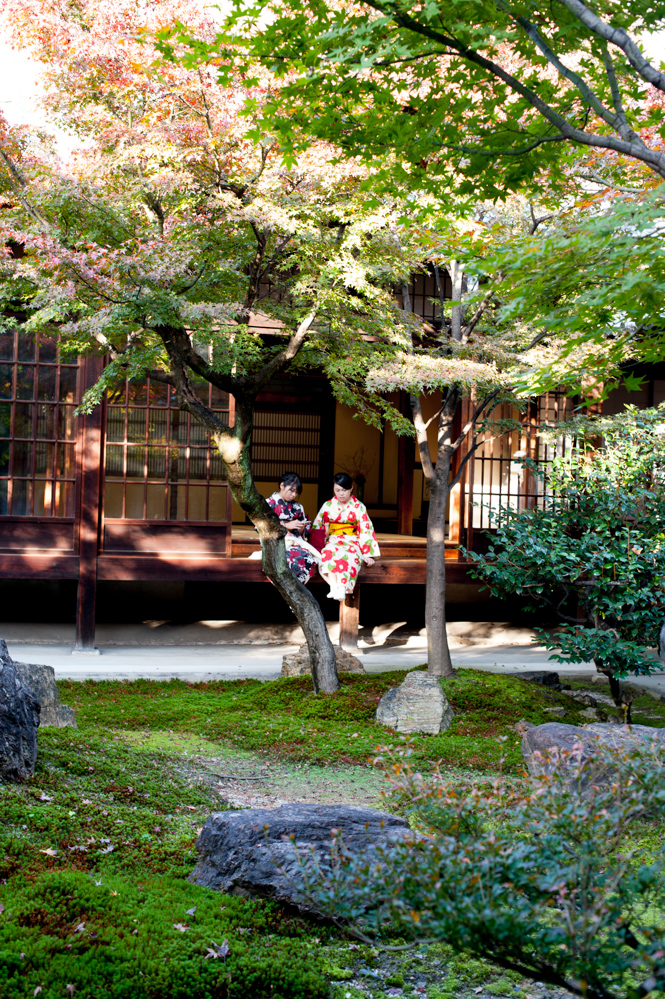 Off the beaten path (sort of)
There are must-see stops that should be on every first-time Kyoto itinerary. We've not only seen them and loved them, but I also catalogued most of them in this popular Kyoto post from our past trip.
This time, we wanted to go to a few old favorites, and also throw in some new sites. All of them are an absolute must if you're going to Kyoto specifically to see foliage.
I should add that foliage season is typically at its peak in mid-November. We went the week of Thanksgiving and saw a handful of trees that were already bare– but as you'll see, there were a number that were still in their full autumn splendor!
Must-have Kyoto resources
I love reading everything I can about a location before I go. These three books are absolute essentials if you want to understand the story behind Kyoto's hundreds of temples and gardens. Plus, Seeing Kyoto and Old Kyoto will give you the insider's look at everything else the city has to offer.
Our curated Kyoto garden map
Below I've listed 9 locations we thought were really wonderful for seeing autumn leaves– and also created a map with all of them already selected for you. We have found that Google is pretty trusty when it comes to Kyoto, and most cab drivers will take you wherever you point to on a map (pro tip: you can also give them the phone number of a destination and their GPS will find it as well). You can also print off the name of your destination (in Japanese!) before your trip and show that to your cab driver.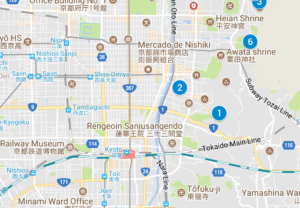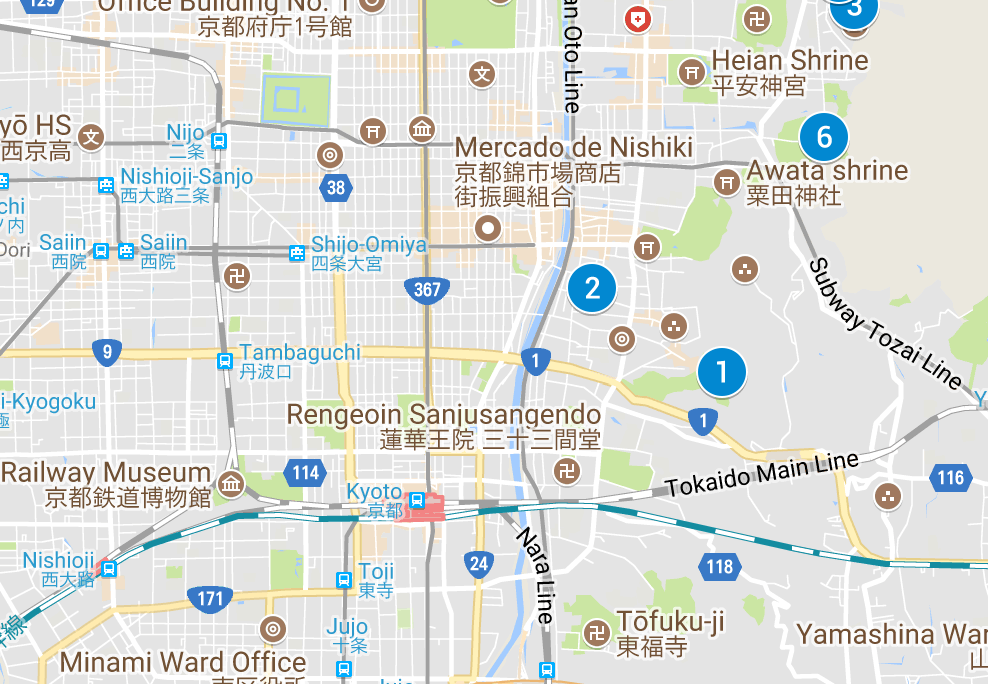 9 Spots for Fall Foliage in Kyoto
1) Kiyomizu Dera
You just can't avoid this one– and you can't avoid the crowds, either. The maples at this famous Buddhist temple just win all the awards. If you can, try arriving early. This is a very popular temple even during seasons with fewer tourists, but you will likely not find yourself alone.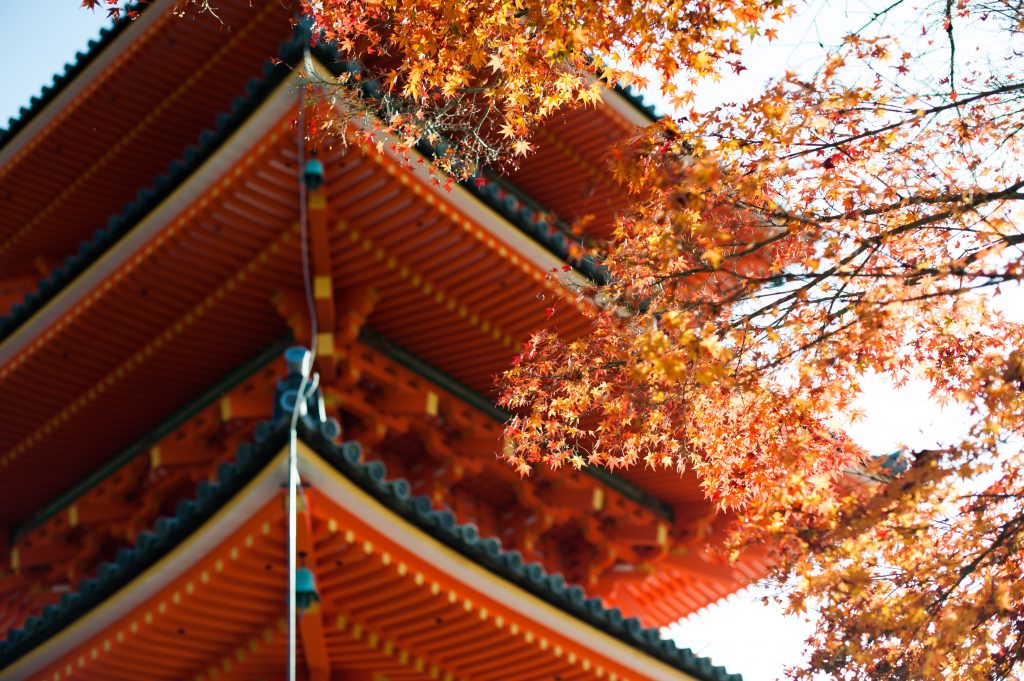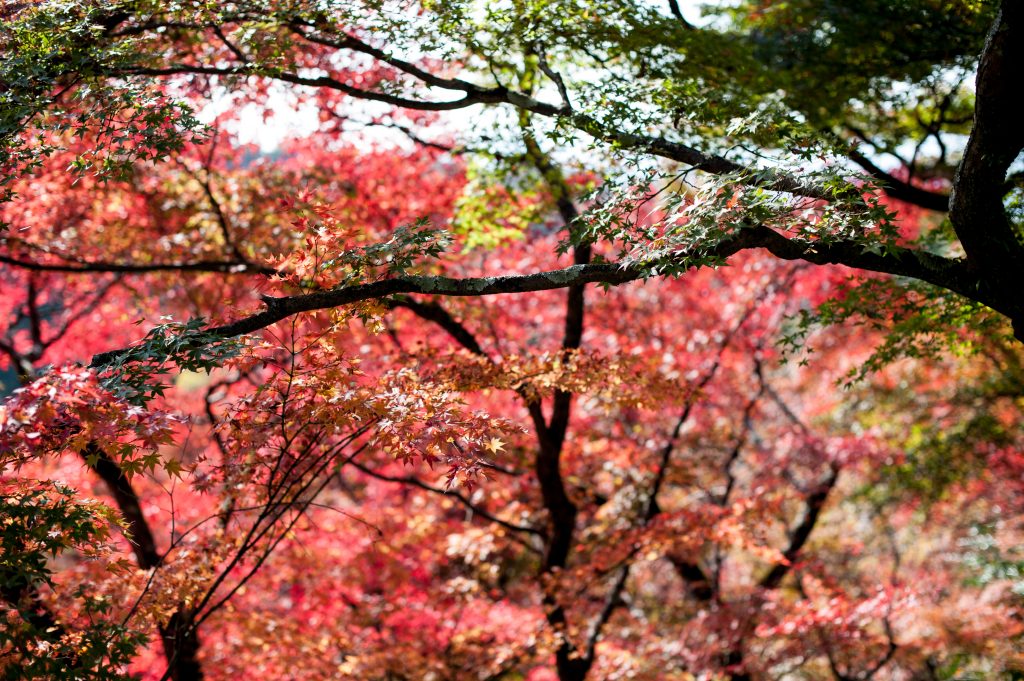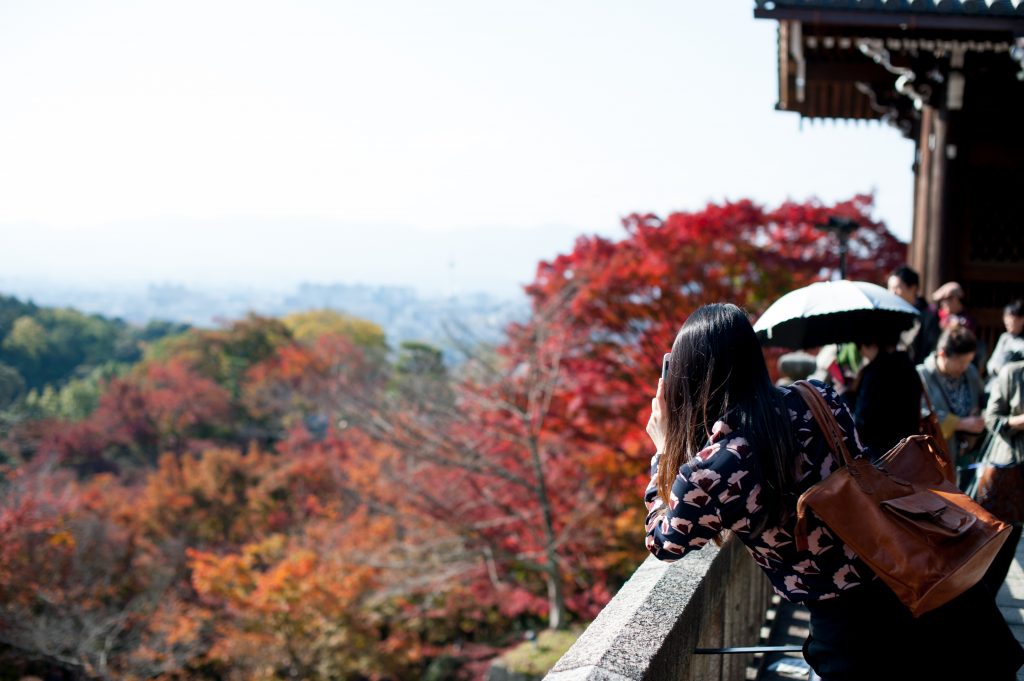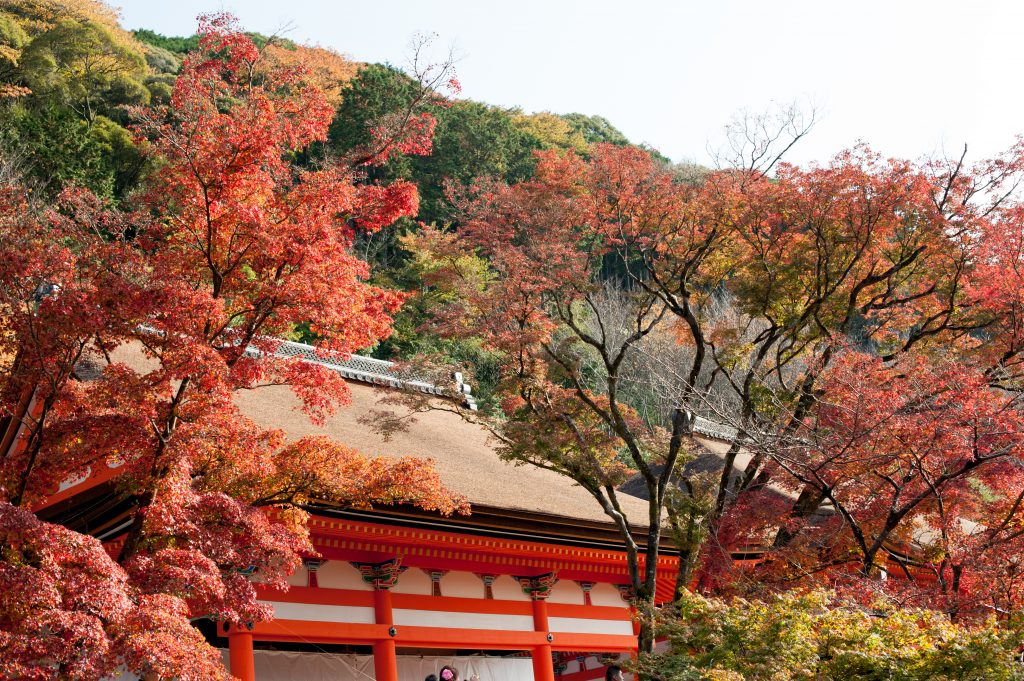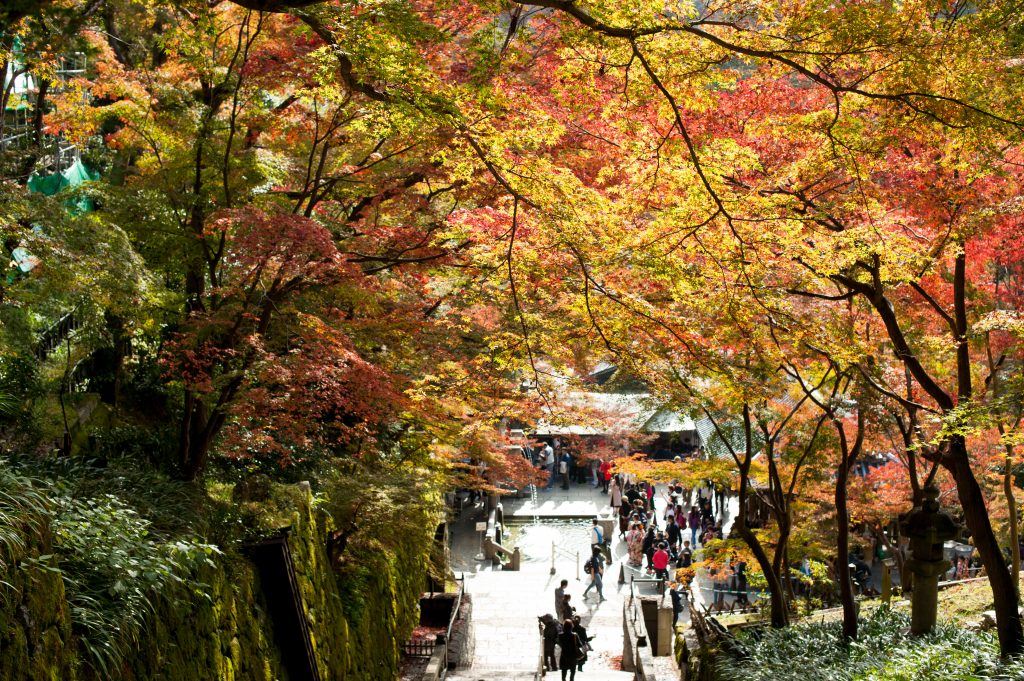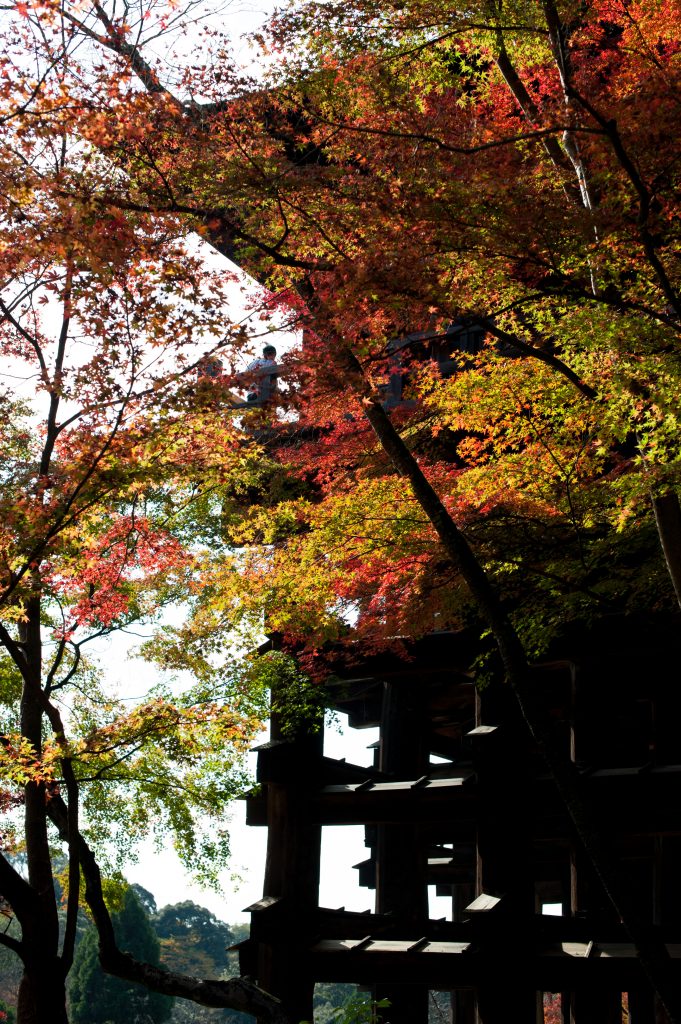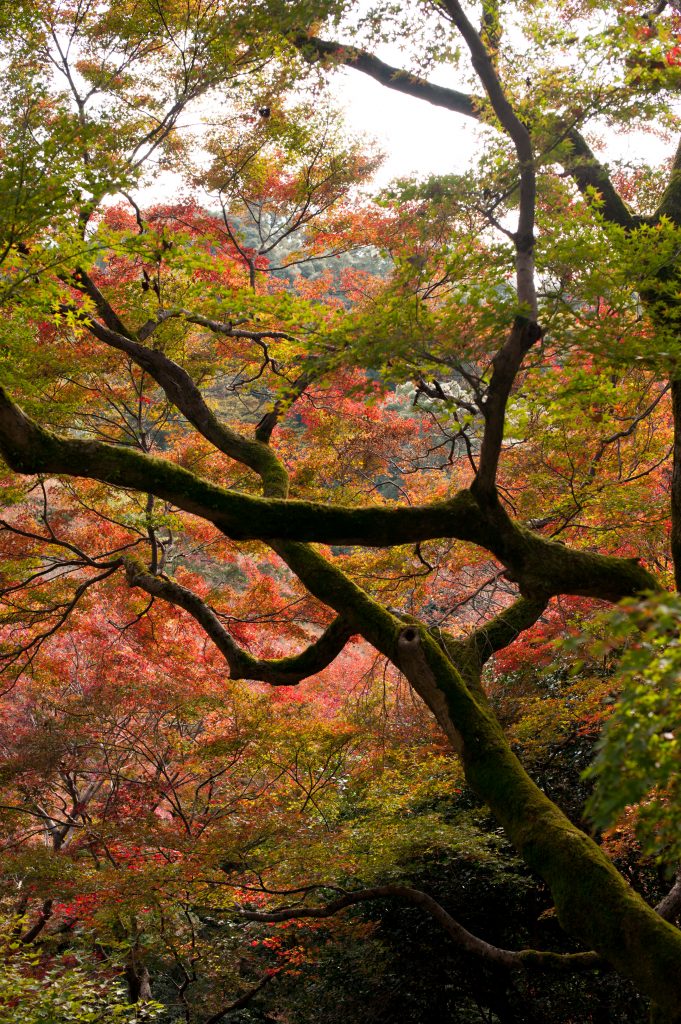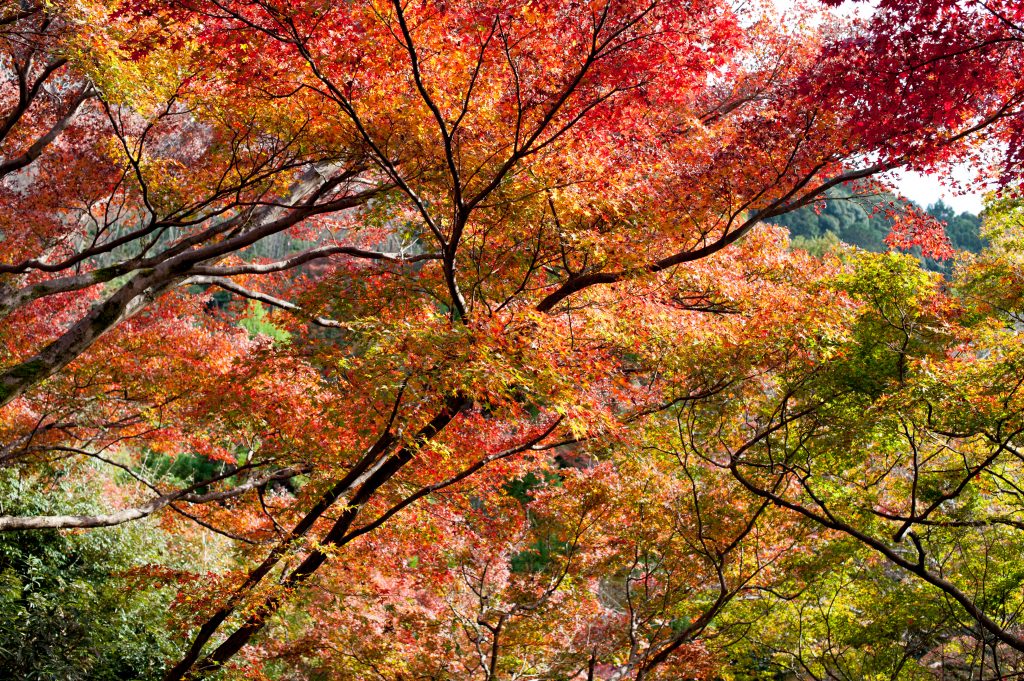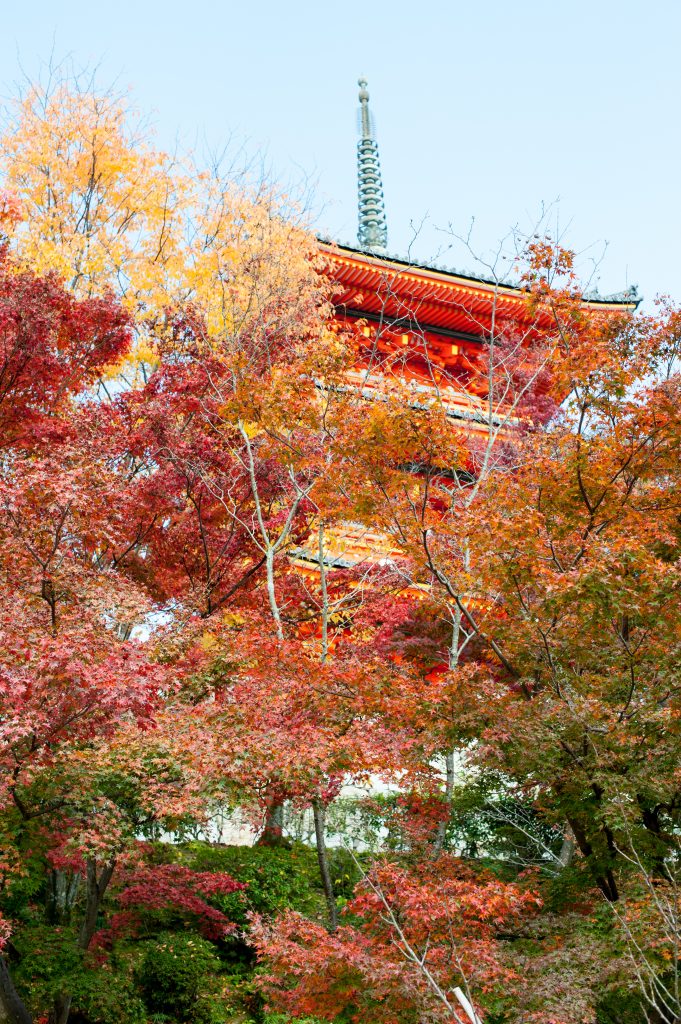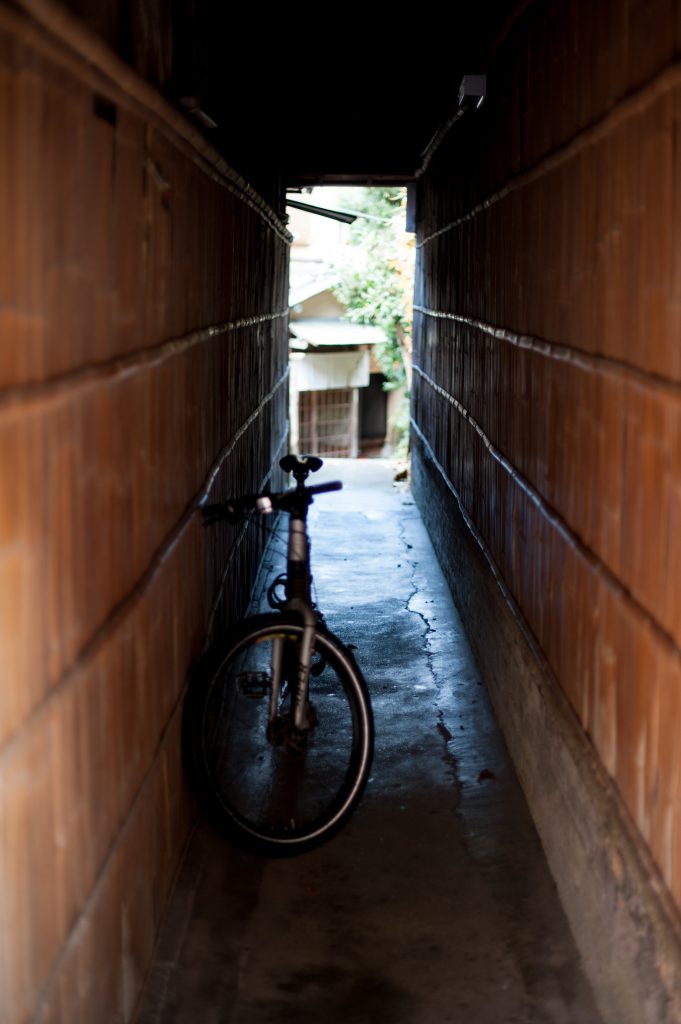 2) Kenninji Temple
This was a brand new spot for us– and it was gorgeous. Kennninji is the oldest Zen temple in Kyoto, and the grounds are as tranquil as you would expect. The secret is to enter into the Chouontei Garden when you get to the temple grounds. You'll have to pay extra and remove your shoes, but the quiet views of interior moss and Zen gardens are absolutely worth it.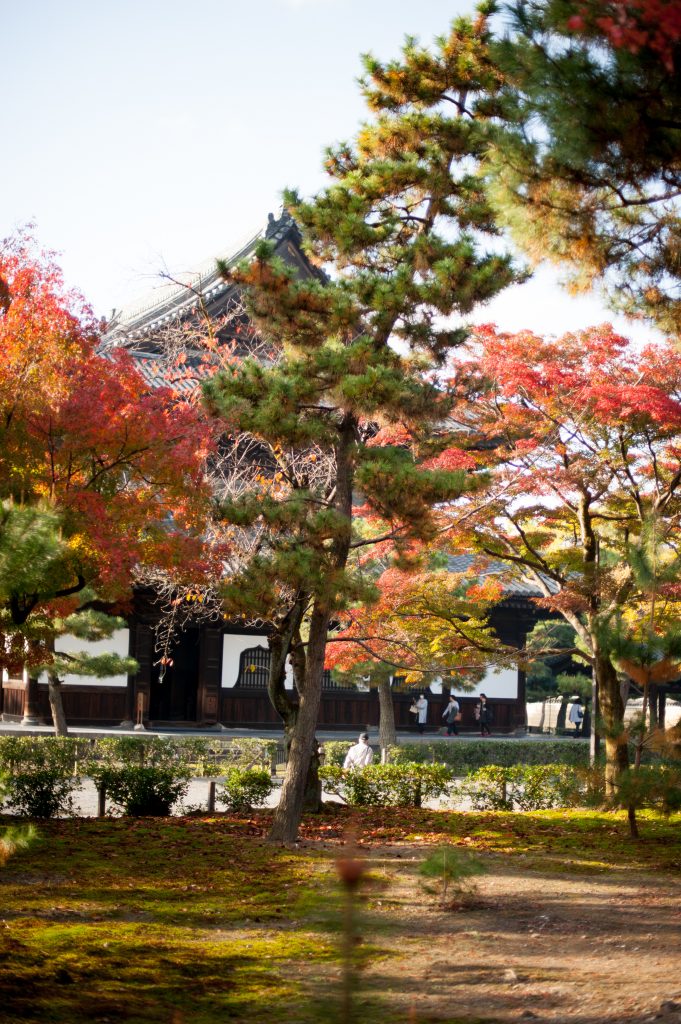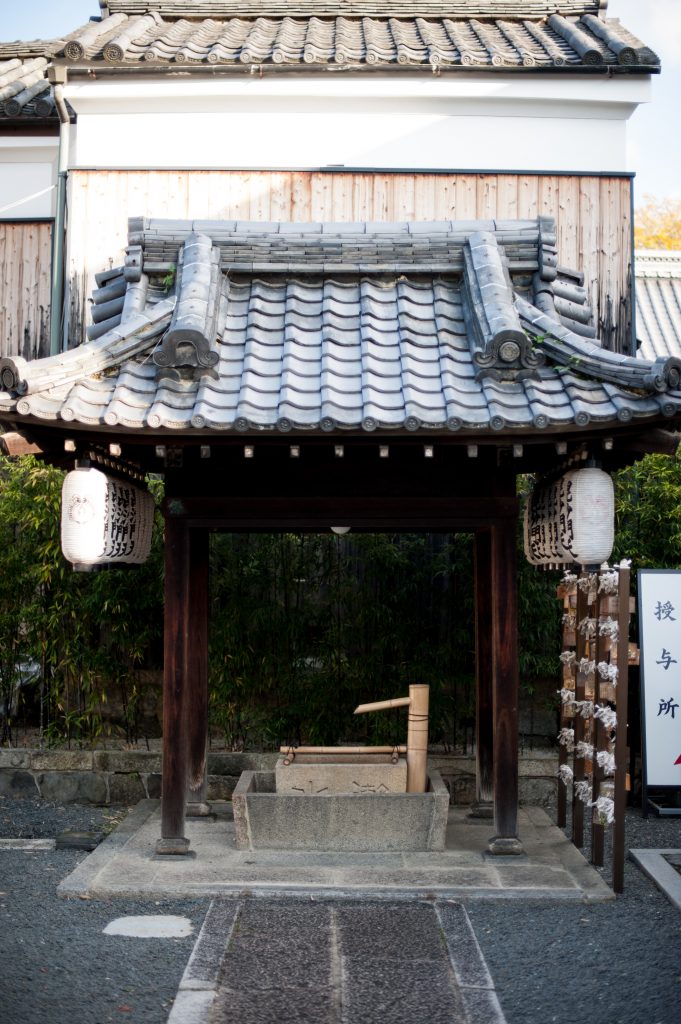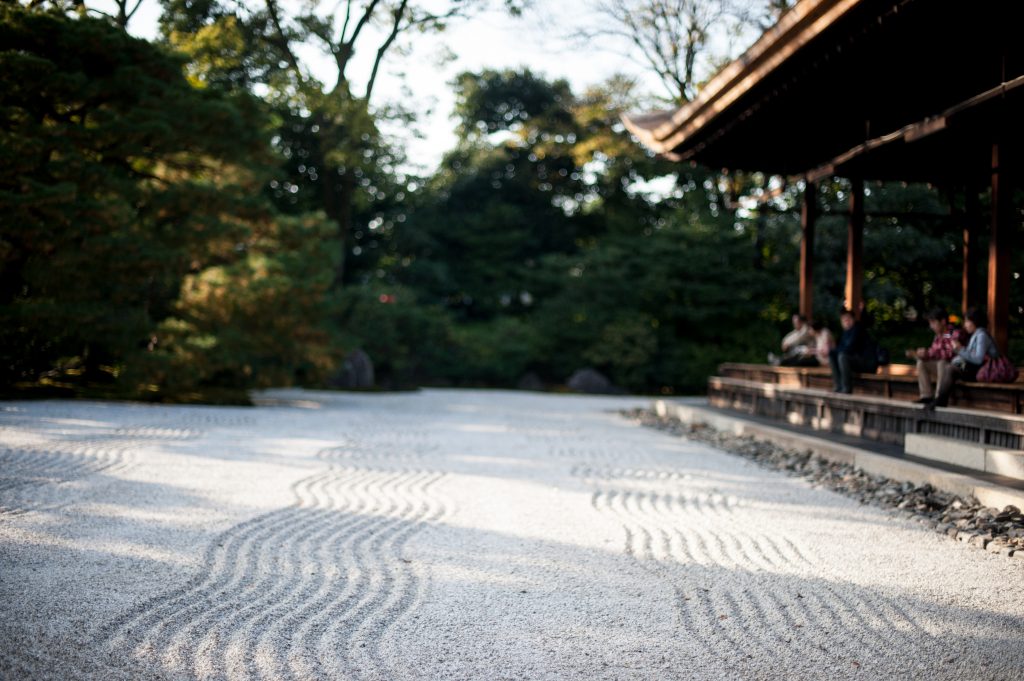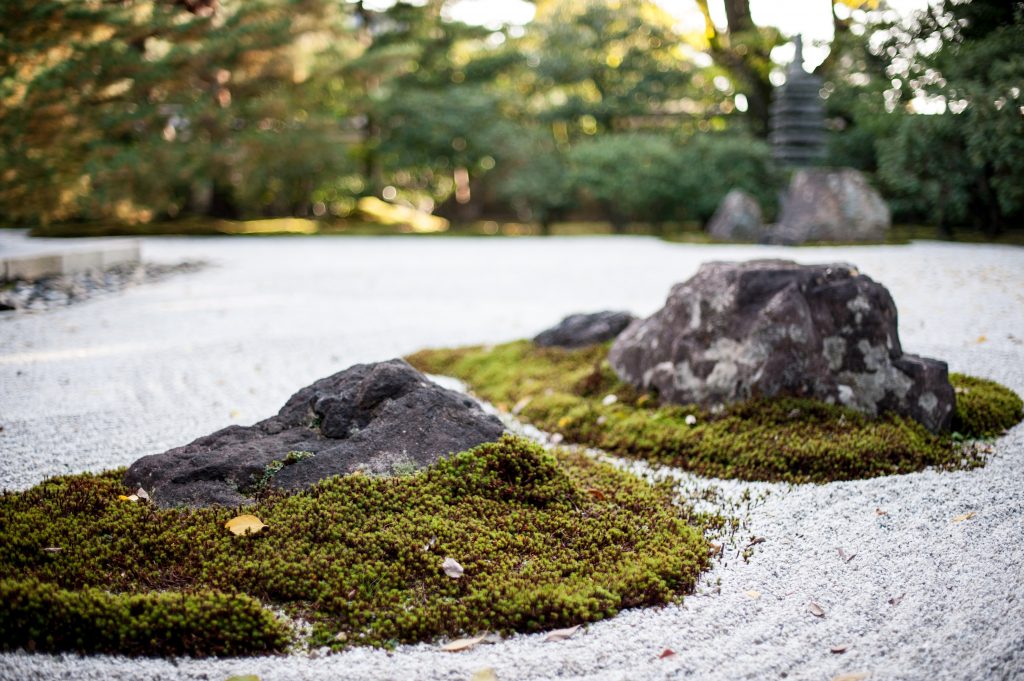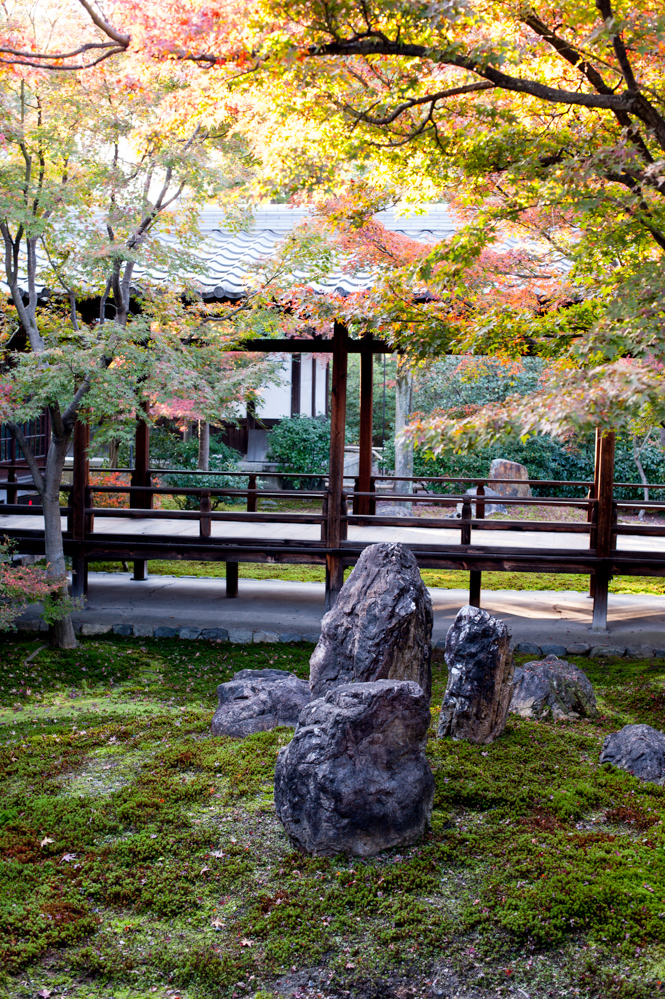 3) Ennaruyama Reikan Temple
This is probably my favorite temple of all time. A nunnery, Reikanji is only open a handful of days out of the year– including the fall, when the leaves turn gorgeously red and yellow and cascade down the stone steps.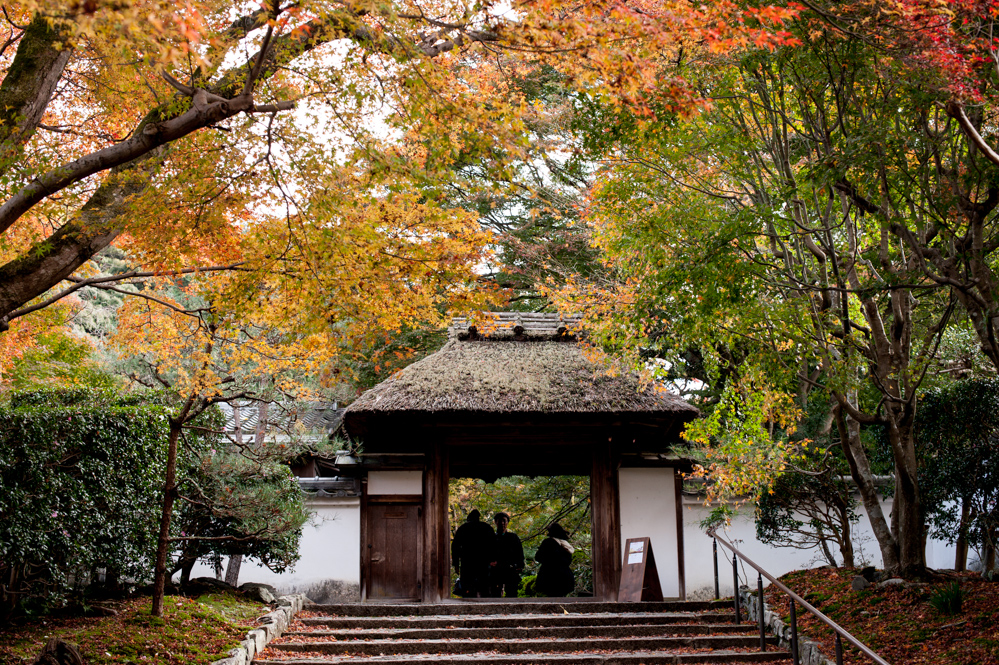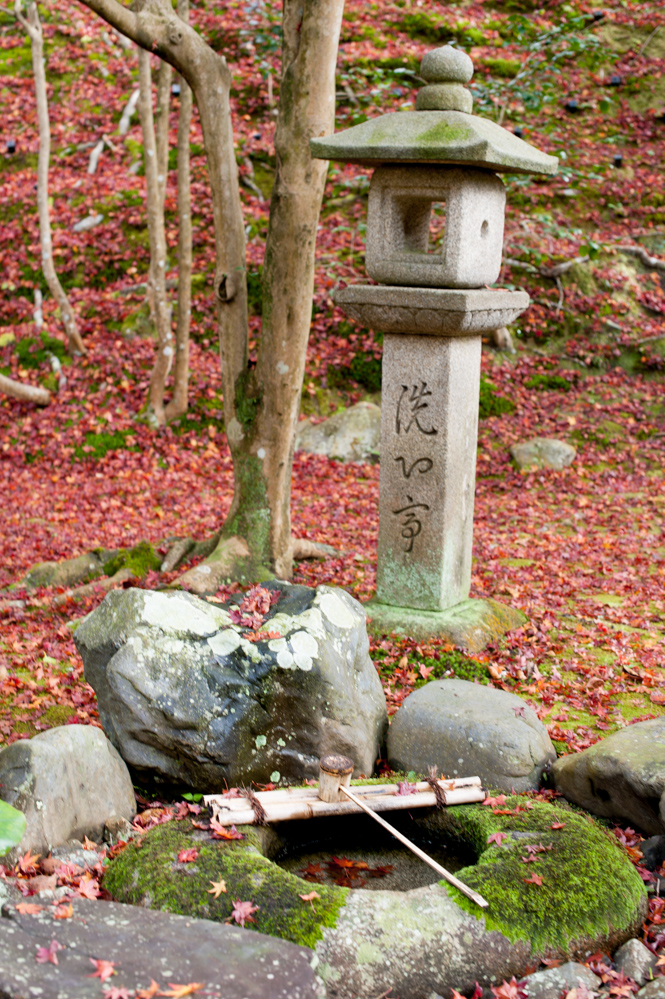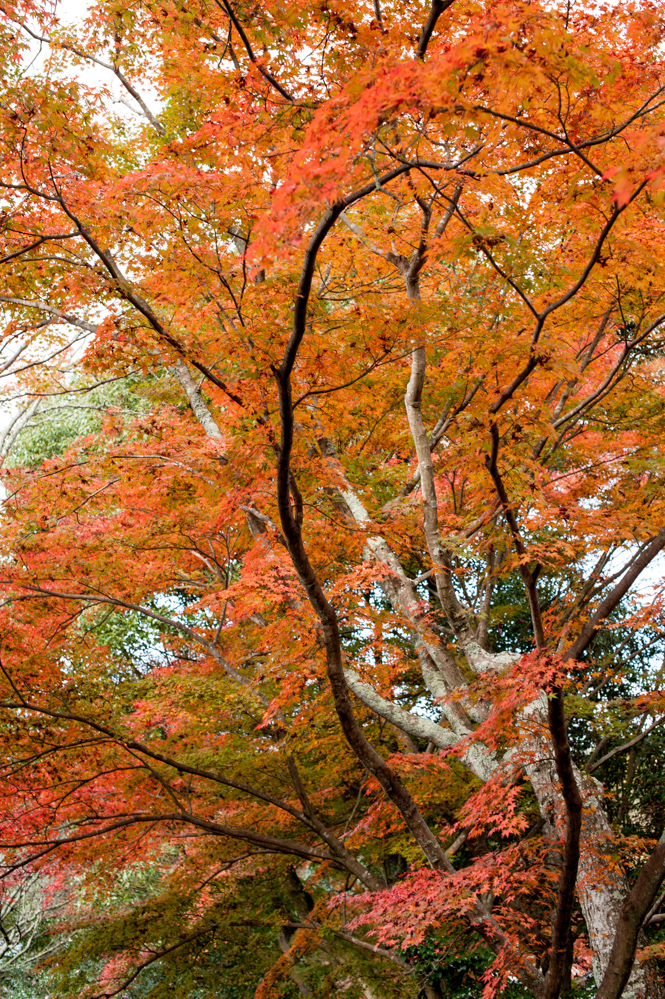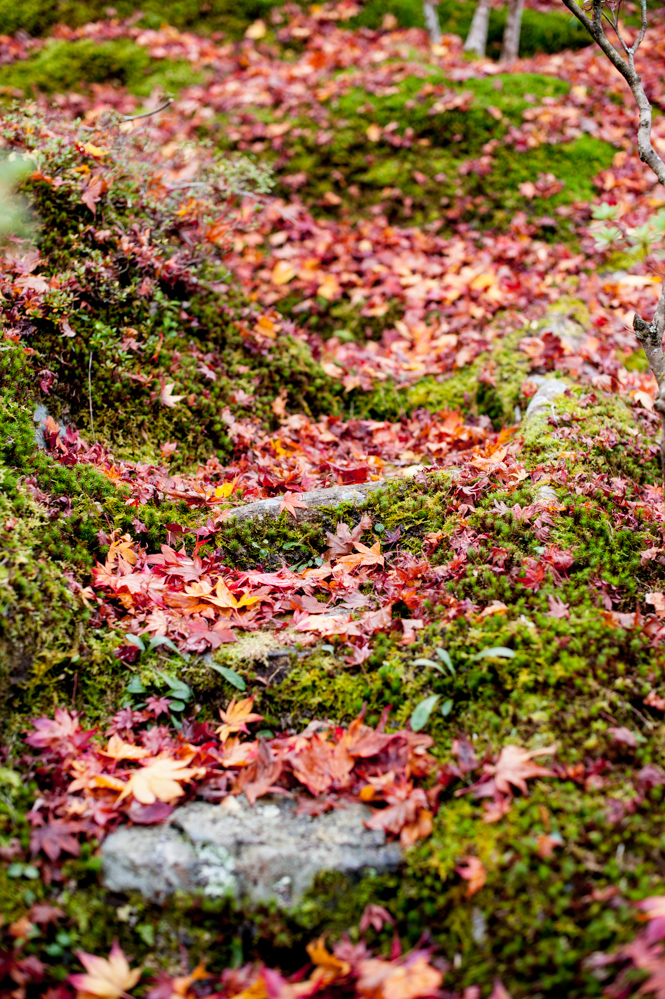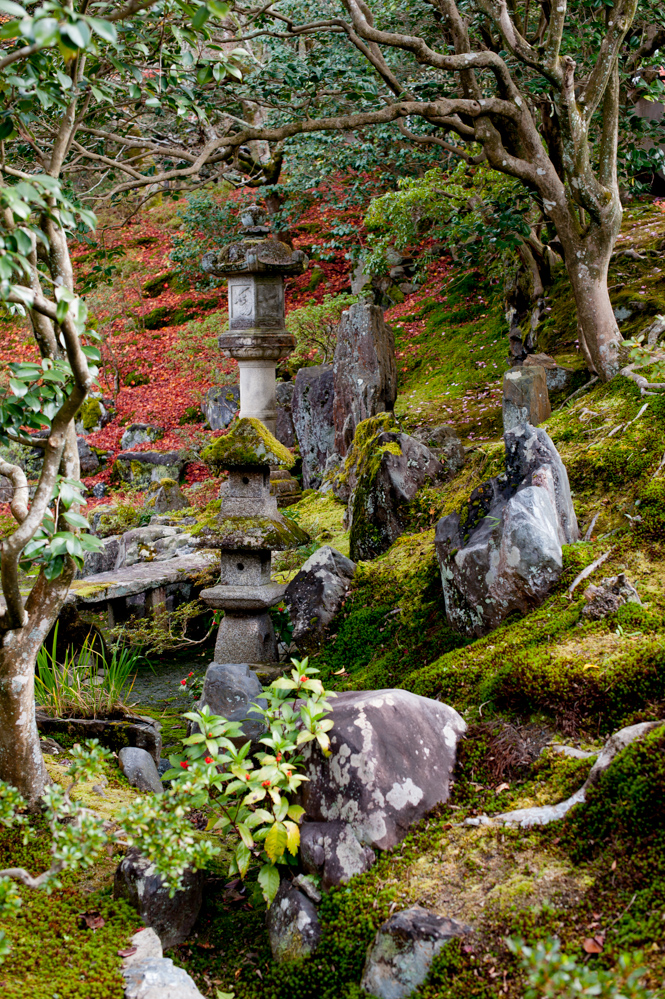 4) Honen-in Temple
A mossy gate opens to a gorgeous wonderland of greens and reds, even in the midst of fall. This beautiful spot is right next to Reikanji and is also a quiet retreat from the crowds.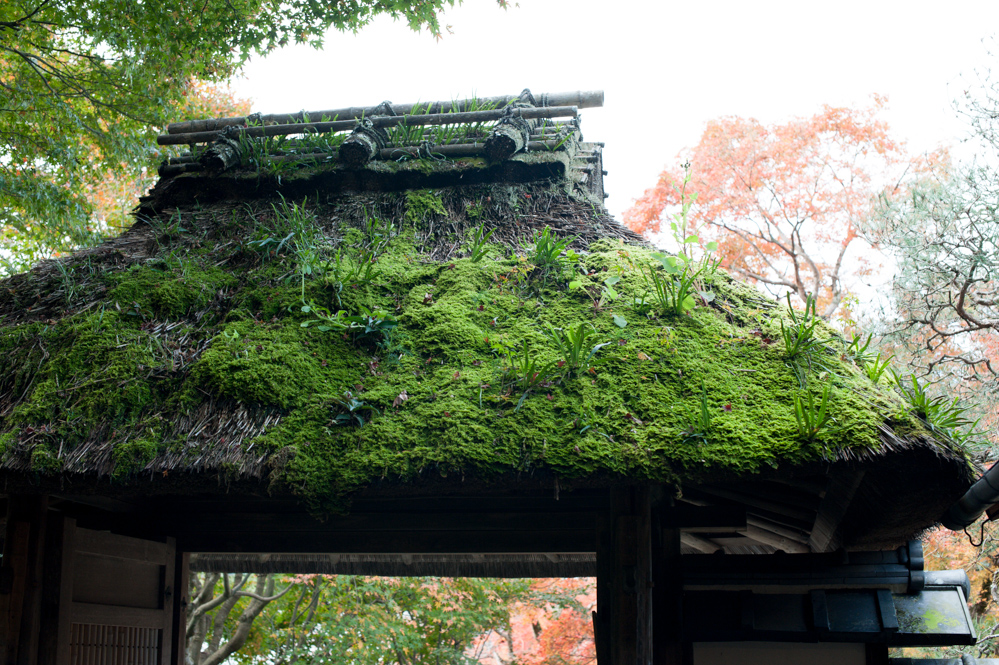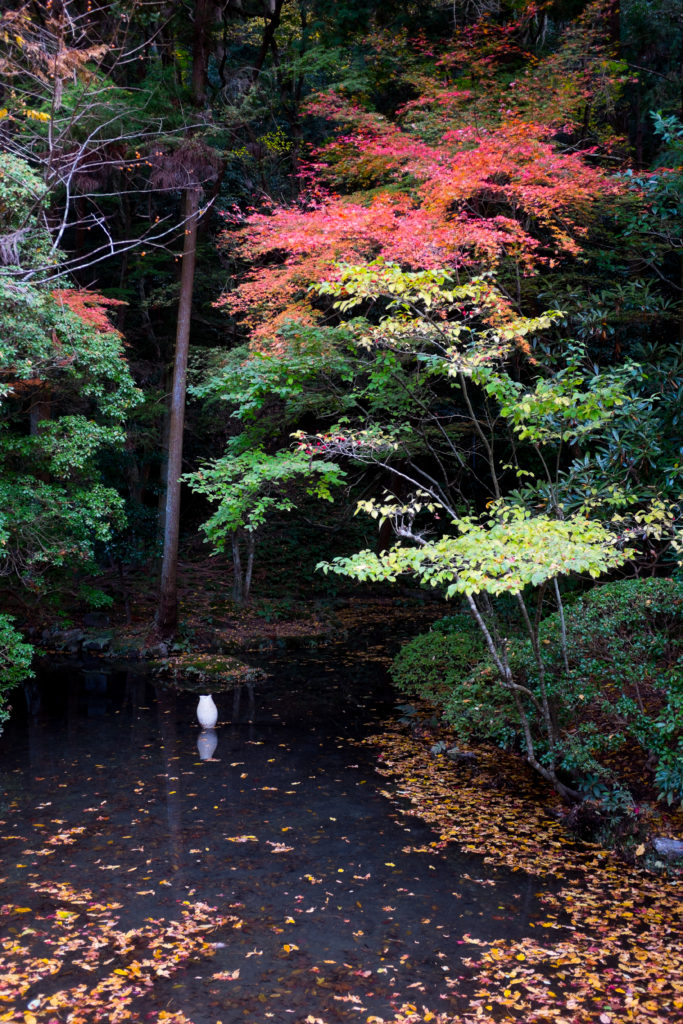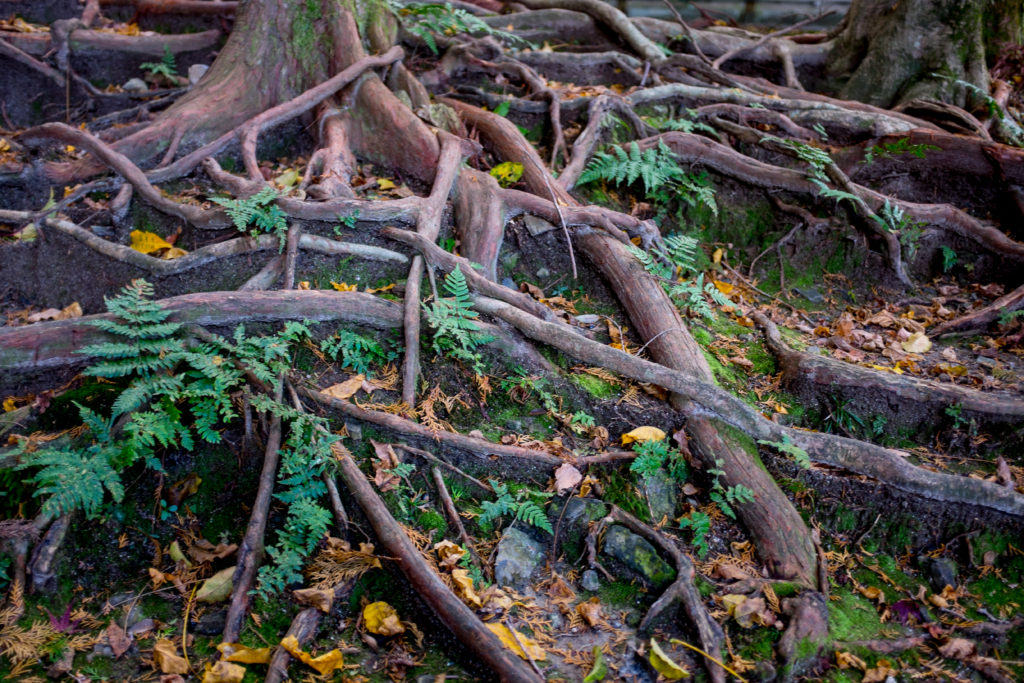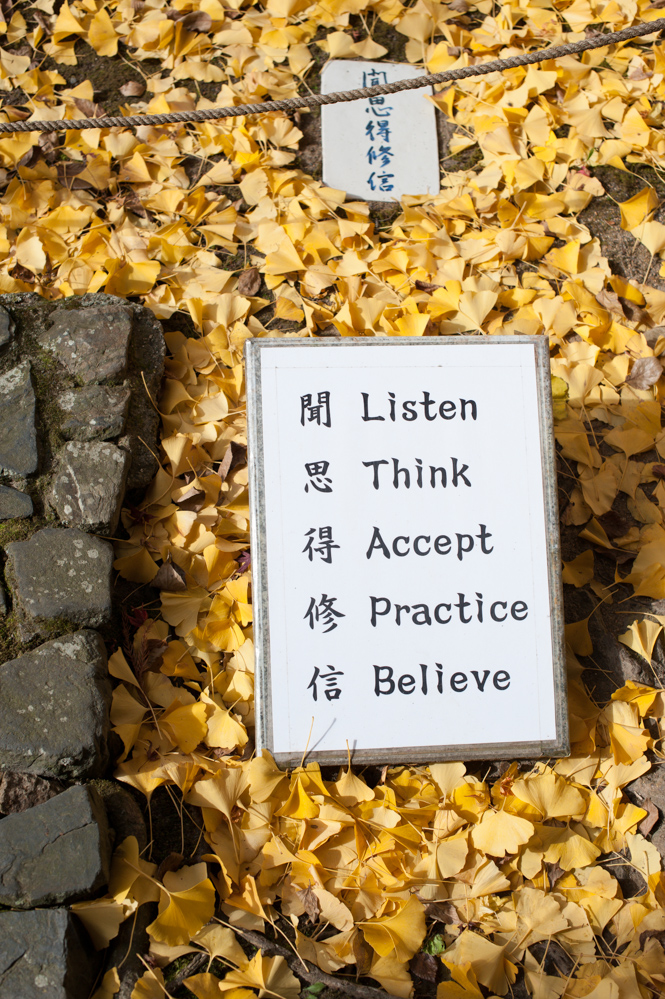 5) Philosopher's path
This famous stroll stretches through Kyoto's Higashiyama district, connecting some of the most famous temples and gardens. There's a beautiful little creek along parts of this path, maple trees leaning over the water, and plenty of benches and bridges for stunning photos. If you're there during high season, you'll likely be sharing this tranquil walk with tourists and locals alike.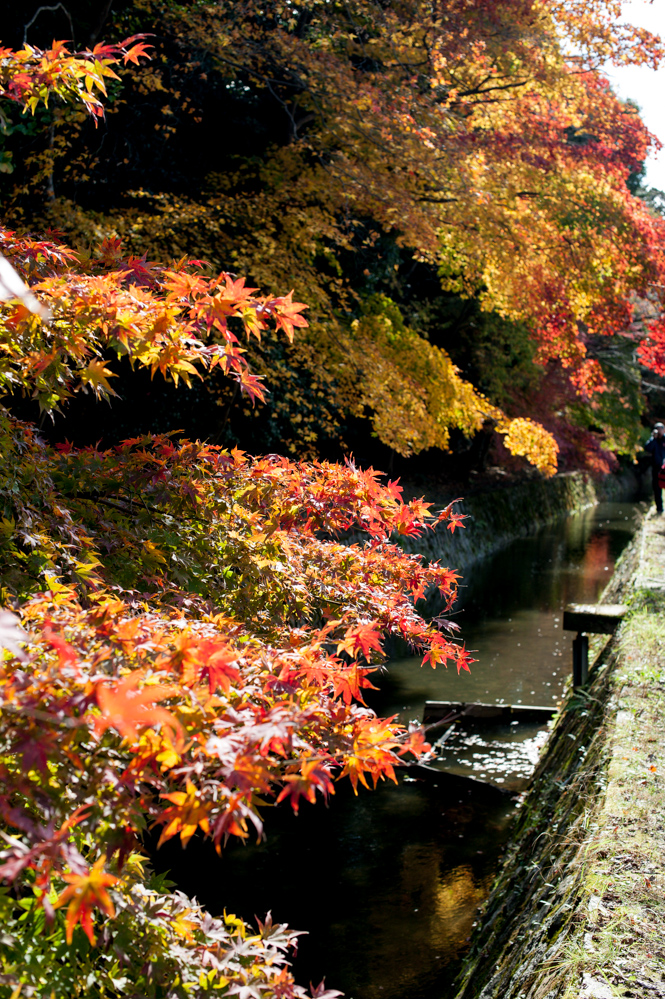 6) Nanzen-ji Temple
Another ultra-popular stop, this temple is most majestic in the fall. It has a Western brick aqueduct to its name, which pairs well with the dark wood, sculptural pines, and expansive maple trees.
There's an area behind the aqueduct where additional admission is required for entry. I highly recommend paying to enter this garden in the fall.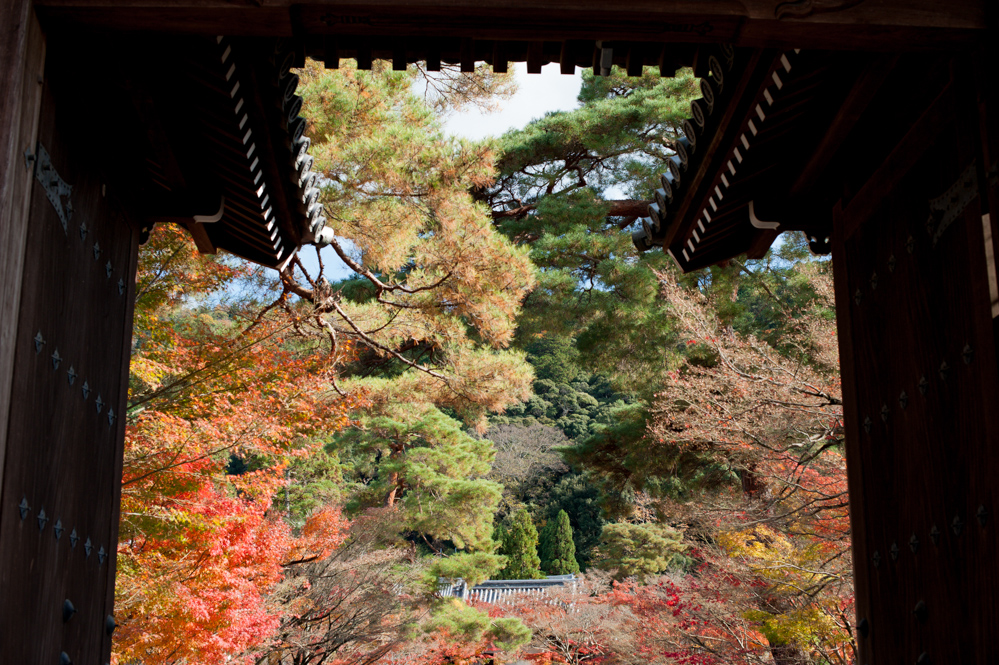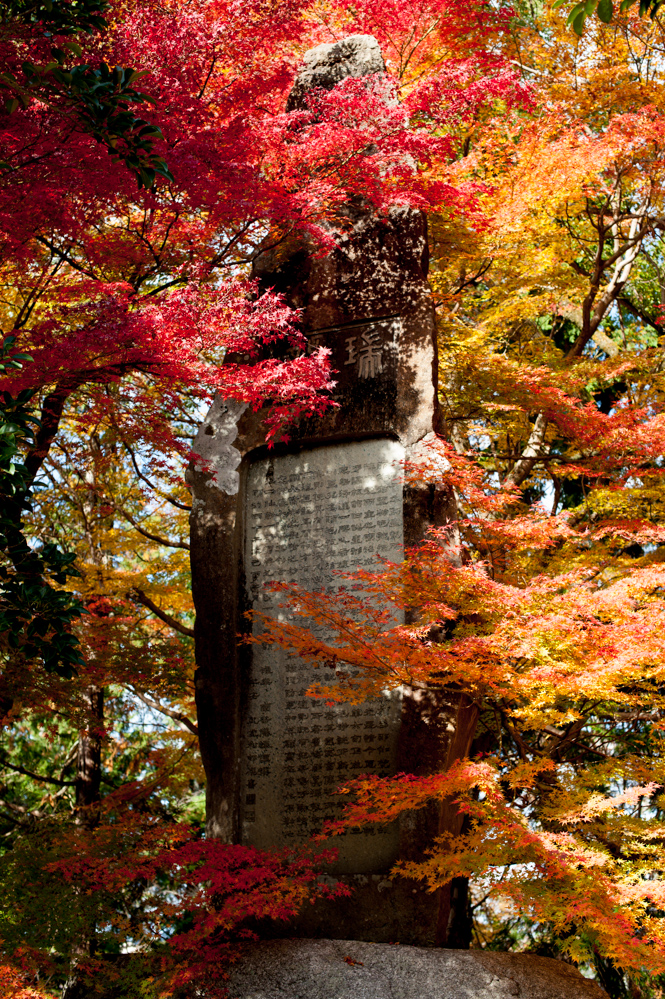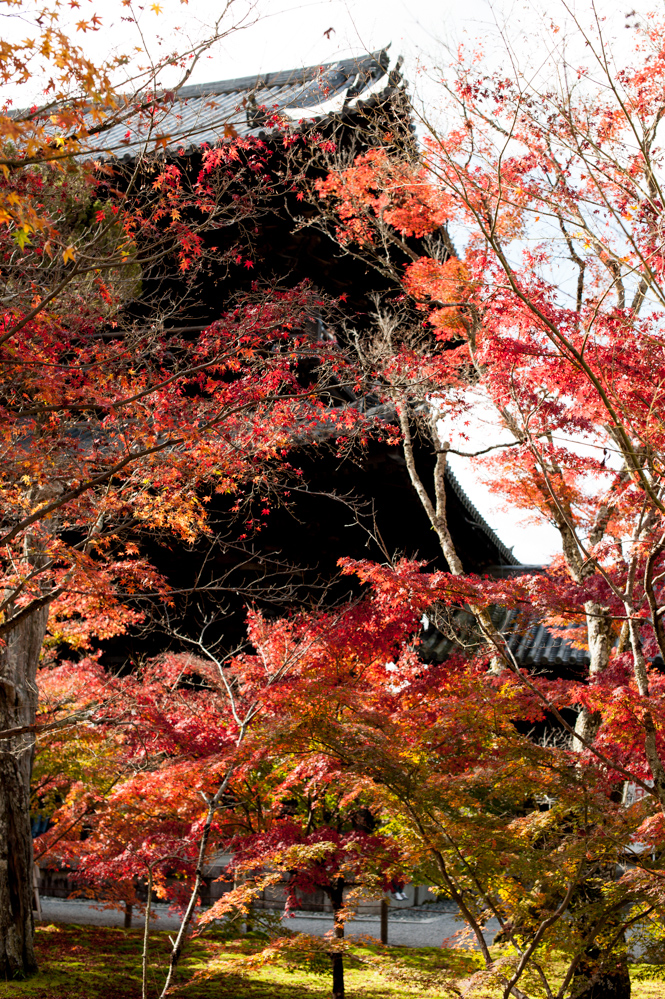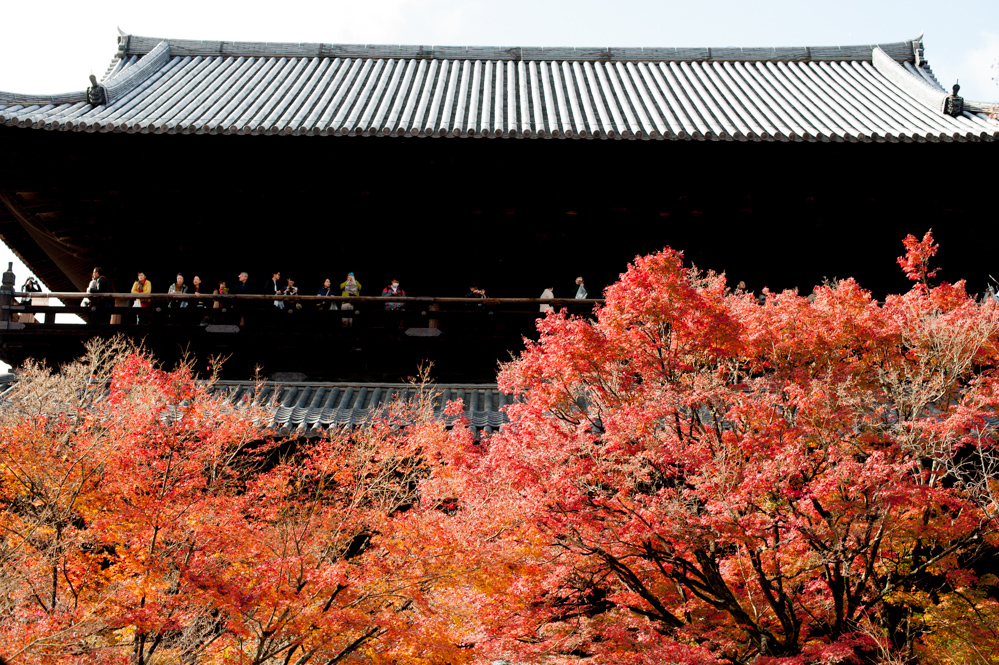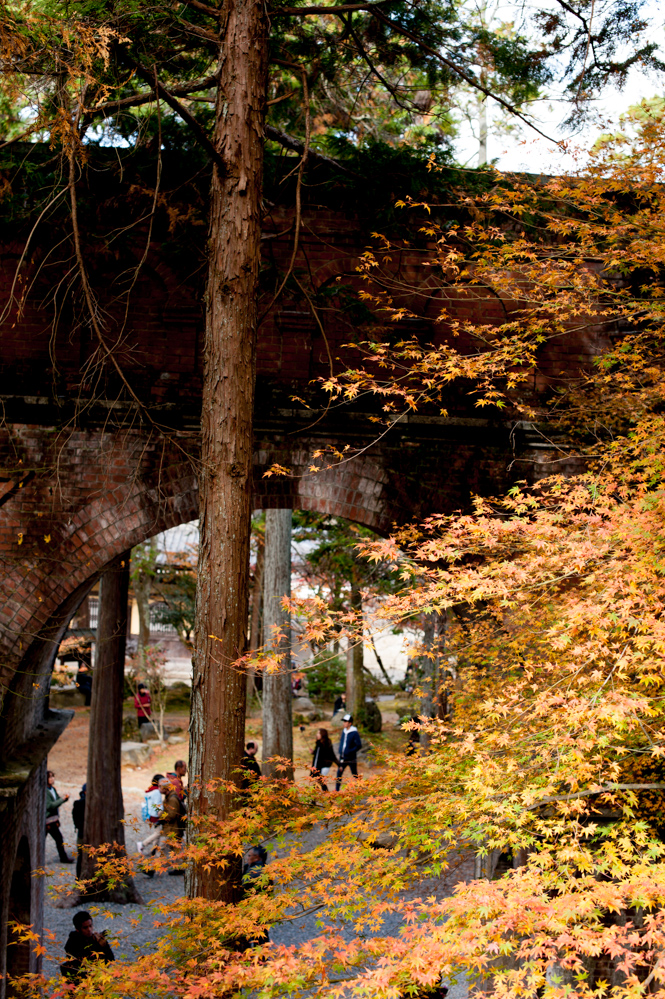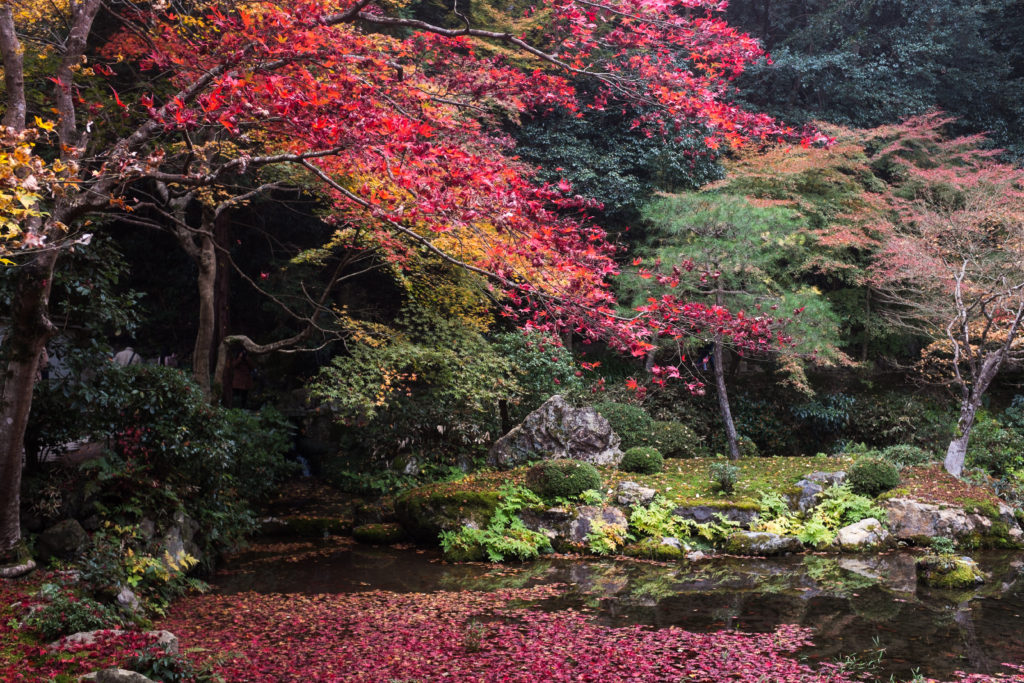 7) Adashino Nenbutsuji temple
This is one of my favorite temples and it's really out of the way, even for Arashiyama. It's actually a site of remembrance– and you'll see hundreds of Buddhist statues, there to remember those who died without families to remember them. There's also a miniature bamboo forest (similar to the famous, large one in Arashiyama) that is great for photos as it's rarely crowded.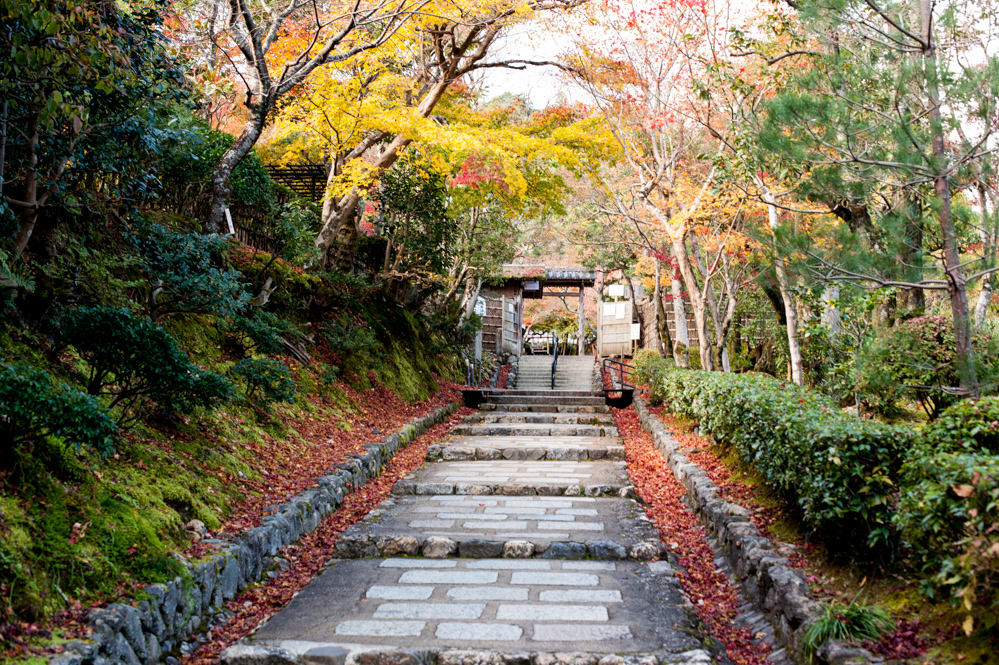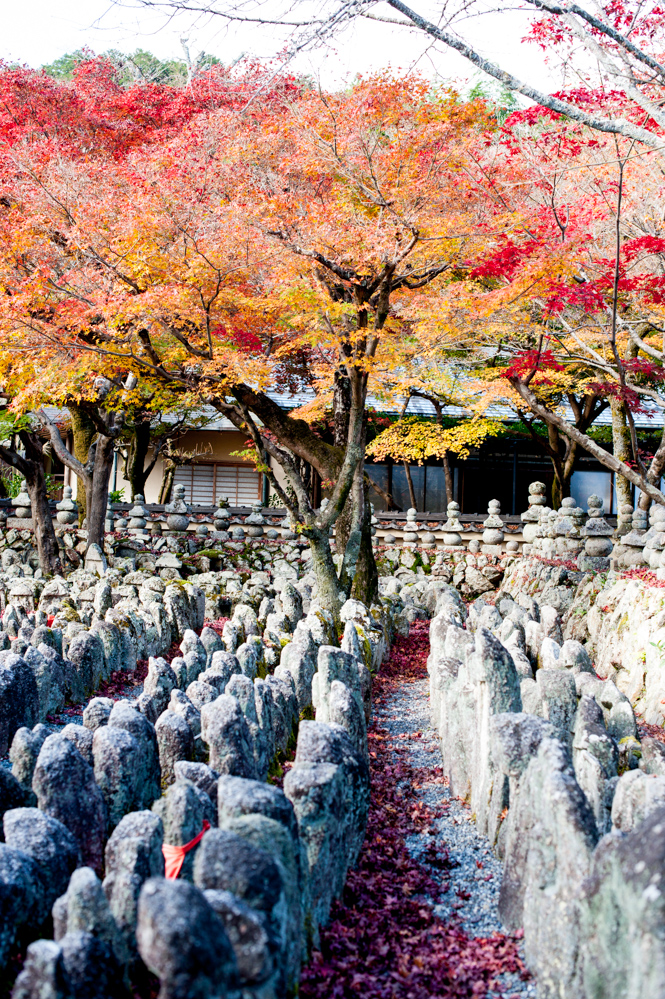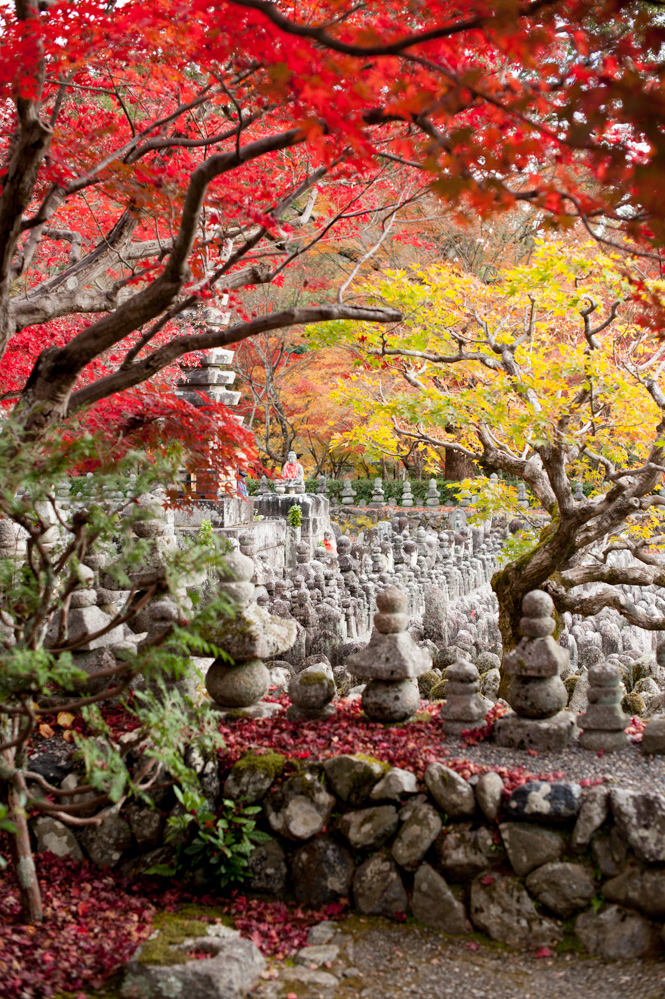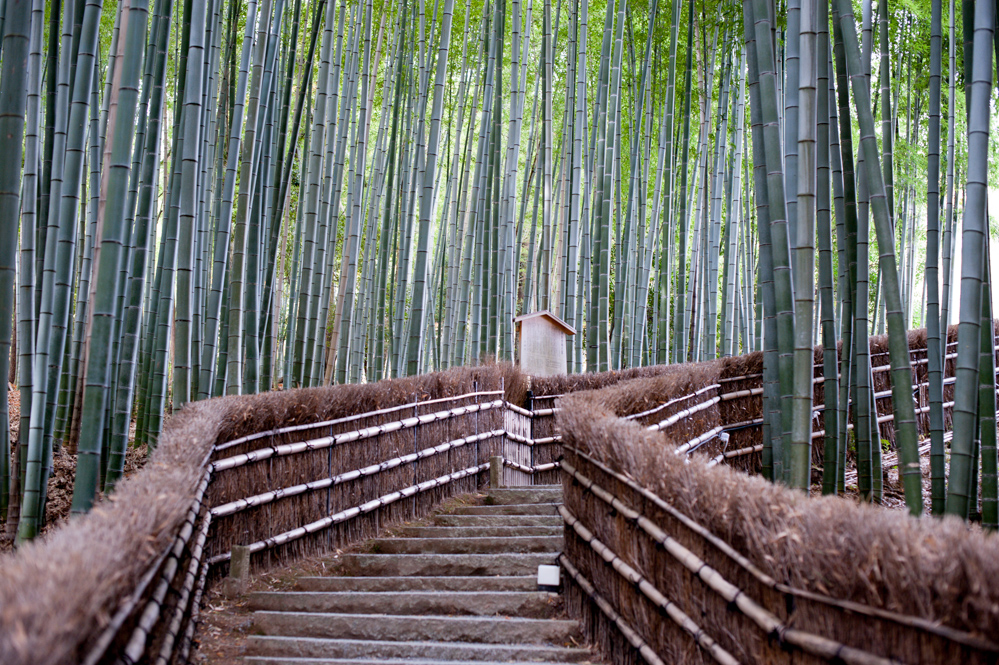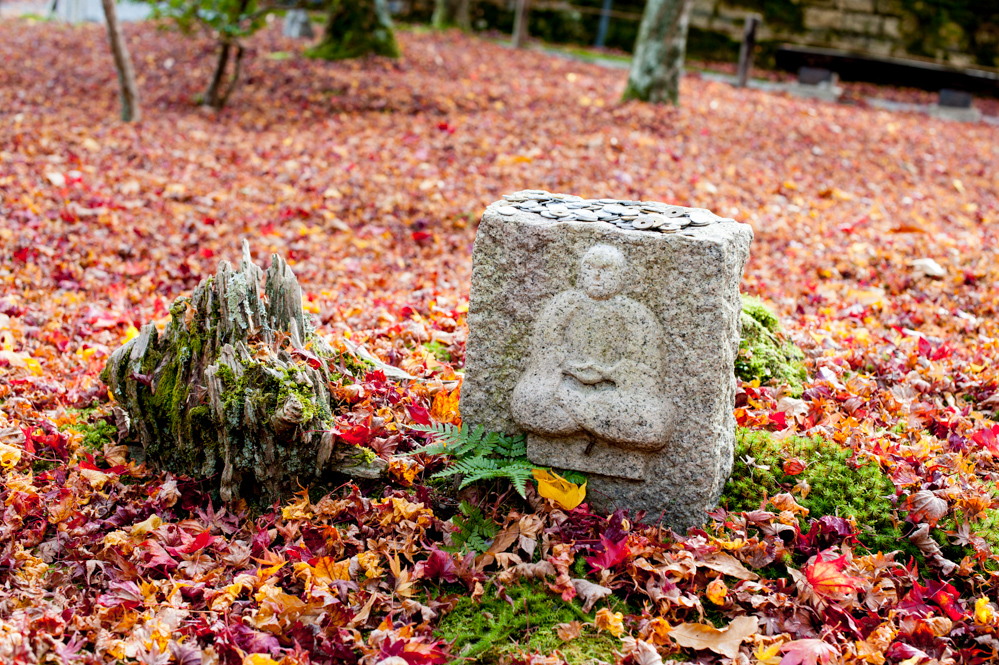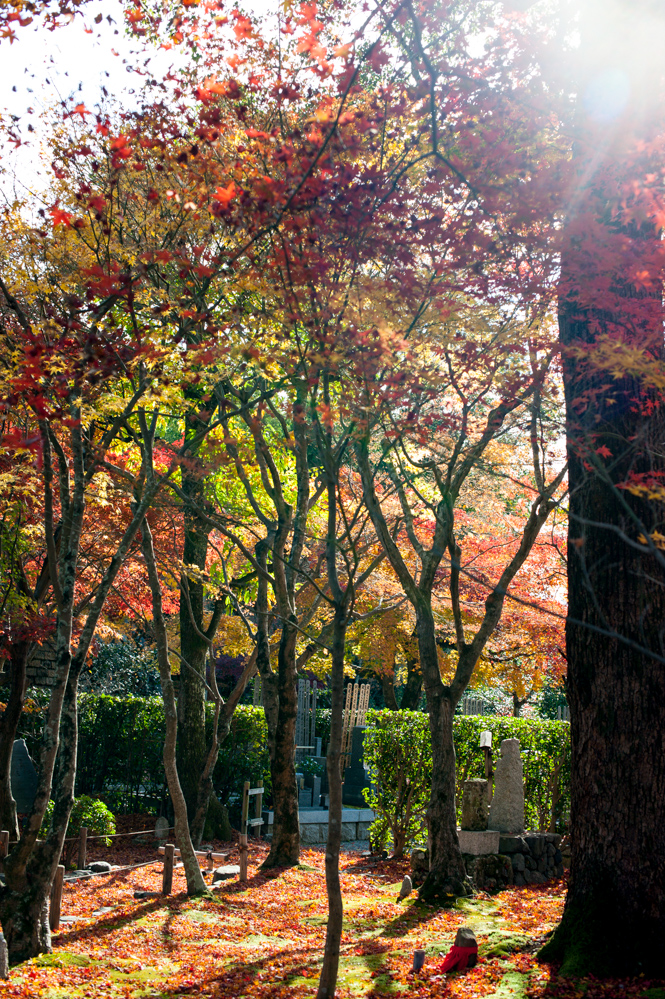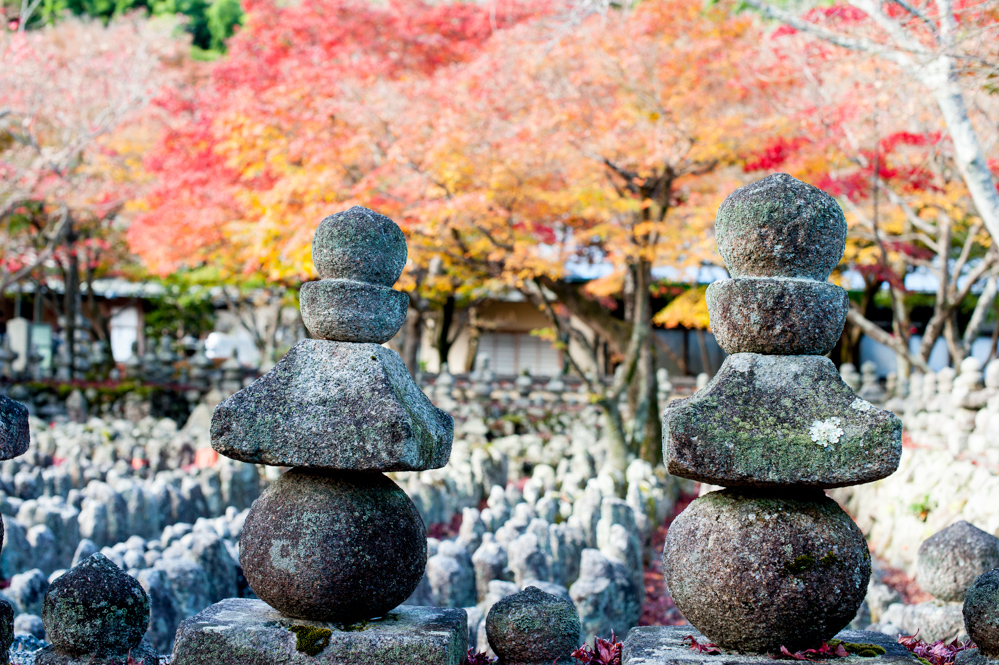 8) Jojakko-ji Temple
If you're looking for a colorful maple-leaf studded sky, this is the place to be. Despite the many people ascending and descending the stairs, I loved the peaceful view upward as the branches softly waved in the breeze.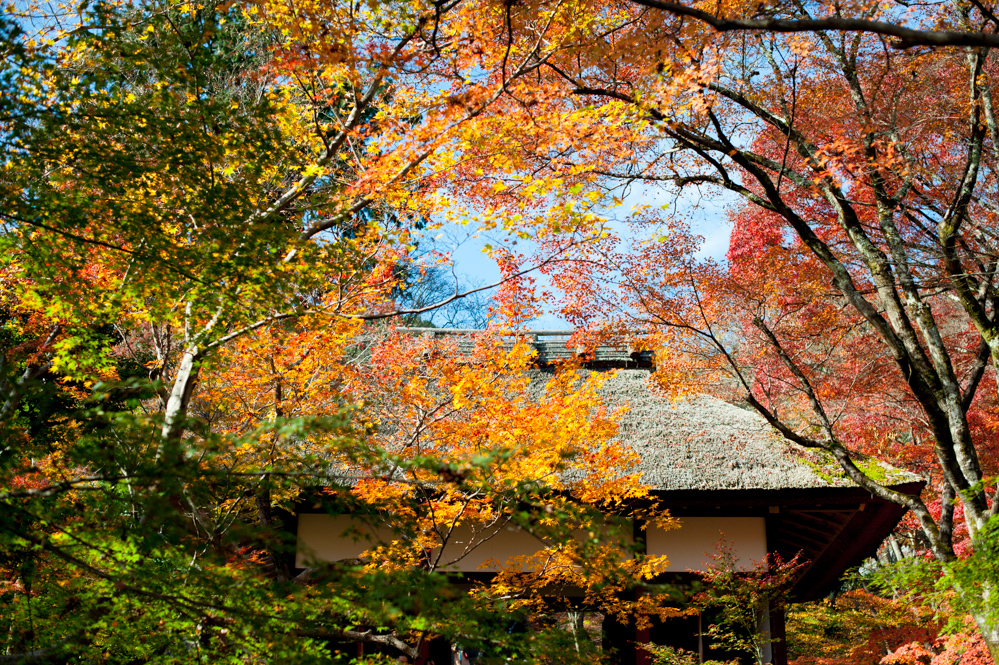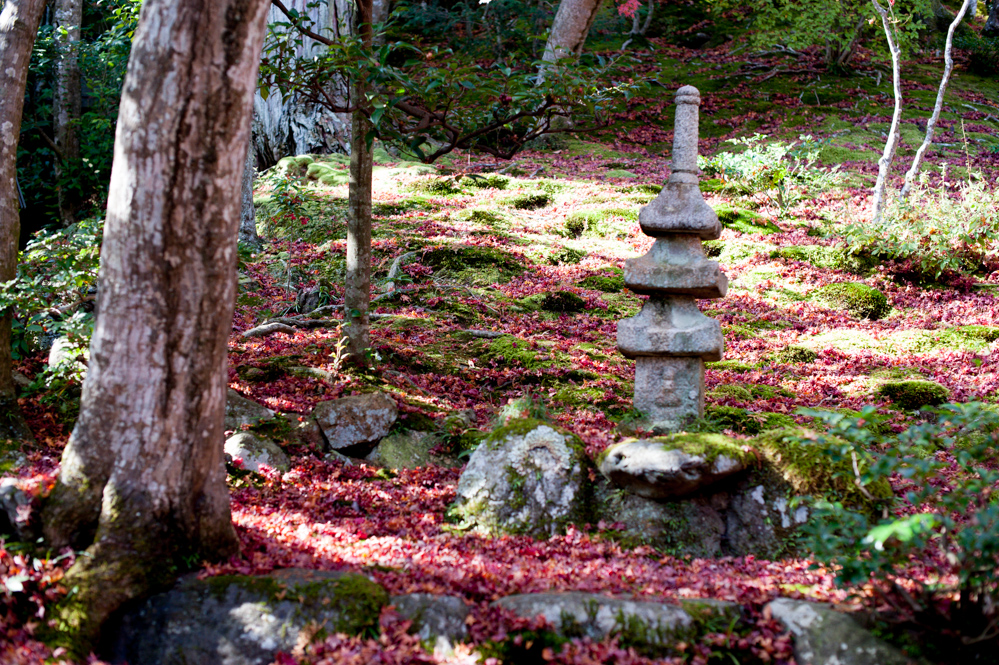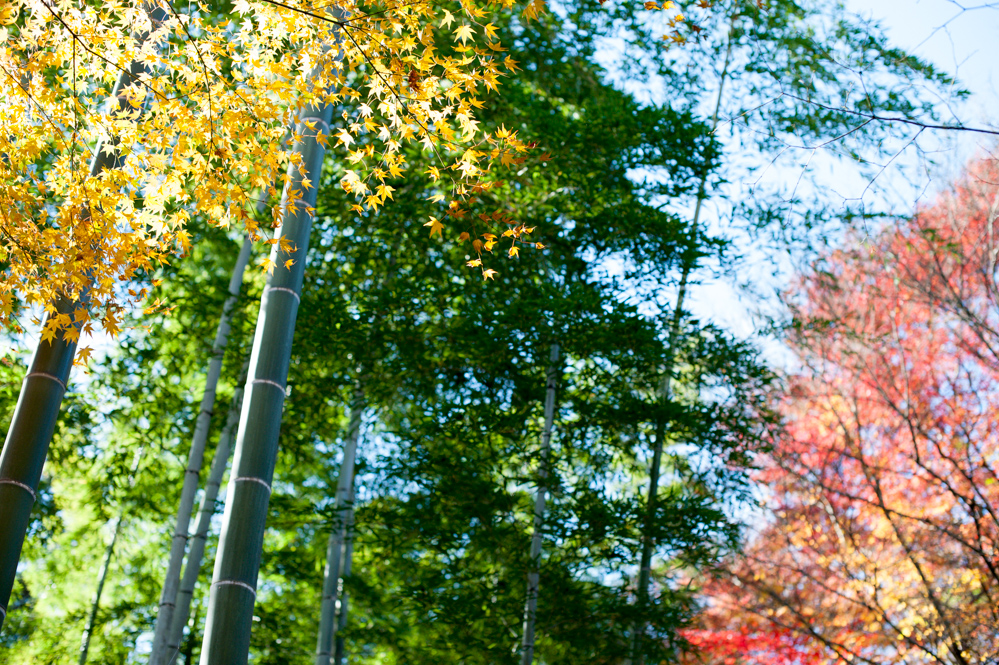 9) Okochi Sanso Villa
This used to be the private home of an actor, but thankfully it's now open to the rest of us! The secret-garden feel of the extensive walking path is the perfect way to experience autumn in Kyoto. You'll find this villa at one end of the Arashiyama Bamboo Forest.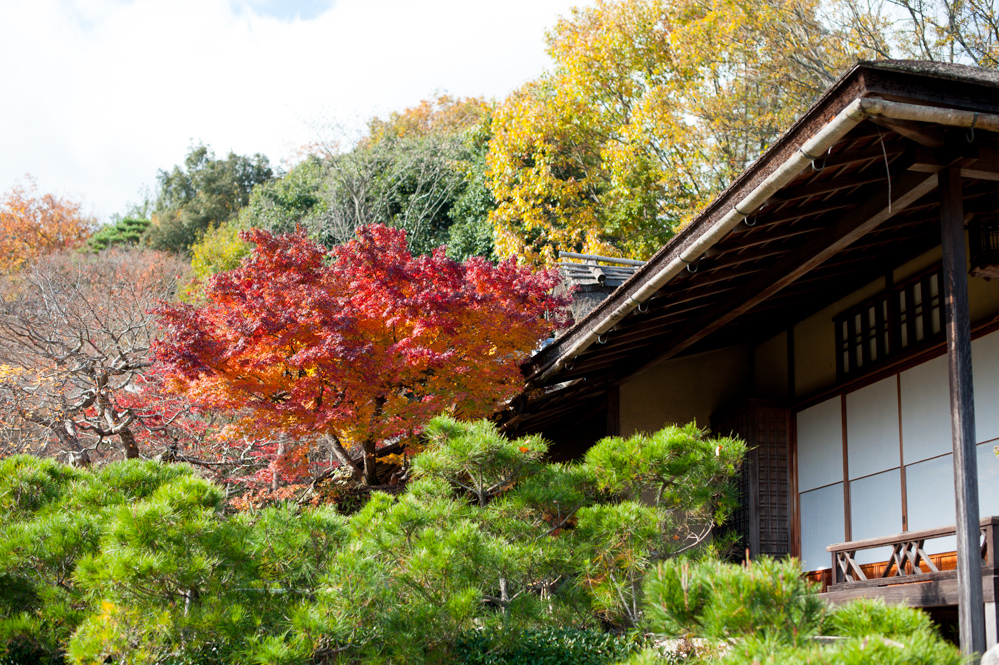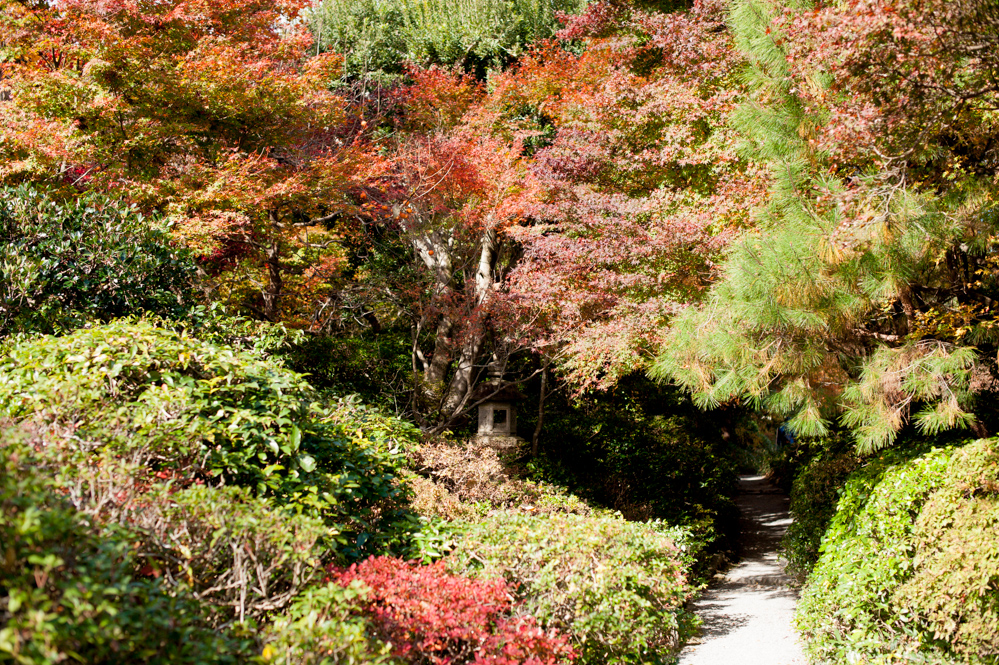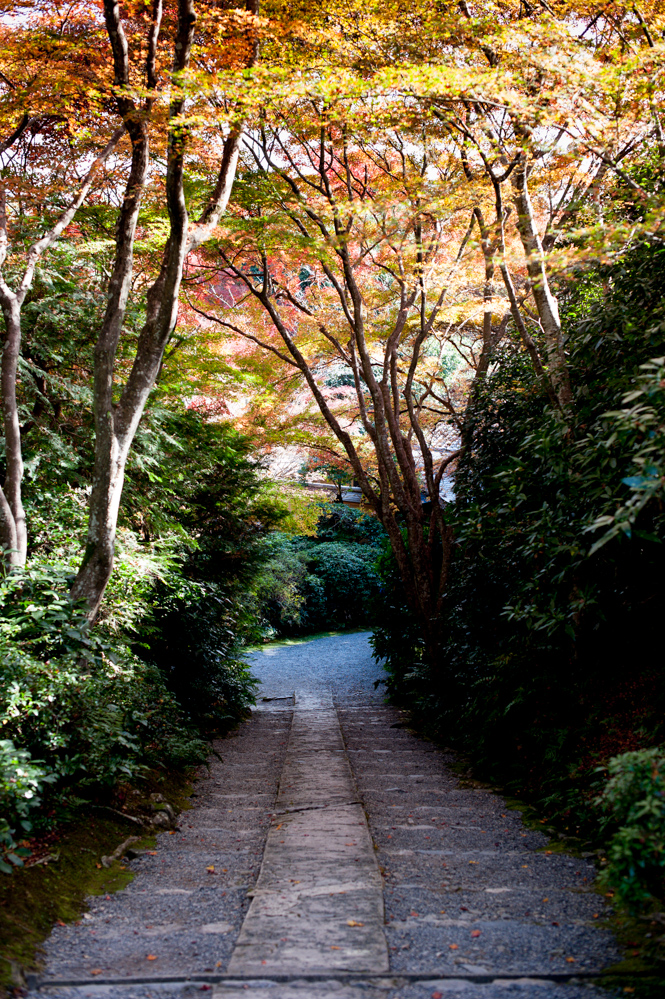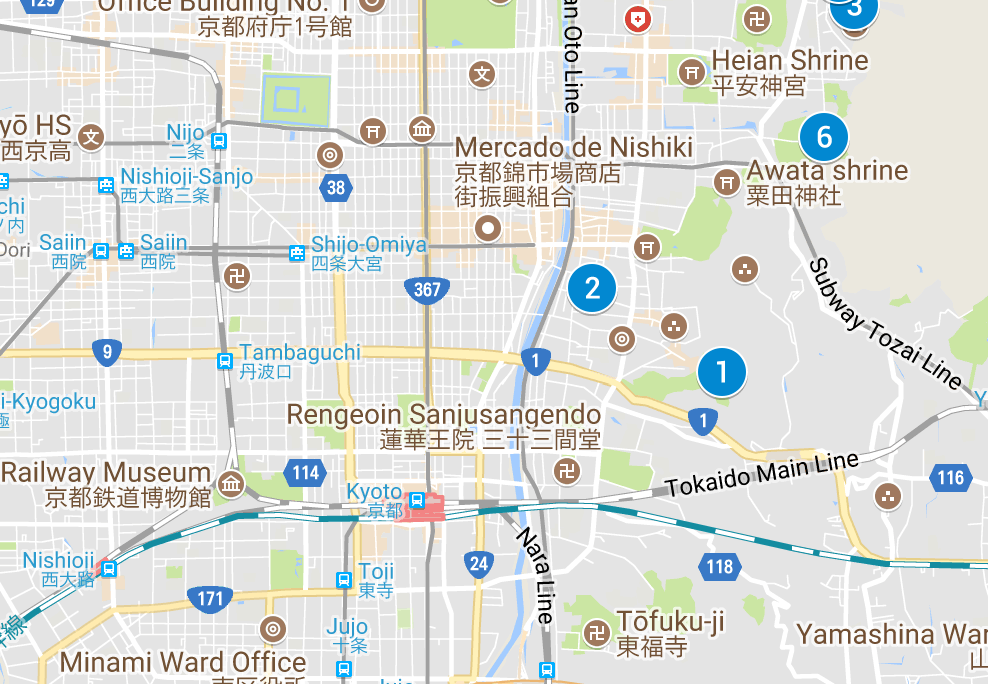 Wondering where everything is located? Access my curated Kyoto map here.
Final thoughts on autumn in Kyoto
If you've never been to Japan, I think this is an amazing season to visit. Domestic tourism is high as the Japanese love Kyoto for its foliage, but you won't run into as many foreign tourists as crowd the streets in the summer. The air is crisp and you'll need a warm coat, but it is so magnificent that you'll likely want to stay outside for hours.
There is a poetry to the way the trees are trimmed and cultivated in Japan. And when you wander through gardens carpeted with fallen maple leaves, it almost feels as though every leaf is exactly where it should be. If you have time, linger at a temple or two rather than rushing from site to site. That's the point.
Pin this to save or share it!