It's already happening. The holiday season with its celebrations, expectations, and impositions looms overhead as we progress into the second half of October. And if you're like me in this season, you're feeling tired. Perhaps you're also stressed and swamped, and the leaves haven't even changed color yet.
Despite our best efforts, the holiday season is almost inevitably packed. On top of our own expectations (mine are baking with friends, hosting guests, sending gifts, writing letters, and attending gatherings), we have everyone else's, as well. On top of that, corporations and marketers are at our doorsteps asking us to choose them for gift-giving.
So what can we do?
There's one thing that's certain: the only people we can change is ourselves. We can't force others out of their packed schedules or their family hustle. We can only do what we know is best for us– gifting ourselves a season of quietness, quality conversations, generosity, hope, and rebirth. I don't know about you, but I could really use some of what the holidays are really about. Perhaps our communities will eventually feel the same.
Avoiding overwhelm, breaking the cycle
Our society is in a relentless pattern when it comes to this time of year. We gorge ourselves, inundate each other with gifts nobody needs, exchange invitations, spend too much money, dash from one event to another, gorge ourselves again, and then launch the New Year with ultimatums that we will never do any of that again.
But what if this time could be different? What if we actually stopped the rush? What if we stayed away from the long Black Friday lines? What if we stuck with our budget and continued our self-care practices? What if we ate well and heartily, but without gluttony?
It could happen, but we'll have to be intentional. No one is going to help us achieve the goal of feeling rested after the holidays. No one is going to ensure that our conversations with loved ones are restorative, or that our time away from work and school leads to rejuvenation.
We have to make it happen.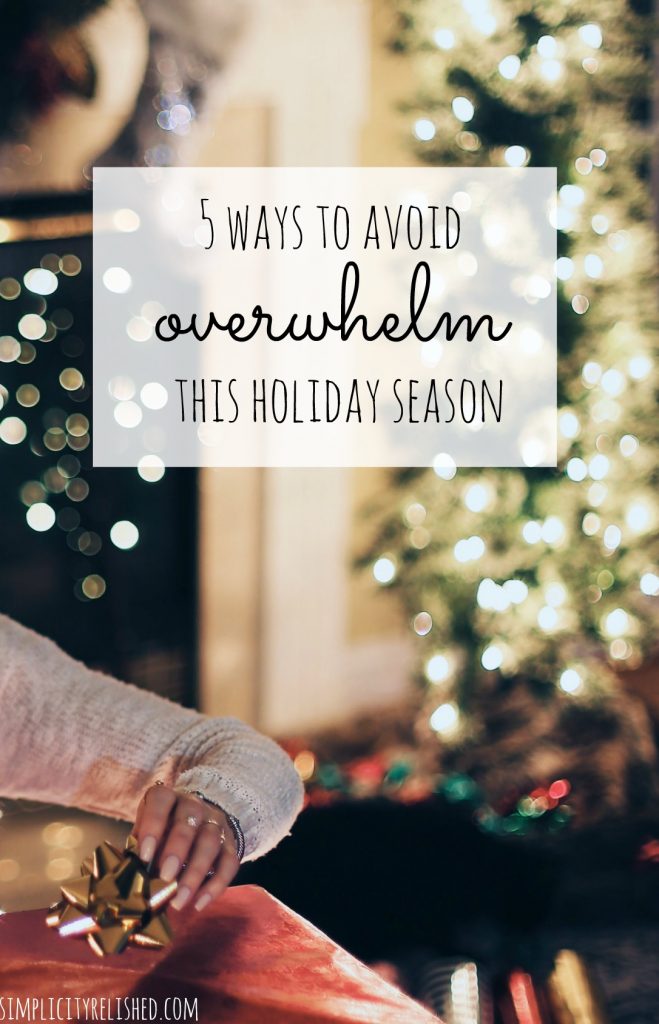 5 ways to avoid overwhelm this holiday season
1) Set aside a weekly chunk of free time.
Whether it's Thursday evenings or Saturday mornings, set aside at least a few hours each week (a full day is better) that is protected. This is your "no" time. If someone invites you to something during this window, say no. As hard as it is to decline an invitation without another event in place, it is ultimately a time you'll use to recharge, catch up, or simply rest. When asked to do something, simply say you have a prior commitment. You do– to yourself.
2) Think before every "yes".
Everyone has holiday traditions, and some are quite significant. Rather than cutting them out, simply ask this question: What is the real purpose of doing this? Does this family photo Christmas card really make the recipient feel cared for? Do the stocking stuffers facilitate warmth and joy on Christmas morning? Does our holiday party foster the community feel we've always wanted? Do my gifts actually help others or satisfy a need?
If you're satisfied with the answers to these questions, then by all means, engage in your holiday activity. Relish it– and everyone you do it for.
3) Keep your vital self-care practices.
The holidays tend to be a time of great feasting, and I certainly don't exempt myself from this. But how often do we sleep less and exercise less during this time of year? How much time do we allow ourselves to reflect, pray, and meditate this season? What often keeps us from feeling overwhelmed is the rhythm of self-care and re-centering. For me, it means praying, sleeping 7 to 8 hours a night, hitting the gym, spending quiet time with God, and journaling. Whatever those things are for you, guard them carefully.
4) Remember who's most important.
Between family gatherings, office parties, school events, and more, it's easy to give everyone in your life an equal slice of your attention. But in reality, there are likely only a handful of individuals in that crowd who matter to you at a deep, heartbreaking level. They're the ones you desperately want to spend time with. Perhaps they're your spouse, your kids, your parents, and closest friends.
The difficult truth is that any time you spend with other people, you're not spending with the most important people. The holidays are about gathering with people, but be sure to show those most important people that they matter more.
5) Give yourself permission.
You may plan a holiday season that feels manageable now– only to find in mid-December that you're overwhelmed anyway. In those moments, give yourself permission to change something. Few commitments are so truly dire that they're worth your sanity, your health, or your most important relationships.
The bottom line: this isn't your performance.
This is a season during which many of us switch into performance mode. We want to be there for everyone's everything, dressed in lovely festive attire, perfect gifts in hand.
But I know that at the end of my life, I don't want to be remembered for how I holidayed well. I want to be remembered for much greater, longer-lasting things. And I'm sure you do too.