I'm not much of a hard liquor drinker, but I have a weakness for boozy desserts! This pumpkin pie has whiskey in both the filling and the cream on top. So it's basically a recipe for warm, cuddly, happy autumn feelings!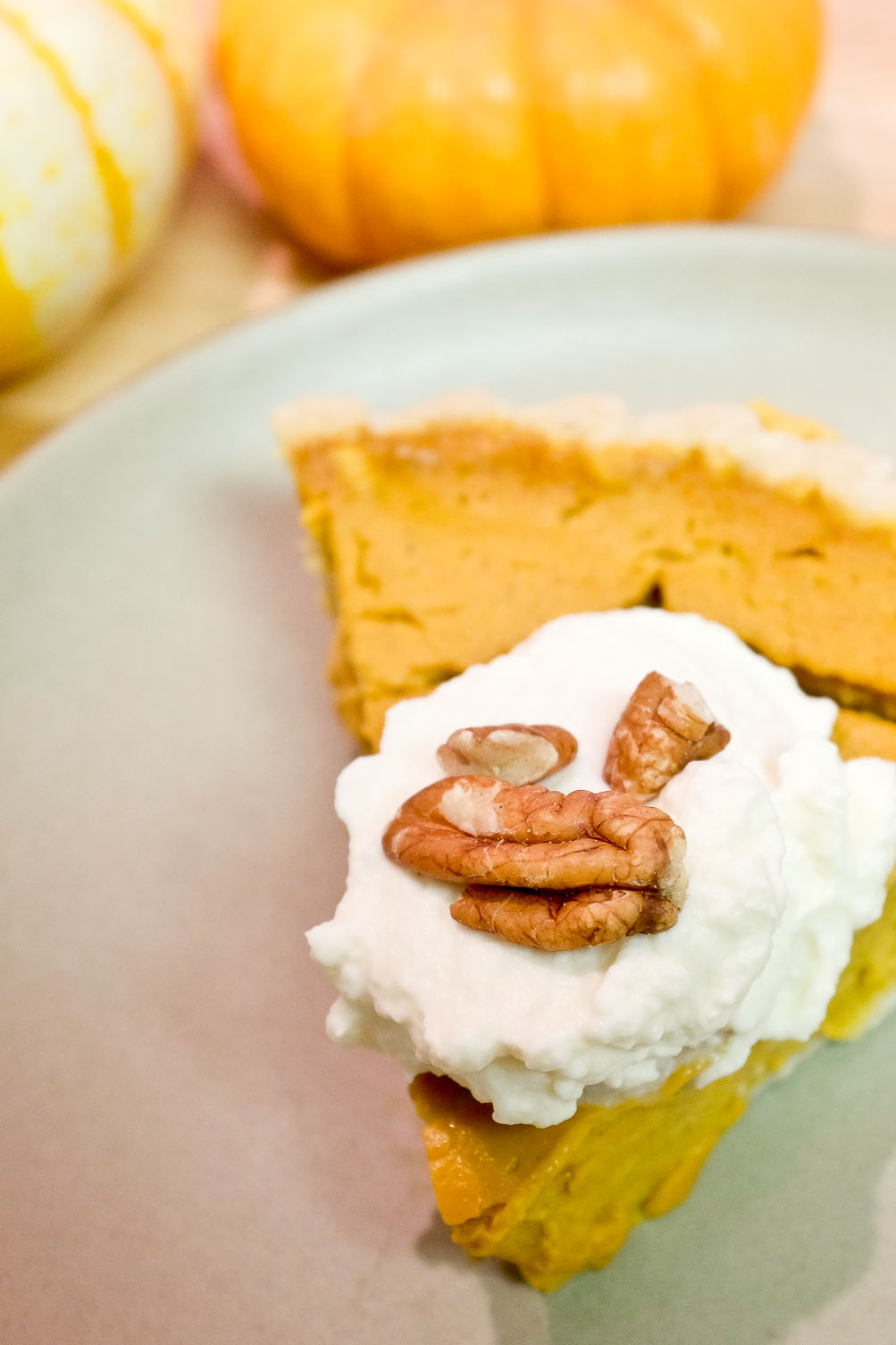 Boozy Pumpkin Pie
Pie Ingredients:
1 premade pie crust (or make your own!)
2 cups pumpkin puree
12 ounces evaporated milk
3/4 cup lightly-packed brown sugar
3 tablespoons whiskey (or your liquor of choice)
2 tablespoons ground ginger
1 tablespoon ground nutmeg
2 tablespoons ground cinnamon
2 eggs and 1 egg yolk
Nuts, for topping (optional)
Boozy whipped cream:
1 cup chilled heavy cream
2 tablespoons whiskey
1 tablespoon maple syrup
1 tablespoon granulated sugar
For the pie:
Preheat the oven to 425F. Cover the piecrust with foil or parchment paper, and weigh down the material with dried beans to keep the piecrust from rising. Bake the piecrust, rotating halfway, for about 20 minutes or until lightly brown. Allow the piecrust to cool.
Lower the oven temperature to 350F.
In a blender or food processor, combine the pumpkin, evaporated milk, brown sugar, whiskey and spices. Scrape down the sides as necessary.
One at a time, add the eggs and egg yolk and blend for 5 seconds each time. Pour the mixture into the cooled piecrust, leaving a little space for the mixture to expand without overflowing. Bake the pie on the middle rack for about 30 minutes, until the filling jiggles just slightly.
Remove the pie from the oven and allow to cool completely.
For the whipped cream: Pour the cream, maple syrup, sugar and whiskey into the bowl of a stand mixer. (You can use an electric mixer for this as well– whisking by hand is tricky, though.) Whip the mixture on high until the cream comes together and becomes light and fluffy. This took us a few solid minutes of whipping. Be careful not to over-whip! (I speak from experience.)
Serve! After you've sliced the chilled pie, dollop the whipped cream onto each piece and sprinkle with nuts or cinnamon sugar. Enjoy!
What should you do with the leftover pumpkin puree? How about some Penne with Creamy Pumpkin Sauce or some Pumpkin Spice Syrup for your daily coffee?