Most of my favorite clothes are old. I've had them for at least a couple of years, and they've become significant elements in some of my favorite memories. I love the memories that old clothes invoke.
Sweaters are no exception. Old sweaters are the best– and despite the fact that many of mine have holes, I still wear them. Because 1) I love how soft they are, and 2) I don't care.
Furthermore, fall and winter are the perfect time to slip into our well-worn jeans and throw on our favorite knits, because nothing says "cozy" quite like that.
But this doesn't mean our outfits have to be boring… or (exactly) the same everyday. I wear the same clothes all the time [again, because 1) I like to and 2) I don't care], and yet there's a lot of fun to be had dressing up those same clothes in different ways.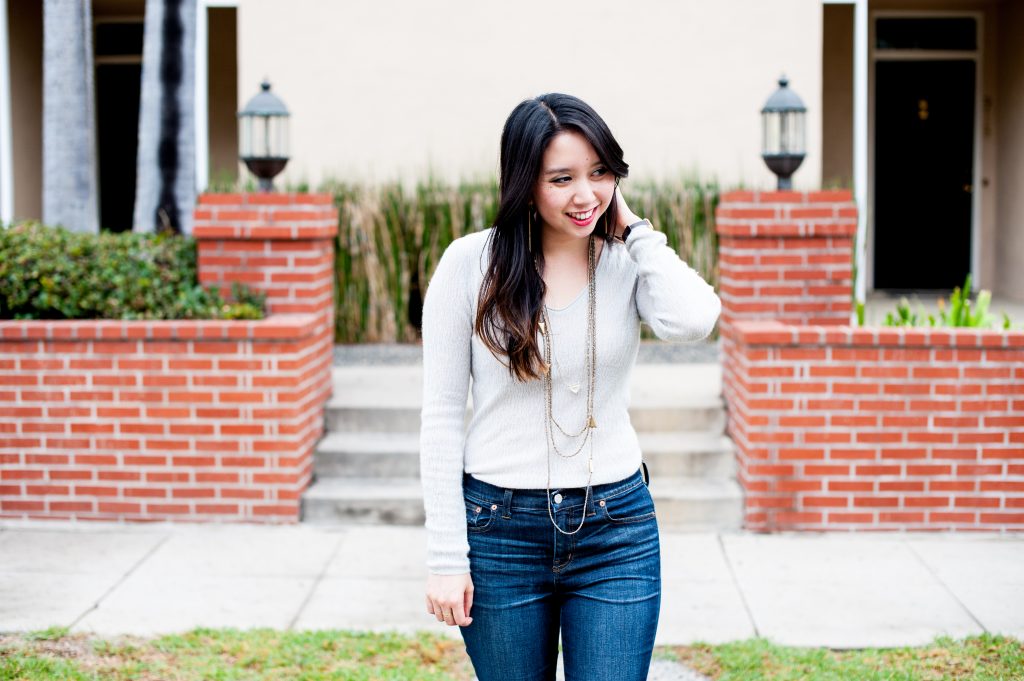 Enter accessories
Ever since I found out about Noonday Collection— a fashion company creating meaningful opportunities around the world through fair trade– I've jumped on the accessories train. There's no better way to elevate a simple wardrobe than with a handful of gorgeous accessories, and this is really my secret to keeping my wardrobe small.
The best thing about accessories is that none of us are hindered by our size or stature. You don't have to spend hours in the changing room deciding between two pieces because one is more flattering but the other is more comfortable. Accessories love everyone. They flatter everyone.
And ultimately, what this means is freedom. I get to wear my favorite hole-y sweaters while still indulging the creative side of me that loves a pop of color. It's a win-win.
How to dress up your favorite old sweater
1) Add a chunky bright necklace.
Even if you're usually a bit intimidated to go for a bold look, the colder seasons are a great opportunity to try it. Bright colors stand out against the cold gray weather, adding a natural glow to an otherwise neutral outfit.
I love the Skyward Necklace from Noonday (below) for its universally flattering turquoise. I've yet to meet someone who can't wear this color! Furthermore, it's a gorgeous contrast to the season's reds, burgundies, and yellows.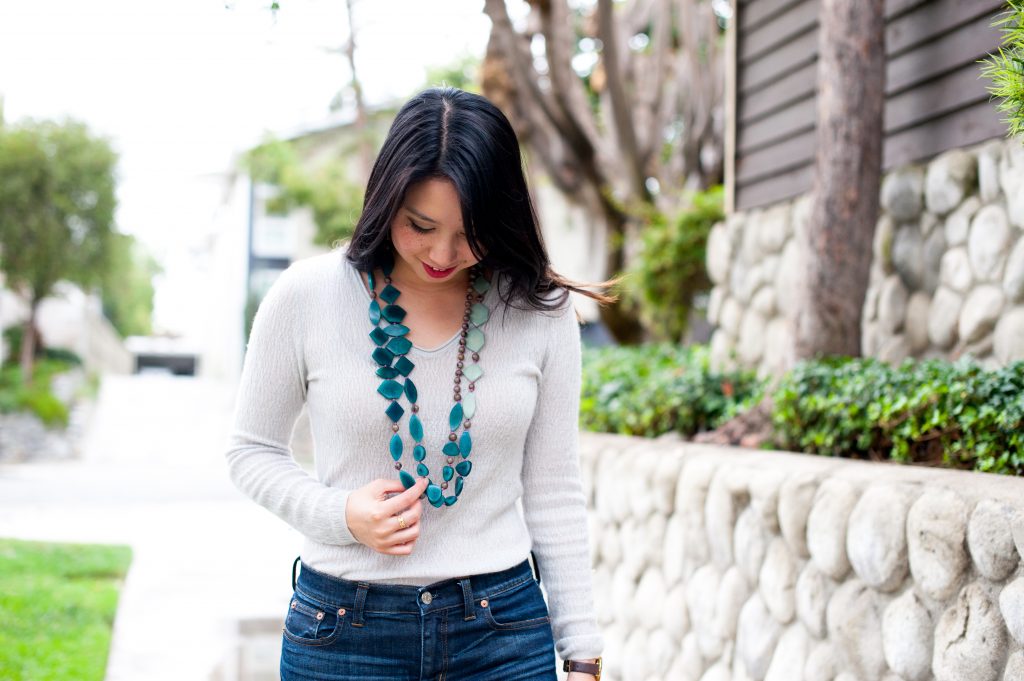 2) Elevate it with statement earrings.
I didn't recognize the power of huge statement earrings until I tried it! Long shoulder-dusters like these Nebula Earrings (handmade in Guatemala) require absolutely nothing in addition. The tiny beads shimmer when they catch the light, turning a basic outfit into a fashion-forward ensemble.
Feeling a little bare with just earrings? Bright lipstick is probably the only accent you'll need.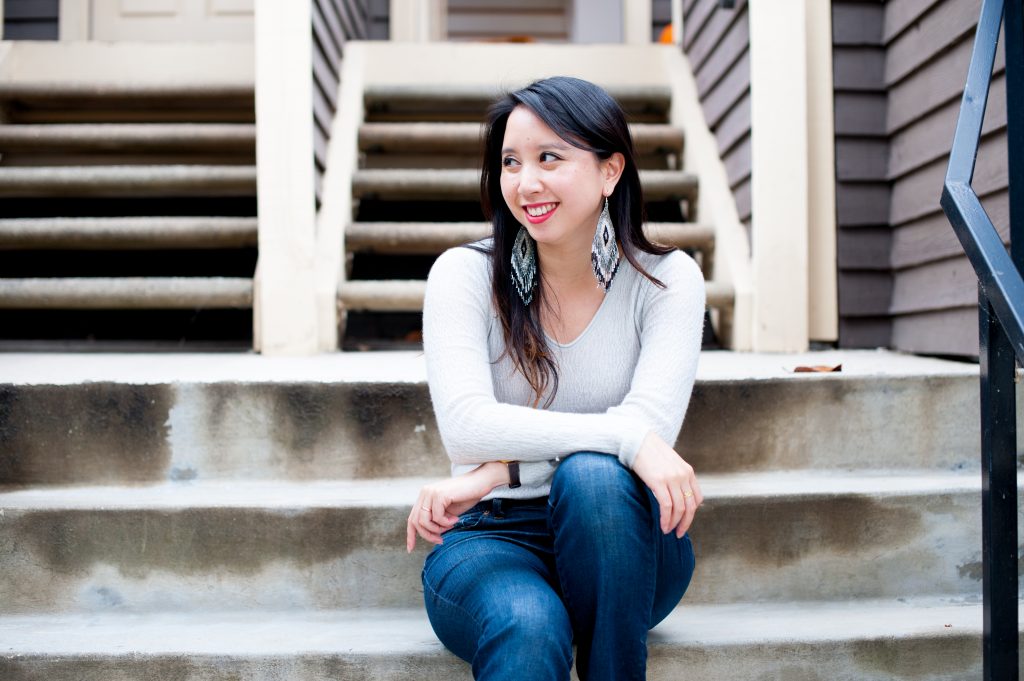 3) Embellish with a classic sparkle.
This is the season to add shimmer to your wardrobe! I love using gold to add warmth to an otherwise cool palette of grays and blues. The classic Parisa Scarf Necklace is hand-embroidered by a group of female artisans in Afghanistan. Their intricate handiwork is absolutely stunning, making this classic silhouette an amazing addition to any basic wardrobe.
To finish the look, I put on my favorite neutral earrings of the season: the Daybreak Earrings hand-carved in Vietnam. The natural hues of the earrings add just the right amount of polish to the rest of the outfit.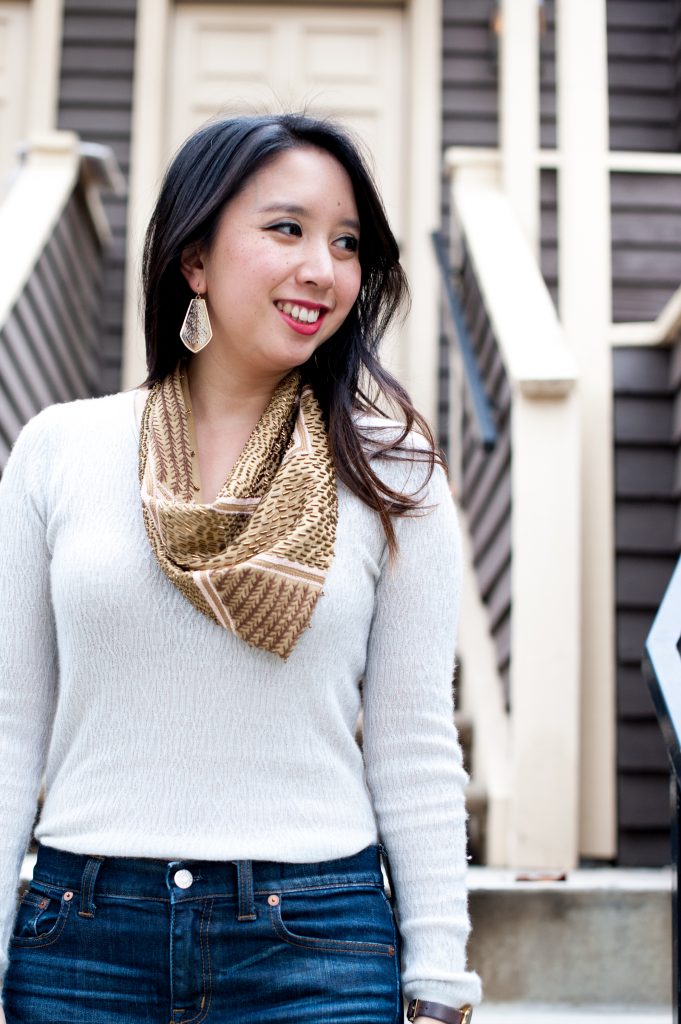 4) Layer on your favorite neutral metals.
I'm absolutely in love with layering necklaces; the possibilities are endless! These necklaces from Ethiopia are made with upcycled artillery shells– that's right. The beads are made with metals found in the fields where battles have taken place. They're melted down into unique shapes and strung together by women in recovery. This is probably the best upcycled material there is!
Layering necklaces are a great way to create that long and lean silhouette we all love. My basic outfit quickly becomes a canvas for these gorgeous metal pieces. I'm wearing 3 different necklaces in this look, and all of them are great on their own. The Bethe Necklace is a classic rope; the Half Moon Necklace is a dainty little pendant; and the Desert Rope Necklace offers a fun nod to the geometric trend.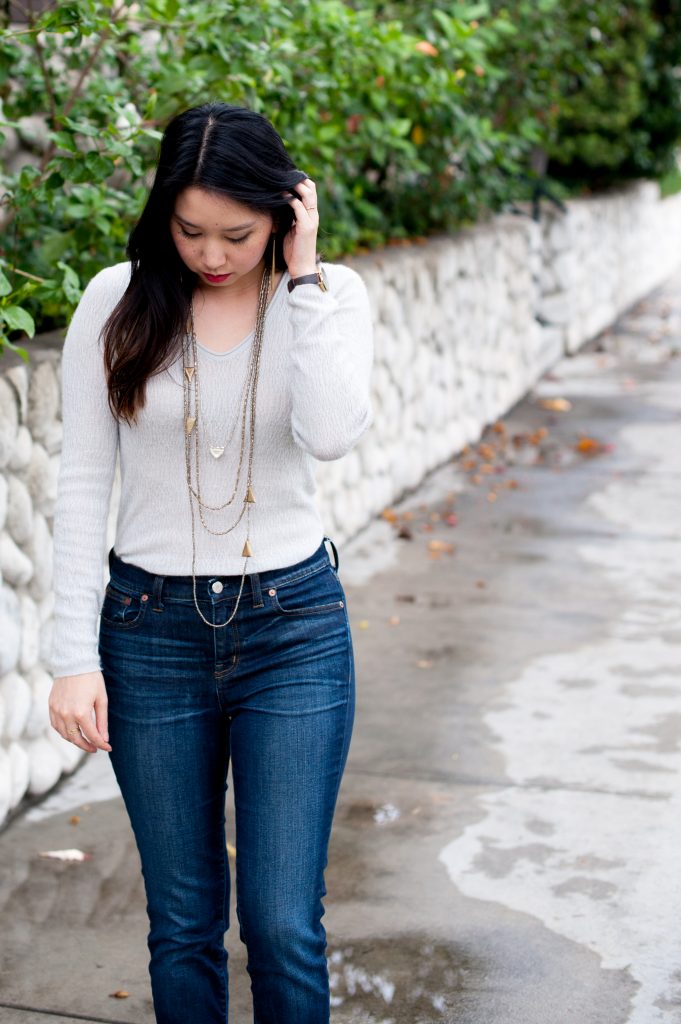 5) Polish it up with a sleek pendant.
I'm often asked to make suggestions for women who work in more formal environments. While I've long been a fan of pushing those boundaries (I do, after all, wear sweaters with holes to work), I understand not every office is as flexible as mine.
The solution? Pendant necklaces like the Artifact Necklace, handmade in India. This lightweight piece is a simple statement with just enough structure to be interesting but still appropriate. Pairing it with the Concentric Earrings pulls the geometric trend together!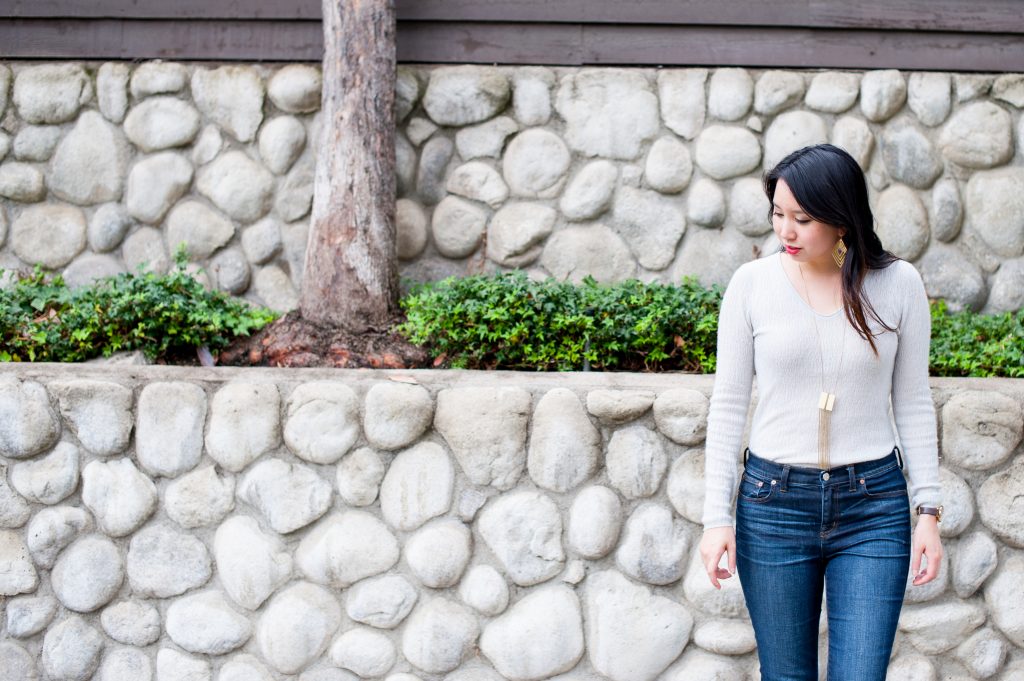 6) Add a scarf. Any scarf.
This season's warm, cozy scarves are a powerful addition to any simple outfit. I'm learning to wear scarves with everything, adding the welcome pop of color or pattern to my wardrobe basics.
This gorgeous Wildwood Scarf is woven with alpaca and wool in Peru. You can wear it long (like I am below) or wrap it twice for those chilly mornings. The adorable fox pattern is paired with a pop of mustard yellow– two elements that are undeniably perfect for fall and winter. For more winter scarves from Noonday, check these out!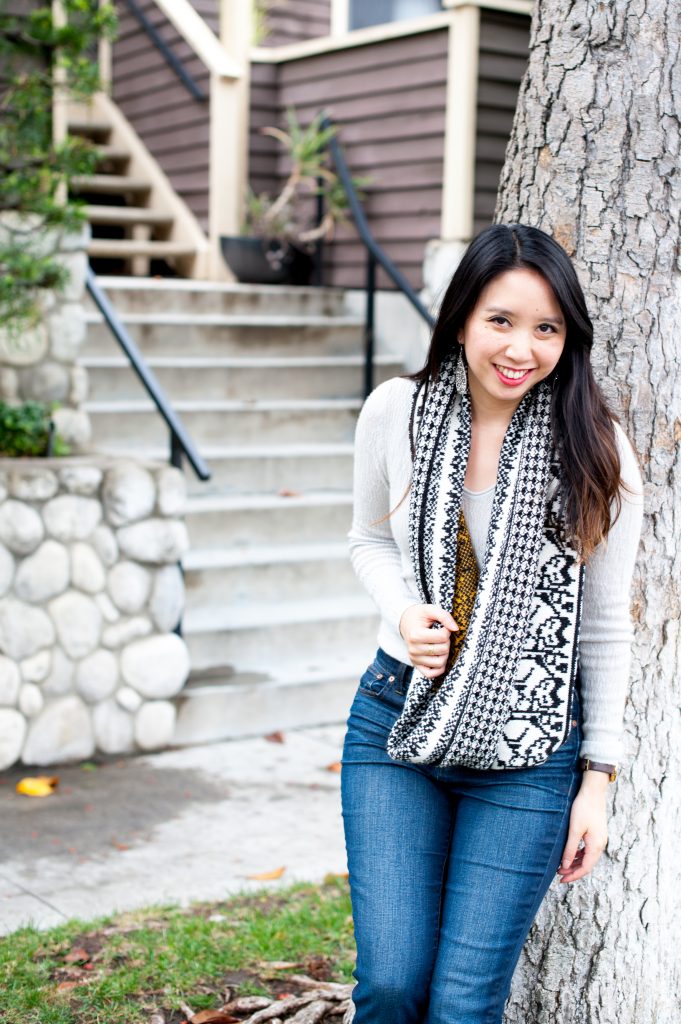 Finding the best balance
The secret to wardrobe bliss (and even capsule wardrobe bliss) is discovering the balance of variety and consistency. The smartest, most flattering wardrobes are completely lifestyle-dependent, which means you just have to try out each piece, evaluate its viability throughout the season, and curate your collection from there.
Being able to continue loving and wearing clothes that are no longer in perfect condition is, in my opinion, the epitome of wardrobe contentment. It's less about acquiring, and more about innovating.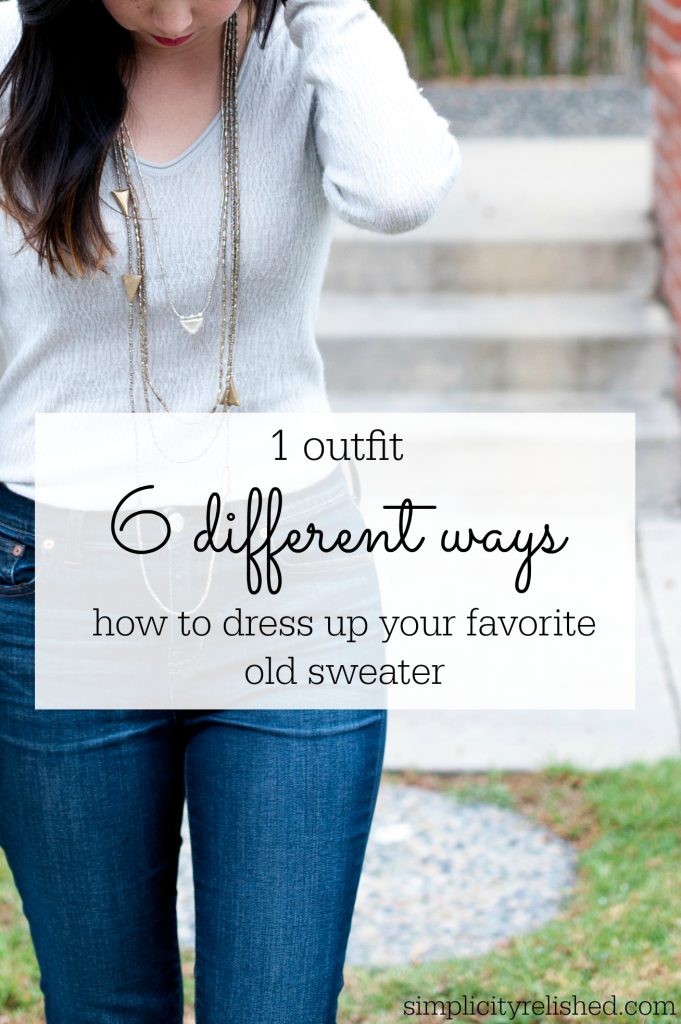 Will you be wearing old favorites this year?