One of my go-to comfort foods is hot, salty soup. Whether it's miso, French onion, or– in this case– chicken tortilla, anything warm and savory can make me feel better.
My husband is half Latin-American, and we love making Mexican food. His mom taught him how to make these delicious enchiladas, and we love throwing together tacos at breakfast, lunch and dinner.
So when I heard she was making chicken tortilla soup tonight, I knew I just had to snap some photographs and share the recipe with you all.
The key to an excellent chicken tortilla soup is the balance of flavors. You've got savory from the broth; spicy from the chili powder; grainy from the tortilla; creamy from the avocado; sour from the lime, and cheesy if you choose to so indulge.
The delight of Mexican cuisine is that often times all of these flavors are present– but they're subtle. Too much of any single one, and it no longer tastes authentic.
Thankfully, this is a recipe that is easy to put together, and also great for adding your own variations! It also keeps supremely well in the refrigerator for a week (keep toppings separate). So make a big batch to enjoy on these busy winter days! There are lots of chicken tortilla soup recipes out there, but this one was heavily adapted from The Best American Recipes.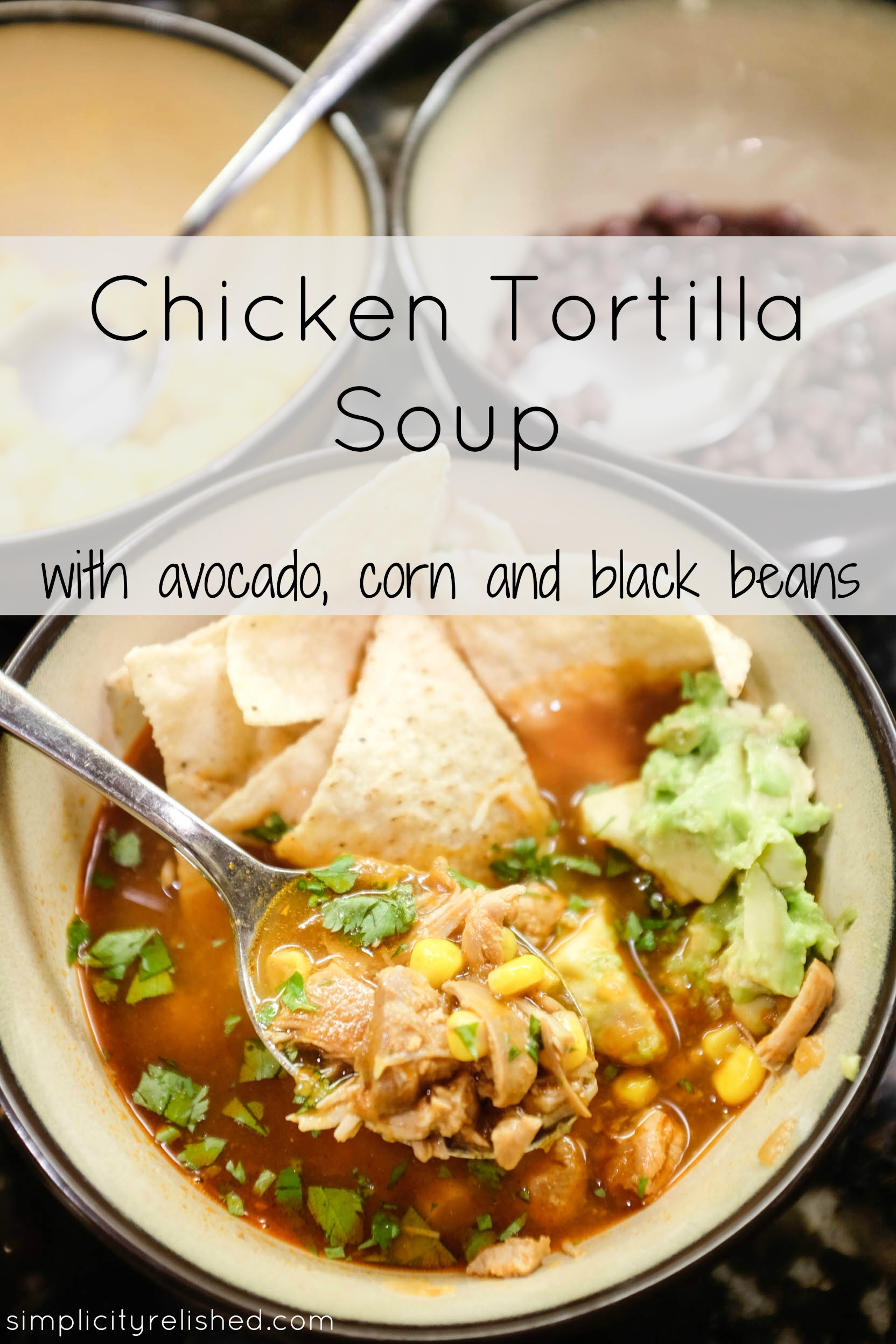 Chicken Tortilla Soup (including her recipe notes!)
Ingredients (serves 10+):
5 tbsp vegetable, or olive oil
1.25 cups finely chopped onion
5 tbsp chili powder
5 tbsp tomato paste
10 skinless chicken thighs (bone-in or boneless)
20 cups canned low-sodium chicken broth, or homemade chicken stock
15 2-inch stems fresh cilantro
2.5 cups corn kernels (fresh, canned, or frozen)
2.5 cups canned black beans, rinsed and drained
Crispy tortilla strips, or tortilla chips
3 ripe avocados, diced and tossed with a few squeezes of lime juice
Cheese– we use a Mexican blend
Sour cream
1.25 cups coarsely chopped fresh cilantro leaves
Lime wedges
Directions:
Heat the oil in a large saucepan over medium heat.  Add the onion and cook until softened but not browned, about 3 minutes.  Add the chili powder and tomato paste and stir with a wooden spoon to mix and cook briefly; take care not to let the chili powder scorch.
Nestle the chicken thighs in the tomato-chili paste, turning them once so they're entirely coated.  Add about 2 ½ cups of the stock and adjust the heat to a simmer.  Cover and cook the chicken, turning once, until it's extremely tender when pierced with a knife, 35-45 minutes.  Add a little more broth if the pan is drying out.  When the chicken is done, remove it from the pan, let it cool a bit, and then cut it into bite-size pieces.  Set the shredded meat aside.
If there is any visible grease in the pan, spoon it off.  Add the remaining stock and the cilantro stems, stir, and simmer, uncovered, until the broth has reduced by about one third, 20-30 minutes.
Put the shredded chicken, tomato, corn, black beans, and tortilla strips into the bowls before serving the broth.  Reheat the broth if necessary so it's piping hot and pour it into the bowls.  Serve immediately.  Add the avocado, cheese, sour cream, chopped cilantro, and a big squeeze of lime to each bowl at the table.
Notes:
Broth is not as good when using broth concentrate as it is when you use canned broth. You could make your own broth too, of course.
I usually buy a bag of frozen boneless, skinless thighs and cut off any remaining fat — boneless saves time when dicing up chicken later.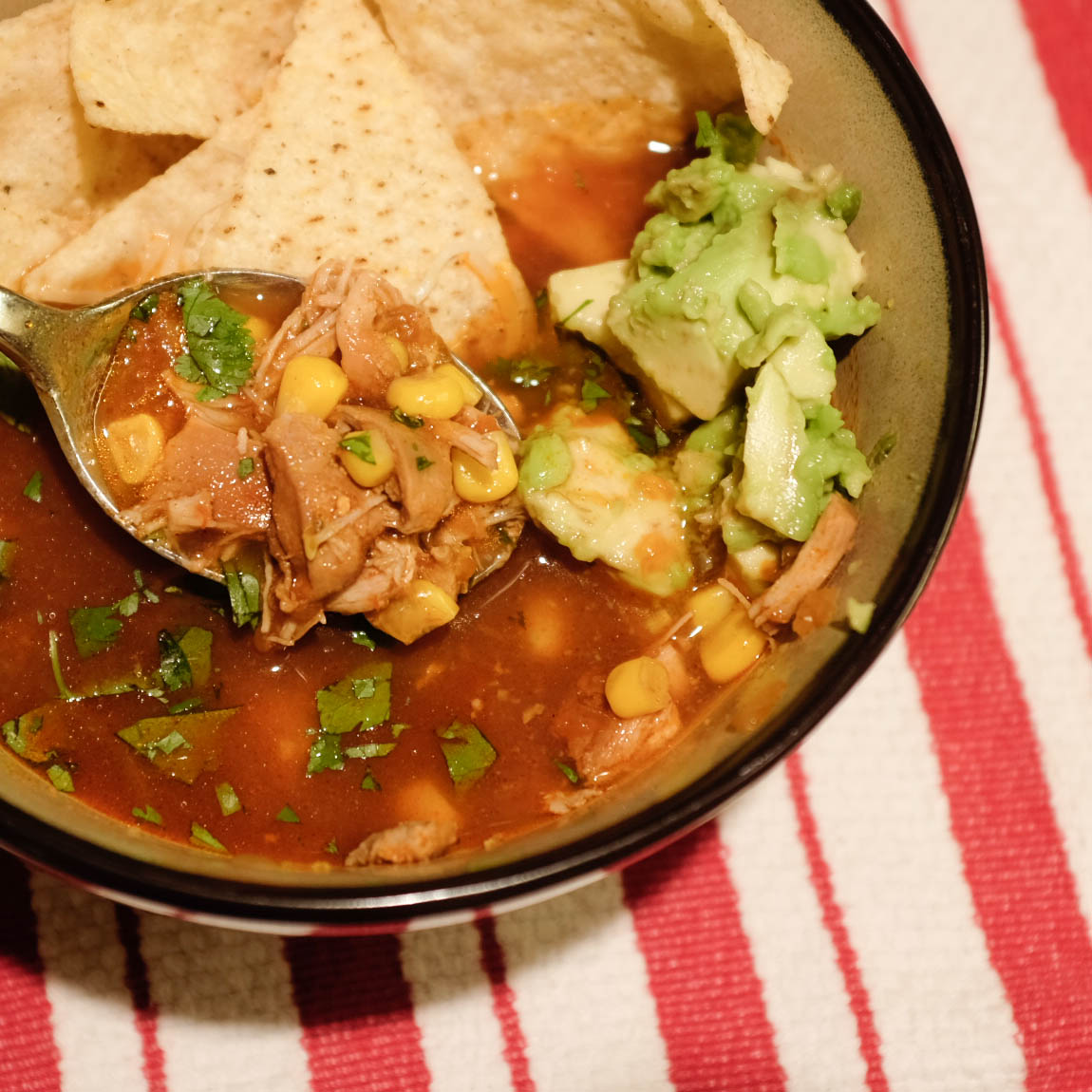 Have you ever had chicken tortilla soup? What are your go-to comfort foods? I'd love to know!