One major incentive for me to thoroughly clean out my closet was the prospect of selling my gently-worn items. These are the things that I purchased but, for one reason or another, rarely ever used. They're perfect candidates for re-sale, and the extra cash was a great opportunity to choose better spending habits.
The first thing to remember when selling your clothes is that you will never earn back what you paid– ever– without being dishonest.
In fact, what you earn from clothes you sell will be a small fraction of what you paid. (Think about that before you make your next purchase!)
The reason is, as soon as we purchase clothing, its value decreases. It's kind of like buying a car– its dollar-worth takes a nose-dive as soon as money exchanges hands.
With that in mind, just remember that you won't make a fortune selling the stuff in your closet, but you probably will earn something. Here are several easy options for doing so.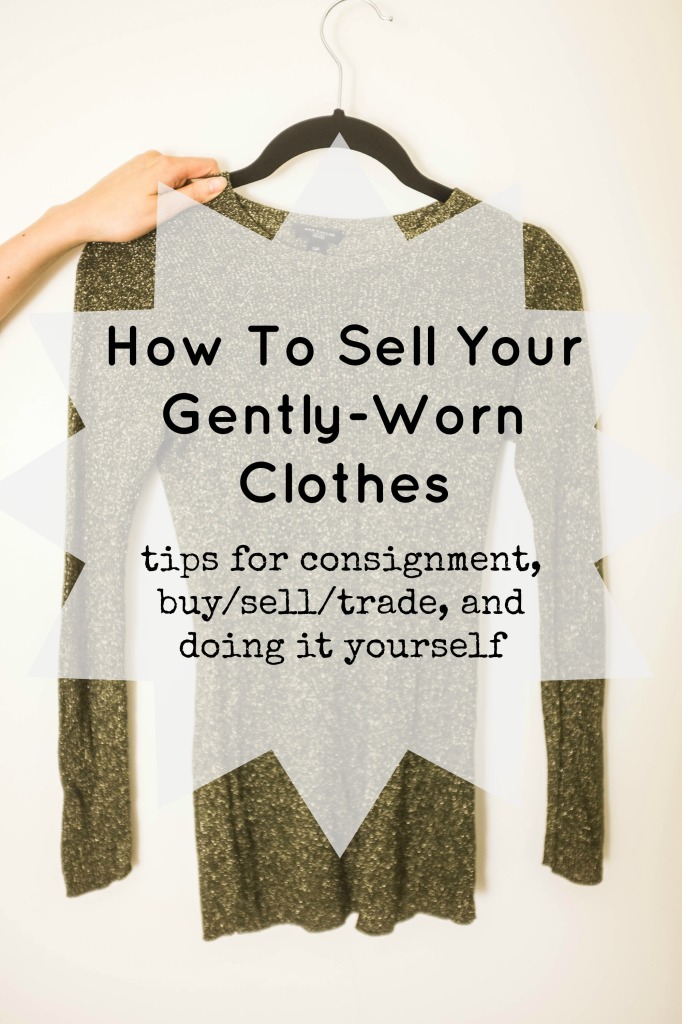 3 Ways To Sell Your Gently-Worn Clothing
1. Consignment.
What to sell: Consignment is reserved for designer labels only. This would include vintage pieces as well as anything from previous seasons. Examples include shoes, clothing, accessories and bags from brands such as Chanel, Marc Jacobs, Kate Spade, Tory Burch, Fendi, etc. Make sure that all labels are attached.
How it works: Consignment is basically having someone help you sell a luxury item. If the item does not sell, then you do not make money. However if it does sell, then you make anything from 40% to 70% of the going price. Consignment is usually the BEST price you will get for your items.
Where to sell: Consignment stores are usually not chains. Look online to find consignment shops near you.
2. Buy/Sell/Trade & Online Shops
What to sell: These shops tend to look for medium-range to high-range clothing and accessories, including brands from Forever 21 to Ann Taylor and higher. Think of your local mall and the brands there. Some places will even buy Merona (Target) or J.C. Penny.
How it works: Buy/Sell/Trade shops will pay you cash upfront for what you bring or send in. They tend to choose seasonal, trendy items that are in great condition. Due to the "upfront" nature of this operation, you will only make about 5% to 25% of the original price you paid. Again, not a profit, but some extra cash.
Where to sell: My favorite option for Buy/Sell/Trade is ThredUp! These stores are ONLINE and they send you a FREE bag to fill, pay for the shipping, and process your package within days. Twice tends to choose higher-end brands, while ThredUp will buy lower-end brands too! Before you send in your clothing, make sure to check their websites to see what brands they take.
3. On Your Own: eBay or Yard Sales
What to sell: This really depends on your neighborhood. Generally speaking, this is a good way to make some extra cash, but it's difficult to sell your item at the highest price possible. To entice people to buy things on eBay or at a yard sale, you usually have to offer pretty low prices. But this can be a good option for things that you can't sell elsewhere, but feel you can make some extra cash on (not old t-shirts).
How it works: If you sell items online, be sure to check their safety precautions. At a yard sale, it's important to have enough friends or family members there to answer questions, make change, and look out for safety.
Where to sell: I've never organized a yard sale myself, but it's important to spread the word. Sell in a neighborhood where people will be interested in what you have to offer. For example, sell lower-end items in a fun, hip, young neighborhood– as opposed to a wealthy suburb where people aren't necessarily looking to bargain on inexpensive trendy clothes.
So, how successful have I been selling items? Pretty successful! I've made over $800 selling clothing via consignment, Twice and Thredup. That said, I had lots of items that were given to me over the years that were valuable but not my style. I also had items that I purchased on a whim and never wore.
But, if you think about that $800, it must have been less than half the amount of money spent in the first place. Imagine that! If all of that money were to be given to me now, I hope that I would be able to spend it better.
What can you do with your earnings? Well, one idea is to donate it, especially if you were going to ship the clothes off to Goodwill anyway. What's neat is that $5 can go much further than a tank top, so that's why I think we're better off selling our clothes and donating our earnings, rather than donating our clothes. 
The bottom-line is, selling your clothes is an excellent incentive for cleaning out your closet. It forced me to seriously consider whether I needed something, or if I'd rather have some extra cash in my pocket.
If you have any questions about selling your items, let me know! I'd love to answer them. Good luck, everyone!