I'm writing this with a lot of excitement and a little bit of fear… but you are so supportive and I love this little community, so I'm taking a risk.
As you might know, I work part-time as an Independent Ambassador with Noonday Collection (on top of my 8-to-5), a small company that partners with artisan businesses in vulnerable communities to create beautiful accessories and dignified jobs. What this means is, Noonday partners with artisans who own their own businesses and are seeking to make social change in their neighborhoods.
In a nutshell, this means that Noonday is helping facilitate the following shifts:
Single moms are able to work in safe environments and send their kids to school.
Women who have been trafficked are receiving therapy and job training.
Craftsmanship and art traditions in rural regions are preserved and celebrated
Sustainable, safe production is happening where work is dangerous for humans and the environment
Fewer children are being left at orphanages because their parents have reliable, consistent work.
Does that sound amazing, or what?
This is one of the best things I have ever been a part of, and I love my role as an advocate and stylist inviting women in the U.S. to purchase from Noonday. Our purchases are sustaining all of the long-term change we hope to see in these 12 different countries.
Furthermore, because I reached a big sales goal last fall, I get to go visit the artisan partners this July! And I am going to…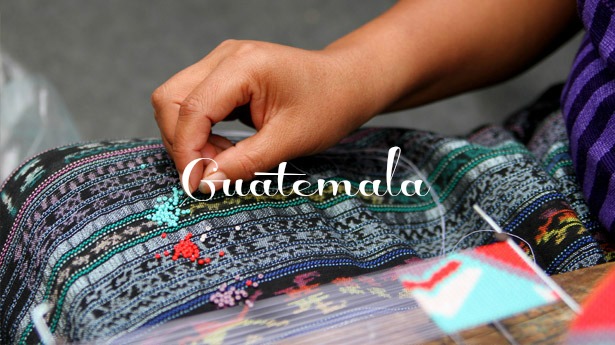 I am over the moon to be traveling to Guatemala. I have never been, and we partner with 5 different artisan groups who do everything from intricate beadwork to organic yarn dyeing to back-strap loom weaving. A number of these businesses are led and run by women, which makes this trip all the more exciting to experience.
Want to be a part of this?
Okay, here's where you come in. Those of us traveling to Guatemala to visit our artisan partners want to show up on their shores proud of how we invited our communities to support them.
SO, I'm creating a 2-week Guatemala impact popup shop! I'll be sharing stories from our artisans' communities, a few travel details, and how to style the handful of beauties you can purchase to support me in this adventure.
Here's what you need to know:
This is a popup shop.
So the goal for me is share the stories of impact behind our Guatemalan accessories, and help you pick out a couple things you're going to love to wear or give to someone you care about. I'll share details about these handmade creations so you know exactly where it comes from and the people it impacts!
You'll get some serious style training!
Are you wondering how to spruce up your wardrobe for spring, but don't feel like spending tons of time in the changing room? So many of you have asked me how to make the most of a small wardrobe, and I will be sharing a bunch of my secrets in this popup shop. I swear by accessories as a way to expand my small wardrobe, and I'll show you exactly how I do it.
There are prizes and bonuses to be had.
If you join my group and make a purchase in the next two weeks, you will be entered to win a $50 gift card to Noonday Collection. I will also be creating a few other prizes that I will announce in the group. For your support, you will also be eligible to receive a special gift from me when I go to Guatemala in July.
This is about heart cultivation.
As I do this popup shop, I will be intentionally learning about and praying for the country of Guatemala.I have heard not a few crazy stories about people who have prayed for countries that they have never been to. One person who prayed for Uganda eventually became a diplomat there (he also was able to raise tons of money for an orphanage there and meet the president, but you get the point). To be clear: I have no desire to be a diplomat or anyone holding any amount of power. You just never know what might happen when you choose to hit the earth with your knees. And I'm inviting you to do this with me.
Does this sound awesome?
You can join the popup shop Facebook Group right now. I'll approve requests as soon as I can so you can get in on the fun!
Thanks for being a part of this community, friend. If this isn't for you—if you're not really interested in shopping, if you've got too much else to do, or if you're just happy to follow my travels when the time comes—know that you are valued too.
Together,
Daisy