Prior to the coronavirus outbreak, our lives seemed to be moving at breakneck speed. I, especially, had abandoned any past commitment to slow living when I realized that I could do so much more with my time if I just… crammed it all in.
I'm embarrassed and humbled to confess that I have unnecessarily worked 7 days per week for the past 2 years. Yes, business school and launching a startup and blah blah blah, but did the world require me to maintain 12-hour work days and then some? In a word, No.
Yet I did anyway, and I'm even more embarrassed to admit that I would probably be inclined to continue to work 7 days per week, if it weren't for the ways COVID-19 is changing my perspective.
One of the primary shifts in my mind is that speed and quantity (or even quality) are not necessarily good modes of operation, especially when they're driven by anxiety. I have not been sleeping well. I wake up in the middle of the night and — believe it or not — open Twitter on my phone to see the latest updates on the virus, the stimulus plan, the shutdowns. It's terrible, and I am stopping this.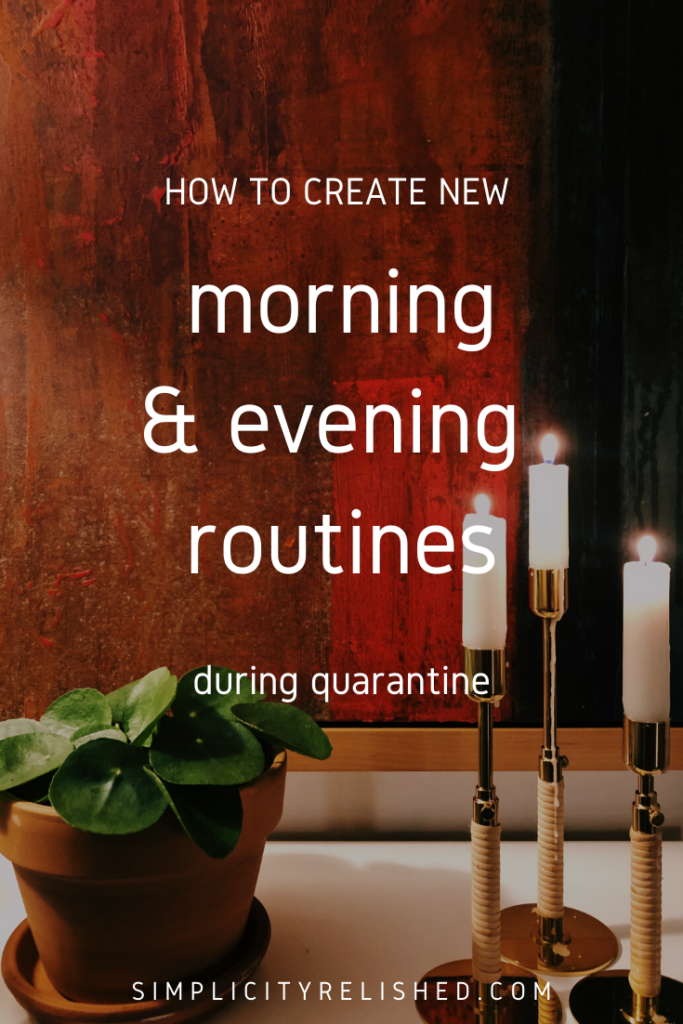 Why we need calm people in the storm
I hasten to acknowledge that the healthcare heroes in our society are not slowing down. They are working endlessly, confronting disease and death with every fiber of their being.
But the rest of us would do well to review our current routines and mindsets, because our exhausted society will need people who remained well and resilient and generous and levelheaded during this time. People who are not on the front line need to examine the very margins we've exploited, the risks we've taken, and whether that contributes to us bringing our best to the world. My increased worry and hurried life have no power to save the dying. So I may as well make sure that I am well, so that when the torch of shepherding my corner of society is passed to me, I will be ready.
My new morning routine during quarantine
1. Open my eyes when it's time to get up. No scrolling. Take a few deep breaths with a single-word mantra: "Today," or "Mercy".
2. Make coffee or tea, light my candle. Grab my journal and one of my Alabaster Co. books to read. Sip, read, and write a prayer.
3. Make a quick breakfast with my husband, who is also now working from home. We always have meals together, seated at the table, with minimal technology.
4. Check in for the day as I digest. Look over my calendar, make my to-do list, read any important emails or notifications that have come in so I can incorporate them into my plan. Do a quick scan of my day and determine what's most important for me to do. Ascertain that I'm addressing both urgent things and important things today.
5. Throw on workout clothes and do a quick workout. I've been loving the videos Katie posts on her website and Instagram— minimal equipment needed but challenging!
6. Shower, get dressed, and get ready. It doesn't matter if I'm seeing anyone on Zoom today; I will dress as though I'm leaving the house and heading to the office.
7. Workday starts. I try to get as much done as I can so that I can have a hard stop at the end of the day.
My new evening routine during quarantine
1. After our evening activities, do a final check-in to make sure there are no messages that need a quick response. Wrap up by tidying my workspace and the kitchen.
2. Sign off social media, Slack, and email, not to be viewed until tomorrow. Be discerning about text and WhatsApp threads— show care and concern for friends and family without spending more than 30 minutes looking at my phone.
3. Remove makeup, change into loungewear or pijamas. Use a face mask if I'm feeling extra fancy.
4. Make a small cup of lavender or mint tea. Curl up on the couch to read a book that has nothing to do with work or school or #goals.
5. Crawl into bed with my journal. Write down 3 things I am grateful for, and as my professor says, be really specific about those things and why I'm especially grateful for them today.
6. Apply aromatherapeutic hand cream and lip balm, set my alarm, lights out.
Make it your own
The purpose of routines is to build into the structure of day the important rituals that we struggle to maintain when we are busy, stressed, or overwhelmed. This is an extraordinary time for all of us. There is massive uncertainty, and each of us will be personally affected in different ways.
As you create your morning and evening routines, ask yourself:
What reminds me of what matters, during a global crisis and during times of normalcy?
Who do I want to become, and how am I becoming that person during this time?
What makes me feel abundant in love, hope, and courage?