Today I'm on a flight to a childhood dream.
Before I imagined myself frolicking in the fields of Tuscany or strolling through the streets of Paris, I wanted to be in Cambodia. Predating my taste for perfect, elegant food was my taste for gritty, old, abandoned centers of life.  So the day I learned about Angkor Wat (and other temples), I knew I wanted to see them in person.
I am also a huge proponent of local travel– experiencing not only tourist-centered establishments but also what life is really like wherever we travel. What I loved so much about Mexico City and Quito, Ecuador was the activity and everyday adventure that proliferated between cobblestones and under awnings and behind beautifully bright doors. The truth is that most travel– particularly tourist travel– is an entirely aesthetic pursuit. If we're to allow it to change our perspectives significantly, we must be open to the beauty (and challenge) of how lifestyles vary across the globe.
So my 10-day excursion to Cambodia will include a variety of activities (locally driven and touristy), not least because I get to hang with an insider! My really good college friend has been living in a small town in rural Cambodia for almost 2 years, and she agreed to spend part of her only work break to chaperone me and another friend around. I am so excited to see not only the famous temples of Siem Reap, but also Jasmine's little town where she lives with her host family and teaches at a local school. It's been months that I've admired her photographs from afar, and now I get to follow her around to her favorite spots.
My 10-Day Cambodia Itinerary
Jasmine, our friend Courtney and I will start our adventure in Phnom Penh, Cambodia's capital. We'll visit the the Royal Palace and the Russian Market, dining in Jasmine's favorite cafes and restaurants. But perhaps most importantly, we'll visit the Killing Fields and the Genocide Museum.
Heartbreaking but so very real, the Cambodian genocide was not that long ago. There is plenty of information about how a new regime effected massive destruction in a few short years, so I won't share the details here– but it's now a backstory that no visitor to Cambodia can ignore. In many ways, the road to recovery is still long.
After our brief stint in Phnom Penh, Jasmine will take us on a country road to her village, Phnom Kravanh, near the city of Pursat. In my mind, Jasmine's village is a web of pristine dirt roads criss-crossing over endless miles of rice paddies. I'm expecting the reality to be a bit less picturesque, but I'm still (perhaps all the more) excited to experience a brief snapshot of Cambodian backcountry.
Jasmine has become quite the biker now that she has lived in Cambodia for a while, but I think we will be staying away from dirt biking during our visit.
After 2 days in Jasmine's village– hopefully visiting her host family, her students and local community– we'll be on our way to Siem Reap, where the Angkor temples are located.
According to a number of sources (and Jasmine herself), the most stunning moments at the temples are sunrise and sunset. We'll take early morning photographs of the gorgeous landscape, crawl through nooks and duck under overhangs. My only challenge will be staying present enough and taking a few moments to lower my camera.
After Siem Reap, we'll be boarding a plane to Sihanoukville. The Cambodian coast is less famous than that of Vietnam or Thailand, but Sihanoukville tends to be overrun by backpackers seeking a good time. My friends and I are the more quiet types when it comes to relaxation, so we'll be going straight from the airport to the ferry dock, where we'll take a short ride to Koh Rong Samloem.
This beautiful, completely undeveloped island is the quieter cousin of Koh Rong Island. I'm hoping everything Jasmine has heard, and that I've read online, is true about Samloem– that there's little to no electricity, absolutely no bars or clubs, and that we snagged one of few bungalows that even has air conditioning.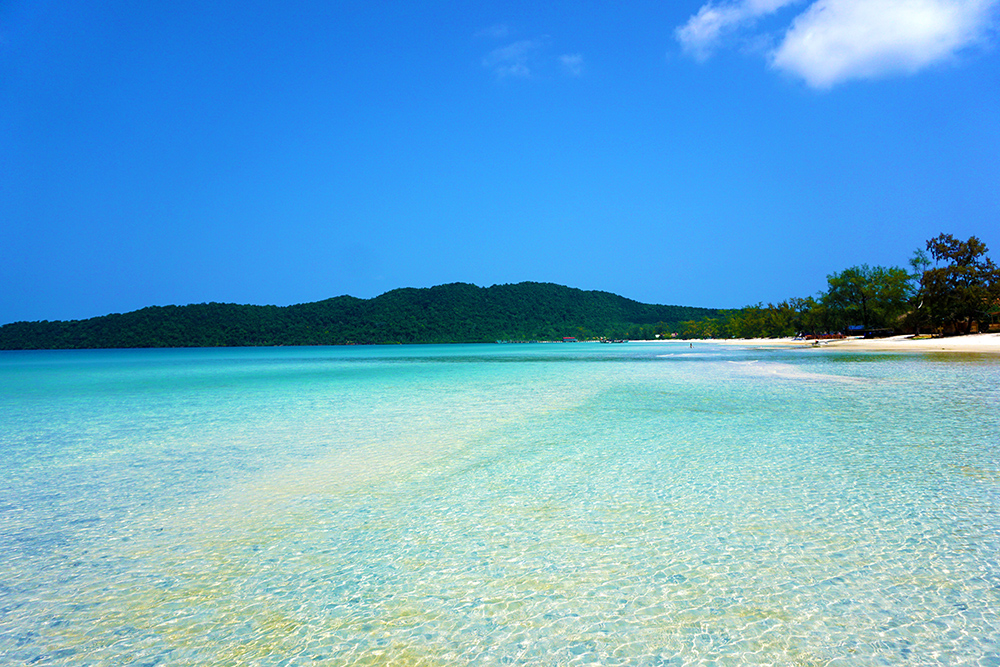 (image source)
I'm not going to lie– this photo looks a *little* over-saturated to me. But I know by the end of our trip we will be tired– and even if the beach is a little less cyan in color, we will definitely need the quiet respite.
I'll try my best to be on Instagram (@simplicityrelished) throughout these adventures– but as always, I'll bring home lots of stories and photographs to share in coming weeks.
(cover photo by Christian Moscoso)