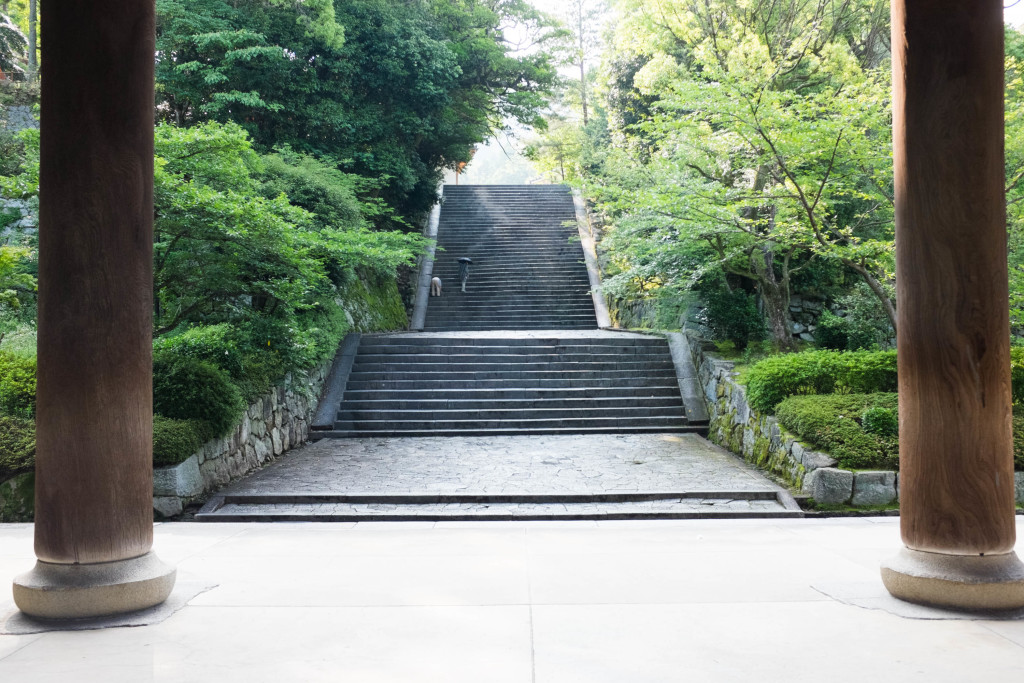 There is so much to say about Kyoto (and I'll hopefully say more in another in-depth post, so look out for that), but I wanted to put together a quick guide to Kyoto for anyone who's thinking of visiting.
First of all, Kyoto should be on your list if you love travel. It was named Travel & Leisure's #1 city to visit in 2014, so you know it's got to be good!
Before you head to Kyoto (and possibly other parts of Japan), here are a few things to remember:
Japan is not a "cheap" destination. With the 3rd largest economy in the world, you can bet on spending at least $15-20 a day on food, much more if you wish to taste authentic cuisine! More on that later.
Most people in Japan do not speak English (or at least as much as people in Europe). There are few English signs in train stations, so be flexible or learn some Japanese phrases.
All of this said, Japan remains very travel-friendly. It's safe, clean, and especially good for traveling alone. And there's TONS to do and see!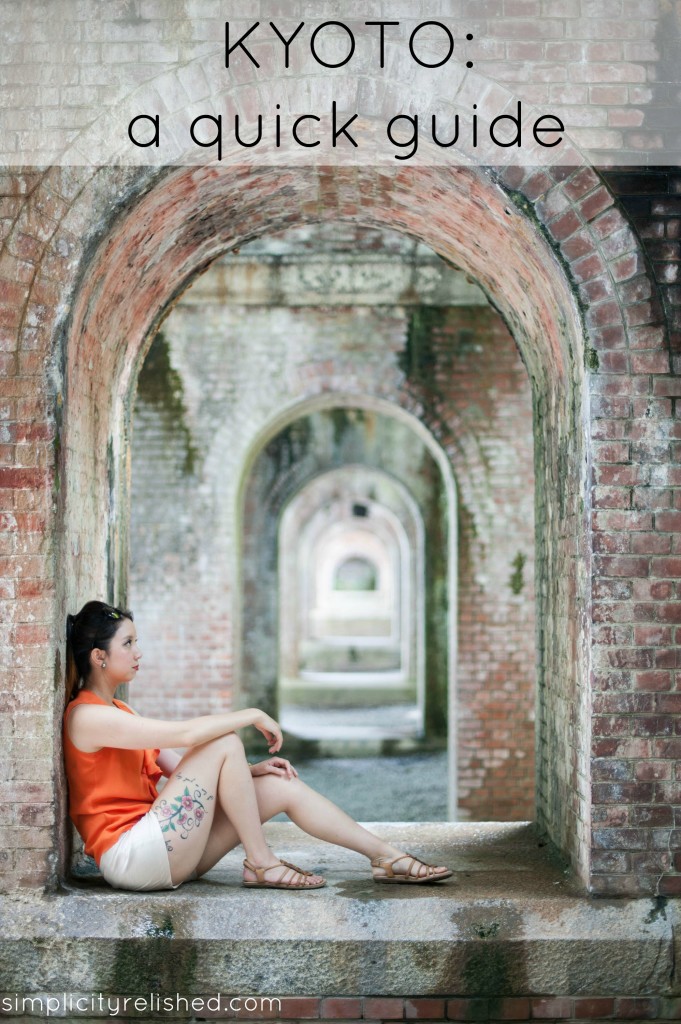 Should you visit Kyoto?
My answer is, absolutely! Kyoto is a brilliant destination fit for all types of travelers. Here are some highlights you won't want to miss:
Temples and gardens: Kyoto has over 2000! You won't get to them all, but they're each unique and beautiful. Some are more tranquil than others. The famous ones attract crowds.
Historical streets and alleys: Kyoto was the old capital of Japan, and retains many national treasures. The old architectural style was maintained despite Japan's modernization, and the alleys are full of charming shops and restaurants! Great for browsing, munching, and of course, shopping.
Local cuisine: Japan is a major food capital, but Kyoto has its own twist on Japanese cuisine. Whether you try maccha green tea, fresh tofu, obanzai, or kaiseki, Kyoto has everything.
Ready to go on your next adventure? Read on!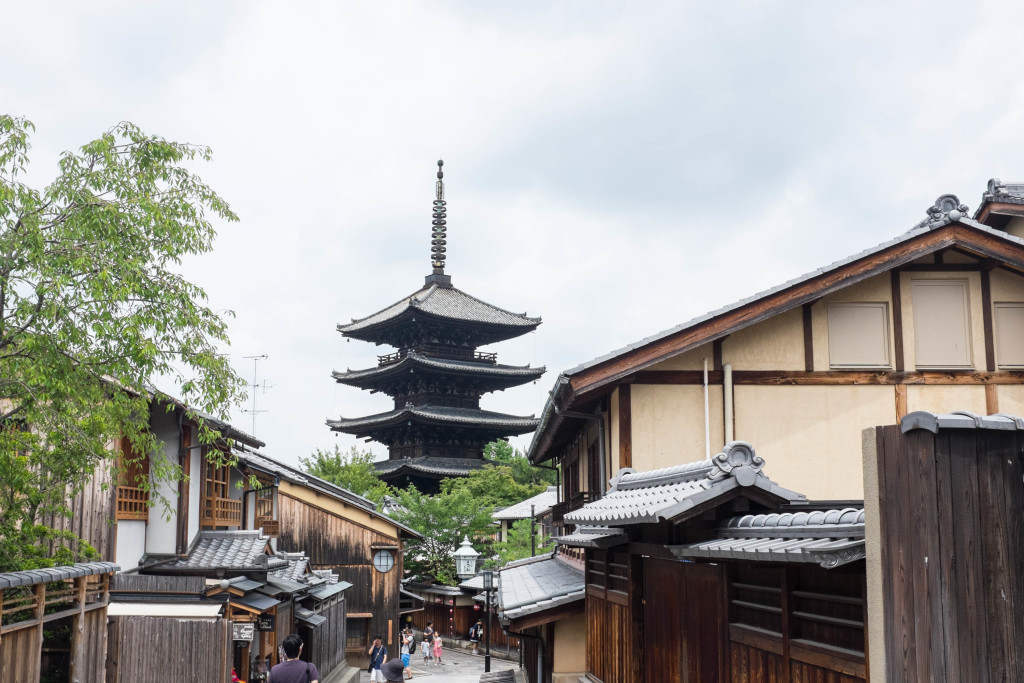 When to visit Kyoto
Japan is busiest in the spring during cherry blossom season, when petals float like snow through the air. You may want to visit at a less busy time to avoid the crowds. September is typhoon season, but anytime from October-May is considered good. I visited in June, during rainy season, but it actually did not rain much!
How to get to Kyoto
Most international flights to Japan land in Narita, which is outside of Tokyo. If you want to visit Tokyo (which I recommend, see here), go there and then take the bullet train (shinkansen) to Kyoto station. From there, you can either grab a taxi (pronounced ta-cu-si) or use the super efficient subway line.
Where to stay in Kyoto
In my opinion, staying near downtown is your best bet. Kyoto is not huge, but it does take some time to get from one end of the city to the other. If you can't find a downtown hotel, try one in Higashiyama such as the Westin Miyako.
For budget options, I suggest entering a search in Trip Advisor. Japanese culture has a high commitment to good service, and you will get what you pay for. You can bet that all hotels will be clean and friendly, no matter what the price. It's likely that midrange to luxury hotels will have more English speakers, though.
A side note on staying in Arashiyama: this a district in Kyoto where some of the most lovely attractions are, but it's a bit out of the way. Unless you'd like to find a quiet retreat for a day or two (which could be the best decision ever), I would not recommend staying here the entire time you're in Kyoto.
What to eat in Kyoto
You're in Japan, so food matters! I think it's hard to get a bad meal here– it's just a matter of good vs. excellent.
Here's something you should know about Japanese restaurants: some are rather exclusive, and you can't get a reservation unless you have a Japanese speaking local to advocate for you. That's just the way it is.
Still, here's what's on my recommended list:
Tofu kaiseki lunch at Shoraian: This is a lovely old home in Arashiyama and TOTALLY worth the trek. Shoraian's owner is an artist and the lunch set reflects that artistry. Shoraian was featured in the New York Times last year (spelled "Syouraian," unlike the website), so it's popular! And totally worth it– the tofu is fresh and fluffy. You've never tasted tofu like this.
Local Kyoto cuisine at Obanzai Menami: Ok, we got a reservation at Menami through a Japanese company, so it might be a bit of a stretch if you're not connected. But this was the best meal we had in Kyoto. It's down-to-earth and yet melt-in-your-mouth delicious. No English menu, so make the best of it. Order anything– it will be good.
Kaiseki meal of a lifetime at Hoshinoya: This was the best meal we had in Japan, perhaps the best meal I've had in my life. The Hoshinoya chef's unparalleled use of Japanese and French cuisine produces a kaiseki (seasonal set menu dining) that's out of this world. Book through the Hoshinoya website. The price is around $200 per person, and worth every bite.
Local homemade soba (buckwheat noodles) at Honke Owariya: probably the most affordable place on this list, Honke Owariya has been serving up buckwheat-made goodies since 1465 (that's before Columbus set sail). Soba is a Japanese staple: served hot or cold with a delicious savory broth, it's a favorite for tourists and locals alike!
Award-winning coffee at Arabica: If you're into espresso, you can't skip this place. The barista won an award for his latte art, which is nothing to scoff at. We loved the cool atmosphere here and also the nearby shops! It's not far from Kiyomizu-dera Temple either.
Traditional matcha green tea at a temple garden: Some of the temples I listed below have "chaya"– traditional tea houses that serve matcha. Matcha is a very special green tea that is whipped till frothy with a bamboo whisk. It has a strong aroma and is a bit bitter for some, but I myself find it to be amazing. Matcha is served hot or cold in a large bowl with one sweet morsel to accompany it.
Getting around in Kyoto
Good news: the subway system is fantastic in Kyoto! It costs $2-3 to get almost anywhere, and the maps are easy to read with English transliterations.
Bad news: you might not be able to find things in alleys with just the English transliteration. If you can look up your destination online (especially if it's a shop or restaurant), and find a photo of its storefront, it will help a lot!
Taxis are wonderful (but a bit pricey) in Japan, and you must have the address for your driver, written in Japanese. The staff at your hotel can help you with this.
If you need to ask the locals for help, make sure to preface your question with sumi masen (excuse me) and thank them with arigato gozai-mas!
Budgeting Tips for Kyoto
Here's the bad news: once you fall in love with Japan (which you will), you will want to buy everything. And they don't haggle; prices are fixed and quite fair.
Here's the good news: there are many wonderful things to do that cost less than $10, and you can try resisting the souvenir shops!
If you need a clear budget breakdown, here's what I suggest:
$20 a day to visit museums, temples and parks. Temple admission varies, but most of them cost only $5 (a steal compared to Europe!). Most gardens are attached to temples, so it's sort of a 2-in-1 deal.
$30 a day for dining (if your hotel does not include breakfast, which it may). This is very simple dining but that doesn't mean it won't be delicious. You could spend hundreds of dollars a day eating in Japan, but you can definitely get by with much less.
$10-15 a day for public transportation; more if you choose to take taxis.
$100+ per night for basic accommodations (you can also look into AirBnB, but I don't have experience with that).
This would be a comfortable "bare minimum." Of course you can snack on peanut butter and crackers, but Japan has such a strong culinary culture that it would be a bit of a shame to do so. As I wrote, Japan is not a cheap destination and definitely requires some budgeting and planning. In the end though, it's totally worth it.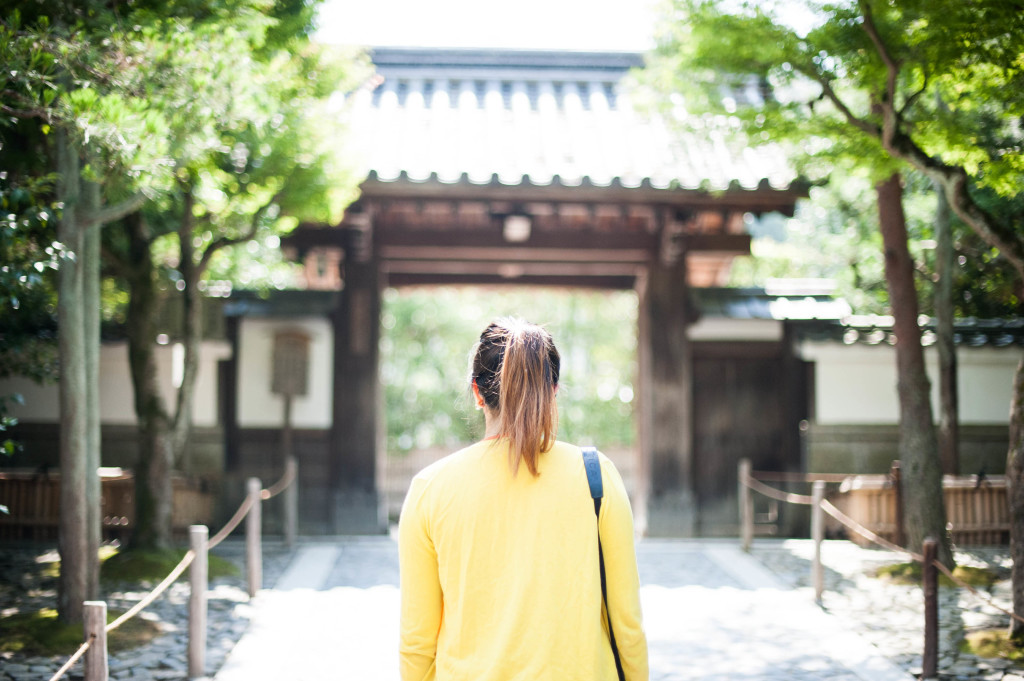 What to do in Kyoto: 8 Sites Not to Miss
Kiyomizu-dera Temple: famous for three streams of water that bring health, luck and love, this is basically a pilgrimage site. Nestled in the trees, there's something romantic about this temple despite the crowds, and it's worth it to walk by all the cute shops and stalls nearby.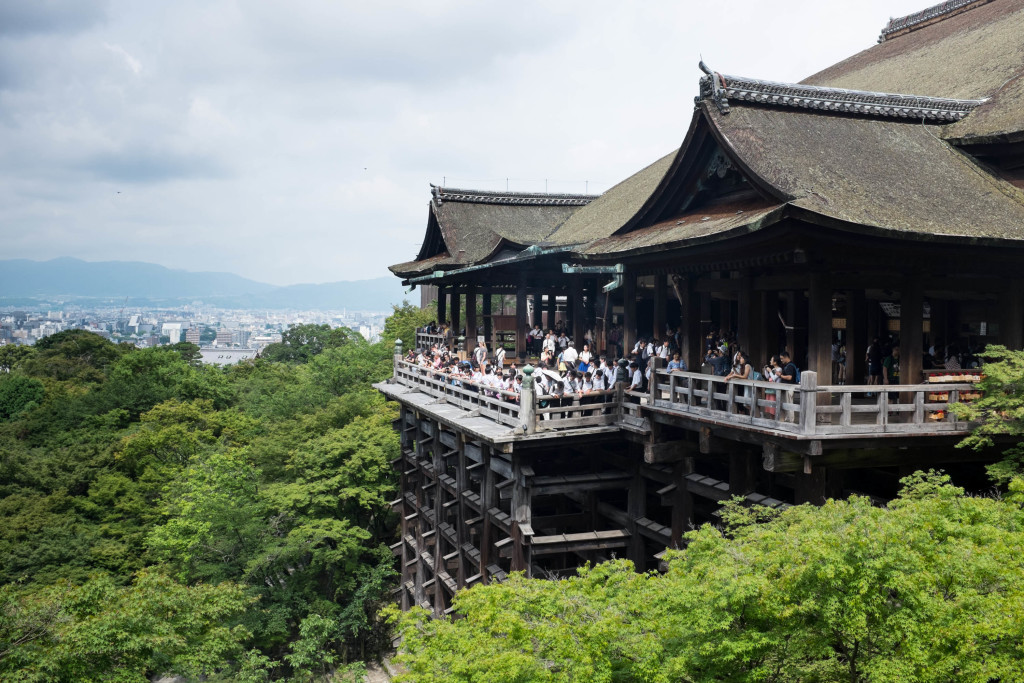 Silver Pavilion Temple and Garden (Ginkakuji): Not as famous as the Golden Pavilion, but in my opinion this one has a better garden. A few steps up the hill and you're in a wonderland of moss and maple trees, guaranteed to inspire awe. Plus, at the highest elevation of the garden path, you get a panoramic view of Kyoto. Not bad!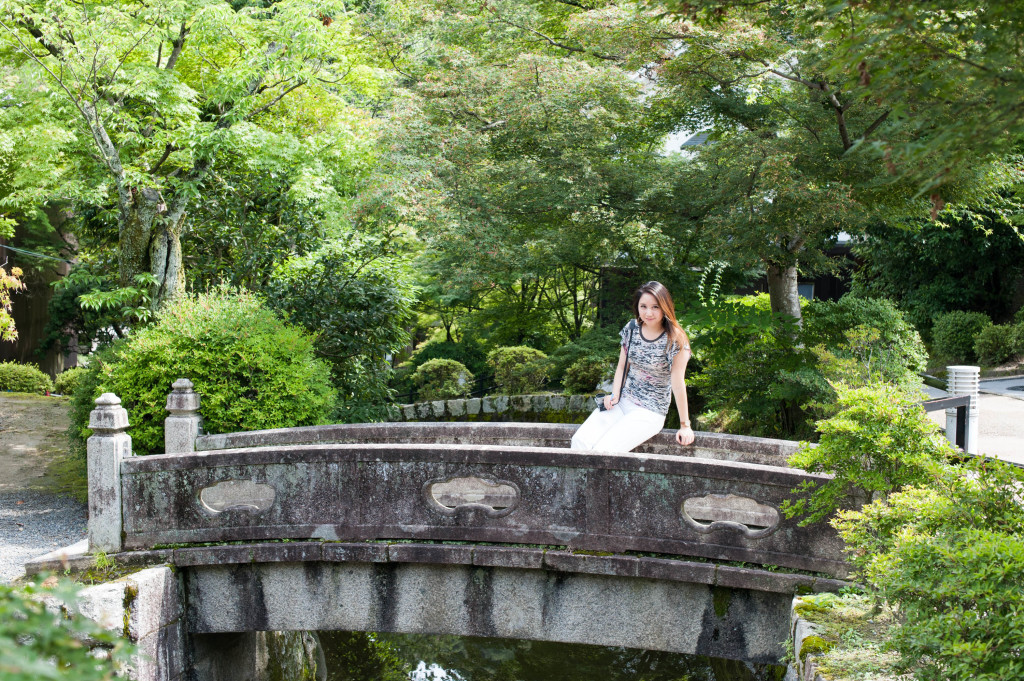 Gion- Geisha District: It's hard to pass up Gion, even if you're not interested in geisha culture and history. The Gion area is beautiful and historic. Some people make a sport of spotting geisha– highly expensive entertainers (not prostitutes!) whose visit at your dinner party can cost thousands of dollars– at around 5 or 6PM. Don't count on it though.
Fushimi Inari Taisha (Shrine): This is one of the emblems of Kyoto, and well worth a visit. It has hundreds of torii gates lined up, forming a magical tunnel. To get a photo without crowds in it, you have to go deeper into the shrine– which is really fun anyway. Fushimi Inari is a bit out of the way and may seem too far to be worth it, but don't pass it up.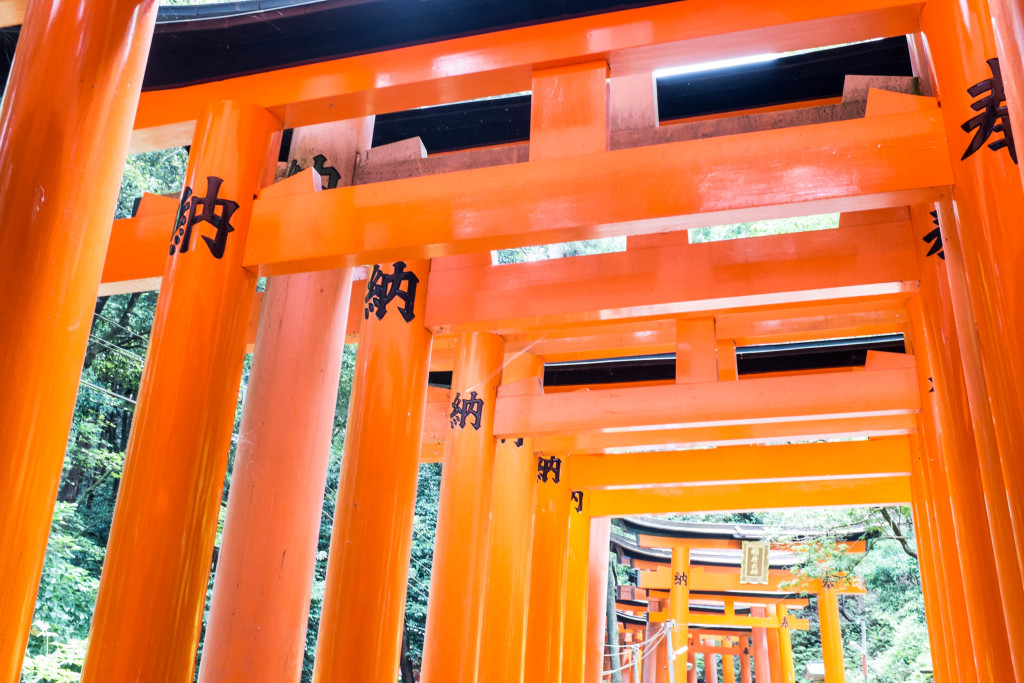 Nanzenji Temple: The temple itself is lovely, but you really want to go for the Roman-style aqueduct. It's remarkable and serenely located against a rocky, tree-covered hill. The Nanzenji Temple is another less popular stop (and it's free!), which means you'll actually get the peace and quiet required to enjoy these types of places.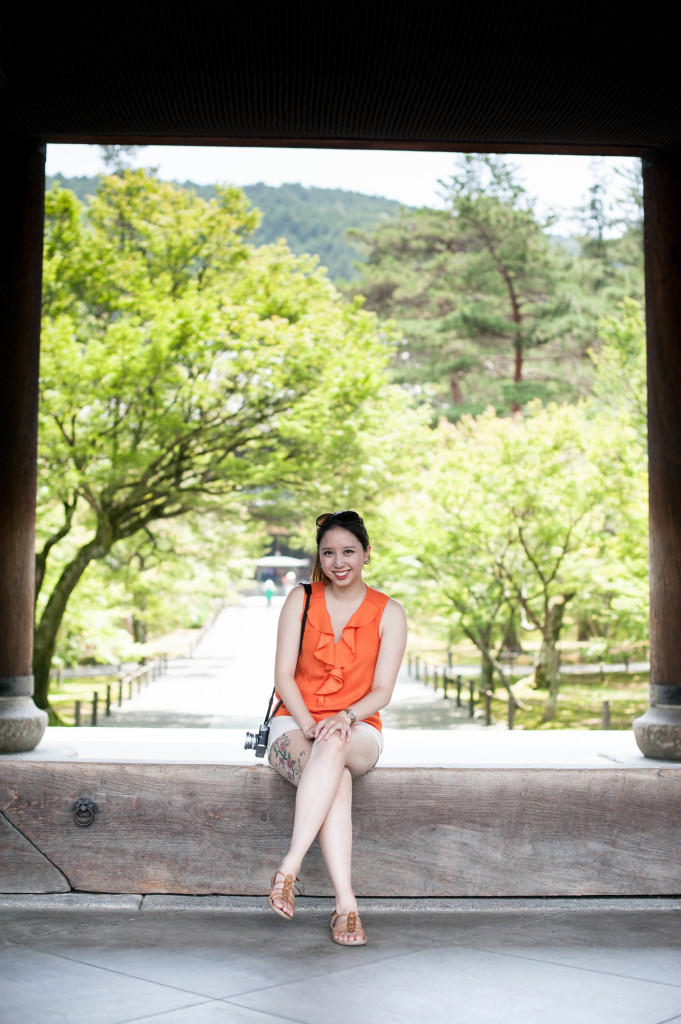 Golden Pavilion (Kinkakuji): The Golden Pavilion is the emblem of Kyoto, whether it deserves it or not. The Pavilion is laced with gold leaf and shimmers through every season. Despite its popularity, it's not hard to get a good photo of the pavilion in all its glory, and you should– its significance to Kyoto makes it a must-see.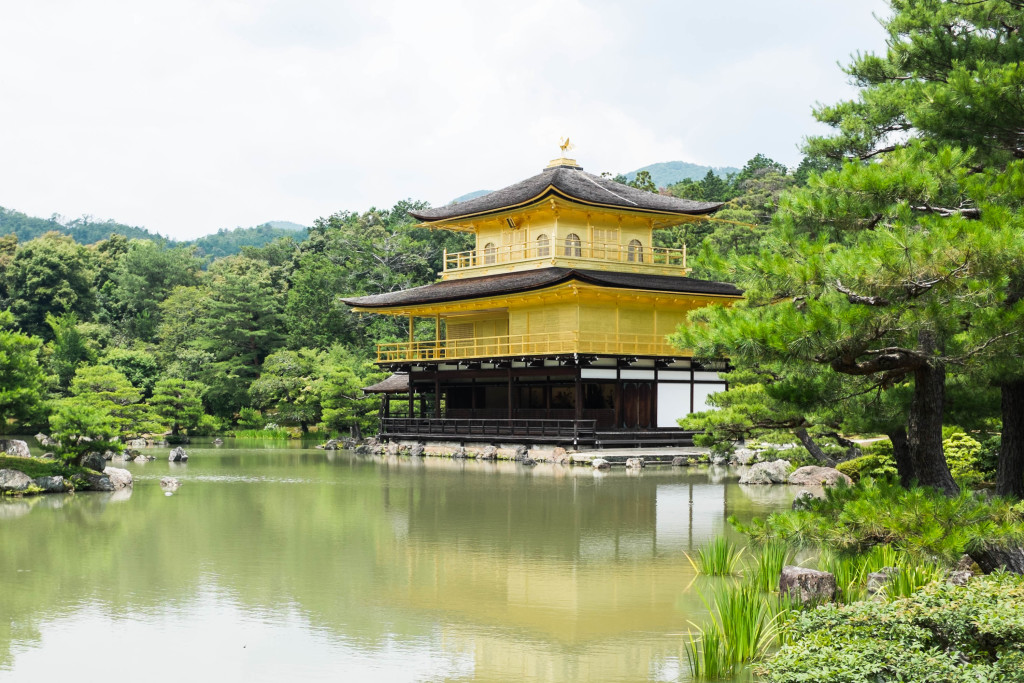 Arashiyama Bamboo Forest: The bamboo forest is located in Arashiyama– the western part of Kyoto that houses some of its prettiest gardens. The bamboo forest can be entered through Tenryuji Temple's north exit. This guarantees that you will not, like me, miss it the first 3 times you try to find it. For best viewing, go at 6 or 7AM– there will be no one there but you!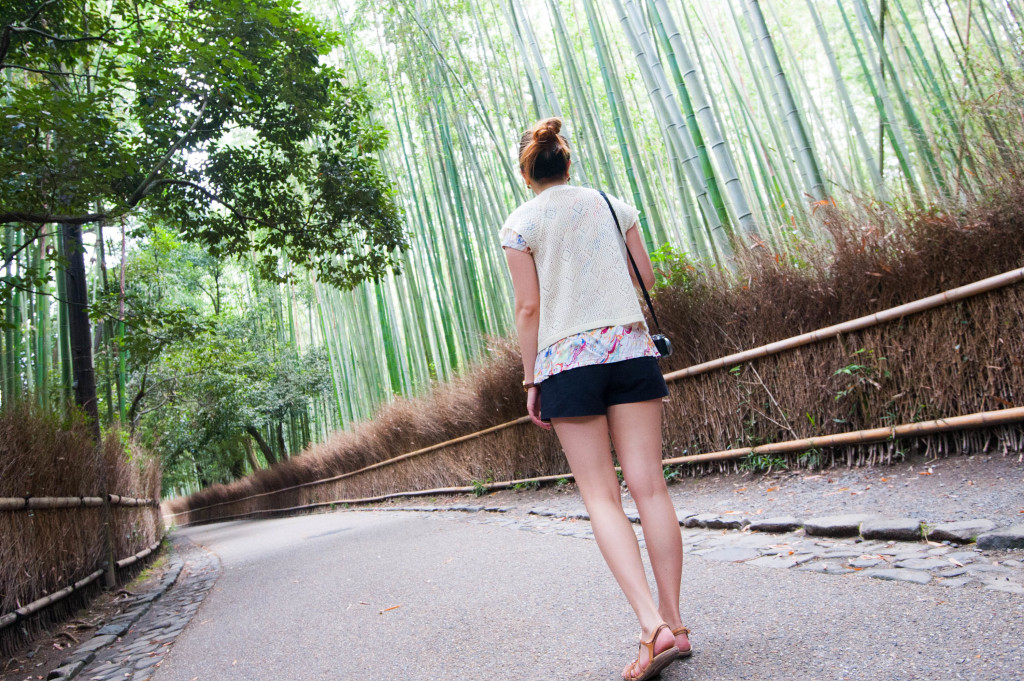 Okochi-Sansho Villa: The villa has a long history and was most recently the home of a famous Japanese movie star. Now unoccupied and open to the public, the villa has one of the prettiest gardens! It's also a great choice in Arashiyama to get away from the crowds– the $10 admission deters some people, and in my opinion that's an advantage.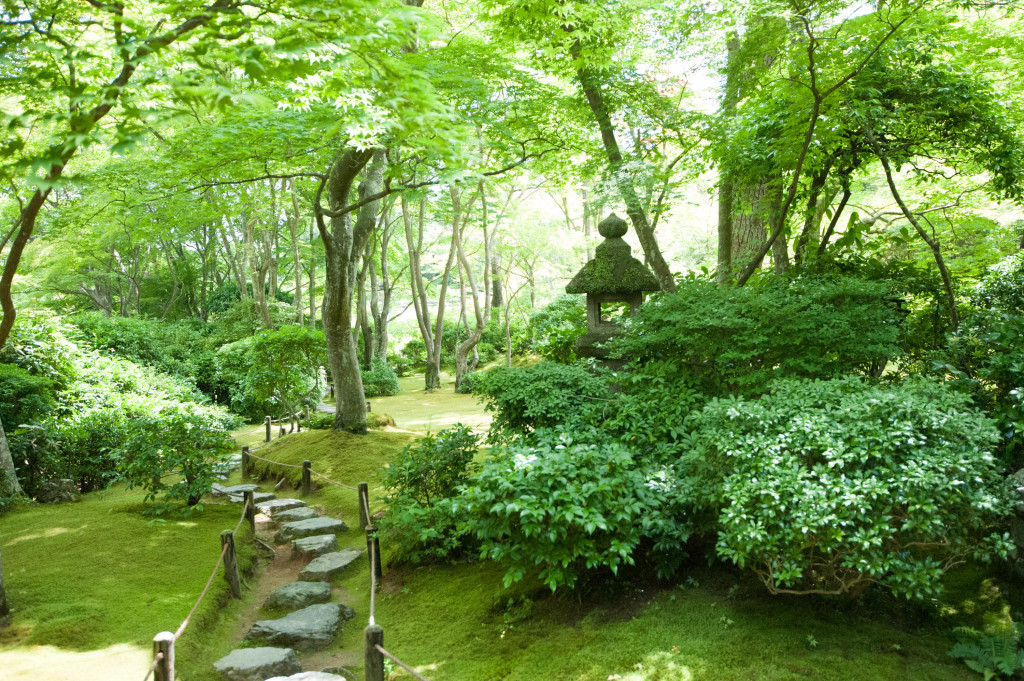 More resources on Kyoto
My husband and I loved the two following sources:
Inside Kyoto, a website with tons of information about everything you might want to see.
Old Kyoto, a lovely guide to all the hard-to-find gems, the only book of its kind.
I hope this helps! For anyone who has further questions, please don't hesitate to comment and ask me. I'll try my best to answer them. More posts from our Japan trip coming up this week!