Last week, I spent a few days down in San Diego and Temecula participating in a close friend's wedding. It was an absolutely marvelous event, and I could not be more excited for the happy couple.
But as you know, the past several months have already been quite the whirlwind. From an overseas funeral in April, to our travels in May and June, to hosting several friends and family members in June and July, our calendar has been stuffed to the brim.
When we were in San Diego this week, we got a few hours of free time to ourselves (not least because the couple did an excellent job planning and executing their wedding). My husband Aaron suggested that we go on a hike. I was not exactly excited– instead, I immediately turned t0 excuses in my mind.
My body is tired.
I'd rather stay here (at the coffee shop).
I could do more work.
I'll get dirty.
Needless to say, I don't exactly possess a natural affinity for the great outdoors. There we were, on the gorgeous coastline of Southern California and I was making excuses about why we didn't need to see it.
But I said yes, and it was the best way to interrupt a busy week in the middle of a busy month.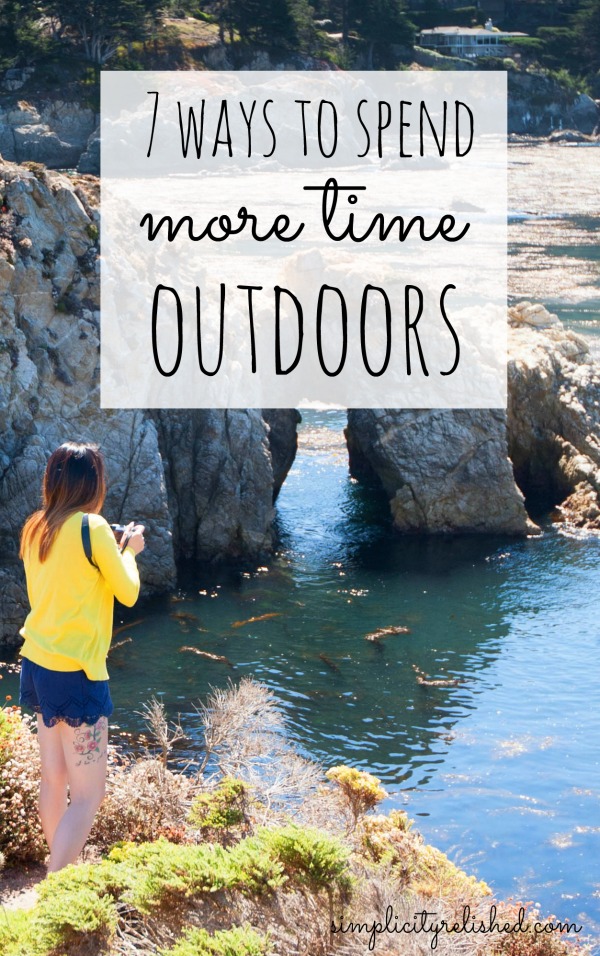 Why we should spend more time outdoors
Spending time in nature has indisputable benefits, and there is hardly a better time than summer to get started. But why would you bother doing so, if it's not your natural inclination?
And this may not be backed by scientific research, but I believe that spending time in nature is one of the greatest ways to break up a busy season. Enjoying the great outdoors allows us to focus on our surroundings, be in awe of how beautiful creation is, and be reminded that we are a part of something far greater than ourselves. It gives us perspective.
How to spend more time outdoors: 7 Ways
You might love the idea of going outside, but are not sure you have the time. Or, perhaps you don't live in an area that you find particularly beautiful. You can still fall in love with the outdoors with these strategies; and even if there's no national park nearby, you can head to small gardens, university campuses, or other public green spaces for your nature fix.
1) Work or study outdoors.
Not every job can be moved from one spot to another. But if you spend a lot of time either in meetings or in front of a computer screen, it's likely that this is possible for you. Taking a meeting to a picnic table under a tree, or taking your lap top to a local green space can be a great way to enjoy the sunlight and oxygen while still getting things done.
2) Use it as your break.
Have you ever decided to watch a short TV episode, eat a snack, or scroll through your phone as a "break" from whatever you're doing? Try forcing yourself to step outside for that same amount of time. Even if it's just a handful of minutes, you'll likely get a little more movement and definitely benefit from the fresh air.
3) Go outside whenever you want to shop.
Why not kill two birds with one stone by getting outside and avoiding unnecessary purchases? Sometimes our desire to consume products is just a symptom of extra mental energy that needs to be released. Going outside will help you work through your thoughts, and perhaps even stimulate your ability to come up with better solutions.
4) Dine al fresco.
I hate to admit how many times I've decided to eat a meal in front of my computer when the weather was perfect outside. If meals are the only break you have, try taking them outdoors– even if it means sitting on a front doorstep or picnicking in the park.
5) Get to know your local nature reserves.
I am totally guilty of not taking advantage of where we live– near the beautiful San Gabriel mountain range, which really has lots of beautiful shaded hikes! If you're convinced that your region is a natural wasteland, perhaps you simply need to spend more time in it. Whether in the day or the evening, I'm convinced that most places have something beautiful to offer.
6) Go on a retreat.
There is something magical about spending several days (or even weeks!) in a beautiful natural setting. Breaking away from our routines inspires us, helps us slow down, and refreshes us. I am a huge proponent of weekend getaways; they do not have to be fancy or far away, but just somewhere you can enjoy the outdoors. Perhaps a quick weekend getaway is only possible for you once a year, but even that will help!
7) Develop an outdoor hobby.
If hiking, fishing, or surfing aren't your favorite activities, there are still options! Many hobbies take us outdoors, and they are a great way to commit to getting out of our homes and busy cities. Try gardening, photography, canoeing, golfing, or even outdoor cooking.
The bottom line: Take advantage of the outdoors whenever you can.
The benefits are proven. The outdoors are free of charge. Really, there's no reason not to enjoy our beautiful earth and reap the rewards of doing so.
What are your favorite ways to get outside?