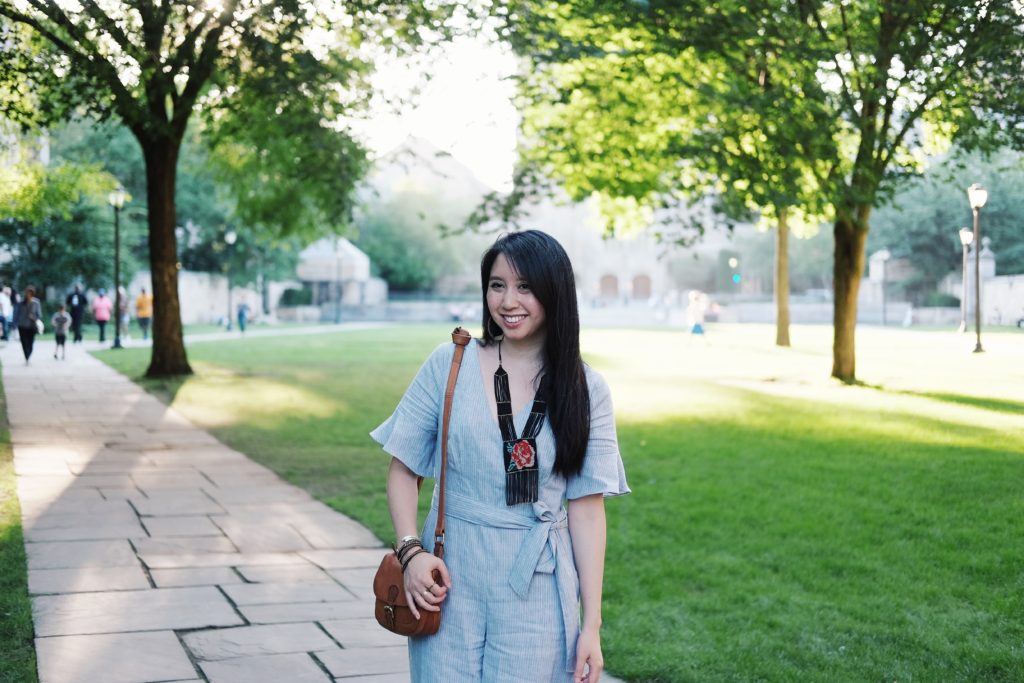 If you had met me 4 years ago on the day of my college graduation—or anytime before that— you probably would not have thought of me as the business school type.
And for the most part, I'm still not. My work experience has been a hodgepodge of independent consultation, entrepreneurship, and nonprofit marketing. I'm enamored with social causes. My literary heart has often trumped my strategic brain. In college, I studied American intellectual history and almost pursued academia as a career. And for most of my life, I thought I would go into education in order to help kids in under-resourced communities rise up.
So while business school had been in mind as a possible grad school option, it was a surprise even to me when I felt a desperate urge to apply last fall. I remember staring at my dinner plate, then at Aaron. "I think I need to go get my MBA. Now." His response: "Go for it, you should." (I love him.)
I'll spare you of the dizzying details of the application process, only to say that there is nothing like it. It's just as (if not more) intense as the college application process, only this time you're evaluated not simply on your performance as a student, but on your life choices as a young adult. Every decision seems to bear weight and demand explanation, even if you were just exploring an interest or serving a need. As an applicant who didn't have a concrete plan to attend b-school from Day 1, I had to learn to tell my story in a manner that was "compelling" to a business-oriented admissions committee. And that in itself was exhausting.
I was also learning about business school (and business generally) while applying on an aggressive timeline. There were terms that were referenced in application resources that I had never heard of before. I didn't recognize some of the top schools. I could count on one hand the number of MBA friends I had— and none of them worked at my office. I genuinely wasn't sure if I had a decent shot, and it seemed impossible to find out.
Negotiating the limits of our control
On this side of eternity, I'll always wonder what is and isn't under my control. How hard do we push, when do we wait, when is rejection a gift, and when do we need to be resilient? The application process, like any other, forces you to reckon with the reality that sometimes your efforts don't lead to the intended outcome. And when that happens, are there other positive outcomes we can appreciate? Or was it all just a waste?
Every time I had an existential crisis about the process (e.g., why do I have to keep doing the dance), I had to go back to why any of it mattered. A lot of people get their MBA to increase their earning prospects or to advance a corporate career. That wasn't enough to keep me going; I had to think of investing in myself as a gift to people whose lives I wanted to help change. The more prepared I was, the better impact I could make.
Looking ahead
As it turns out, Yale's program is perfect for my interest in nonprofit management and social enterprise. Attending also means packing up our things, saying goodbye to the community we love, and moving back across the country to Connecticut. I've left my job, where I also built relationships that matter to me deeply. There's nothing childish about moving and going to school; in fact, I sometimes wonder if I ever really celebrated this next adventure.
So what is it really going to be like? I think we'll hit surprises at every turn: connections to people who are totally different from us, and who are kindred spirits; joy in the bitter cold and the familiarity of warm drinks; spontaneous jaunts to New York City because it's only 2 hours away by train. Lectures and discussions that change the way I understand impact. Nudging others to change their understanding. The hope is certainly to participate in a fruitful exchange of stories and ideas. If this isn't the point of graduate school, then I'm not sure what is.
My MBA goal(s)
I'll write more about this as details crystallize, but Aaron and I are planning to launch an organization together while I complete my MBA! What I can share now is that it's related to international development, and it combines our strengths and interests pretty perfectly. In the process of launching a venture, there's always the fear that things don't work out. But we also know that in the social sector, success is often a function of listening, adjusting, and choosing not to quit.
Beyond launching something meaningful, sustainable, and effective, I want to make the most of my time as a student—it's very likely the last time I'll be in a degree program. Having spent 4 years out of school, I've come to even more greatly appreciate the rich resources attached to large universities. Funding to pursue your interests. Books of every genre, language, age, and authorship. Fascinating minds to enrich your own. Chandeliers and pianos everywhere. Theater, art, and music at your fingertips. Much of this is more wonderland than real world, and I am 4 years wiser and more appreciative than the last time I found myself at a place like this.
So here begins the next big adventure, and hopefully a lot of mini adventures. I'll keep writing in this space about our explorations, lifestyle, and musings. Thanks for being here.