I've fallen in love with indoor plants! It all started with our quest to fill up a small patch of dirt in our new patio here in Southern California– which forced me to look into drought-tolerant options. With most drought-tolerant greenery being succulents, I realized that these gorgeous little plants can do well indoors too.
After learning how to keep my succulents alive, I started creating arrangements to decorate our home with. This became a hobby I began to really enjoy: it was low-pressure, fun to do with friends, relatively low-cost, and it enhanced the aesthetic of our home!
Eventually, I realized that while I loved succulents, there were more indoor plants that could do well in our home. Maidenhair ferns, pothos, and philodendron are among my favorites! They also do better with low light than most succulents (more on that later).
I've had some people ask me about the little "jungle" I've started here in our home, and some tips on starting their own indoor garden. So far in this journey, here's what I've learned!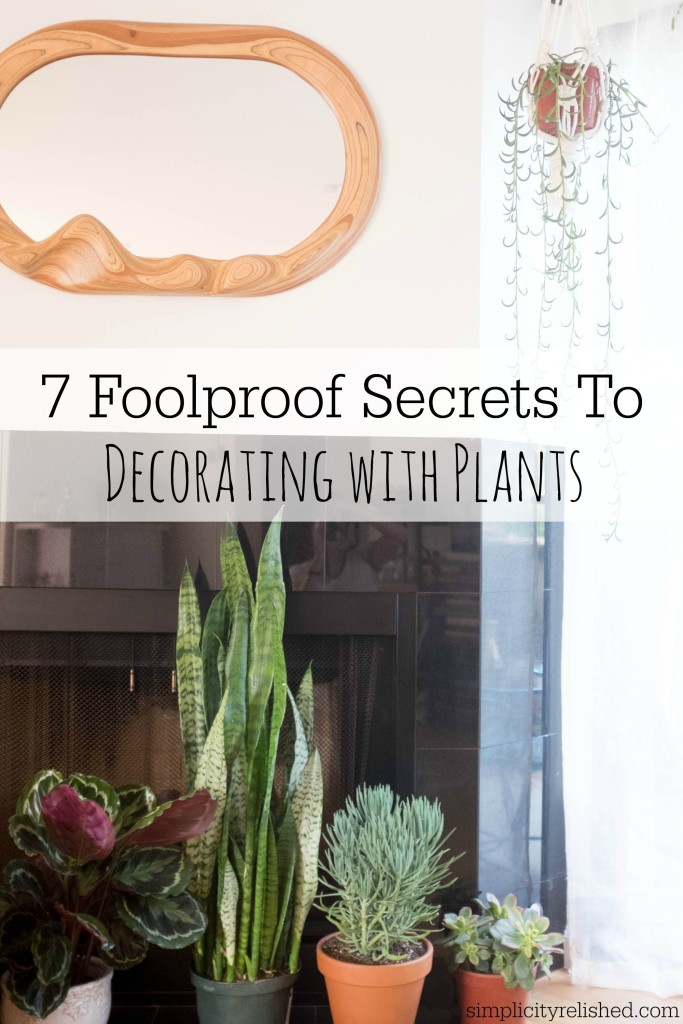 7 Foolproof Secrets To Decorating With Plants
1) Consider your light situation.
Before you think about which plants are the prettiest, it's absolutely most important to consider how much sunlight you can give your plants. Some plants are relatively flexible, while others are particular. The absolute best way to figure out which plants are right for you is to actually go to your local nursery and ask. There are general guidelines on the Internet, but the best tips I've received have been in person.
All plants need light, and we often forget this. For example, succulents need bright light– they prefer bright shade, but some can tolerate direct sun. Meanwhile, ferns prefer low light and need to stay moist for best results. Ask the staff at your nursery which plants will do well in your home.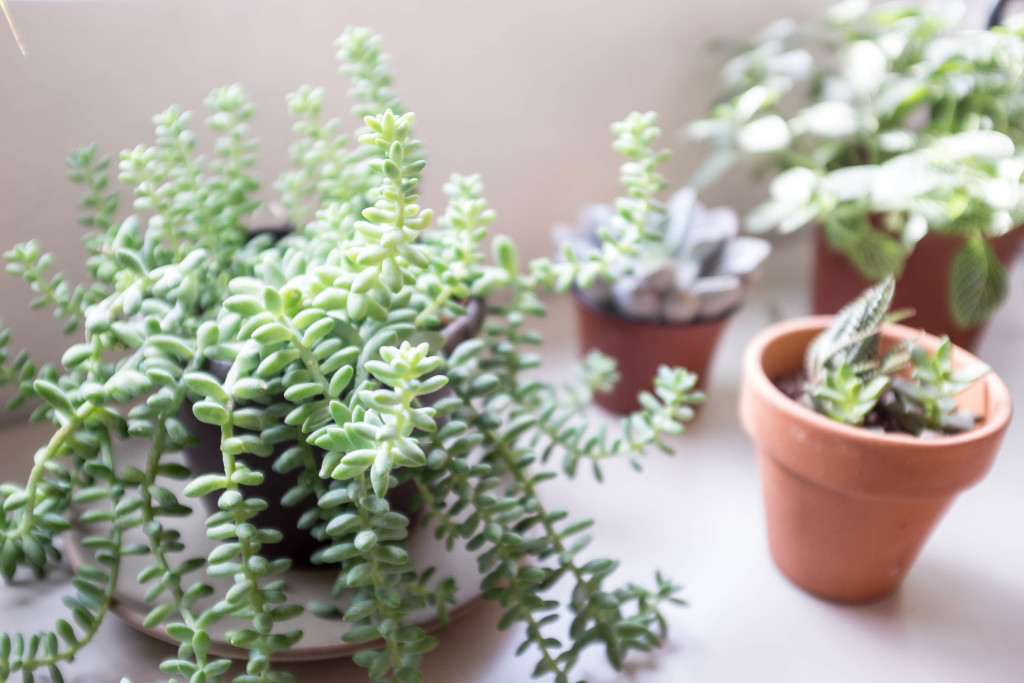 2) Consider your climate.
The second most important factor to consider is the climate in which you live– especially if your environment is a bit more extreme. Some plants can adapt well to any indoor climate, while others need more TLC.
One example is the cactus. Here in Southern California, a cactus can thrive with hardly any water– as long as it gets enough sun. However, if its environment is too humid, it could actually die. In the meantime, other plants love moisture and need regular misting in order to thrive. Consider which plants are best for your home environment.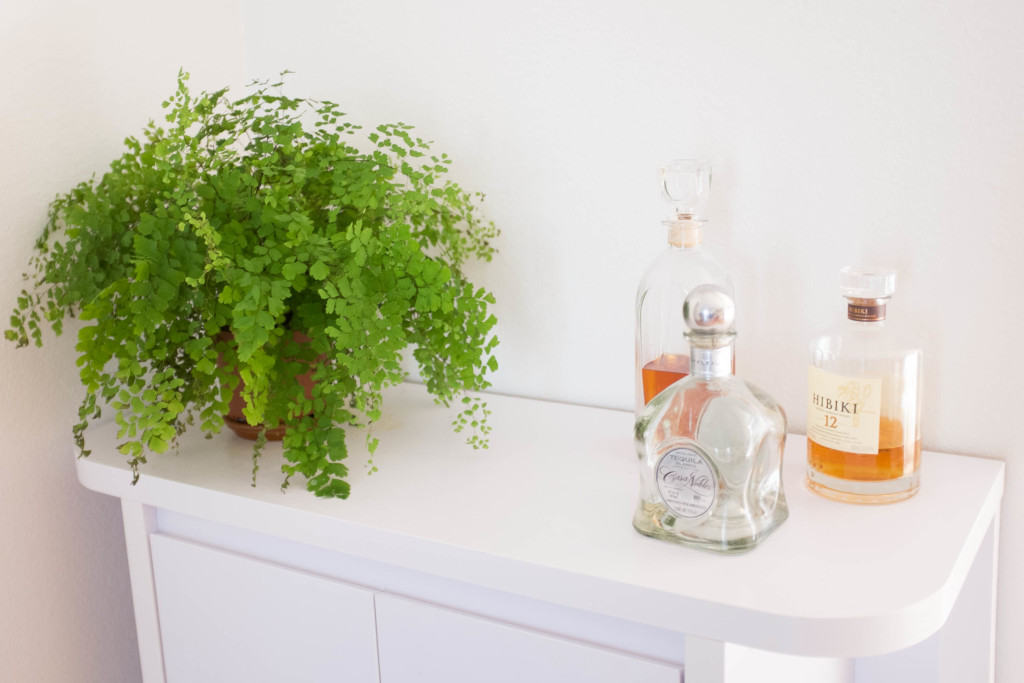 3) Vary the height and shape.
It can be tempting to purchase lots of plants that look the same and line them up, but I prefer not to do that. A bunch of snake plants lined up together can give off an institutional feel, which is not what you want for your home.
Instead, purchase a variety of shapes, sizes, and even colors, especially if you're going to group them or line them up. The intricate details of each plant will stand out more when there's some contrast between them.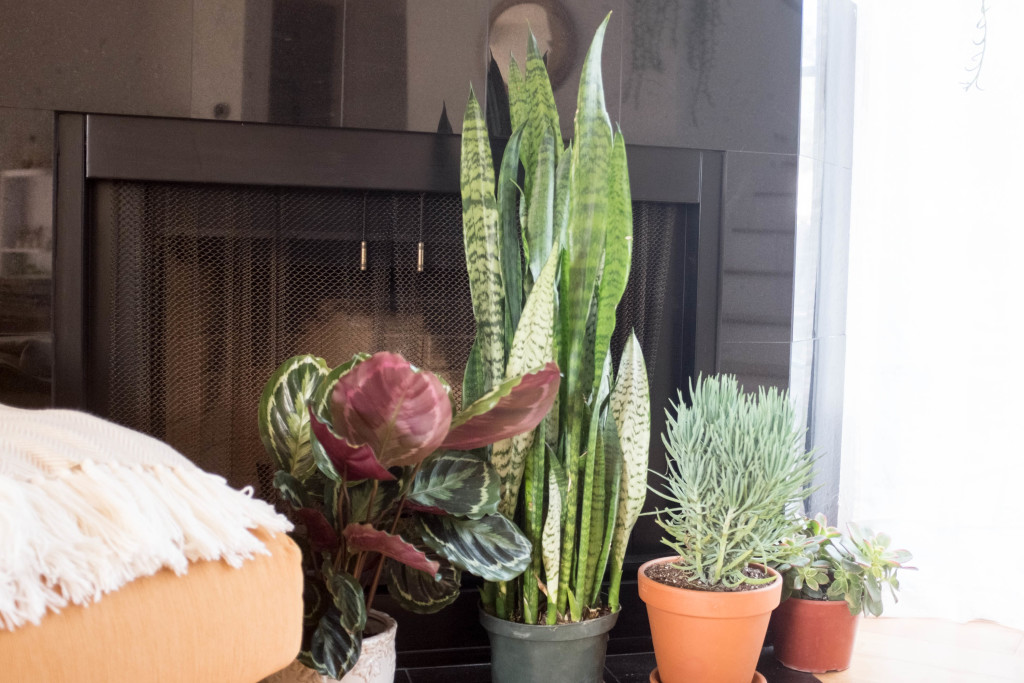 4) Less is (sometimes) more.
There's a fine line between a space that looks full and thriving, and a space that looks cluttered. Plants aren't exactly clutter, but they can overwhelm. More importantly, keeping track of too many plants at once can lead to all of them looking miserable.
If you're new to plants, start with a few that are similar when it comes to care. Use them as simple accents– a centerpiece on the dining table, a bit of green in the kitchen, or a small accessory to your desk. Once you become more comfortable, you can start to group them. I grouped plants in front of our fireplace because we never anticipate using it!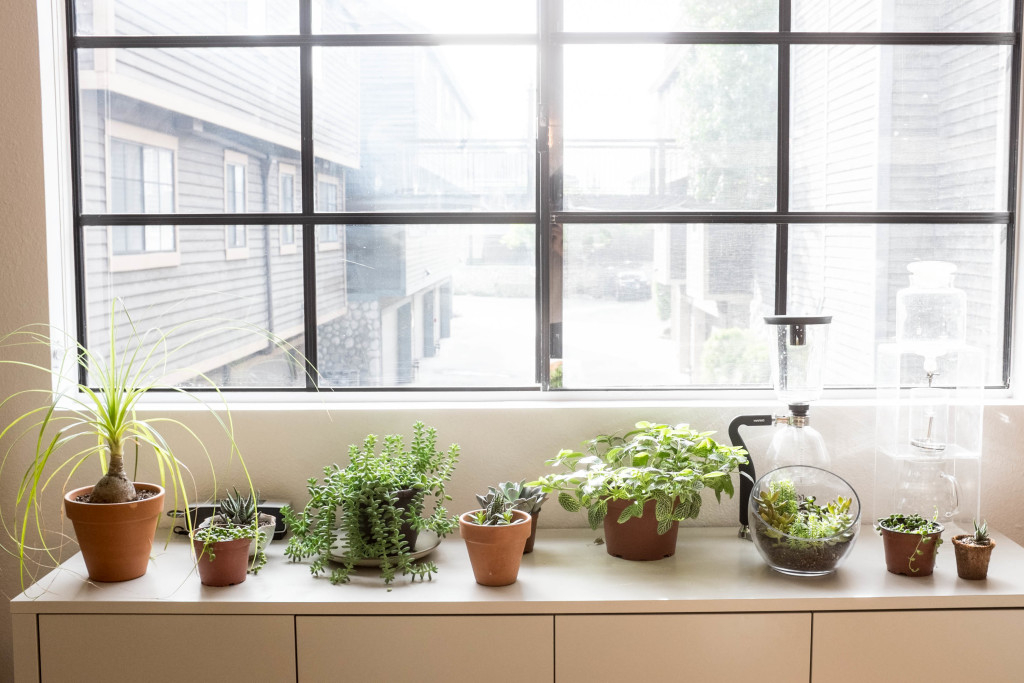 5) Combine plants with other objects.
Plants are the perfect thing to add to a space that already has a few objects on display. Whether it's a coffee table, a bar cart, or a bookshelf, plants bring aesthetic balance to the raw appearance of household items– particularly items that you use everyday.
I don't desire to purchase too many items that are merely for decoration, but I believe that plants don't have to be paired with art or sculpture. They actually look good next to books, coffee apparatus, or bottles of your favorite liquor– things you already have.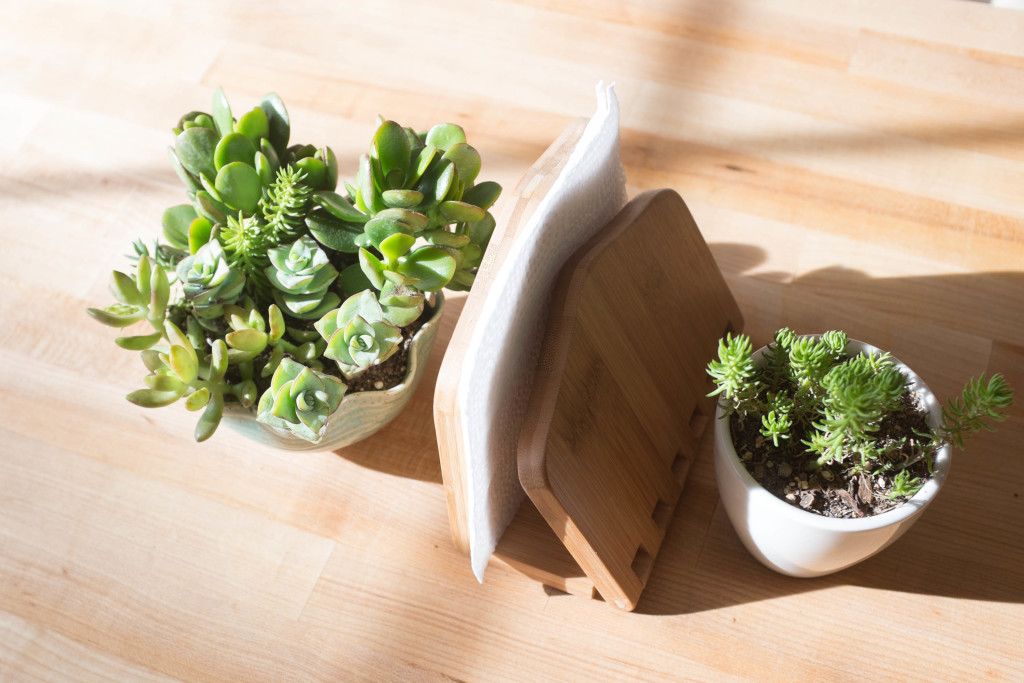 6) Create your own planters and arrangements.
Plants themselves are rarely too pricey, but planters and arrangements can be a different story. I love West Elm as much as the next millennial but so many of their products are too expensive. The truth is, a plant can look fantastic without a designer planter to dress it up; furthermore, there are plenty of projects that require little skill and can be beautiful.
I made this macrame hanging planter in less than half an hour thanks to this video tutorial. And if I can do it, so can you!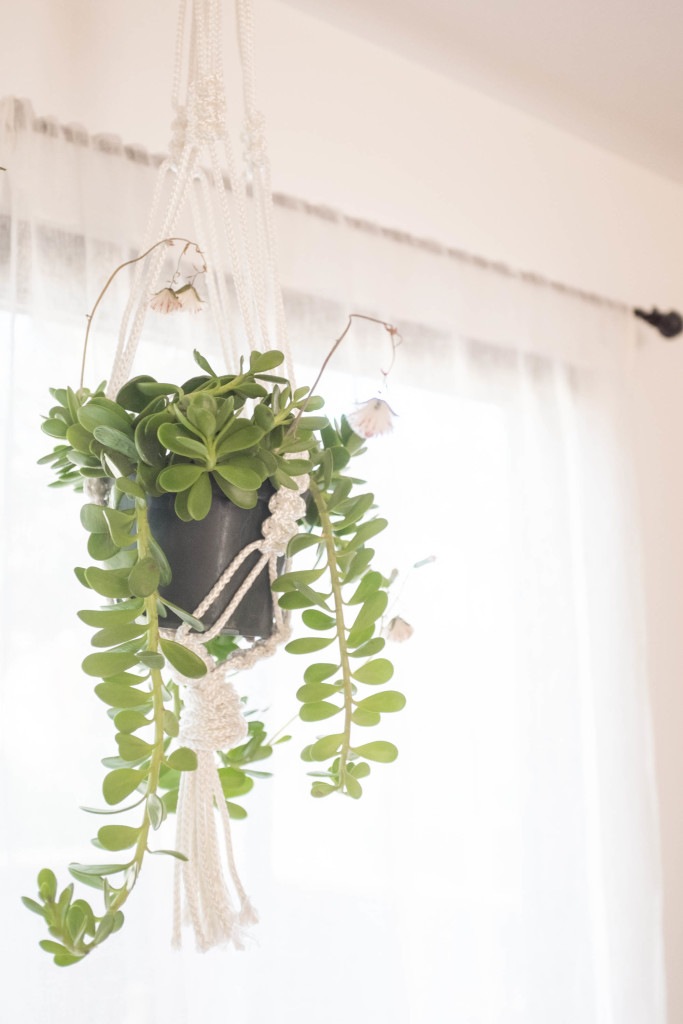 7) Build a watering schedule.
Once you've got a healthy collection of plants going, it's important to make a list and check it twice. Some plants will need daily care, while others thrive on weeks of neglect. Making sure each plant has the soil moisture it requires can take some time and experience (and sometimes, a few dead plants).
I only have a few plants that require daily check-ins and watering. The rest will be happily neglected until the end of the week. Plants do require time and work, so plan accordingly before you purchase so that they will thrive on your watch!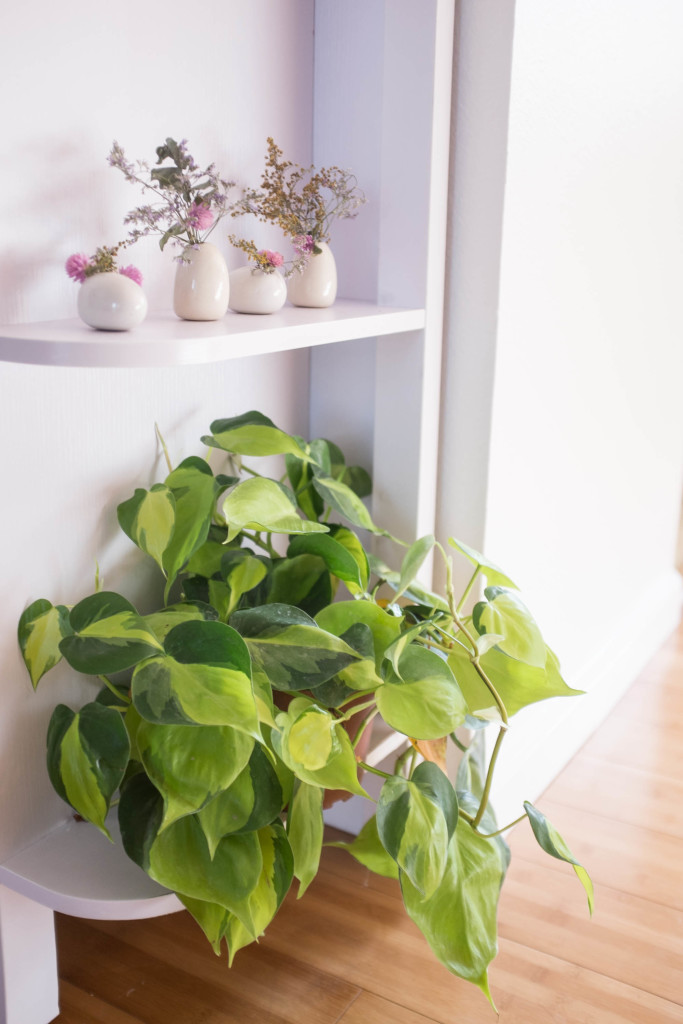 The bottom line: start with a plan.
It can be difficult to really enjoy your plants, and to decorate well, without being at least a little educated about them. Plants are at best low-maintenance– not no-maintenance– which means it's important to know what you're doing.
That said, you will find that many house plants are more tolerant than you expect them to be; given the right conditions, they can thrive for years. Whether you choose to bring home a crowd of plant children or just a few, you'll find that they brighten up any space and can actually make you smile!
Additional resources:
Succulent Container Gardens by Debra Lee Baldwin: Baldwin is THE succulent expert of our time, and her arrangements are stunning, inspiring, and achievable.
The New Bohemians by Justina Blakeney: this book has gorgeous plants and decor ideas. Justina Blakeney is a plant lady extraordinaire and a lot of her flare comes from unique plants!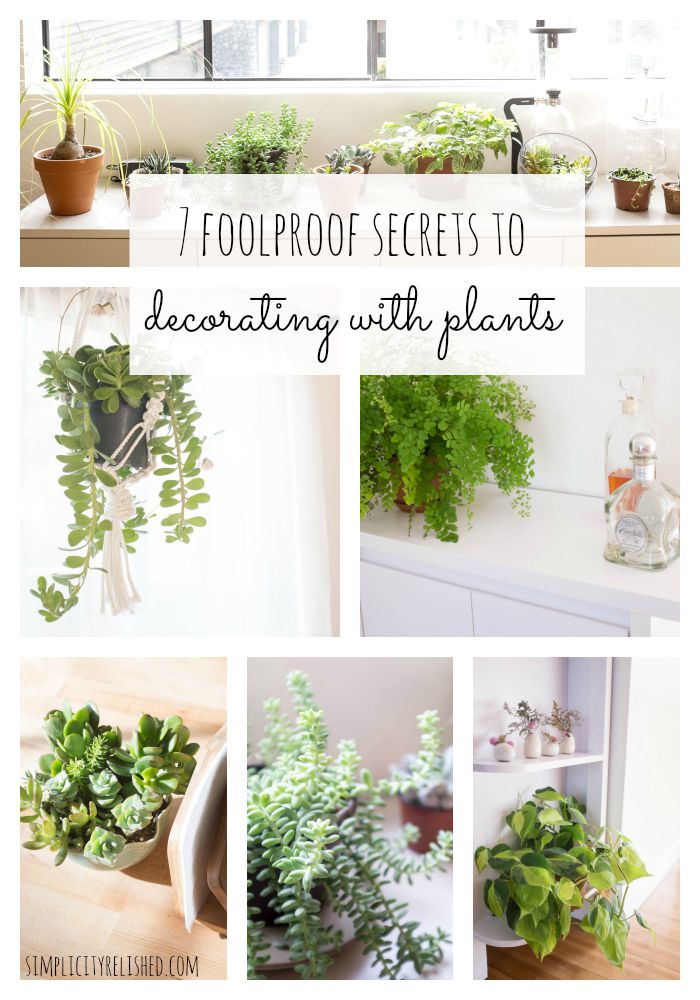 Do you enjoy indoor plants? I'd love to know!