Summer is THE time for lemonade, right? There's nothing quite like that sweet-tart nectar we guzzle on sweltering hot days. And, when it comes to lemonade, the real stuff is where it's at! I understand the appeal of Minute Maid concoctions, but real lemons taste so much better.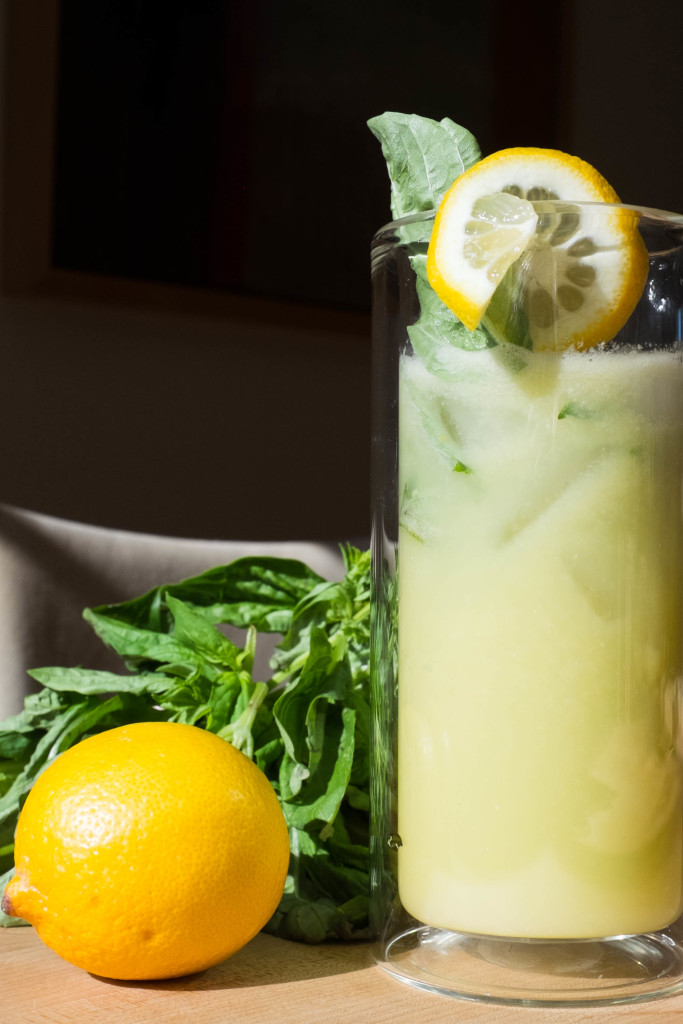 If you're like me, then you may have grown up with citrus juicing contraptions of all kinds. They're fun, messy, and rather laborious. Can we make lemonade without squeezing the heck out of lemons for a few drops of sour goodness?
The answer is yes.
I bring you a no-squeeze lemonade spiked with basil leaves bound to make your lemon-loving friends shout for joy!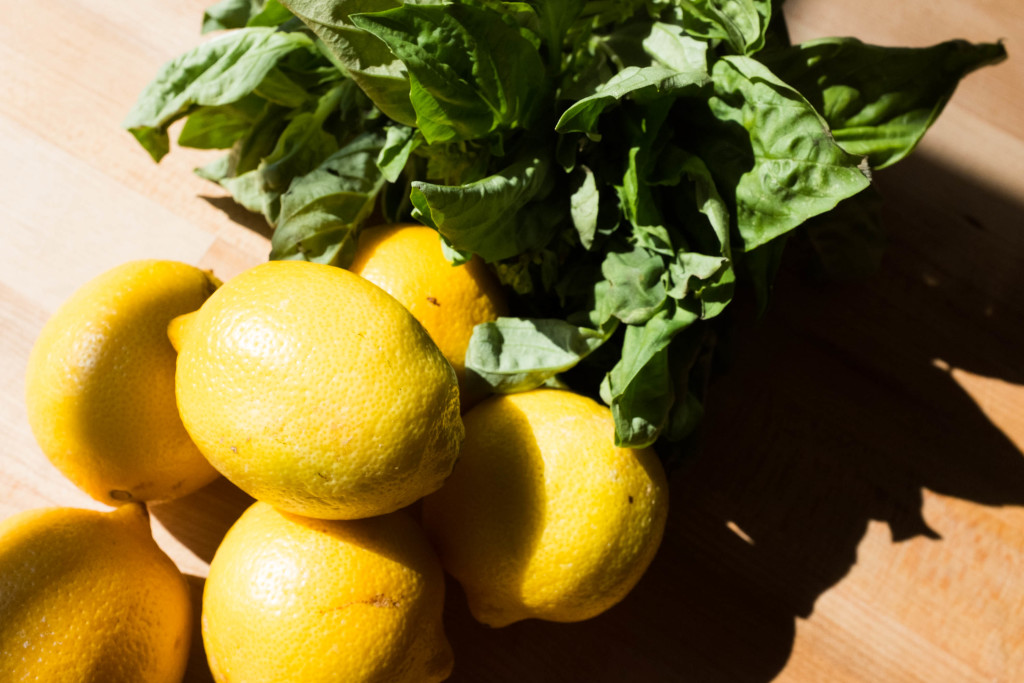 As it turns out, the peel of the lemon (and other citrus fruits) is where a ton of the nutrition is at (source). This is the part we often throw away! What a shame.
Furthermore, this is the part of the lemon with the brightest flavor! There's a reason why freshly grated lemon peel is a part of so many recipes. It's delicious.
Ready to make the most amazing lemonade? Let's get started!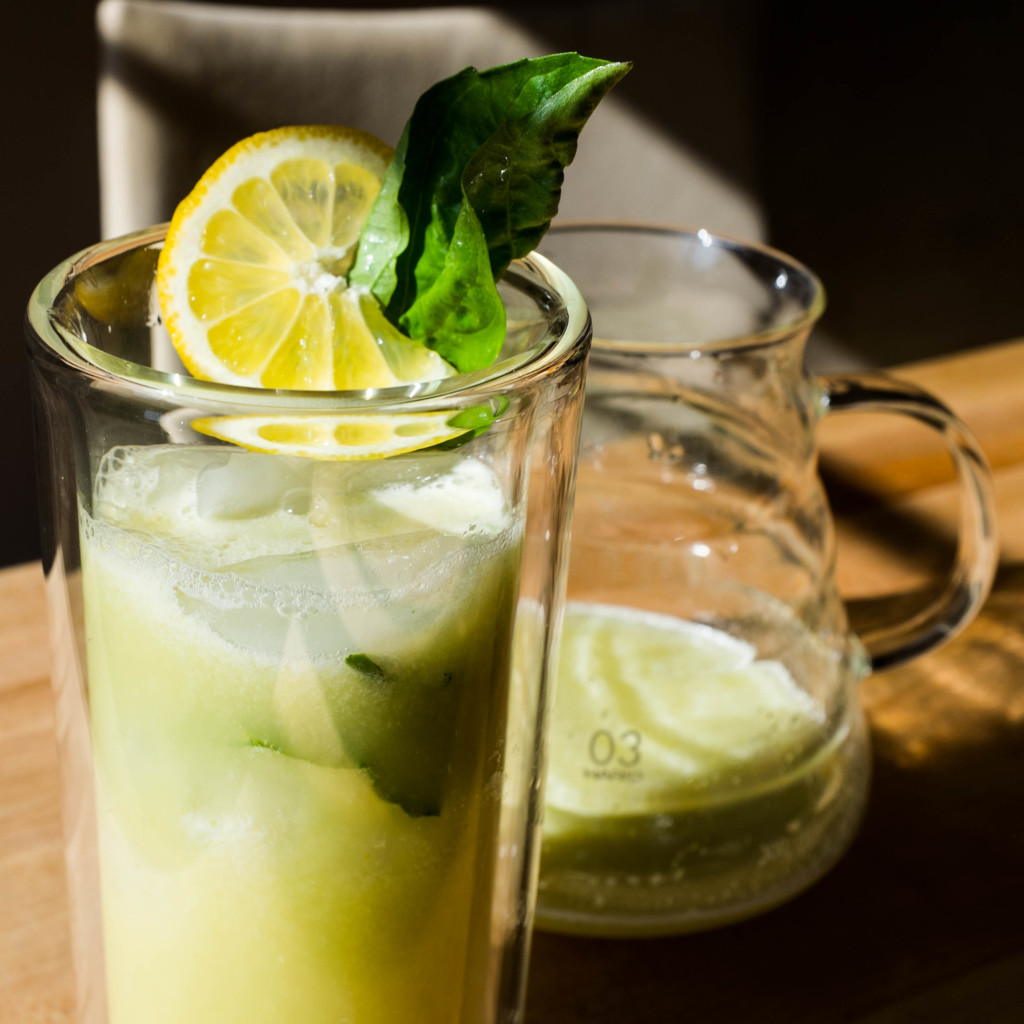 Effortless No-Squeeze Lemonade with Basil
 Ingredients (makes 4-5 large cups of iced lemonade):
4 lemons, quartered, seeds removed, peels intact.
4 cups of cold water
3/4 cup honey or other sweetener
3 fresh basil leaves, plus more for garnish
1 lemon, sliced, for garnish (optional)
Additional water and honey for adjusting the flavor
Instructions
This recipe is really simple! Place the quartered lemons, 4 cups of cold water, honey, and fresh basil leaves into a high-powered blender. I use a Vitamix but any sturdy blender will do.
Once the mixture is frothy and fully mixed, poor the liquid through a fine mesh strainer into a large bowl. Discard the fibers.
At this point, you will have a pretty strong, tart lemonade. To adjust the taste, pour the filtered liquid back into the blender and blend with water and/or honey. I do not suggest adding more basil because this will turn the lemonade green!
When the lemonade is just how you like it, fill a tall glass half-way with ice. Chiffonade the basil for garnish and add a few chopped leaves into the glass. Pour lemonade into the glass and add a slice of lemon for garnish. You're done!
Notes
This is sort of an "adult" lemonade. The peel adds more depth of flavor and brightness, but might taste a bit bitter to those who don't love lemons. More honey should fix this issue if you're serving it to kids! Also, you can spice this drink up by adding a splash of triple sec or tequila. Make it sparkling by adding soda water!