Simple things make me happy.
But lately, I've discovered that an inundation of life changes can make us forget the simple things. Like a fall picnic on a crisp, admittedly colder-than-average day. It's not that hard to pack a bag of cheese and goodies and go sit under a tree somewhere. But it took me two months of living in Connecticut to do this.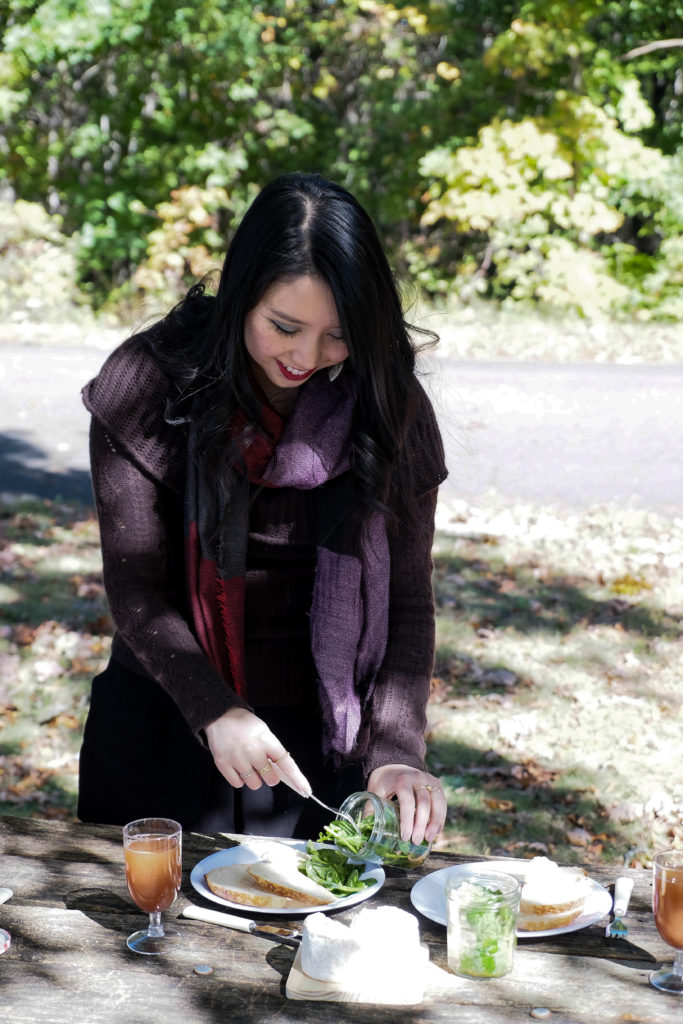 Fall is the perfect picnicking season. The dropping temperatures and dappled sunlight make for a refreshing stroll through the woods before plopping down and sipping on spiced apple cider. The dry rustling leaves add atmospherics that no restaurant can imitate. Carrying with you a bite to eat makes these magical moments last longer.
Since it had been a while since I'd picnicked, and I still consider myself new to Connecticut, it took me some time to find the perfect place for our explorations and plan out our food. And today I'm passing that "wisdom" over to you.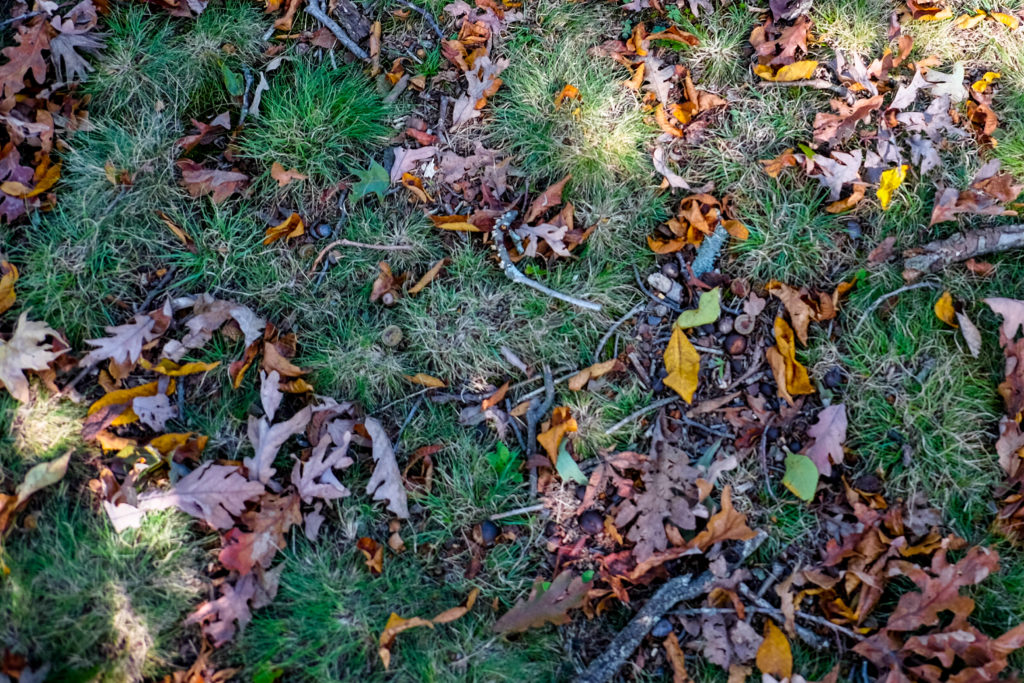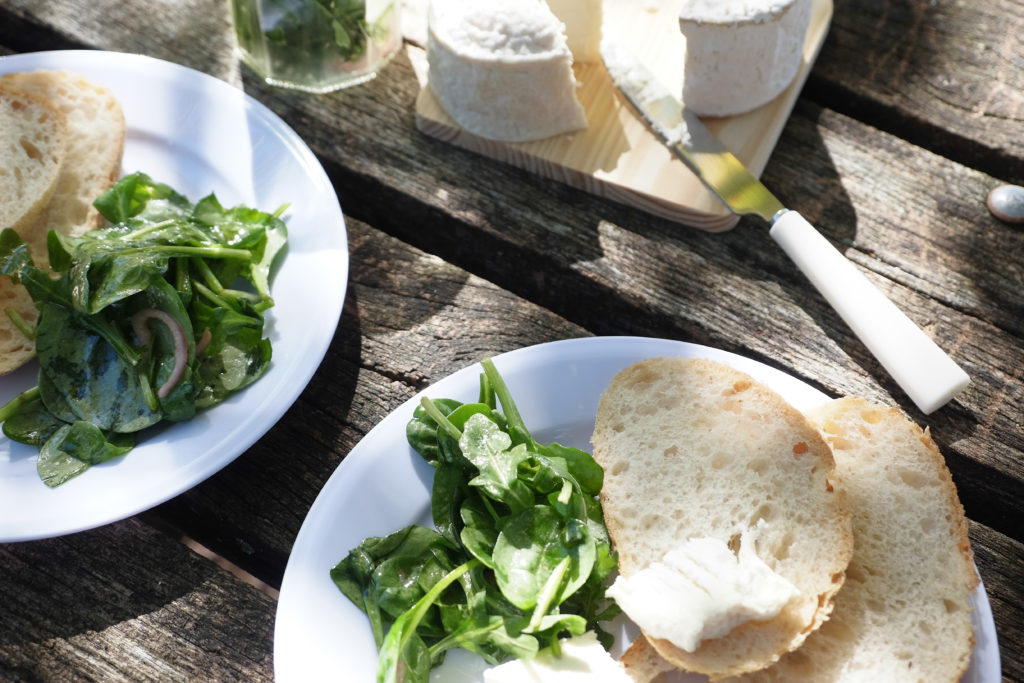 Finding the perfect setting:
For a dose of the outdoors, head to a local park or reserve that has a high density of trees and is known for hiking trails. If you're already familiar with your area, you probably know where these are. If you're new to the area (like I am), it's helpful to open up Google maps and search your surroundings for "forest" or "park" or "reserve." Trust me– this strategy seems so obvious but it took me a while.
If you want to make sure a park is going to be the setting you desire, check out the photographs that are listed for it under Google, Yelp, or sometimes Instagram. I've found Instagram to be the most helpful when I'm trying to figure out the status of weather or foliage. Simply search a location in the app and all the photos that are tagged there will pop up. The most recent photos are usually most accurate reflection of what's there (of course, filter out unrelated images).
If you're still at a loss for what's around, check out the local state park website for where you live, or any social media accounts that feature beautiful places in your area (for example @visitnh)
This time, we ended up driving about 20 minutes to a gorgeous woodsy area, West Rock Ridge Park. I wasn't quite sure what to expect so wandered for a bit before finding the perfect picnic table under a tree.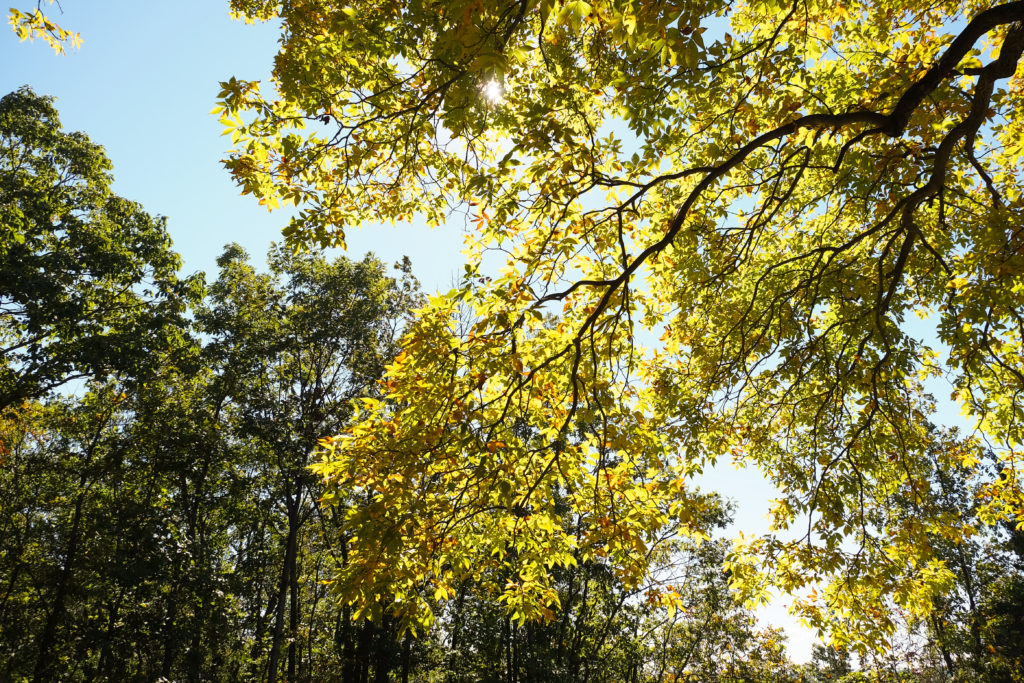 Packing the perfect picnic:
If you live somewhere cold, this menu will be the easiest thing for you to roll up in a backpack or picnic basket. The cool climate will keep things fresh for your stroll and meal, but if you're staying out for a while, make sure to bring a cooler for any perishables.
Quick jam-jar salad with pickled shallots: 40 minutes before you leave, chop up a few shallots, add a teaspoon of salt, a splash of your favorite vinegar, and let them quick-pickle. When ready, throw the shallots and a couple spoonfuls of the vinegar into a salad bowl with greens and olive oil. Toss. Pack this salad into jam jars or tupperware when you're ready to head out.
Bread and cheese: slice a few pieces of freshly baked sourdough and pack a cheese or two to go. We went with a mild goat cheese and our favorite Mt. Tam cheese by Cowgirl Creamery. A little charcuterie would further enhance this spread.
Mulled apple cider: This cider is my staple throughout the fall and winter. It's the easiest thing to make (grab some mulling spices and cider, steep over the stove or in an Instant Pot), and it stays fresh in the refrigerator. Pack this in a thermos hot or cold. If you want to indulge a little extra, throw a tiny nub of butter into the hot cider before closing that thermos.
Don't forget: utensils, napkins, plates, cups, and a trash bag. We brought a picnic blanket as well.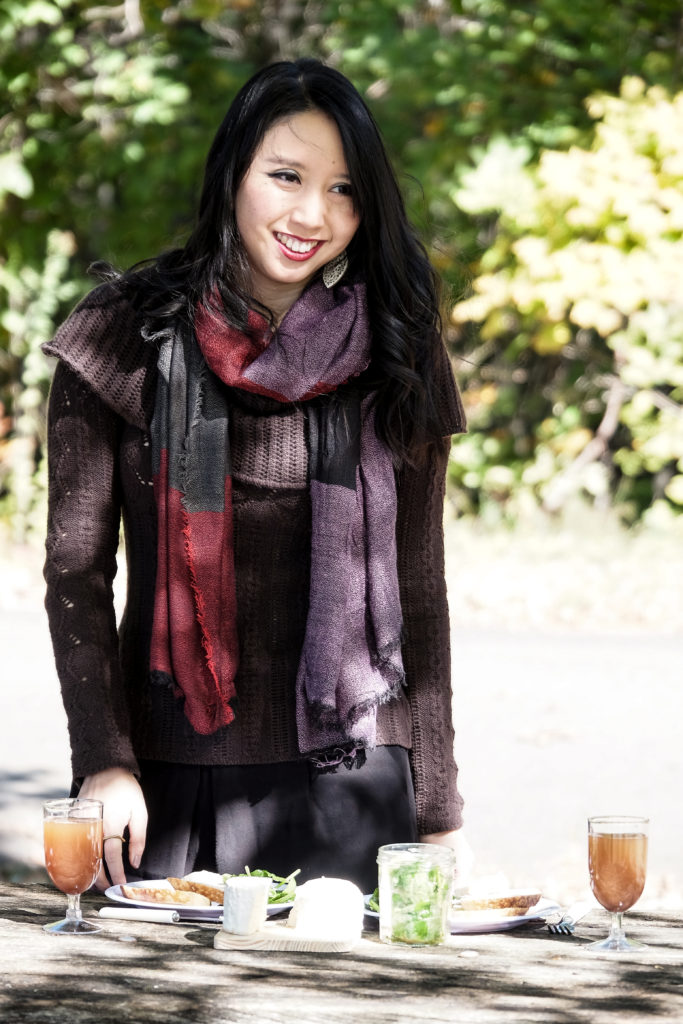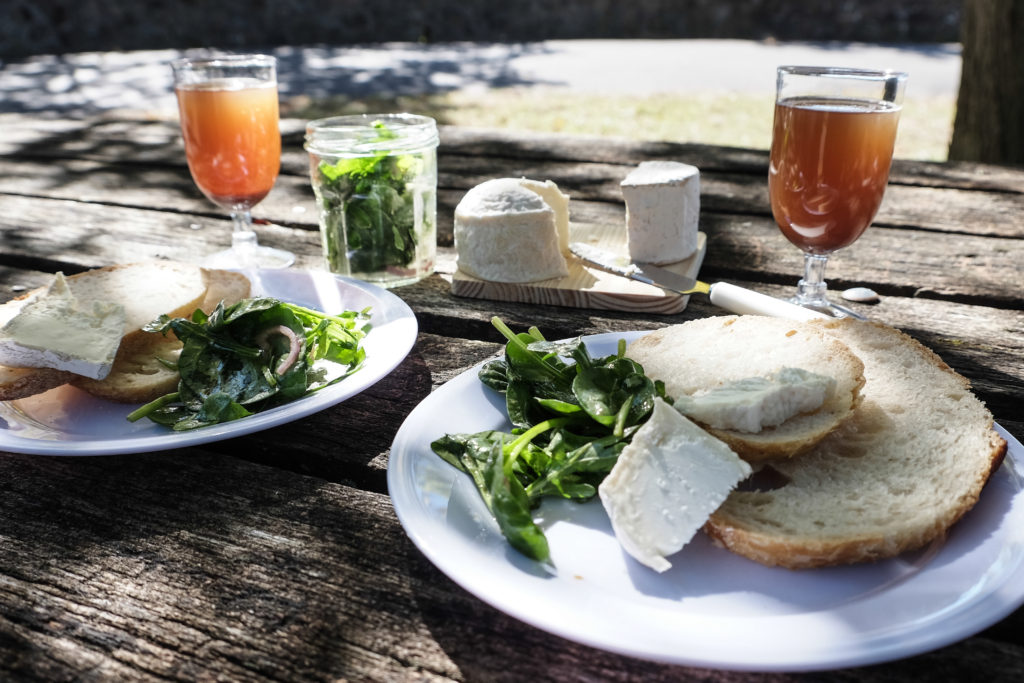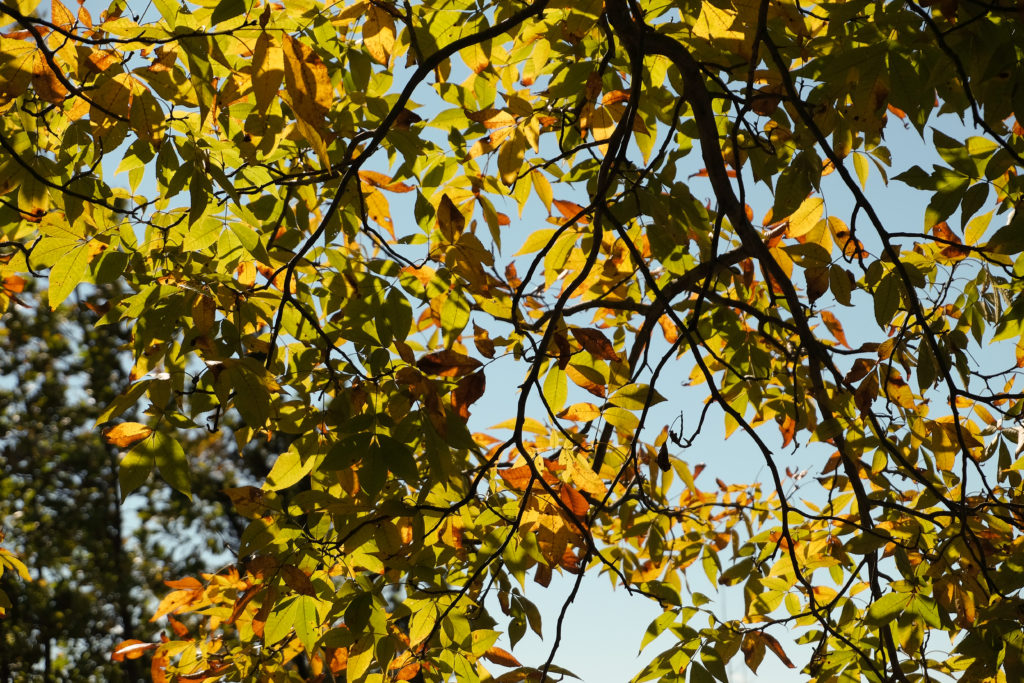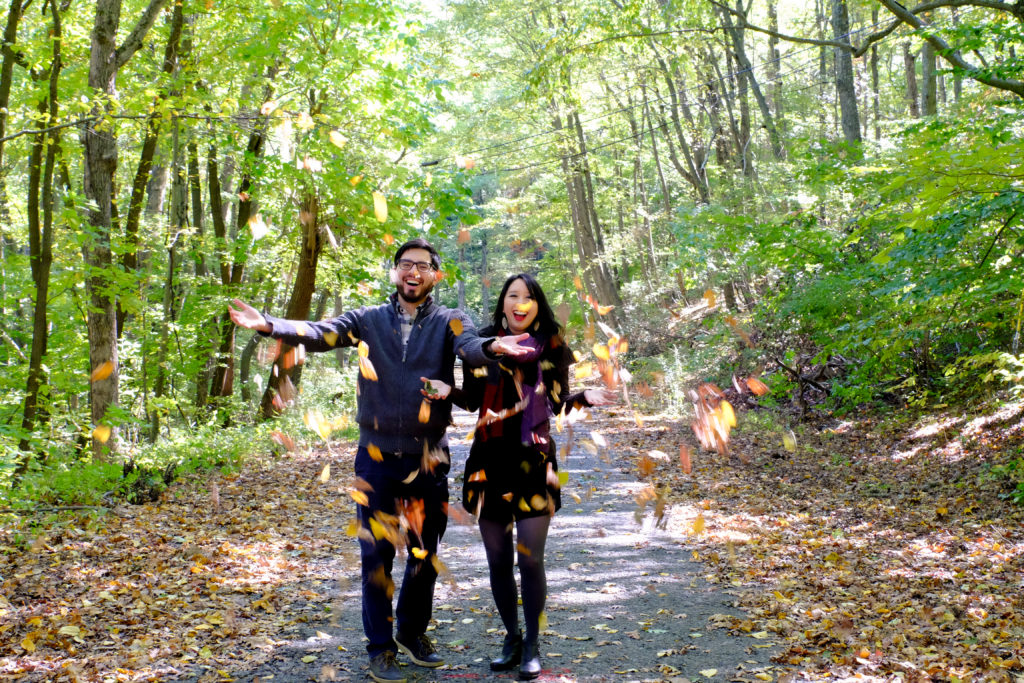 The thing I love about walking through the woods in autumn is that the journey is just as important as the destination. There's so much to relish in. Don't rush.
Want more picnic-in-the-woods ideas? I loved the inspiration from Karen Mordechai's Sunday Suppers cookbook, where she offers rustic meal ideas for every occasion.