Pebble Beach is well-known for a few things: excellent golf courses, stunning coastlines, and large-for-California mansions. Located just south of Monterey, Pebble Beach is a branded, gated community that sees thousands of tourists each year. Famous for its stunning 17 mile drive, PB is a must-see for anyone traveling down California's coast.
I grew up traveling down to this region– its kelp-dotted waters still cause me to remember times at the beach with family. But this is no ordinary beach: it is less appropriate for tanning and more appropriate for hiking, photography, and picnicking with a coat on.
There are no real "secrets" in Pebble Beach, but there are must-see stops along the way. Here are my tips for visiting this stunning coastal region.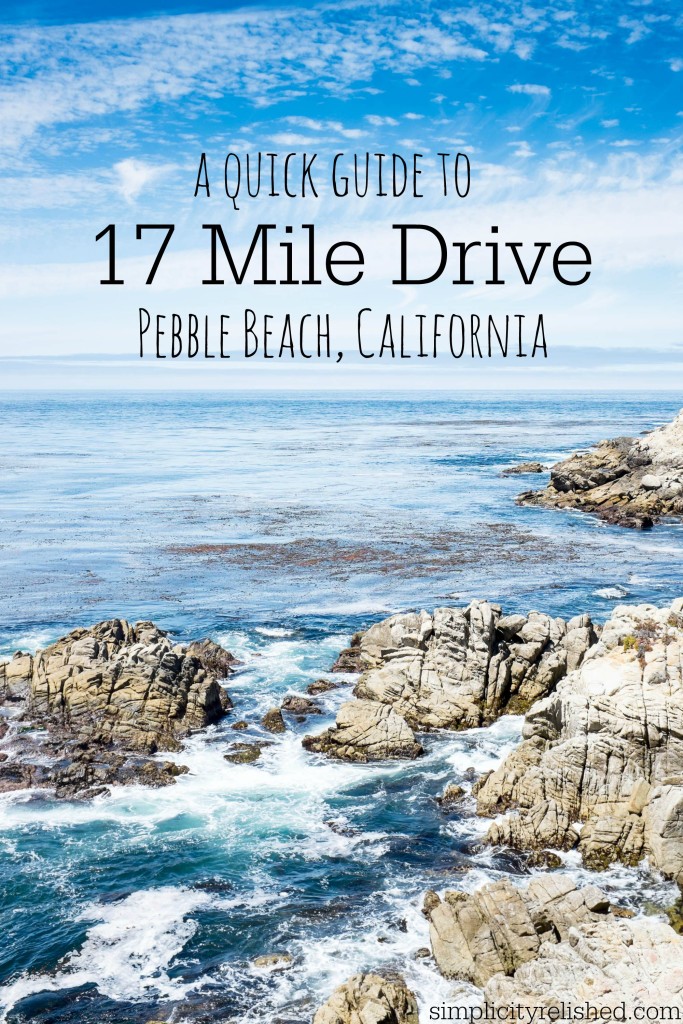 A Quick Guide to 17 Mile Drive
When to visit
The California coast, particularly in the north, can get quite a bit of fog. I find this gloomy weather romantic and mysterious, but if you're only here once, you probably want sunshine.
The best bet for great weather is summer-into-fall, between late June and mid-September. The photographs here were taken in August. As for time of day, the fog usually lifts between 11AM and 3PM, and rolls back in close to sunset.
How to get there
I prefer to do Pebble Beach from north to south– starting in Pacific Grove and ending in Carmel. You can find more detailed maps via Google, but I recommend entering through the Pacific Grove Gate.
Once you enter, you'll receive a map and proceed toward 17-Mile Drive. There are plenty of signs that will point you in that direction, and soon you should find yourself coasting along a winding road by the ocean. Note that the entrance fee is $9, but you'll be reimbursed for dining or shopping within Pebble Beach (ask the restaurant for this).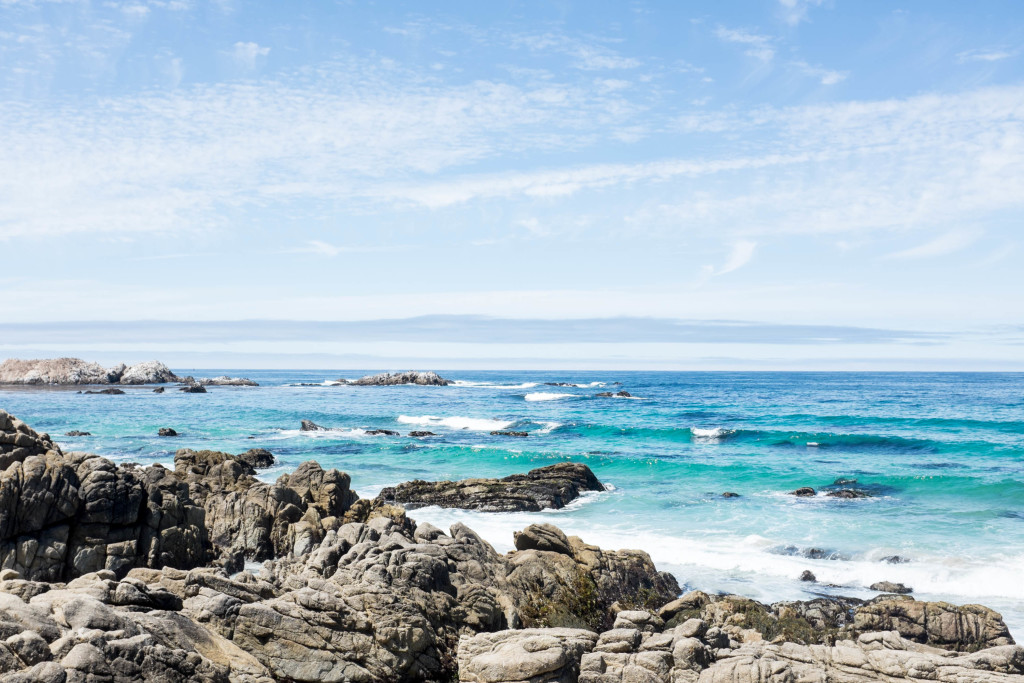 Where to stay
If your travel style is anything less than luxurious, then avoid staying in Pebble Beach itself. Save your money and enjoy the surrounding towns instead!
Carmel-By-The-Sea has a number of cute inns (the ones off Ocean Avenue are more affordable), and is just at the end of 17-Mile Drive. Monterey is another great option, and has a cute downtown area itself. Pacific Grove might be your most inexpensive choice, but is less interesting.
Must-See Stops on 17 Mile Drive
First stop: Spanish Bay
The Inn at Spanish Bay can feel intimidatingly fancy, but don't let that deter you. Drive into the Inn, and park your car in their free lot. Once you enter the Inn, you'll see a patio out back where you can wander through its pretty golf courses (the Links) right on the water.
If you happen to be hungry, Roy's is a great spot for a drink and snack. Its high-end Hawaiian cuisine can be found nowhere else in this area.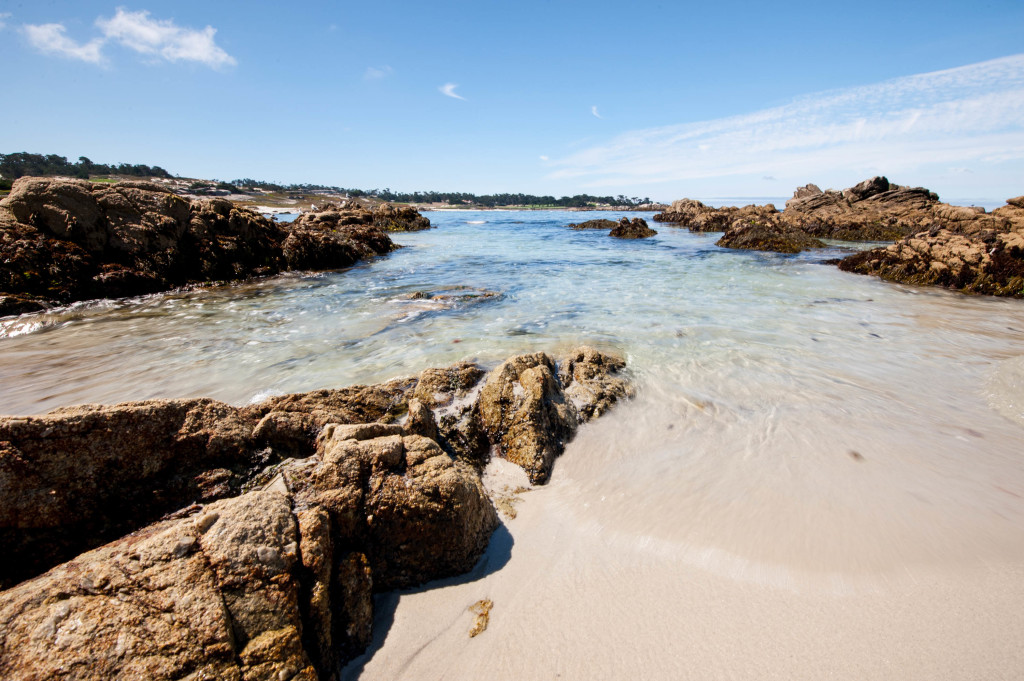 Second stop: white sand beaches and Bird Rock Cove
As you continue from the Inn, you'll find yourself cruising along white-sand beaches and crashing waves. The people who built Pebble Beach so many years ago had the foresight to include turn-outs at almost every corner, so pulling off the road is easy.
These beaches are some of my favorite in the world. They tend to be quiet, sometimes even empty, and have so much texture to them.
The water is probably too cold to swim in comfortably (and there aren't exactly "beach facilities" in the area), but the sand is soft enough for you to walk barefoot and enjoy a picnic lunch.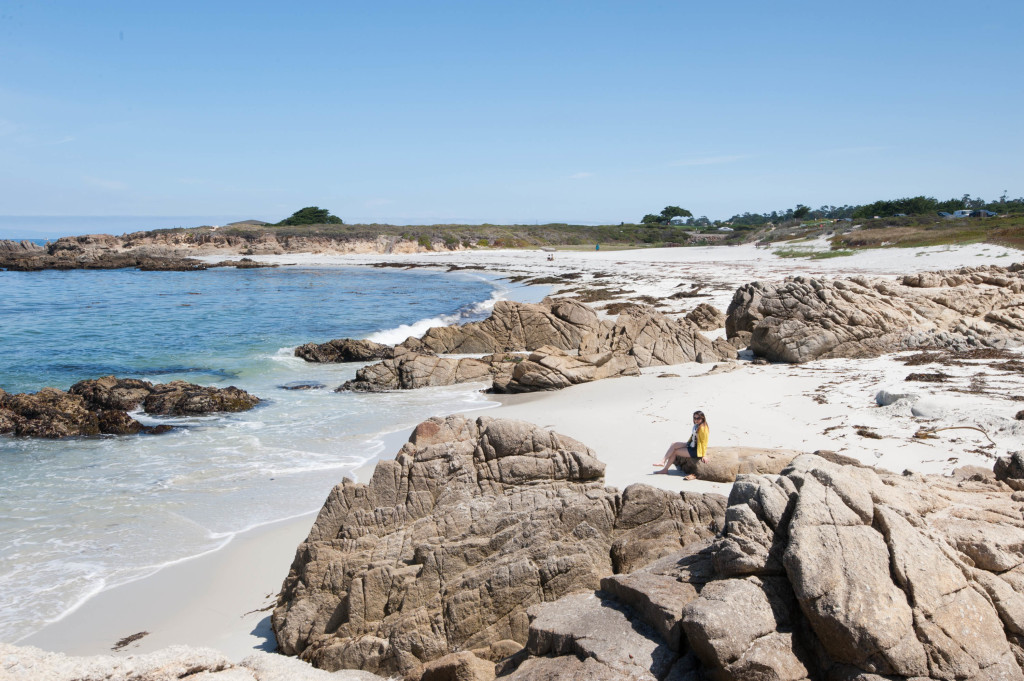 Third stop: The Lone Cypress
This Cypress tree is the emblem of the entire Monterey Peninsula– unsurprising, since it's been around for 250 years. A fortune has been spent to keep this tree alive, so it's not to be missed.
When you pull up to the Lone Cypress, park by the wood railing and head towards the steps down the bluff. You'll find an excellent spot for photographs, and beautiful rocks down below.
Fourth stop: Ghost Tree
As you continue from the Lone Cypress, you'll see a sign for Ghost Tree. This is a fabulous area to stop, as you can get lots of gorgeous snapshots of ice plants, rocky cliffs, and yes, the ghost-like tree.
Aaron and I took our own engagement photos here, so I think it's a really great spot for portraits too!
Exit: Carmel Gate
It's absolutely fantastic, I think, that 17-Mile Drive drops you off in Carmel. A charming oceanside town filled with little cottages (each has a name), adorable boutiques and delicious restaurants, there's no better place to end your journey.
Get a quick glimpse at Carmel's charm, shops, and food!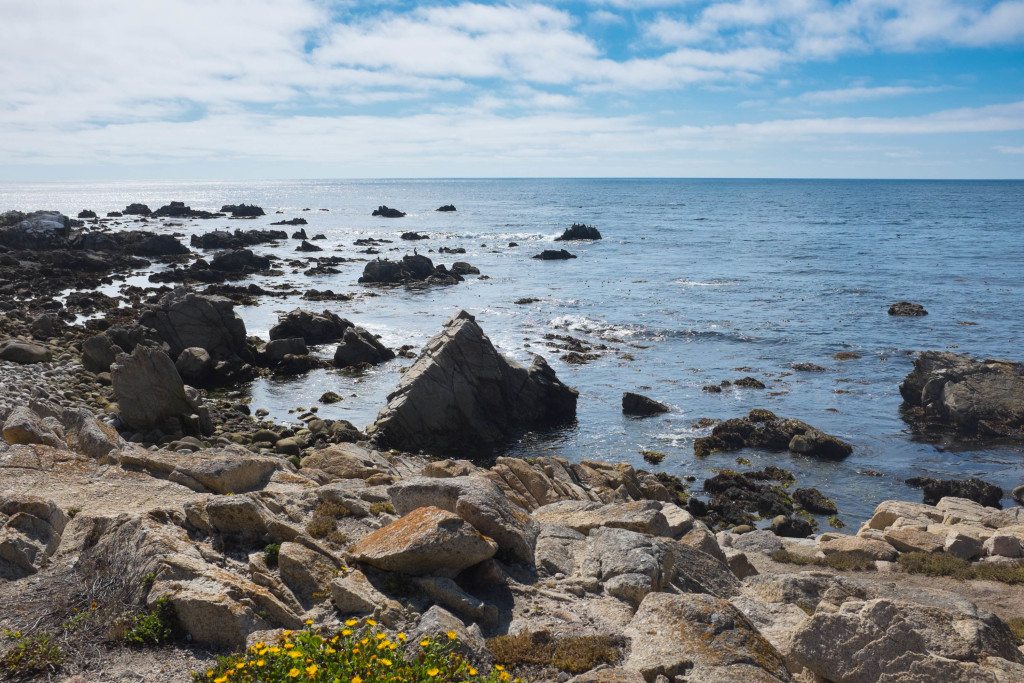 What is your favorite local spot where you live? I'd love to know!