Once autumn rolls around, we tend to put away the whites. The old fashion "rule" of not wearing white after Labor Day has sunk in deep.
But, as someone who loves wearing white and doesn't believe in fashion rules anyway, my goal is to make white a wearable color all season long. My fall capsule wardrobe has some whites in it, and I intend to wear them straight through the end of the year.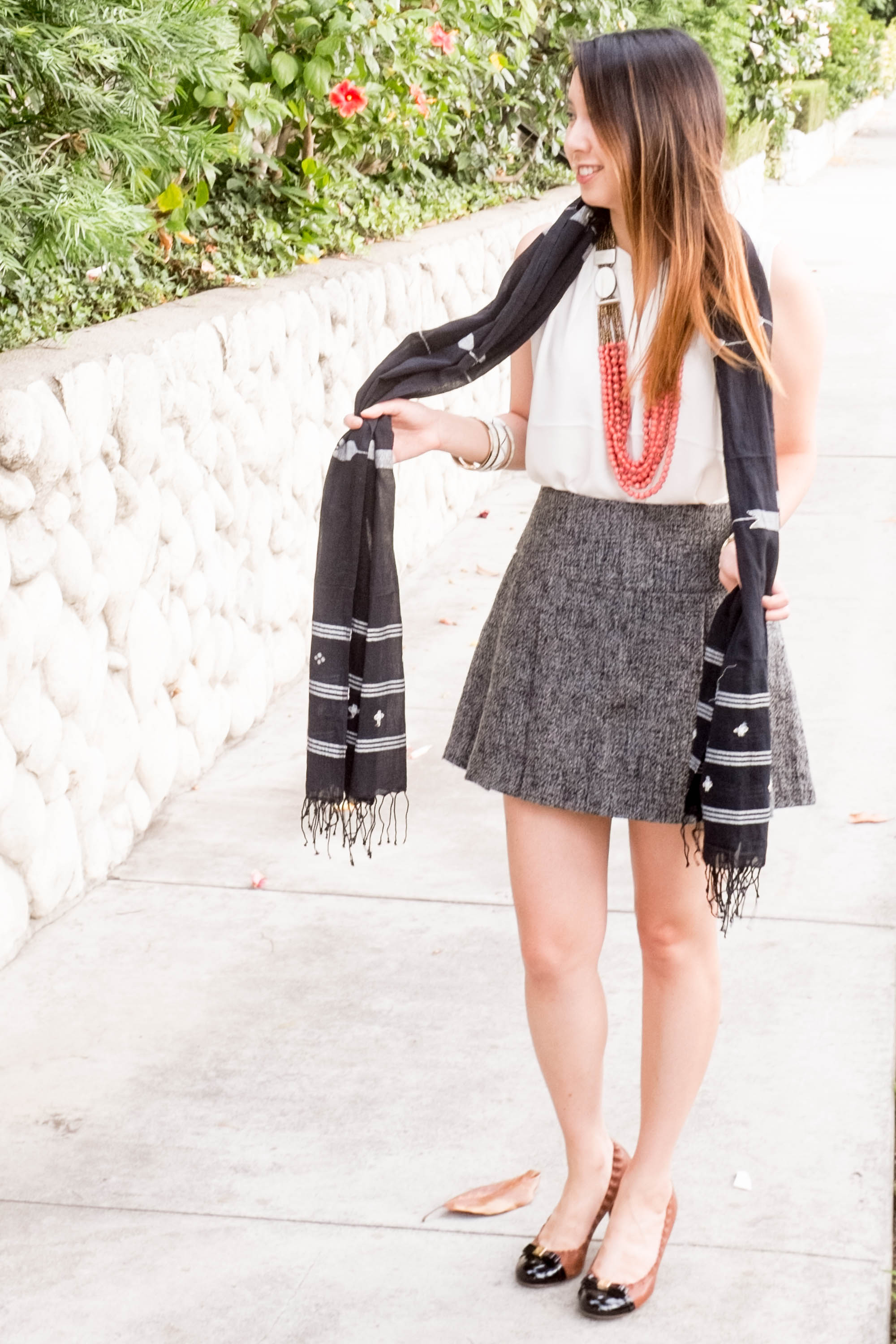 Use white as the perfect canvas.
Because it is! In this outfit, I wore my LOFT shell as a canvas for Noonday Collection's Firelight Necklace. Against the white backdrop, our jewelry can really pop and become the center of the outfit!
A word about the Firelight Necklace: This piece is made by a sweet group of artisans in Kampala, Uganda. The coral-red beads are hand-rolled paper, and the entire necklace is hand-strung! Jalia and Daniel run this artisan group, and they've been doing local business as a ministry for over 5 years. Because of their success, they've opened a free daycare and reduced crime rates in their neighborhood. The local police even stopped by to thank them for their work!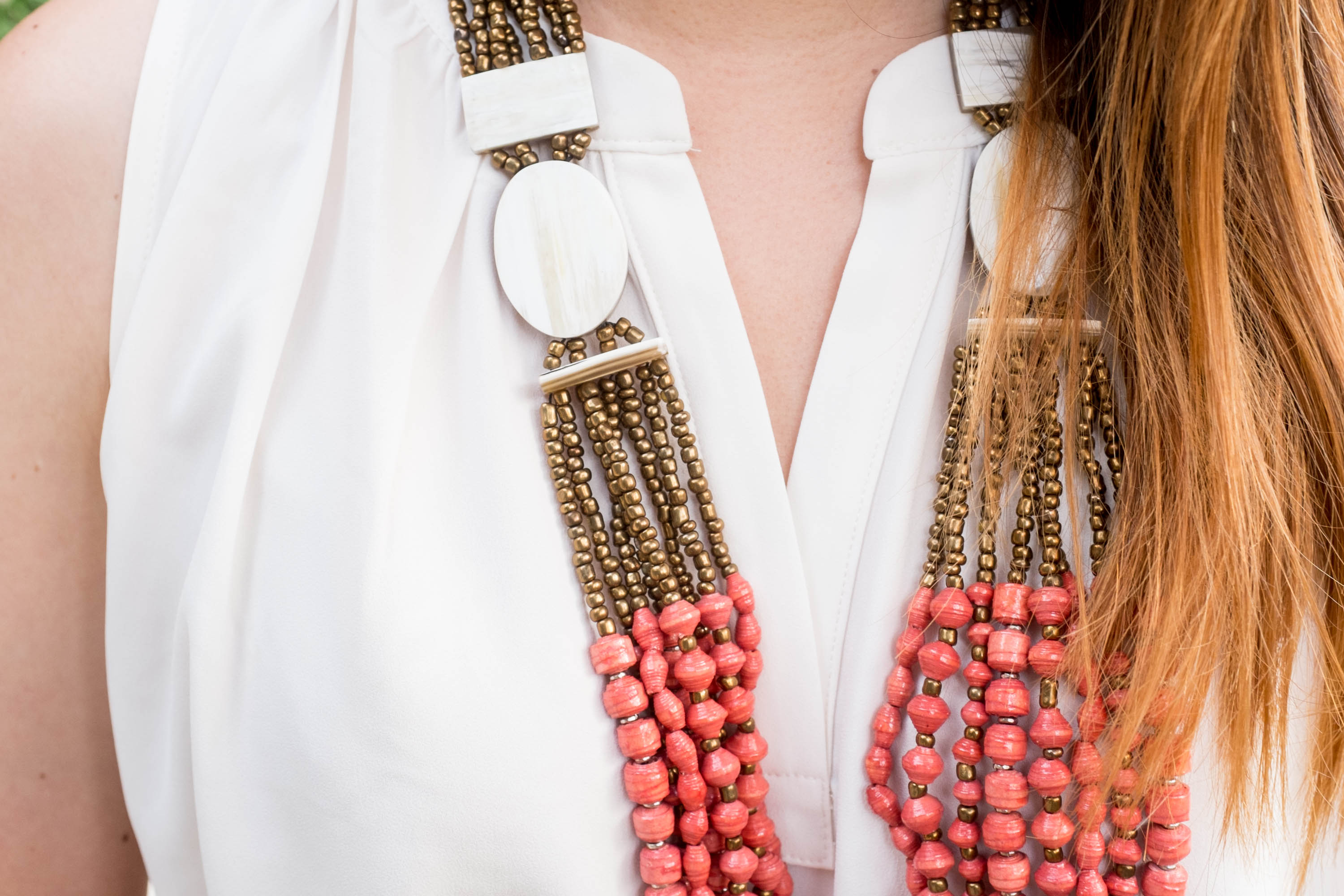 Combine it with seasonal textures.
To make the outfit more autumnal, I threw on my grey tweed skirt. It's another great neutral to have when I really want my accessories to stand out. And of course, I added the Jamdani Scarf to the outfit to contrast with the whites I was wearing.
Seasonal textures come in all colors, which means we can easily combine them with our white pieces. Tweed, corduroy, wool, cable knits, and flannel are the perfect materials to keep an outfit seasonally appropriate.
A word about the Jamdani Scarf: Jamdani is a weaving technique native to India. The artisans who make the scarf are women who have a reliable income through creating pieces like this. I love wearing it because it symbolizes the opportunities that are made possible when we make conscious, informed purchases!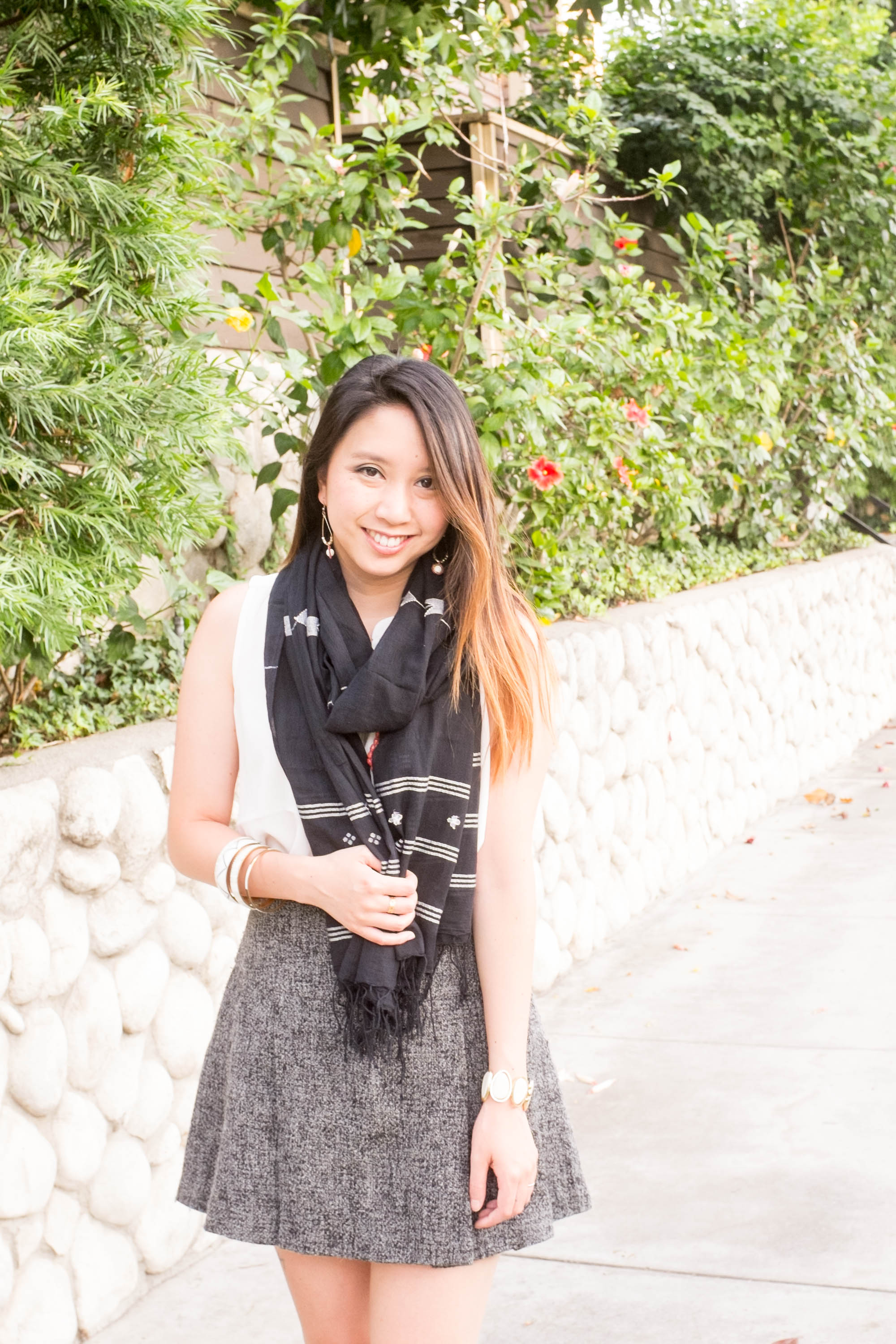 Accessorize with bold designs, soft metallics, and rich tones.
In addition to choosing the right textures, it's important to add accessories that bring forth that warm, inner brilliance we all desire to exude this season. Fall is the perfect time to be bold with accessories, and to ease our way into the golds and silvers that adorn the holidays.
I recently became a Noonday Ambassador, and I couldn't love my accessories samples more. The Bazaar Bangles and the Beaded Boho Earrings are the perfect way to echo the white in my outfit, and they bring in that metallic element too. The bangles, like the scarf, are made in India where artisan business owners are able to pay fair, consistent wages and grow their business sustainably.
Love the accessories? Learn more about them below:
Are you wearing white this season?