It has been about a year since I started my capsule wardrobe project, and it's been quite the learning experience. I now function with fewer than 40 pieces in my wardrobe at one time, and have not needed to add new items since late summer last year. It has taken me some time to figure out how to dress in Southern California, and I've figured out which staples will last me the longest. Capsule wardrobes aren't rocket science– if you're determined to get it right, you eventually will.
Still, many people have asked me (through this blog and in person) how I manage to cycle and recycle through the same clothes. On top of the fact that the weather in Pasadena doesn't vary much, I can almost wear the same pieces all year round. So how exactly do I get away with wearing the same clothes, without looking repetitive? Great question.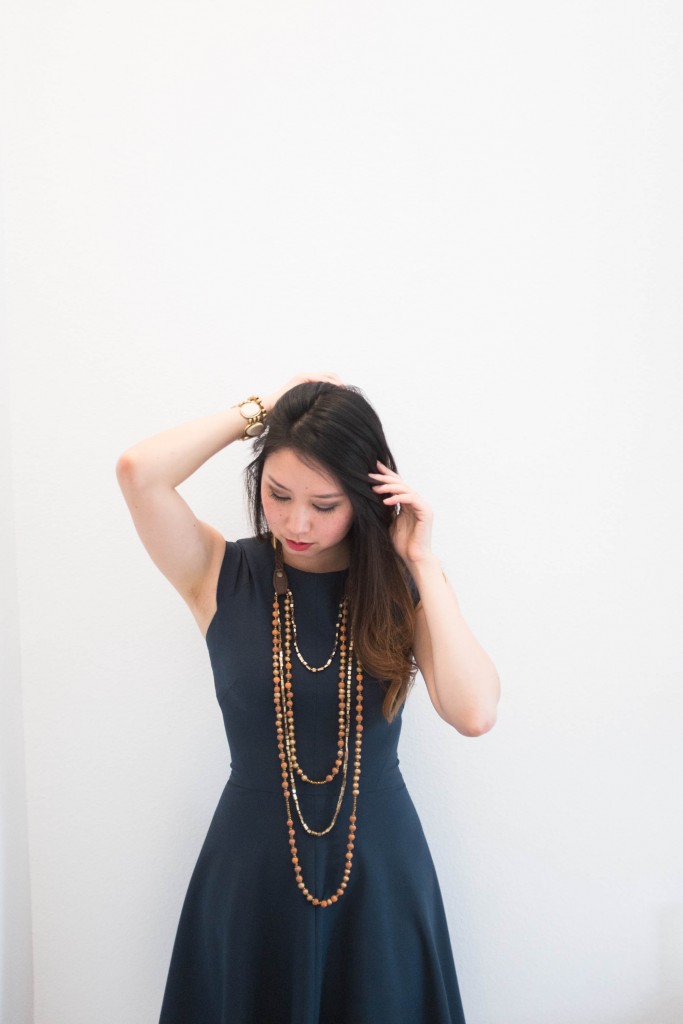 The purpose of a capsule wardrobe
I wrote extensively about my personal struggles with image and vanity last summer, so I won't rehash that here; however, the purpose of a capsule is pretty simple. The fashion industry has moved from quality to quantity rapidly in the past 50 years, and consumers are beginning to catch on to the intention that most clothing is manufactured to be "disposable". Frankly, fast fashion comes at a great cost to our economy, to the welfare of workers, and to our wallets. Cheap clothes are made by hands whose dignity has been exploited; in the meantime, the average American throws away 65 pounds of clothing a year. 
So in an effort to shrink my wardrobe and to consume less, all while purchasing items that were made in dignified conditions, I began searching for pieces that I could wear for years to come. In some cases I succeeded, while in others, I failed– and despite the prices I paid, I still ended up with pilling fabric. More on that another day.
Ultimately, the goal is not to compromise on fashion or the appropriate outfit for each circumstance; nor is it to wear clothes that we don't love or that don't fit us. Quite the contrary: a capsule wardrobe is intended to provide for us perfect pieces, every time. It shouldn't be that difficult, right?
Enter: artisan-made accessories
You might be thinking, Isn't the whole point of capsule wardrobes to eliminate clutter? Don't accessories add clutter?
Here's the thing: I may have shrunk my closet and quit my shopping habit, but I haven't fallen out of love with a well-put-together outfit. My secret to wearing the same clothes over and over is having a high-impact accessory arsenal at hand.
Of course, my requirements for the accessories I purchase are the same as that of my clothes: well-made, dignified conditions, fair trade if possible, and highly versatile. What I've discovered is that more accessories fit that bill than clothing. In fact, accessories are a great way to keep an outfit interesting without contributing to the whole problem of fast fashion.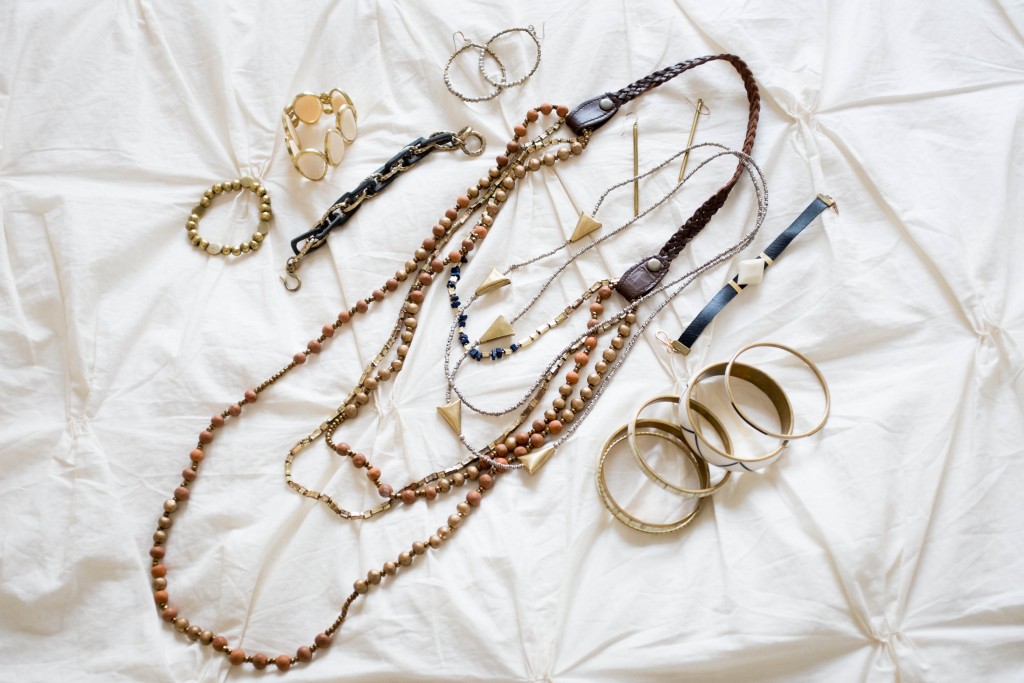 Capsule secret: why I'm building an accessory arsenal
It might be easy to dismiss accessories as excess. And if you're one who truly doesn't place value in an outfit at all, I respect that. But the rest of us need to take a closer look at accessories. Here are a few reasons why:
Accessories often do better showcasing artisanal work. The artisan sector is the second largest employer of people in developing countries (number one is agriculture). Therefore, the artisan sector is a space where there is dignified work to be done. Every piece pictured here has been handmade by artisans. All featured pieces come from Noonday Collection, who sources fair trade items from independent artisan businesses.
Accessories are one-size-fits-all. They don't need to be switched out when your size changes. They're also perfect for sharing, trading and gifting.
Accessories require little maintenance. Unlike the pile of laundry at the end of the week, an accessory collection need only be stored properly or polished occasionally.
Accessories can be repeated with impunity. A statement necklace can go beautifully with jeans or with a ball gown. People seem to mind less when jewelry, scarves or bags are repeated, and it's easier to build staples out of them.
Accessories take up no space. If you have too many things in your closet, swapping out clothes for accessories could increase variety while decreasing the space needed.
One dress, so many ways
One of my favorite dresses is The Toi by MM.LaFleur. It was quite the investment, but I have worn it to everything from interviews to special events to everyday work. The Toi is the perfect canvas for dressing up with accessories, and it never gets old.
I have put together six different jewelry combinations for The Toi. These combinations come from my personal accessory collection, and all the pieces are available from Noonday Collection. To read more about Noonday's story and amazing practices, check out their impact page.
1) The Exploress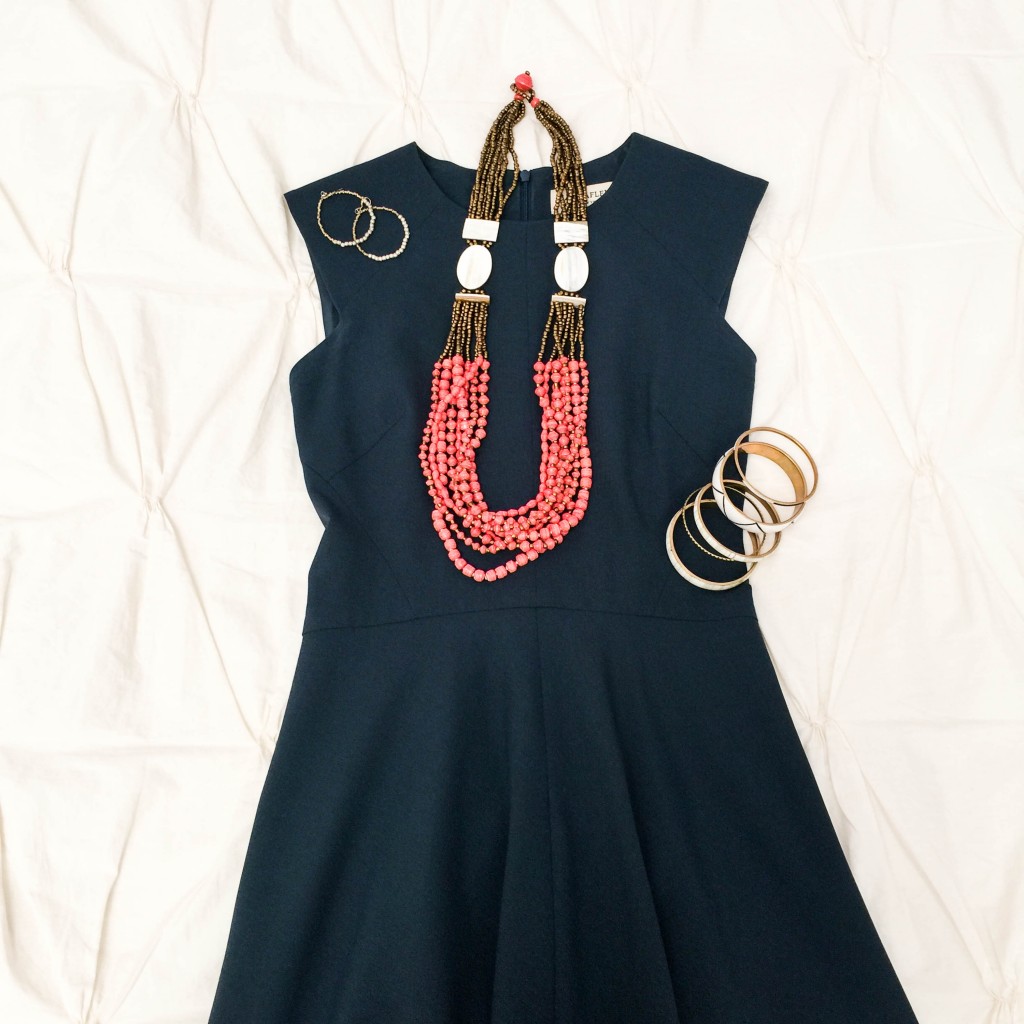 Metallic Pearls Earrings | Firelight Necklace | Bazaar Bangles
This is the outfit for a worldly, varied look. The necklace is made in Uganda from hand-rolled paper beads, the earrings are made in Ethiopia of upcycled artillery, and the bangles are made in India.
2) The Sparkler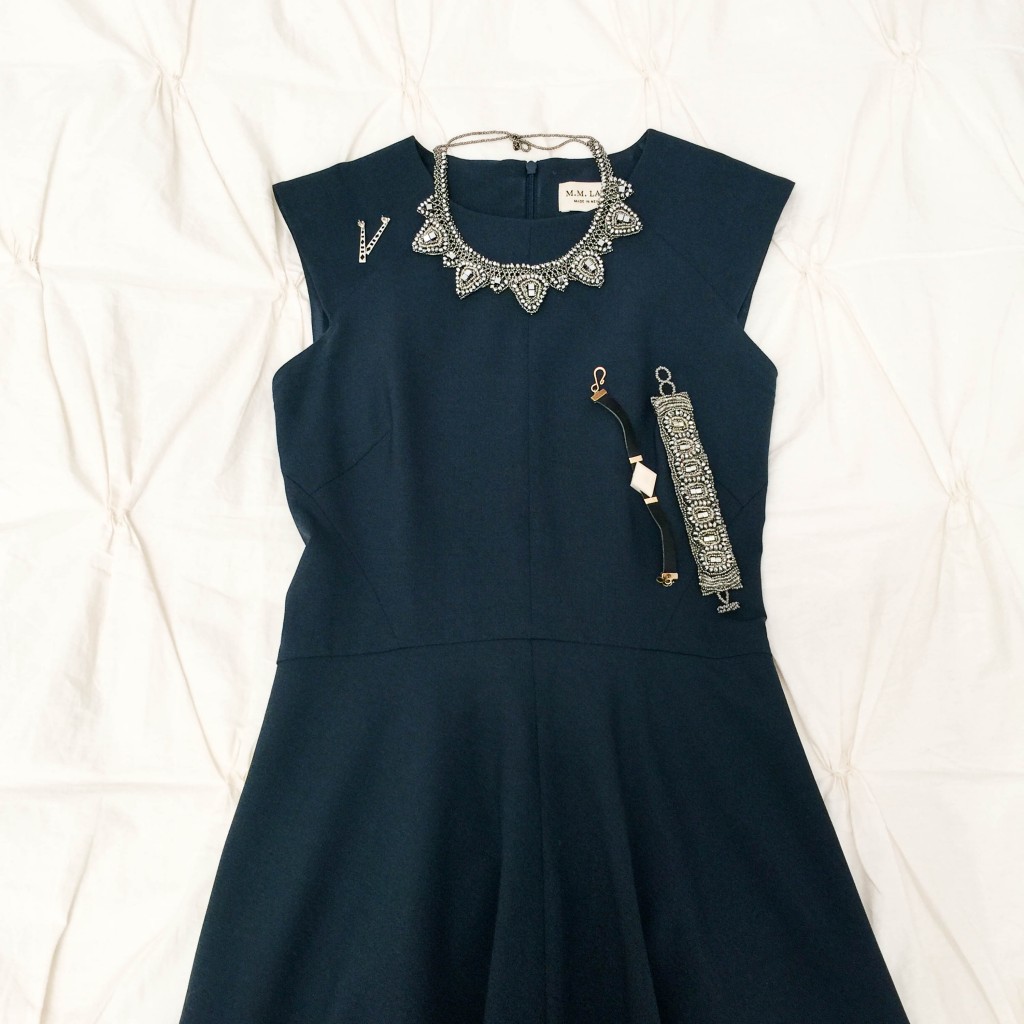 Carved Pillar Earrings | La Luna Necklace | La Noche Bracelet | Ecuador Bracelet
This is my go-to outfit for an evening out! The La Luna Necklace is so beautiful and it transitions well from day to night. Both necklace and matching bracelet are made by hand in Guatemala. The carved silver earrings are made in a little workshop in Peru, and the bracelet is made of tagua seed from Ecuador.
3) The Classic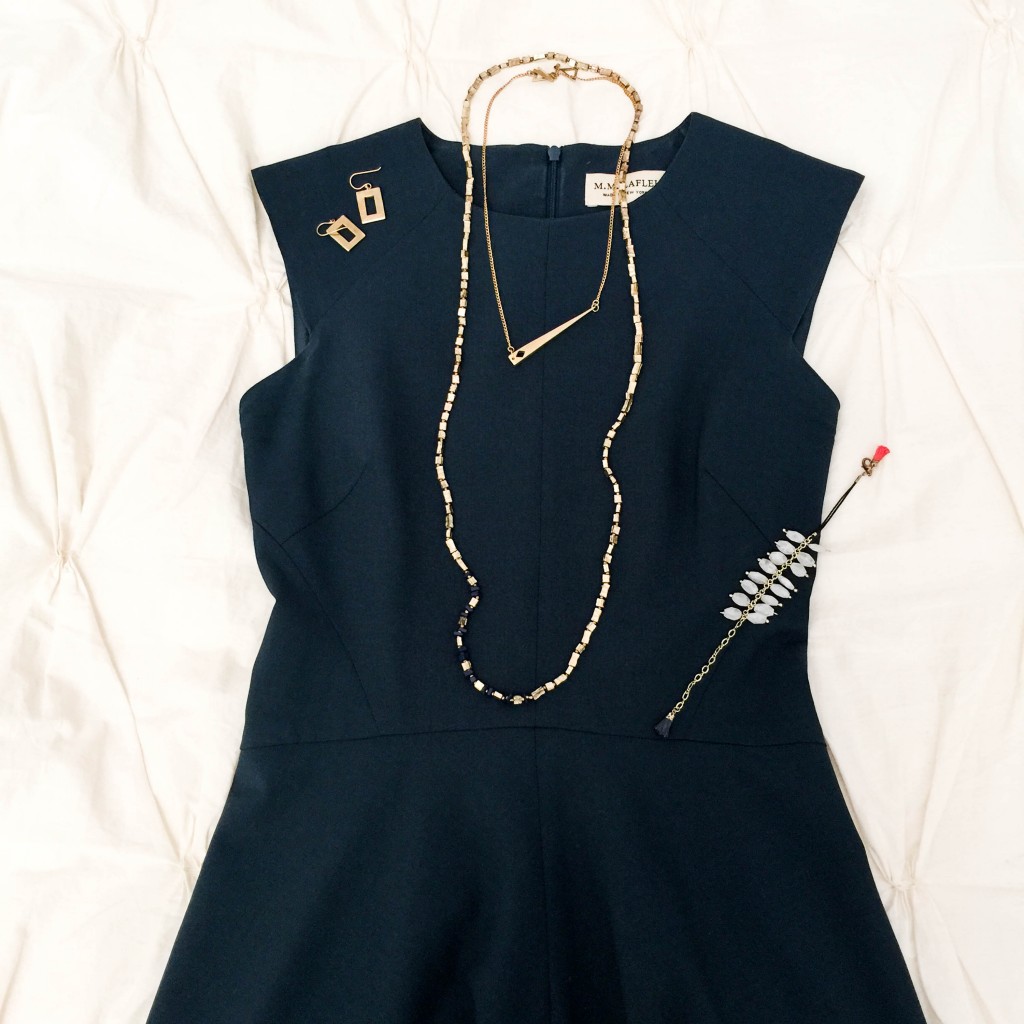 Lima Earrings | Dauntless Necklace | Golden Rivers Necklace | Luminous Bracelet
These pieces are perfect for a formal work setting. The Lima Earrings have a beautiful stone set in them, and the Dauntless Necklace is a simple yet modern everyday accessory. The Golden Rivers Necklace is a super multifunctional piece made with hand-cast beads in India, while the Luminous Bracelet boasts semi-precious stone, also made in India.
4) The Impressionist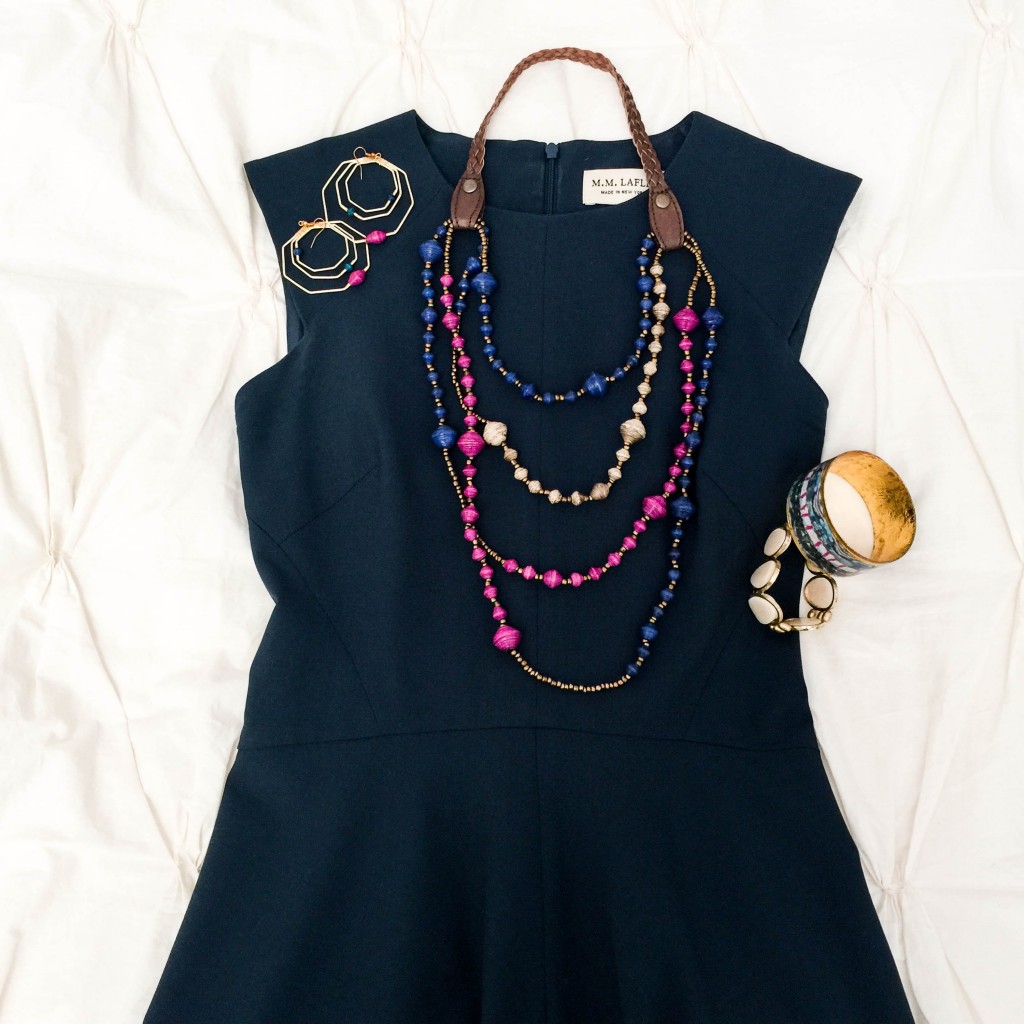 Nalwanda Earrings | Twilight Mukisa Necklace | Golden Rivers (Strap) | Impressionist Bangle | Monaco Bracelet
This combination showcases the prettiest colors. The Nalwanda Earrings and Twilight Mukisa Necklace showcase the hand-rolled paper beads from Uganda (Mukisa means "blessing" in Ugandan). The Impressionist bangle is handpainted and laid with gold leaf, and the Monaco Bracelet is a classic made with ethically harvested cow bone. Both are made in India.
5) The Sartorialist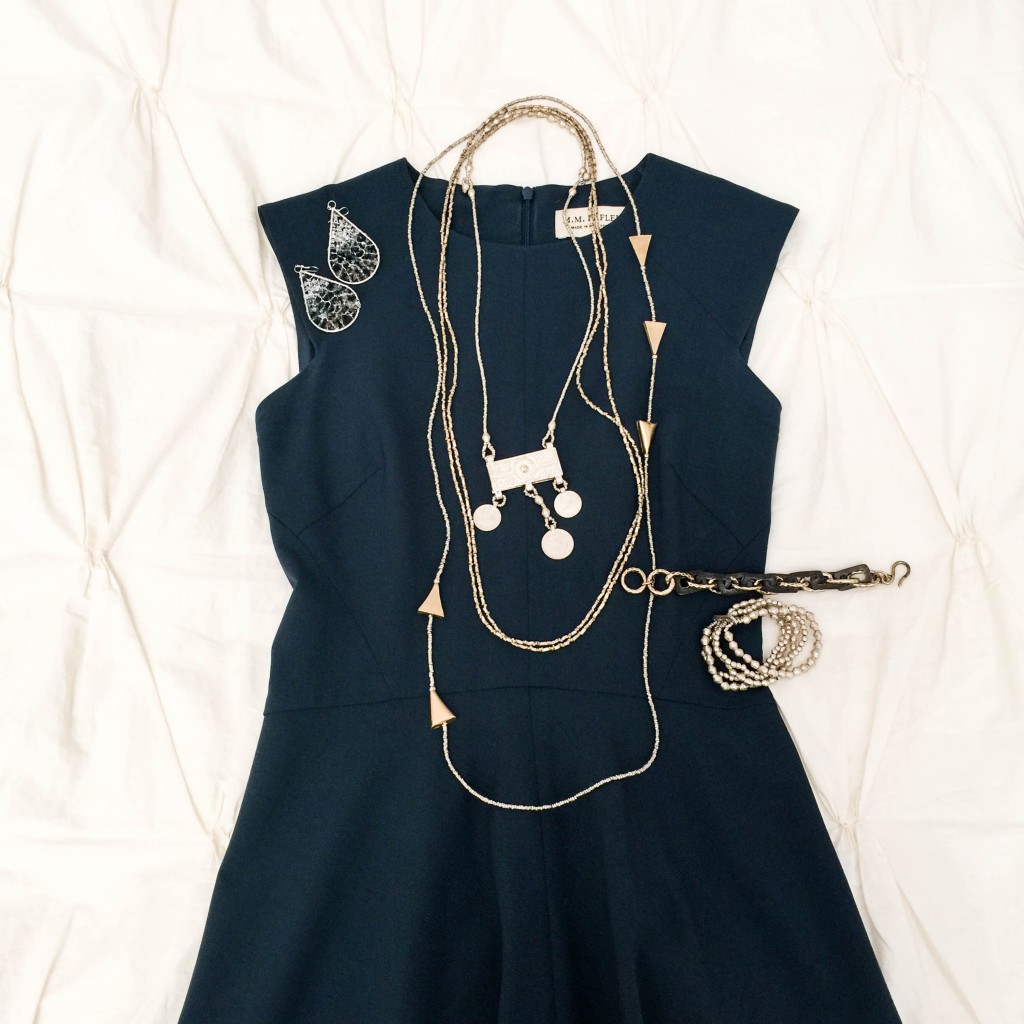 Ombre Prism Earrings | Desert Rope Necklace | Bethe Rope Necklace | Ibrahim Necklace
Linked Horn Bracelet | Everyday Artillery Bracelet
This look is for the girl who loves gold and silver together! The Ombre Prism Earrings are hand-strung in India, while the Linked Horn Bracelet is made of ethically-harvested water buffalo horn in Vietnam. The remaining pieces are all handmade from upcycled artillery in Ethiopia.
6) The Adventuress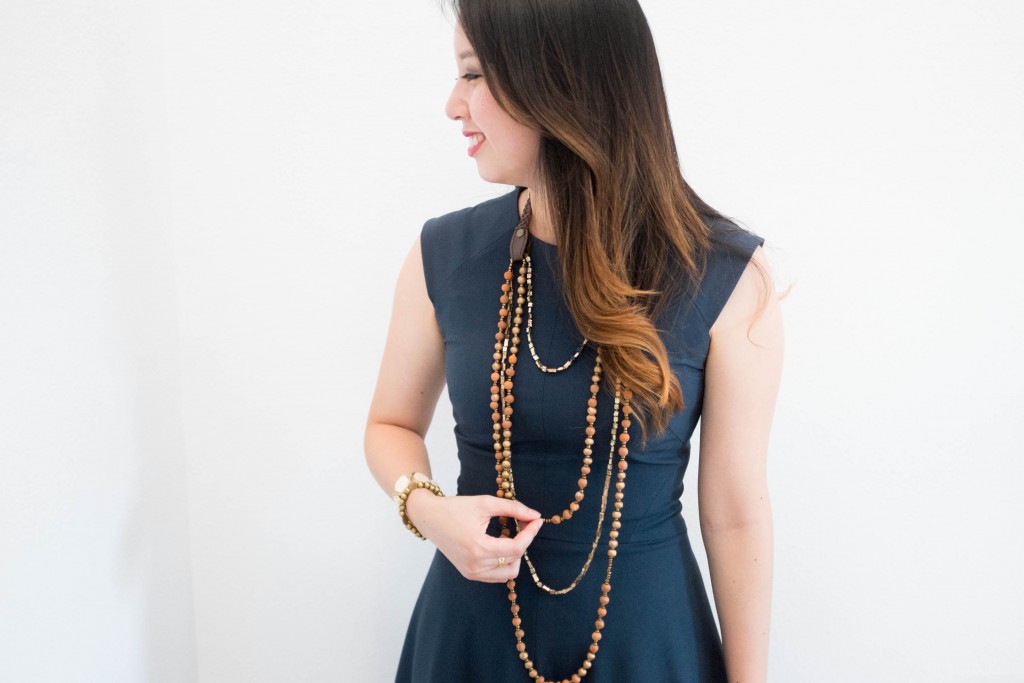 Terracotta Rope Necklace | Golden Rivers Necklace | Monaco Bracelet | Addis Bracelet | Column Earrings
I put this outfit together with some of my absolute favorite pieces from Noonday Collection. The Column Earrings are hand-carved in Peru and are the perfect modern addition to any outfit. I wear these all the time! The necklace is a combination of the Terracotta Rope Necklace (from Haiti) and the Golden Rivers Necklace (from India), and I just love how the weight feels like strings of pearls. And finally, I love the Addis Bracelet from Ethiopia with the Monaco Bracelet from India. They're an amazing combo for everyday wear.
The bottom line: accessories add mileage to your wardrobe
It's true: you and I can probably live without accessories. We could also probably live with just a few sets of clothes– but we don't. We still crave variety, our own unique style, and a celebration of wearable art.
The secret to my keeping my wardrobe small is that I've pushed into the new arena of accessories with the help of Noonday Collection. Noonday's mission is to build a flourishing world through empowered women who shop responsibly, and through empowered artisans who create high-quality products and dignified opportunities. It's a win-win!
Coming soon: how to get the most out of your accessories
In the weeks to come, I'll be sharing even more of my wardrobe secrets. I will showcase the types of pieces you might want in your capsule accessory arsenal, and how you can use them in as many different ways as possible. I'm so excited!