Happy Tuesday, friend! Our adventures in Japan continue beyond Tokyo to the countryside via shinkansen, the fastest train I've ever ridden.
Off to the historical villages we went– just northwest of Tokyo to the cities of Takayama, Shirakawago and Kanazawa. These areas are known for preserved architecture from the Shogun period, and they hold rich stories of old Japan.
This is only the second time that I've traveled with this blog in mind, and I think I am getting photography fatigue. Not being a professional (or even very experienced), travel photography can be rather overwhelming. Still, I'm chugging along like the little engine that could. Sure, my husband is a better photographer (check out his tips here), and I could continue to steal his photos, but I'm working towards a bit more independence here.
Anyway, this is the best I can do with the somewhat cloudy and rainy weather we've been having. Your feedback is greatly appreciated; enjoy the snapshots!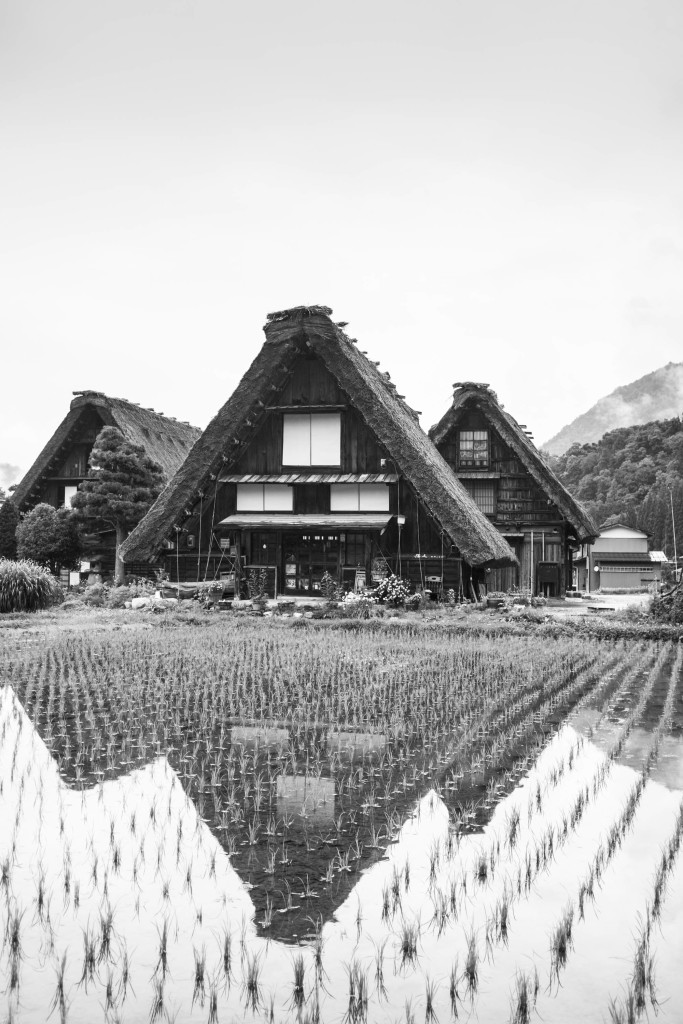 First stop: Takayama
Kami Sannomachi street is known as the "Small Kyoto" for its traditional buildings and canal-like gutters. Little shops with artisanal goods and tasty sweets line this pedestrian-only walkway. Ducking under noren, cloth dividers that cover most entries, we entered gorgeous displays of local earthenware and lacquerware.
The locals love flowers, and each shopfront has a few pots of azaleas, hydrangeas, and other blossoming beauties. Aside from the tourists, of which there aren't too many, this is a quiet and quaint little town.
The craft shops had such adorable displays: mobiles, toys, dishes, wind chimes, teas… I fell in love with all of it! Products in Japan are so well-made; it's a country that does not skimp on quality or perfection.
Pausing for tea…
One Japanese ritual I'll be bringing home is afternoon tea. This is not like Western tea time where desserts and pastries abound; this usually consists of one cup of a hot green tea (or matcha!) and a small sweet bite.
Teahouses come in a variety of shapes and sizes. The one we visited in Takayama was simple and bright. Built to surround a private garden, we could drink tea while looking out upon a few delicate maple trees and stone sculptures.
We're doing a traditional tea ceremony in Kyoto, after which I'll be sharing all about tea traditions in Japan. According to locals, sharing tea with someone was a sign of equality. In a rigidly hierarchical society like Shogun Japan, enjoying a cuppa as equals was hugely significant.
Takayama Feudal Government Building
I know that "feudal government building" (aka jinya) sounds ominous at best, but this was actually quite fascinating. The decor was so simple and low-profile– characteristic of traditional Japanese style.
There was nothing cushy about feudal government; enemies of feudal lords beware. Each class of individuals had different entrances from which to enter the jinya. Merchants had one entrance, peasants another.
Classist hierarchy is not popular nowadays, but it did have its administrative benefits. Like a drawer organizer, everything (and everyone) had a place and function, no questions asked. There was absolutely no ambiguity as to where people belonged in society. Most individuals lived their lives within the confines of their lot; follow the rules and the lord will take care of you.
Next Stop: Shirakawago Village
This was my absolute favorite stop on our foray into the countryside. These thatch-roofed homes are absolutely adorable, not to mention hundreds of years old! Now a World Heritage Site, Shirakawago is becoming increasingly popular. Despite being hidden in the mountainous regions of western Honshu, these little homes are drawing visitors from near and far.
What's the story behind these thatched roofs? For raising silkworms, of course! The first and second floors are residential, and the rest contain tools for raising those little critters that produced silk, a valuable commodity.
Despite the rain, we loved wandering through this quiet town. Amid small gardens and rice paddies and temple gates, these homes rest in an absolutely picturesque valley.
Third Stop: Kenrokuen Garden in Kanazawa
Kenrokuen is known as one of the most beautiful gardens in Japan. It is full of trickling streams, peaceful views and absolutely stunning trees.
One thing I love about Japanese gardens is that they often have teahouses inside! Nothing better for a respite from lots of walking than a hot cup of matcha!
But due to its unparalleled beauty, Kenrokuen draws tons of tourists– it was difficult to snap any photos without a tourist in it! Everywhere we turned, there was a tour guide waving a flag for her disciples to follow; one in particular had an obnoxious megaphone as well.
If we had stayed the night in Kanazawa, we would have come back at dawn, when hopefully most tourists would have still been sleeping. Maybe next time!
Next up: Kyoto and Hakone
We are now more than a week into our trip, and I can hardly believe how much we are seeing and doing each day. We've been in Kyoto the past two days (photos coming eventually!) and there has been so much to see, taste and explore.
Packing a trip full is hard to resist, even though I am obviously one for slow travel. Like almost any other country, it's impossible to see everything in each Japanese city, not to mention all of Japan. To use an unoriginal metaphor, traveling is like drinking from a fire hydrant: you'll miss a lot (or most) of it, but you'll gain something. And that thing is worthwhile.
The quietness and propriety of Japanese culture is rapidly growing on me, and I think it will be hard to readjust when we head home in less than a week. It is not a culture that is always talking; quite the contrary, in fact. It's a culture that makes time for discipline, passion, and contemplation.