I'm so excited about this recipe today. Just a few months ago, I tried making my first beet sauce for homemade pasta. It was incredible, but needed a bit of tweaking. After working on it a few times, I think I've come up with the most delicious, healthy and satisfying vegetarian comfort food that I'd had in a while!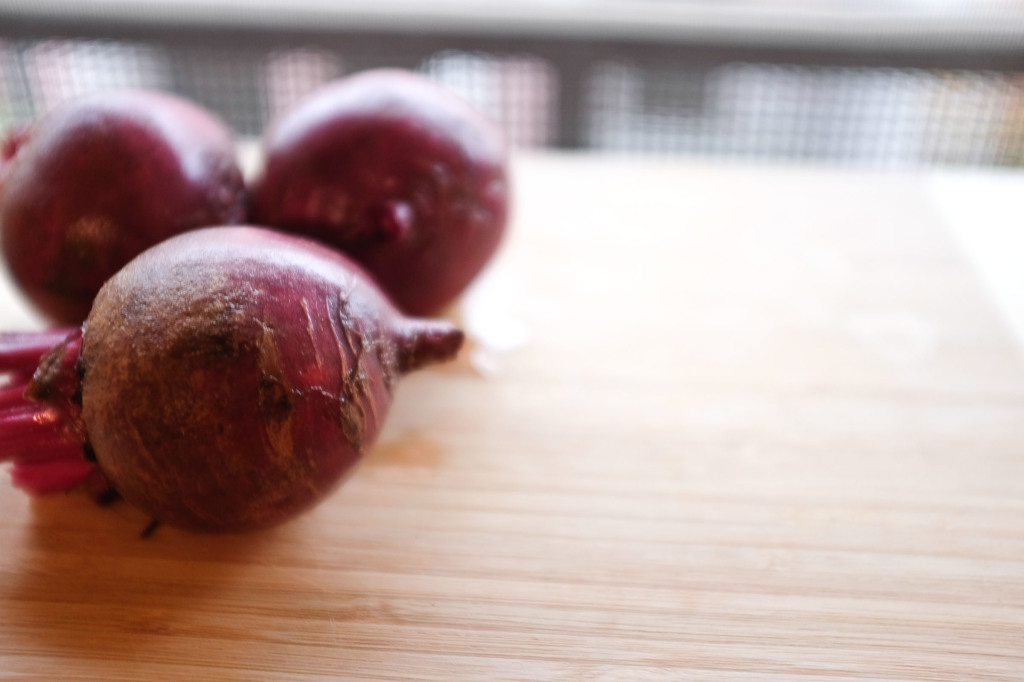 Beets are in season, as you might know– and they are such versatile vegetables. However, we tend to associate them with salads and pickling, even though they are wonderful blended up and poured over pasta.
As you might know, I've been working on creating vegetarian recipes as my new "cooking frontier". (Check out my last creation: Linguine with Kale-Almond Pesto!) And there is nothing better than finding a recipe that will keep for a few days, too. This beet sauce will stay fresh when chilled for several days, and is the easiest thing to pour over pasta or use as a dip or spread. It's savory and oh-so-good for you.
If you've never worked with beets before, be aware that beet juice does stain. Whenever I process beets, I wear gloves just to keep my hands from turning pink. If you use a wooden cutting board, be sure to wash it immediately to avoid staining; or use a bit of lemon juice.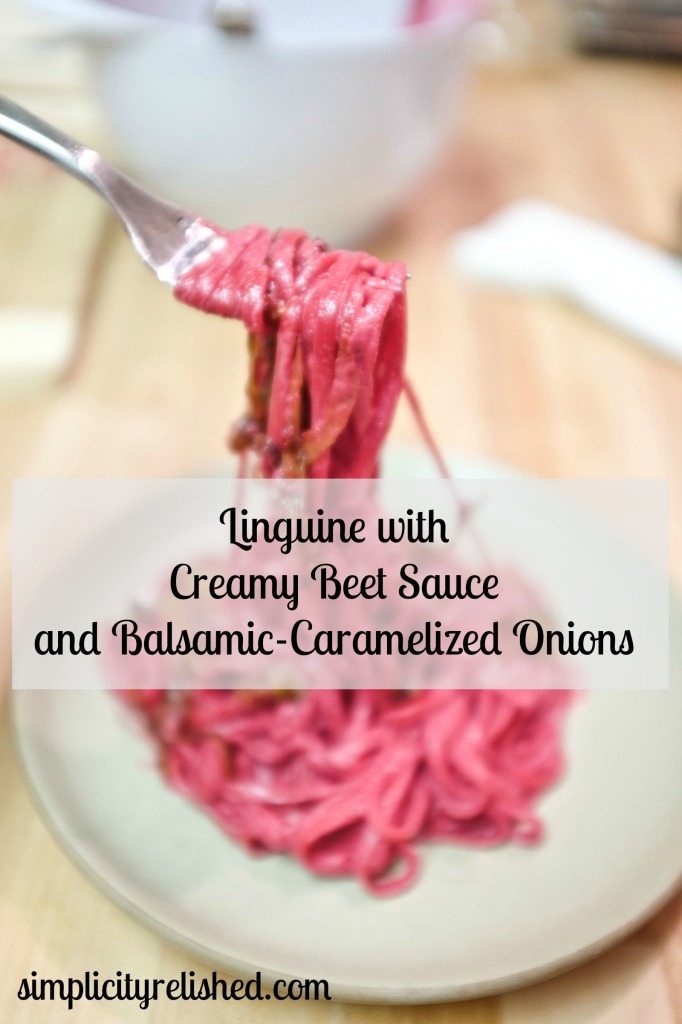 Linguine with Creamy Beet Sauce and Balsamic-Caramelized Onions
Ingredients (makes 1 serving of pasta, and about 4 servings of beet sauce)
3 medium-sized beets (red or golden)
1/2 garlic bulb
3/4 cups milk, more if necessary
3 tbsp olive oil, more if necessary
1 medium yellow onion, thinly sliced (I used a mandoline)
3 tbsp butter
1 tsp balsamic vinegar
1 serving linguine
salt, pepper, and other spices to taste
Directions
1) Preheat the oven to 400F. Rinse the beets and cut off any remaining tops or leaves, no need to peel. Wrap the beets with tin foil and roast in the oven for approximately 1 hour. Continue to check them until they are fork-tender.
2) With half an hour remaining, roast the garlic by wrapping it in foil with a few drops of olive oil. Place in the oven beside the beets.
3) Remove the beets and garlic, and allow to cool. Wearing gloves, peel off the skin of the beets– it should come off pretty easily. Set the beets aside. Gently squeeze out the roasted garlic from its peel and set aside.
4) Using the butter, caramelize the onion. There are tutorials on caramelizing onions– here's one. The key is to allow the onions to slowly brown in the butter without burning, which you'll accomplish with low heat. If the onions are thinly sliced, this should not be difficult. Once the onions are caramelized, add the balsamic and allow the vinegar to burn off. You should have sweet, dark brown, delicious caramelized onions. Set aside.
5) Bring water to a boil, add a pinch of salt, and cook the linguine according to instructions.
6) Meanwhile, place the beets (quartered), garlic, olive oil and milk into a food processor or sturdy blender. Blend until smooth, adding more oil or milk for the consistency you want. Pour the sauce into a nonstick saute pan and stir over medium-low heat. Season the beet sauce with salt and pepper, to taste. You can also add garlic powder, herbs, paprika, or anything else that makes it taste yummy!
7) Assemble the dish! Mix the pasta with a 3/4 cup of beet sauce. Plate the pasta, and garnish with caramelized onions. Bon appetit!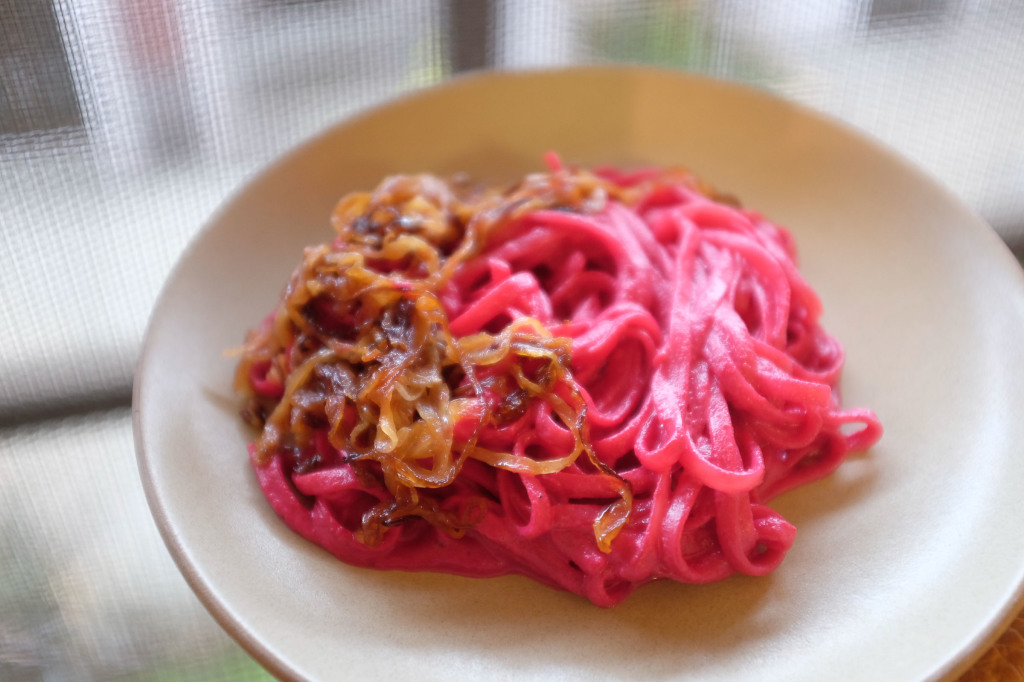 Have you ever made beets at home? What are your favorite beet recipes? I'd love to know!