Does the title of this post promise too much? Perhaps. But I can't express how much it has improved my life to shrink my closet to the essentials. I think my fall capsule wardrobe is the best capsule wardrobe I've but together yet, and I'll tell you why.
The trick to creating a successful capsule wardrobe is finding enough versatile pieces that you love and that make you feel amazing. As though that's not tricky enough, the next step is to make sure those pieces go well together. And finally, we have to think about limiting factors such as the local weather and what we need to be dressed for.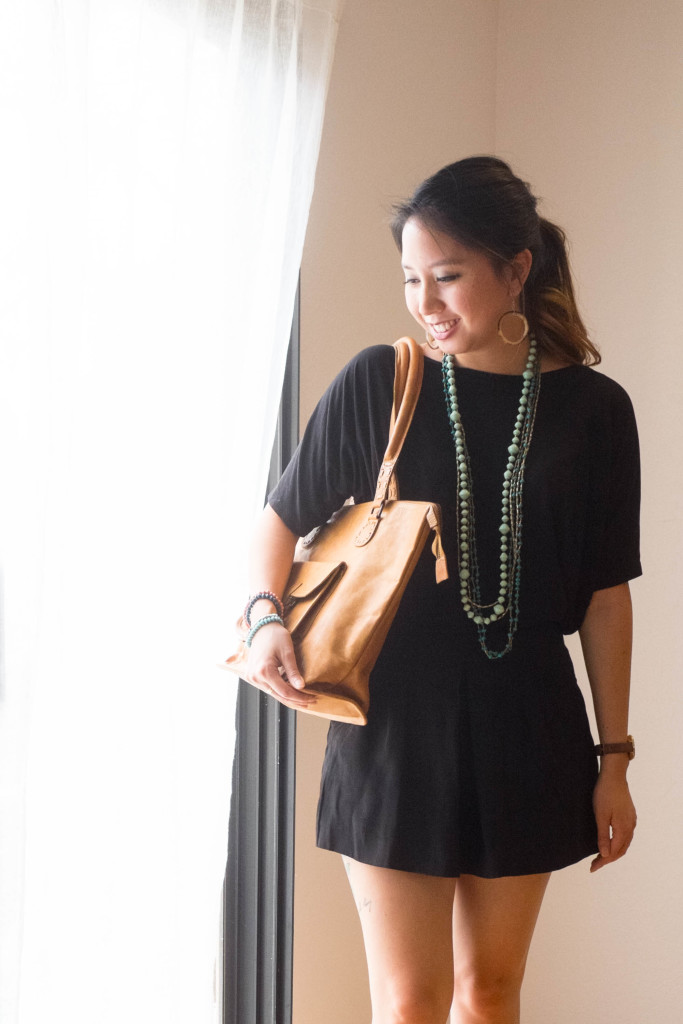 Currently, my fall capsule wardrobe consists of 33 items, not including shoes.
3 dresses
3 pants
2 shorts
3 skirts
1 jacket
2 cardigans
20 tops
When I list it like that, it already looks like a lot of clothes. 20 tops?! Is this even a small wardrobe?
Yes, technically it is. But the most important thing is that pretty much everything goes with everything else. I do have an orange blouse and burgundy skirt that I will not be wearing together, but for the most part, most of my wardrobe items go well together.
So, once you've put together the best capsule wardrobe possible, what's next?
How to actually get dressed quickly (and still look decent)
Someone once wisely observed that too many choices is a prison. But for those of us who can hum and ha over anything, any choice can be a prison. It doesn't matter whether we have 3 outfit choices, 33 choices, or 333 choices– we can easily get caught in that puzzled discontentment in the morning.
So here's my formula for getting dressed super fast without looking like I rolled through a flea market.
Step 1: Employ a rotating closet.
In my closet, all the tops are lined up. All the bottoms are lined up next. Then dresses. During any typical week, I'll go down the line– I pick up the first top, the first bottom, and wear them together. Then the next day, I pick up the second top and the second bottom. I do this all the way until I'm back to the first of one category, and I rotate through them again.
This might sound really boring, but it actually keeps me from gravitating towards the same outfit combination over and over. I come up with new combinations that I fall in love with– and it's all effortless.
Step 2: Build a capsule accessory collection.
I believe that, if used well, an accessory can go much further in elevating an outfit than a piece of clothing can.
Why should you build an accessory arsenal? Think about it: most accessories are season-free, size-free, small in size and generally appropriate for most occasions. We can hardly say that about clothing. So if you can find a few accessories that declare your style, then you have an easy way to elevate practically any outfit.
Looking for accessories that are made with love, fair trade, and changing the world? Check out my pieces from Noonday Collection listed below!
Once you've put together your outfit, grab an accessory and you're ready to go out the door. Whether it's a pair of statement earrings, a long rope necklace, or a few bracelets, your outfit goes immediately from basic to polished.
Step 3: Choose stylish necessities.
I'm still an advocate of keeping frivolous items to a minimum, but I also believe that true personal style can be achieved with a smaller wardrobe. This is when it becomes important to find the right necessities– ones that work for you and count for style.
Every woman needs one bag; with the size of most phones nowadays, our back pockets just won't cut it. But no woman needs multiple bags for one singular purpose, so find one that ties together your personal style and use it until it falls to pieces.
In the same vein, choose one high-quality watch that works with everything you wear and all occasions. Own just one watch– but make it count! Choose something that will elevate your outfit that much more.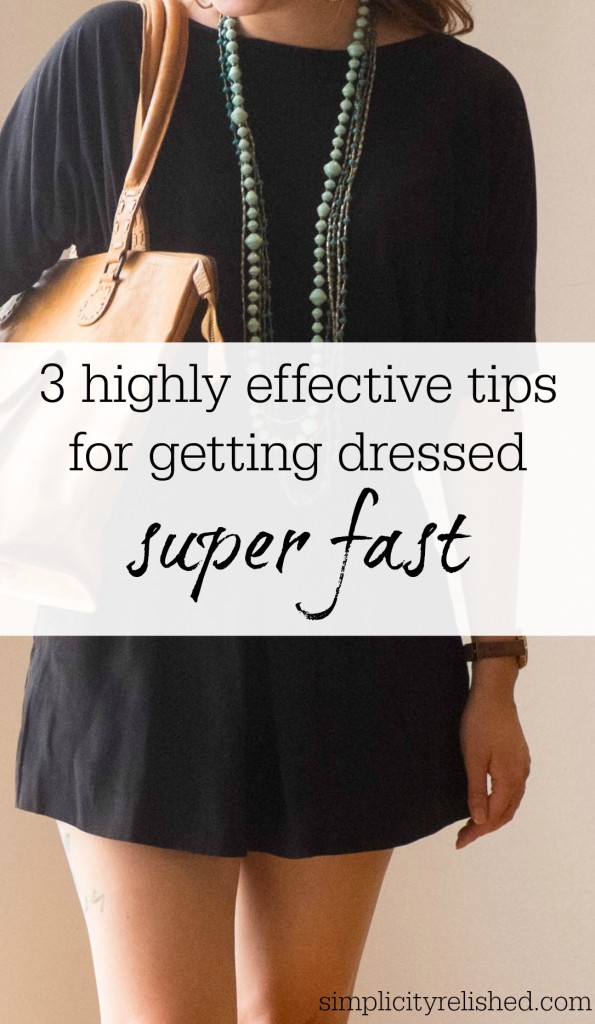 The bottom line: begin at the beginning
To get dressed in less than 3 minutes and still look stylish, you have to start with the right arsenal. I put together a seasonal capsule wardrobe once every 3 months. This takes time, but it's the only time that I spend shopping for the entire quarter year.
So go through your clothes, accessories, and jewelry, and give away or sell the items you know you don't need. Starting fresh can be exciting, but be prepared to commit to what you buy next. Say goodbye to impulse buys, and hello to long-term, unique, and versatile items that you'll be proud to wear season after season. You can't go much wrong with that.
Featured clothes & accessories: