Part of falling in love with Southern California has meant accepting the absence of dramatic seasons around here. After 5 years in New England (read: 5 years complaining about winter), I find myself longing for those crisp autumn mornings colored with crimsons and golds falling from the trees.
I remember walking to class and seeing colors like this.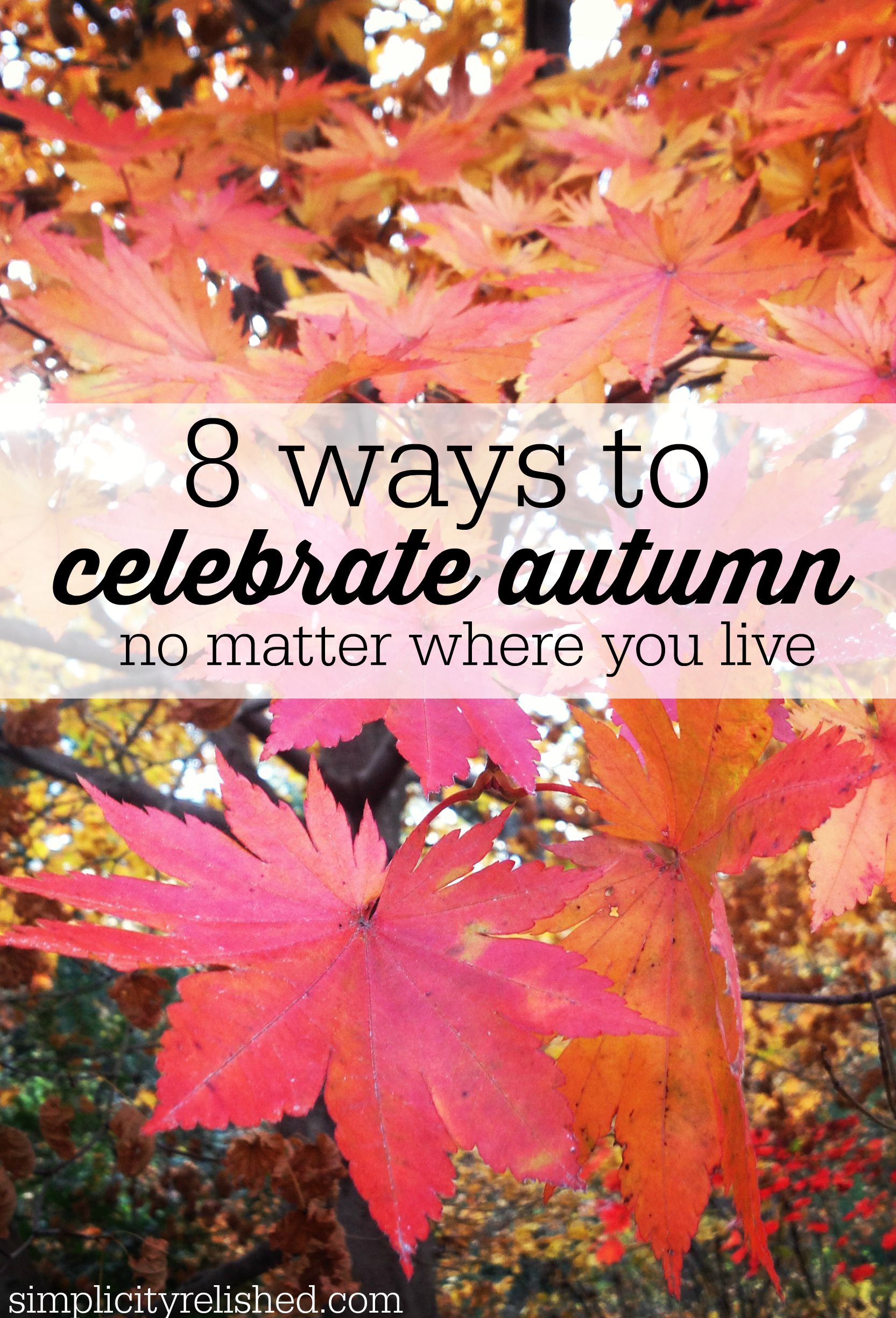 Not my life anymore.
Now as the official season of summer is coming to an end, I'm longing for autumn rhythms to fall into place. I even want to jump on the Pumpkin Spice Latte bandwagon (but move aside, Starbucks, we make our own syrup) because there's something about sipping hot drinks on chilly mornings.
I've been trying to put a finger on exactly why autumn can be so marvelous. Is it that when the weather gets cold, we become more introspective? Or perhaps we're more ready to hug our friends and loved ones because the summer heat has finally abated? Perhaps it's the advent of the holiday season, when we will all gather around tables and celebrate the blessings of the year.
But if the weather doesn't fit the season, can we still celebrate fall? Absolutely! At least, I'm trying.
8 Ways to Celebrate Autumn
1) Start eating seasonally.
In my experience, seasonal produce doesn't vary even if the weather seems uncooperative. Here in Southern California we still start to see squashes, pumpkins and apples around this time of year, even as the temperatures barely dip below 80 degrees.
Eating seasonally is not only cheaper, but it helps to feel as though we are all part of the same harvest. Don't know where to start? Check out this delicious butternut squash soup I made!
2) Enjoy earlier mornings.
Do you love that crisp breeze that is quintessentially autumn? Then join me in my mission to get up earlier, and get outside for a brisk walk. As part of my morning routine, I'll be rising earlier to go on a stroll and enjoy the cool morning air.
Even if the temperatures will still rise to summer levels during the day, I can relish in the cool morning air and pretend that fall is arriving– because it will, eventually.
3) Wear fall colors.
Fall fashion is so tempting– scarves, boots, and hats are fun to wear. But, for those of us in the desert who can't imagine donning boots at any time of year, there are still fall colors.
My fall capsule wardrobe is forthcoming, and it will be filled with navies, reds, grays and mustard yellows. And I'll be pulling out my darker lipsticks too!
4) Put that PSL on ice.
Too hot for a warm drink? Pour your chai tea and pumpkin-spice latte on ice and enjoy the flavors. Pumpkin spice is a delicious combination of cinnamon, cloves, ginger and nutmeg. Make your own mixture, or you can check out this little bottle on Amazon. Add to your coffee for an instant fall touch.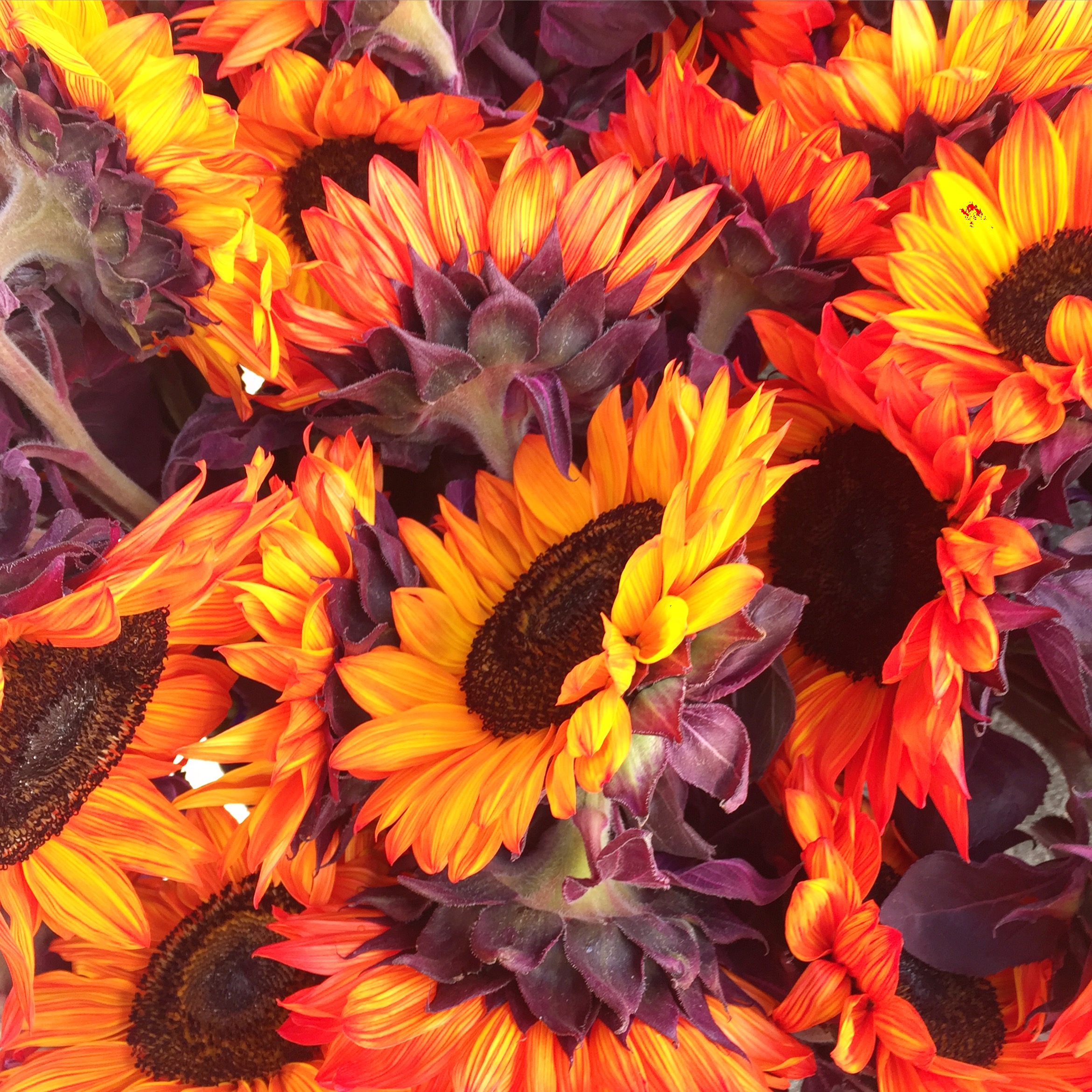 5) Decorate with fall textures, scents and hues.
Even if your autumn and winter will be fireplace-free, you can decorate with flaming reds, yellows and purples. I've been loving red sunflowers at the farmers market, as well as finding succulents that have a touch of red in them.
And of course, who doesn't love fall candles? I'm picky when it comes to fragrance, so I recommend Nest or Diptyque products. For an indulgent gift that will bring all kinds of joy this season, check out this delicious Nest Pumpkin Chai candle.
6) Start testing Thanksgiving recipes.
Thanksgiving is my favorite holiday, and I can spend months deliberating over what we'll cook. Thanksgiving meals tend to be variations on a theme, but that doesn't mean it has to be the same every year!
If I'm thinking to try a recipe for the first time, I'll practice it at home first. Simply the act of putting these dishes together brings about that festive feeling– no matter what the temperature is outside.
Check out last year's Thanksgiving menu here.
7) Make time for family and friends.
I think what we ultimately love about autumn is the feeling of coming home. No matter what the year has brought, autumn is a time of winding down, reflecting, and coming around the table with those we love.
So why not be intentional about that tradition? Gather more friends around the table. Reconnect with family members before the holidays roll around. Catch up with old comrades from previous seasons of life, rather than sending them an impersonal holiday greeting in December. The possibilities are endless!
Related: 7 Essential Steps to Simplify Your Life This Fall
8) Download my FREE fall-themed iPhone wallpapers!
I took these photos two years ago when I was still living in Cambridge, Massachusetts. I knew I would be moving to Southern California the following year, so I became extra intentional about taking photos of the gorgeous foliage of the Northeast. Enjoy these wallpapers on your phone!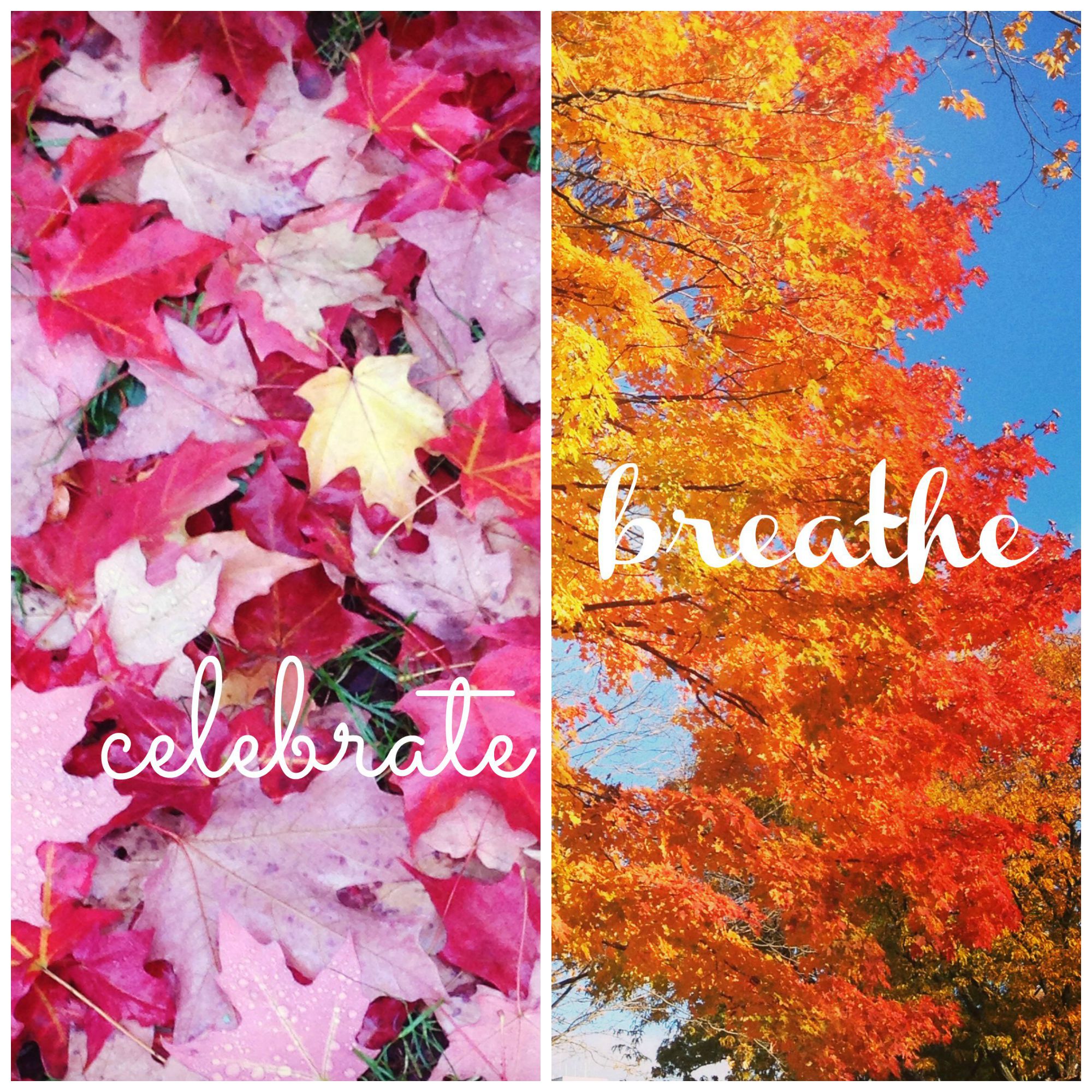 Click here to download "Celebrate" phone wallpaper!
Click here to download "Breathe" phone wallpaper!
What are some ways you'll be celebrating autumn this year?