If you've been around Simplicity Relished for a while, then you know that minimalism is a lifestyle approach that is dear to my heart. Living with less by buying less, accumulating less and doing less means that I am less likely to trip over all the mental and physical clutter that gets in my way. We hope that a minimalistic lifestyle will help us to have more time and energy for the things that really matter to us– friends, family, community, and faith.
We also love to travel, and are strong believers in traveling a lot, whether it means exploring new local destinations or jet-setting somewhere overseas. But travel, however it is defined, is no small feat for anyone. And believe me, we are not jobless twenty-somethings with an endless credit line. We're real people, and we know that travel requires resources, free time and lots of emotional stamina.
So when people ask us how to travel more, the answer is pretty simple.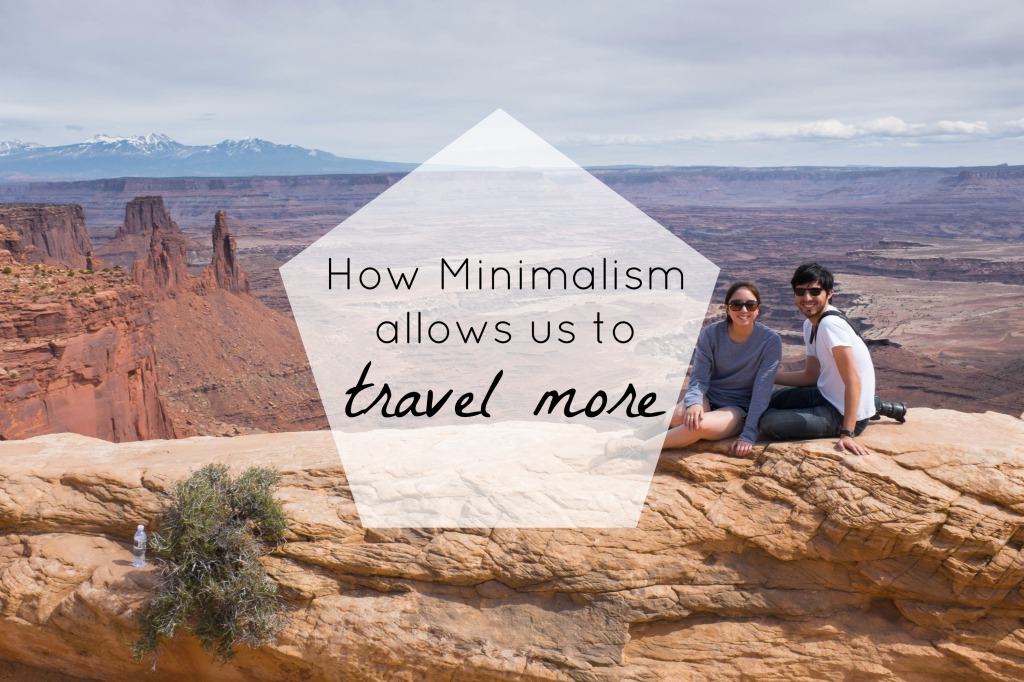 So how does travel become possible for us? Well, our minimalist philosophy is a huge contribution to that. While we sometimes travel with generous family members who take us on awesome adventures, other times we've foot the bill and eaten the costs of our travels.
In order to do this, we've needed to think carefully about our everyday lifestyle– and a lifestyle characterized by minimalism is a huge bonus for being able to travel, and to travel light.
How Minimalism Allows Us To Travel More
1) Minimalism means less unnecessary spending.
The first thing most people think of when it comes to travel is how expensive it is. Yes, travel is expensive. No matter where you cut costs, travel will never be cheap. 
So, it helps that we rarely go out for food and drink. This is a personal choice we've made– to eat in, cook our own meals, and share meals with friends in our apartment. We've learned that we can eat much better at home than out, and some of our friends say our food is better than restaurant food anyway!
It also helps that we try very hard not to purchase items that are completely frivolous or useless. I have an unofficial "replace when broken" policy with most of my things, meaning I will not buy a new wallet until my current one literally falls apart. Having a capsule wardrobe helps as well– I'm not constantly browsing online for new clothes.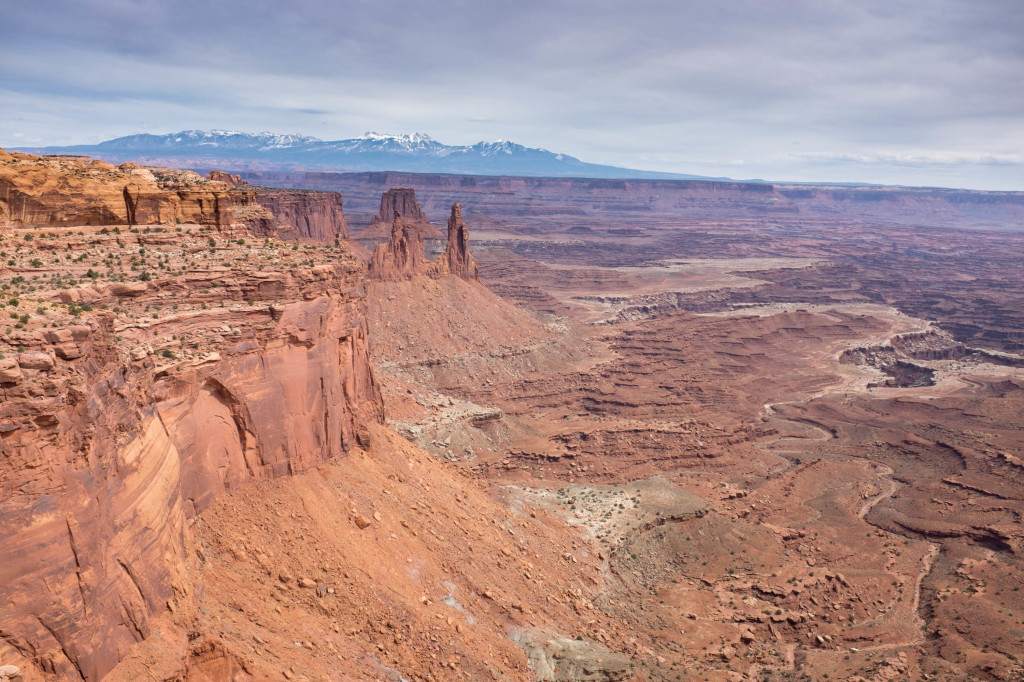 2) Minimalism means fewer unnecessary commitments.
Yes, we all have commitments to our communities and our jobs, and we do not shirk those responsibilities. However, we try not to be overcommitted. We highly value unstructured free time, so we don't think it's cool to be busy all the time.
We like being flexible, so we avoid scheduling jobs and regular meetings during our downtime. This means that it's easy for me to be gone over the weekends, as no one is expecting me to be around.
And finally, while we don't have tons of vacation days, it's a huge perk to be able to set my own vacation days. Working freelance is not the easiest thing, but taking a vacation is actually one way that I show my clients that I am serious about my job. That said, this means that I am not paid during vacations– which can be a bit nerve-wracking, but I'm teaching myself to forget about it. When we've budgeted well, I realize it's okay for me not to make money all the time.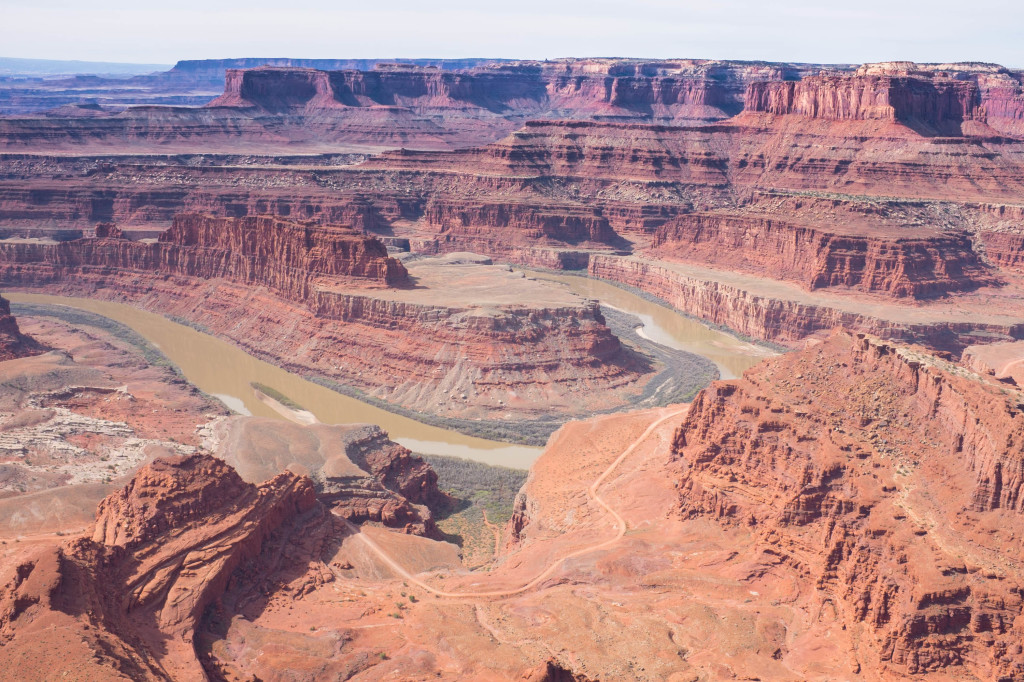 3) Minimalism makes us flexible with food and accommodations.
True, who doesn't love to stay at a luxury resort? But we don't have to. We feel less burdened by the idea that each travel scenario has to be perfect. We don't have to stay at Pinterest-worthy hotels or eat Instagram-worthy meals.
That said, we spend money according to our priorities too. Just because everyone ascends the Eiffel Tower does not mean that we have to. Just because everyone gets drunk on the beach does not mean we do. We shape our travels according to our interests and refuse to be told what we have to do while abroad.
4) Minimalism means we're not leaving too much behind.
A real concern when traveling is the question of who will care for our things while we're gone. And though we have a pet fish that our super generous neighbor feeds daily, we're not worried about the items in our home being damaged when we're away.
As young adults this is less of an issue for us, but we know that it can be pretty burdensome to travel when you have a lot of things. It can even be costly to have people care for your property when you're out of town.
And this is why we're split on whether we should adopt a dog… more on that later.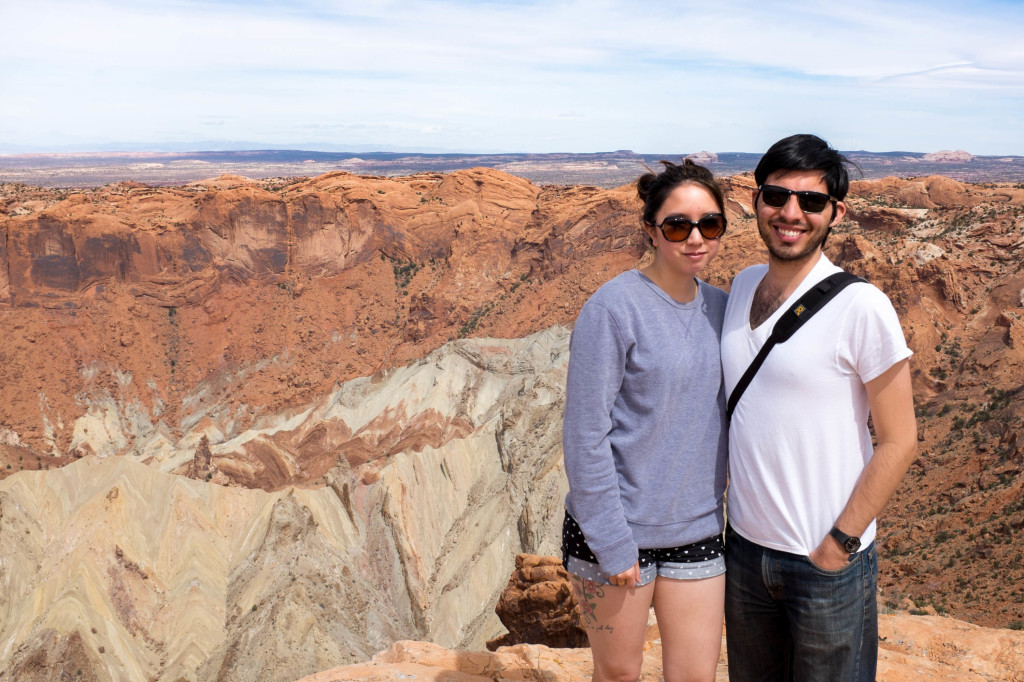 Overall, the influence that minimalism has had on us helps us to just pick up and go— whether it's weekend getaways, weeklong trips, or even monthlong summer adventures. But we know that none of these things will fully pay for a trip; they just make traveling more of a possibility.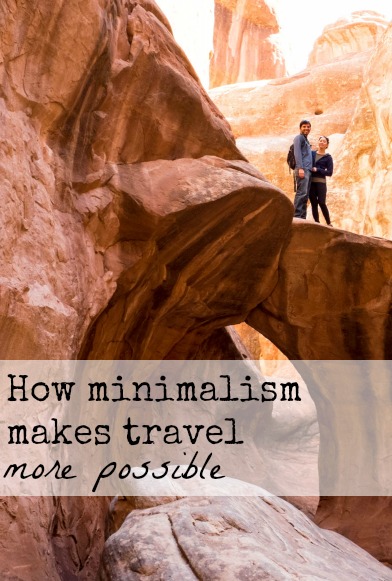 Do you love to travel? What are your tips for making travel more likely? I'd love to know!
*These photos are from our current adventures in Southern Utah! To see more, click here and here.