The capsule wardrobe is a simple concept, but there are lots of details that are easy to get hung up on.
Now that my late-winter-early-spring capsule wardrobe is in full swing, I'm ready to answer some questions that surface often.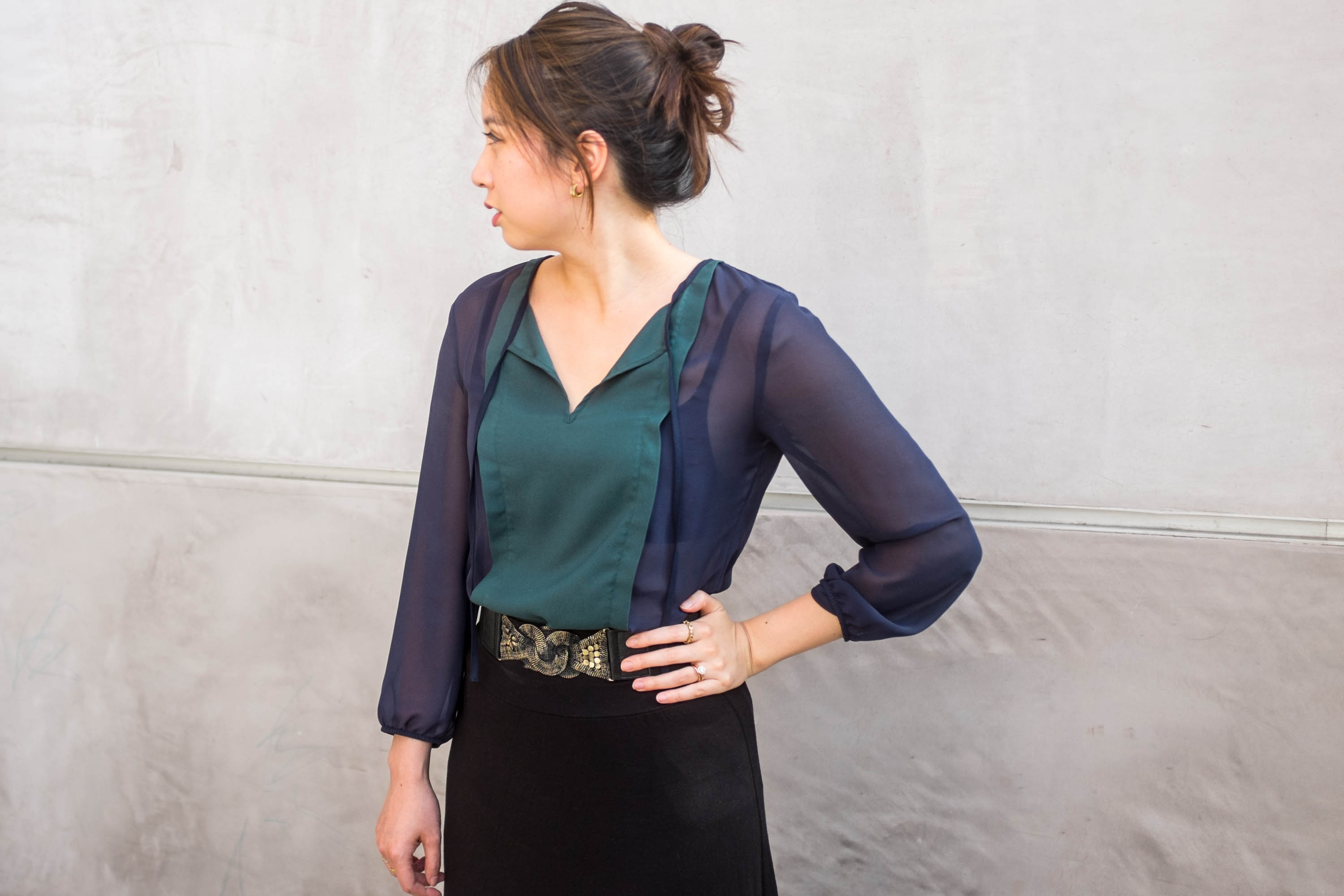 But first, this outfit! It's a new favorite. The sheer blouse (similar) is the perfect piece for our relatively warm SoCal "winters," and the black maxi skirt keeps me cool and casual while still being appropriate for work.
I've also really enjoyed accessorizing my 40-piece wardrobe, pairing edgier accents like this belt with minimalistic jewelry. There really is SO much you can do with this amount of clothing, even if it appears limiting at first!
So, on to the questions. If I didn't cover something here, then please do ask in the comments!
Capsule Wardrobe Frequently Asked Questions
What is a capsule wardrobe, anyway?
A capsule wardrobe is a collection of everyday clothing and shoes (and for some, accessories too) that is intentionally smaller than usual. The numbers don't really matter– it's supposed to be a wardrobe that is stripped down to the essentials, whatever they may be. A capsule wardrobe is to be worn on a daily basis, at both work and play, for a certain amount of time. Each capsule wardrobe is selected for seasons, usually lasting about 3 months.
What's the point of a capsule wardrobe?
A capsule wardrobe can be a concrete, achievable way to start simplifying our lives. So many of us have too much stuff (and we spend tons of time organizing and cleaning), but we don't know where to start when it comes to decluttering. The capsule wardrobe focuses on our closets. From saving time to saving money to focusing on more important things, there are tons of reasons to try a capsule wardrobe!
What's in your capsule wardrobe and how do I get started?
My capsule wardrobe contains 40 pieces, shoes and clothing. You can take a look at every piece here!
To start, I suggest cleaning everything out of your closet. Start by choosing your favorite pieces– the ones that are always laid out, in the hamper, or hanging up behind your door. Those are your staples. Next, round out the rest of the wardrobe by choosing pieces that match, balancing bolds and neutrals, and evaluating what you'll need for work, play, and the weather where you live. Here are a few tips for building a capsule wardrobe you love!
Do I have to do 40 pieces? 
Nope! Paring down is not an experiment in suffering. It should be just enough to help you focus on other things– what really matters to you.
What's not included in a capsule wardrobe?
There are no hard-and-fast rules, but there are certain things most people don't include:
undergarments
athletic wear and loungewear
accessories: scarves, hats, jewelry, bags, glasses
formal event wear
vacation clothing for climates different from where you live
anything that can't be worn on its own (e.g. a slip that you wear underneath a sheer piece)
Where did you shop for your capsule wardrobe? How much did you spend?
I shopped my closet! Seriously though, every piece except for the black maxi skirt was already in my closet. I understand that sometimes we realize we're seriously missing an item, but usually our capsule wardrobe is already somewhere in our closet.
Some people set a budget to shop for their capsule wardrobe each season, but there's no need to. See if you can find pieces you already love in your wardrobe– then go shopping!
Does this mean I get to buy more expensive clothes?
Maybe! But don't allow that to be the only reason you try a capsule wardrobe. It's true that expensive pieces can last longer– but it's important you pick the most versatile ones.
Also, once your capsule wardrobe is set for the season, you really should not shop until the next capsule wardrobe. Part of the purpose is declutter, not increase your inventory!
40 pieces sounds super boring. How do you keep it interesting?
Believe it or not, my smaller wardrobe has forced me to try brand new outfits that I would not normally put together. Furthermore, it's helped me accessorize and also be more creative with my hair.
It's true that in a capsule wardrobe, not every outfit is going to be a statement. But for me that's a good thing– there are times when I like to stand out, and others when I like to blend in. I love that when people look at me, they see me, not just my clothes.
What if I'm not ready to part with certain items yet?
No problem! Place the items that are not in your capsule wardrobe in a box– somewhere you won't see them everyday. After the season is over, try to remember what you put away and what you especially miss. If there are pieces you completely forgot about, those are the ones to part with!
What do I do with the clothes I'm getting rid of?
Are they in good condition? Sell them for some extra cash! Here's how to sell your gently-used clothing.
I like this idea, but it's kind of scary. What's a middle-ground?
If you like this idea, then perhaps you're looking for ways to simplify your life. One way to dip into this is to limit your shopping. Instead, save for something you've been wanting to do for a long time. Perhaps it's a weekend getaway to the beach or the woods. Save that time and money spent on clothing and try to focus it on an activity you thought you couldn't afford. If this means cutting back on a routine shopping spree, then you'll have extra cash in your hands in no time!
Any other capsule wardrobe questions? I'm an open book! And so are Courtney at The Project333 and Caroline at Un-Fancy.