Summer's just around the corner, so my summer capsule wardrobe should be filled with tank tops and short shorts, right? Wrong.
Creating a summer capsule wardrobe can be pretty challenging, depending on what's on your calendar. If you'll be spending any time at work– which I believe most of us will– then selecting perfect summery pieces that are still work-appropriate can be a challenge.
Building a summer capsule wardrobe should be based on the same principles we use throughout the year– namely, that clothes should be made for the body; not the body for clothes. Sure, summer is an excellent time to get outdoors, lose the weight we need to lose, and focus on fitness. But it's not a reason to force ourselves into trends that just don't work for us.
Summer is just as important a season as any to love everything in your wardrobe.
If you're just now checking out the whole capsule wardrobe thing, be sure to read these posts:
Are you ready? Let's get started!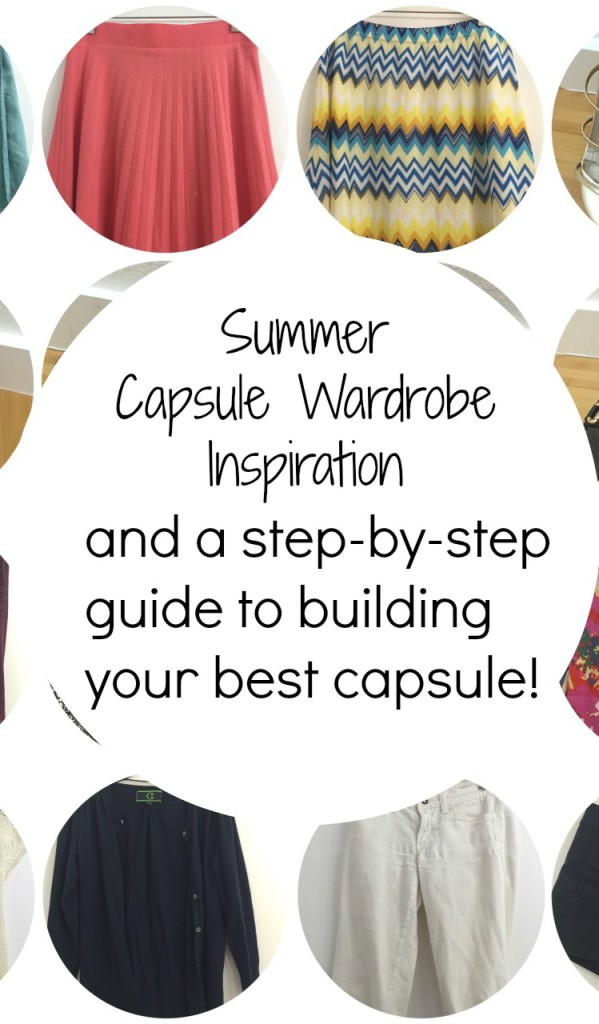 A Guide to Building a Summer Capsule Wardrobe
Step 1: Look at your summer calendar.
We may *think* that summer is made up of margaritas and poolside barbecues (maybe for some of us it is), but it's unlikely to be all that we're doing. Your wardrobe needs to fit most, if not all, of your summer obligations (see exceptions here). If you'll be going to work, then you need to select work clothes. You get the point.
Step 2: Categorize your needs.
If you're spending the summer doing a variety of things, write down different categories for your clothing. For example: work, travel, volunteer, parties.
Allocate pieces according to what you'll be doing most. Think about those contexts– how do you want to dress for them?
Step 3: Ask the following questions: when? and where?
It's easy to get carried away with summer clothes because they're just so fun! But, as you select each piece, ask yourself when can I wear this and where will I wear this. You may realize that your favorite crop top has no place in a 40-piece summer capsule wardrobe, but your jeans do!
Step 4: Start with your basics.
As usual, begin with the pieces that you already wear a lot. They might not be the most exciting, but they're your go-to for a reason. Choose solid colors that can take on different accessories, as well as pieces that can be dressed up and down. These will form the core of your wardrobe.
Step 5: Lay out potential combinations and round out the collection.
The secret to a great capsule wardrobe is a combination of statement pieces and basics that go well together. The more possible combinations, the better. Stay away from a blouse that can only be worn with one other bottom– unless you'd like to repeat that outfit a lot!
Step 6: Avoid these pitfalls.
White: select your whites carefully. Sweat stains can be awful in the summer, depending on where you live.
Dry-clean only: unless you're super clean or are ok with high dry-cleaning bills.
Too many prints and florals: it's hard to wear prints and florals together without looking crazy!
Stuff that doesn't fit: try on each piece if it's been a while!
Step 7: Put away your current wardrobe for next season!
Retire your current wardrobe if you foresee wearing it again, or get rid of it now! Here are some ways to sell your gently-worn clothing.
My Summer Capsule Wardrobe: 40 Pieces
What are your favorite capsule wardrobe pieces? I'd love to know!